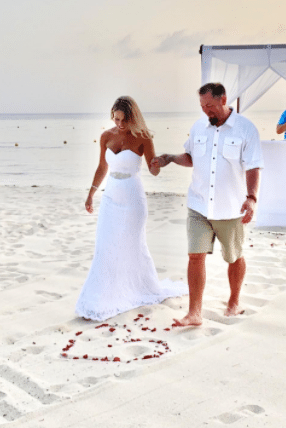 Wedding Vow Renewals
The Best Beach Vow Renewal Dresses
Are you getting your wedding vows renewed on the beach? Check out these simple and affordable wedding vow renewal dresses!
Beach Vow Renewal Dresses on Amazon
Check out this list of the best beach vow renewal dresses.
1. Wedding Vow Renewal Dress Under $50: Transformer Multi-Way Dress
This dress also comes in other colors too!
2. Wedding Vow Renewal Bridal Dress by Likedpage
3. V Neck Spaghetti Strap Maxi Dress by
BerryGo
More Vow Renewal Dresses
Want the best vow renewal dresses, not necessarily just for the beach? Check out this list of the top vow renewal dresses, which includes plus size dresses and vow renewal dresses for older brides.
What Does a Bride Wear for a Vow Renewal?
Most women don't wear a bridal gown for a vow renewal. Instead, go with a cocktail dress or an evening gown. Knee-length dresses are appropriate, as are cream and gold dresses. Have fun with it!
What Year Should You Renew Your Vows?
Most couples get their vows renewed after 10, 25, or 50 years. Ultimately it's up to you and your husband!
Do You Have Bridesmaids for a Vow Renewal?
Short answer is "no." Lucky you; that makes life easier! Most of the time the vow renewal is just the bride and groom. No family. No kids.
How Much Should I Spend on My Vow Renewal Dress?
Ultimately this is up to you. I'd recommend keeping it under $200. Save the rest of the money for a fancy celebration dinner!
Can I Wear a Wedding Dress for a Vow Renewal?
Most women don't wear a wedding dress for a vow renewal. If you want wear a formal dress, you can wear your original wedding dress. You can also buy a wedding dress, but wear it in a fun color like ivory, pink, or red.
Ultimately, it's up to you! Wear what you want. But most women don't wear a wedding dress for a vow renewal.
Vow Renewal Ideas
Want to make your vow renewal fun? Here are some ideas!
Take a cruise or tropical vacation. Check out this page for cute outfit ideas!
Head off to the beach. Make sure to pack these beach essentials.
Visit a winery.
Plan a trip together. Go somewhere you've been wanting to go!
Include your kids. Get the family involved if you want!
Book a romantic vacation package at a local resort.
Related Fashion Articles by Very Easy Makeup
If you enjoyed this article, check out these similar articles and pages by Very Easy Makeup.
All Things Hair by Very Easy Makeup
5 Simple Makeup Items to Use Daily (and Makeup for Beginners!)
The Best High SPF Tinted Moisturizers
Connect with Very Easy Makeup
I'd love to connect with you!
Follow Very Easy Makeup on Facebook to get notified of new beauty, makeup, and fashion posts!
Please subscribe to the Very Easy Makeup YouTube channel. You'll find how-to tutorials for very easy makeup and bleaching hair blonde at home.
Sign up for the Very Easy Makeup Newsletter.
(This post contains affiliate links. View the disclosure here.)