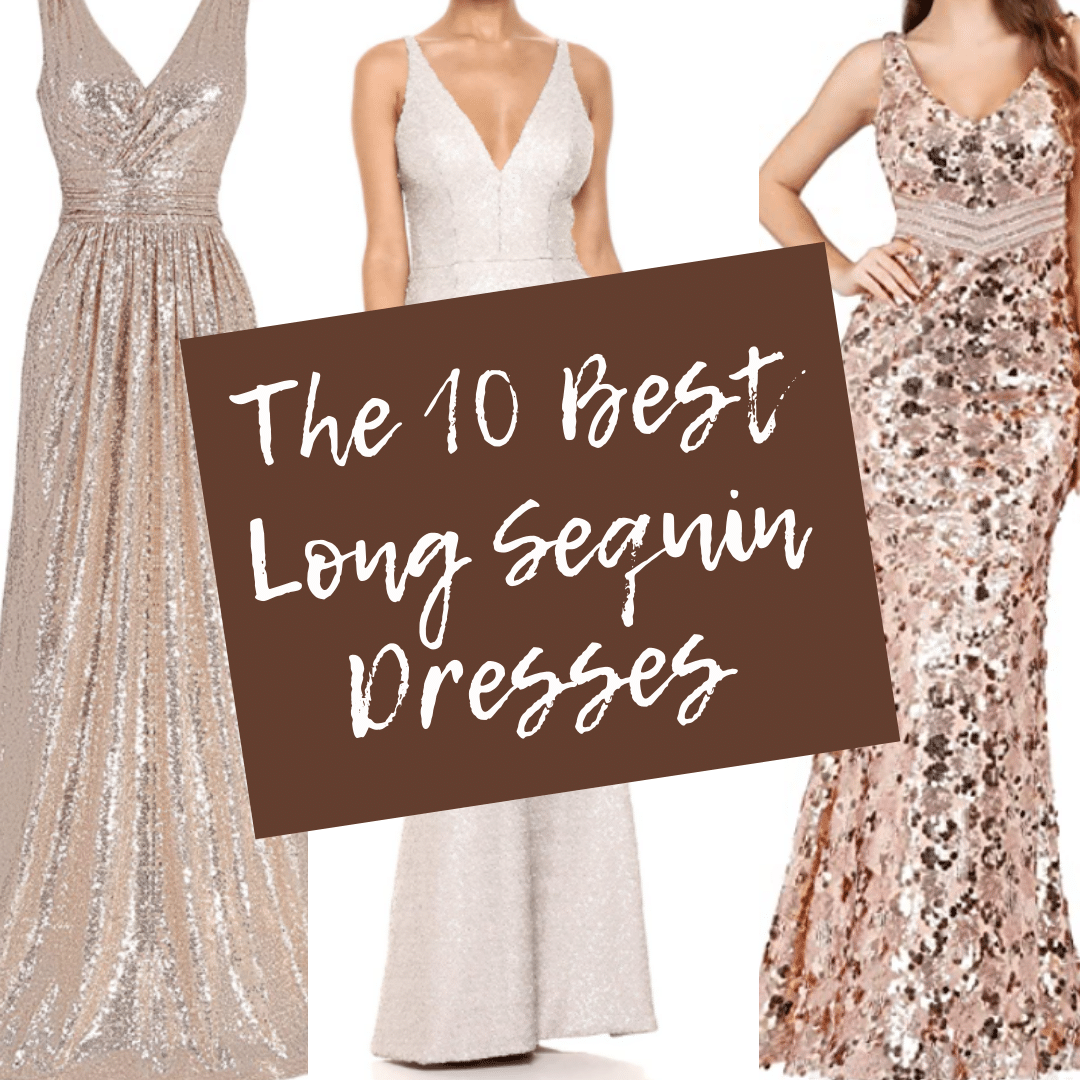 Long Sequin Dresses
Nothing says party time! like a glittery, eye-grabbing sequin dress. Short sequin dresses are fun and perfect for parties, clubbing, and going out. But if you want a more sophisticated look, go for a long maxi dress.
Formal sequin dresses can be pricey, but they don't have to be. Amazon is upping the quality of its dresses and clothing and sells many fancy sequin dresses.
10 Best Long Sequin Dresses
Check out this top 10 list of the absolutely best long sequin dresses on Amazon. These dresses are perfect for weddings, holiday parties, black tie events, and galas.
Want a short sequin dress? Check out these top-rated short sequin dresses.
This post contains affiliate links. View the disclosure here.
Long Sequin Dresses with Sleeves
Gold Long Sequin Dresses (with Sleeves!) by Miss ord
This dress also comes in green.
Black and Gold Sequin Midi Dress with Long Sleeves
Long Sequin Dresses with Off the Shoulder Sleeves
Ever-Pretty Women Sparkling Champagne Gold Sequin Dress
This is also a great fun dress for bridesmaids!
Gold V-Neck Sequined Party Maxi Dress
This dress also comes in burgundy/wine red.
Women's Off Shoulder Sequins Evening Dress Long Mermaid Side Slit Formal Dress
This dress also comes in silver, royal blue, black, and rose gold.
The silver is fun for a Mardi Gras party dress!
Or a costume party!
Sleeveless Long Sequin Dresses
SHEIN Women's Sexy Satin Deep V Neck Backless Sequin Maxi Party Evening Dress
This dress also comes in green, black, and navy.
Rose Gold Sequin Sleeveless Maxi Dress by Kate Kasin
This dress also comes in gold, silver, red, blue, green, and dozens of other colors!
Rose Gold Ever-Pretty Women's Double V-Neck Sequined Evening Party Maxi Dress
Dress the Population Women's Harper Sequin Sleeveless Plunging Long Gown
This dress is so classy looking! It's perfect for a mother of the bride wedding dress too.
This dress by Dress the Population not only comes in varying shades of white (like ivory), but in various shades of gold too.
It also comes in red and black!
Long Sequin Dress with Short (Cap) Sleeves
MisShow Sequins Glitter Rose Gold Long Gown
This dress comes in gold, light gold, champagne, rose gold, burgundy, black, and navy.
This dress works well as a fun wedding guest dress in rose gold.
This dress also works really well as an affordable bridesmaid dress!
Long Sequin Dresses with Feathers
Want a fun sequin dress with feathers? Or a fun sequin dress for a costume? Check out these fun dresses!
Lin Lin Q Sexy Off Shoulder Feather Long Sleeve Sequin Evening Maxi Dress
This dress also comes in green and white. How fancy!
VERWIN Sequin Long Dress with Feathers
Multi-Color Sequin Dresses for Prom
Multi-Color Sparkly Cocktail High Split Long Party Dress
BOMBAX Sexy Women Deep V-Neck Floral Print Long Backless Sleeveless Party Dress
More Articles by Very Easy Makeup
Did you like this article?
Please give it 5 stars below, leave a comment, and share it with friends on Facebook!
You may also like these related articles and pages by Very Easy Makeup.
Too Faced Sparkling Pineapple Eye Shadow Palette Review and Color Swatch
The 5 Best Dresses on Amazon – All Under $30
The 3 Best Women's Work Purses
Connect with Very Easy Makeup
I'd love to connect with you!
Follow Very Easy Makeup on Facebook to get notified of new beauty, makeup, and fashion posts!
Please subscribe to the Very Easy Makeup YouTube channel. You'll find how-to tutorials for very easy makeup and bleaching hair blonde at home.
Sign up for the Very Easy Makeup Newsletter.