9 Prom Dresses Under $75 for Prom 2023
This post may contain affiliate links, which means I may earn a commission if you decide to make a purchase through our links, at no cost to you. You may view the disclosure here.
Prom Dresses Under $75
Searching for a cheap prom dress under $75? Believe it or not, there are GREAT prom dresses for under $75 and even $50 online, if you know where to shop.
This guide with the best prom dresses under $75 includes:
Cheap prom dresses under $50
Cute prom dresses under $75
Cheap prom dresses with sleeves
The best cheap prom dresses for 2023
Cheap prom dresses with fast shipping from Amazon
Check out these cheap prom dresses on Amazon. Each of these prom dresses is under $75!
Most of these cheap prom dresses are under $50.
This post contains affiliate links. View the disclosure here.
1. VFSHOW Prom Maxi Dress Under $50
2. Floerns Maxi Prom Dress Under $50
3. Halter A-Line Prom Dress Under $50
4.
Ever-Pretty Sequin Prom Dress Under $75
This prom dress is $60 on Amazon. So glamorous!
5. V-Neck Spaghetti Strap Prom Dress Under $50 by Capuffy
6. Cross Back Halter Prom Dress with Pockets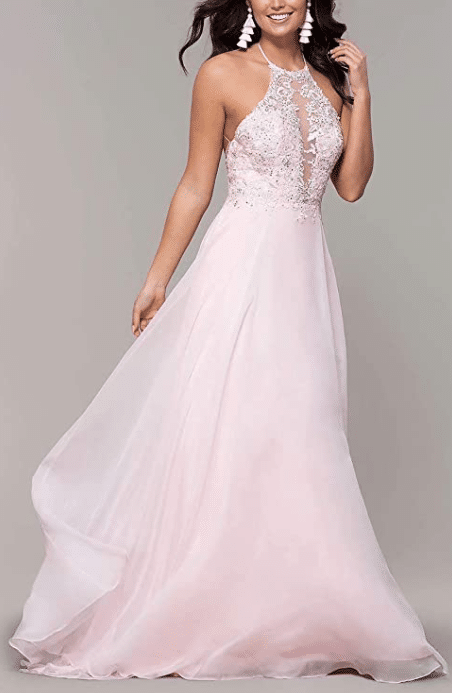 This dress is $80 right now on Amazon, but that's almost under $75 (close enough!).
7. Elegant Light Blue Satin Rhinestone Long Evening Prom Dress with Princess Skirt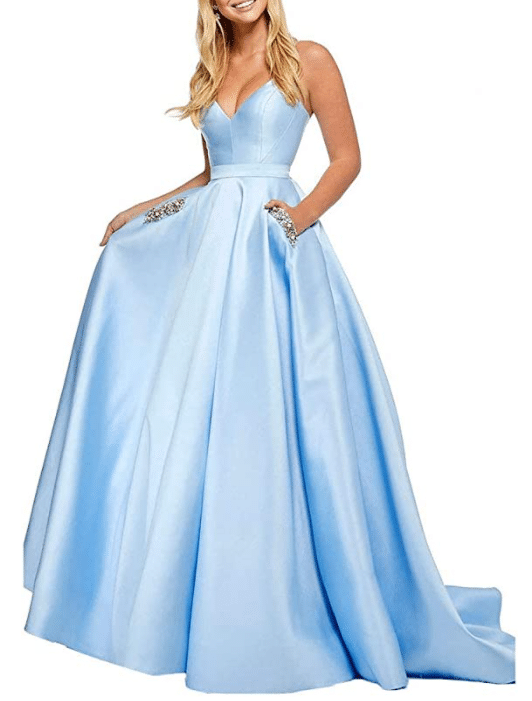 8. Satin Prom Dresses in Green or Purple Under $75
9. Lace Prom Dress Under $75 in Black, Red, or Green
Cheap Plus Size Prom Dresses Under $50
These cheap prom dreses are under $50 and come in plus sizes up to size 26 plus. Whoot whoot!
Places to Buy Cheap Prom Dresses Under $75 Online
Check out Amazon, Prom Girl, Simply Girl, and Lulus.
Where Can I Find Cheap Prom Dresses Under $75 Near Me?
Check out Macy's, Bloomingdales, and Forever 21. Thrift stores like the Salvation Army and Goodwill are also good places to look!
What are the Most Popular Prom Dress Colors?
Popular prom dresses colors are blue, white, and red. Champagne has become more popular too recently.
How Much Should I Budget for My Prom Dress?
Most girls pay between $50 and $300 for a prom dress.
Some prom dresses go up to $600, but that's a bit pricey in my opinion. Save the extra money for a night out with your friends!
Do You Wear a Bra with Prom Dress?
It's up to you! If your dress works with a strapless bra, then go for that.
My favorite strapless bra is by b. tempt'd. It's so comfortable and actually stays up while dancing! It's on Amazon in neutral, black, and light pink. You can find more comfortable bras on Amazon too.
If a bra doesn't work with your prom dress, get some stickies to wear under your dress.
More Articles by Very Easy Makeup
Did you like this article?
Please give it 5 stars below, leave a comment, and share it with friends on Facebook!
You may also like these related articles and pages by Very Easy Makeup.
Too Faced Sparkling Pineapple Eye Shadow Palette Review and Color Swatch
The 5 Best Dresses on Amazon – All Under $30
The 3 Best Women's Work Purses
Connect with Very Easy Makeup
I'd love to connect with you!
Follow Very Easy Makeup on Facebook to get notified of new beauty, makeup, and fashion posts!
Please subscribe to the Very Easy Makeup YouTube channel. You'll find how-to tutorials for very easy makeup and bleaching hair blonde at home.
Sign up for the Very Easy Makeup Newsletter.
(This post contains affiliate links. View the disclosure here.)