8 Sexy Satin Maxi Dresses with Slits (On Amazon Under $50!)
This post may contain affiliate links, which means I may earn a commission if you decide to make a purchase through our links, at no cost to you. You may view the disclosure here.
Satin Dresses with slits
Searching for a satin maxi dress with slits? If YES, you are in luck.
Amazon actually has some really affordable and attractive long satin dresses for women.
This guide with the best satin dresses with slits includes:
The best satin maxi dresses on Amazon under $50 and under $100
Satin maxi dresses for wedding guests
Sexy satin maxi dresses with slits
This post contains affiliate links. View the disclosure here.
8 Best Satin Maxi Dresses with Slits for Women on Amazon
These are the sexiest (and best ranked!) satin dresses with slits online.
These satin dresses are also PERFECT for wearing to black-tie weddings.
1. SHEIN Women's Sexy Satin Deep V Neck Backless Maxi Party Evening Dress
This dress also comes in red, silver, and hot pink! This dress is perfect for fall maternity photoshoots too.
Women also love this dress for summer engagement photos.
2. JASY Spaghetti Strap Satin Dress with Pockets
This satin maxi dress with slits comes in a TON of colors online. I love that it has pockets!
3.
Yimeili

Backless, Sexy Satin Dress with High Slits

This satin maxi dress with slits is perfect for formal weddings. This dress with slits gets GREAT reviews because you can adjust the straps to make the perfect fit!
4. JASY Spaghetti Satin Dress with Pockets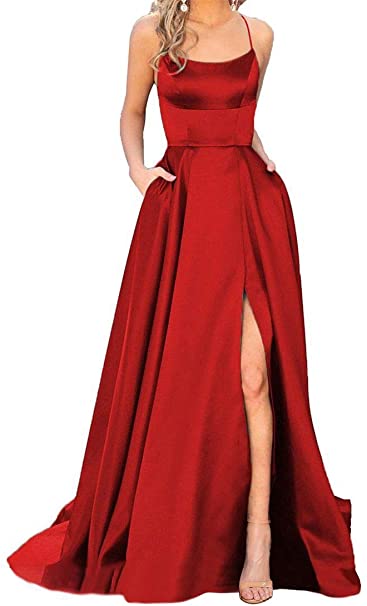 This dress gets great reviews for fitting well. It works well for senior prom, photoshoots, holiday parties, and more!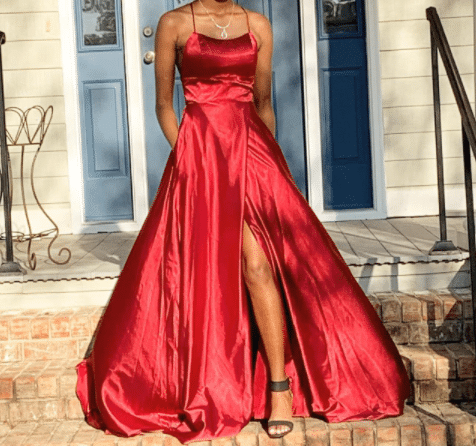 You can send in your custom measurements and the seller will ensure a perfect fit. This is perfect for plus size women too!
5. BKBRIDAL Glittery Spaghetti Dress with Long Side Slit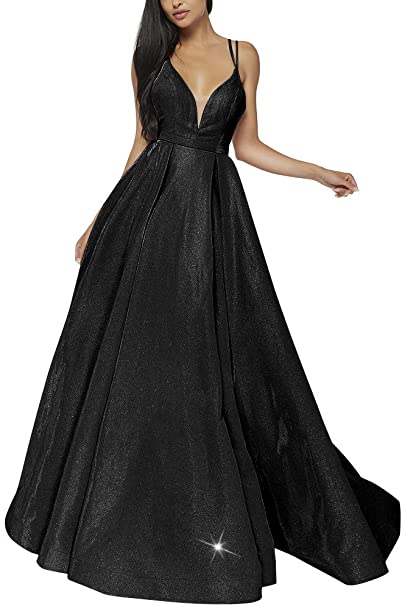 This isn't a satin dress but I couldn't resist NOT including it in this article. It's such a fun dress with glitter!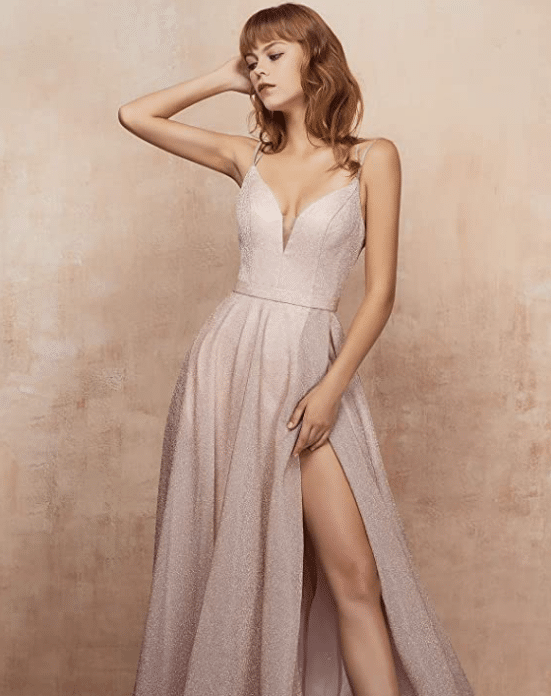 This dress works well for prom, wedding photos, bridesmaid dresses, and more!
6. Lover Kiss Two-Piece Dress with Slit, Lace, and Satin
This fun two-piece satin dress is so sexy and fun!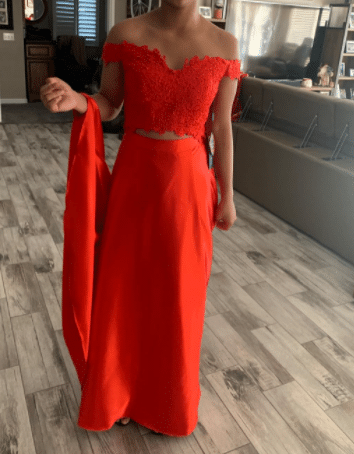 This outfit will look stunning on you if you are athletic and fit!
7. L'VOW Sexy Sweetheart Midi Dress
This dress is made out of polyester, not satin, but it is super cute and sexy!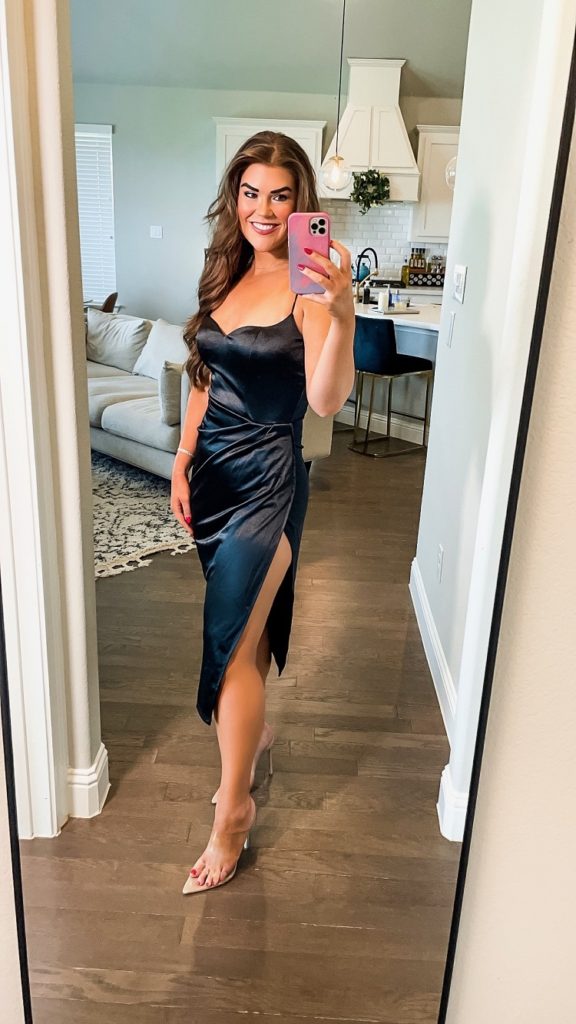 Get this Black Satin Midi Dress with Slit Outfit
8. Windsor Satin Formal Dress with a High Slit
Bras to Wear with Satin Maxi Dresses with Slits
Most satin dresses with slits have low backs! You may need to go braless or get yourself some stickies.
These adhesive bra strapless stickies and nipple covers get pretty good reviews online.
Underwear to Wear Your Favorite Satin Maxi Dress
You also want to be careful about the underwear that you wear! Go with seamless panties or a thong.
You may also want to wear something that smooths your skin, depending on your body size and type.
Jewelry to Wear with Sexy Satin Dresses
I personally like to wear my hair up when wearing a dress that shows off my back! Then, I wear long dangle earrings!
Related Fashion Articles by Very Easy Makeup
Best Great Gatsby Dresses on Amazon
Best Long Sequin Dresses on Amazon
Explore All Amazon Fashion Finds