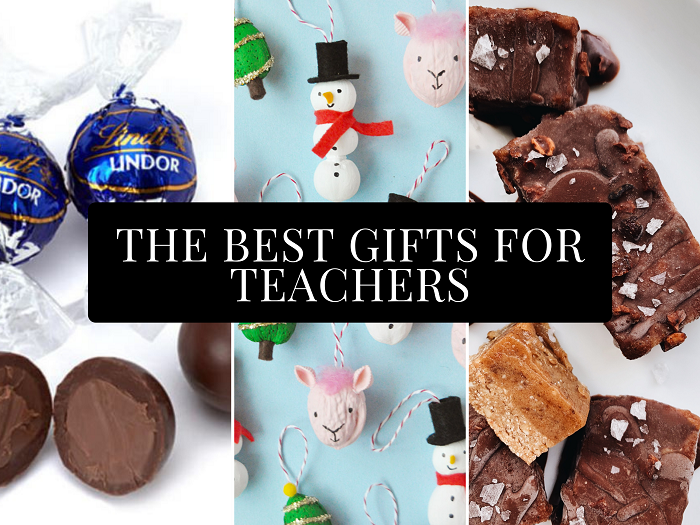 Best Gifts for Teachers
If you want to get a Christmas gift (or any gift) for a teacher that your kid's teacher will like, then please don't gift them a mug or a scented candle.
This post is all about the best gifts for teachers…according to teachers.
This teacher gift guide includes:
Gift ideas for teachers under $25
Christmas gifts for teachers
What gifts teachers do love the most?
What gifts teachers do hate?
Learn what gifts teachers love and appreciate the most.
This post contains affiliate links. View the disclosure here.
How We Came Up with This List of the Best Gifts for Teachers
So how did we come up with this list of the best Christmas gifts for teachers?
By asking teachers of course!
This gift guide for teachers is the result of more than 100 comments from actual teachers in a women's Facebook group.
P.S. – Need Christmas gifts for others on your shopping list? Check out these gift ideas for teens, teenage boy gifts, teen gift gifts, and gifts for hairdressers.
The 10 Best Gift Ideas for Teachers
Here's the top list of the best gifts for teachers. According to actual teachers.
Thankfully, these gift ideas are easy to gift, and most ideas are under $25 too.
1. A handwritten note
A heartfelt note from your kid is the #1 Christmas gift that teachers said they loved the most…really!
Kind words from students and teachers go a long way.
2. Coffee or coffee gift card
A coffee gift card and/or a bag of ground coffee is usually, if not always, appreciated.
You can get a Starbucks gift card online or a gift card to a local coffee shop.
3. Target or Amazon gift card
Who doesn't love a gift card?
A Target or an Amazon gift card will definitely be used by teachers.
Teachers spend a lot of money on school supplies too, and a gift card from Target or Amazon can always be used to buy more things for the classroom too.
4. Ornaments for a Christmas tree
Handmade ornaments are loved and cherished forever.
Even store-bought ornaments will be loved for decorating a Christmas tree!
Want a relatively easy handmade Christmas ornament idea? Check out these painted nut ornaments from Handmade Charlotte.
5. Homemade goodies
Most teachers said they like homemade goodies like fudge, cookies, or chocolate.
6. Chocolates
Fancy chocolates, like Lindor chocolates, with a hand-written note, are a great gift idea for teachers.
7. Alcohol (if appropriate)
Depending on your child's school, a teacher may love alcohol.
Trader Joe's sells a lot of affordable and highly-rated wines.
Gift Idea for Teachers: Buy a pretty plant (or flowers) from Trader Joe's with wine and a card and you'll have a great gift!
8. Classroom supplies
Teachers spend a lot of their personal money on office supplies.
Ask them what they need, and then go out and buy the classroom supplies.
Or ask your kid's teacher where he/she buys classroom supplies, and then give them a gift card to that store.
9. Grocery gift card
A grocery gift card will most certainly be used.
You can get a gift card from Trader Joe's or Aldi.
For a creative note, write, "Thanks for 'Aldi' love you give my daughter/son."
10. Restaurant or Uber Eats gift card
Give your kid's teacher a gift card to a restaurant close to school.
Your child's teacher may also love an Uber Eats gift card.
Gifts that Teachers Hate
"Hate" may be a strong word, but here are gifts for teachers that I would NOT suggest gifting.
Teachers get so many mugs, candles, and lotions each year. Please don't gift these gifts to teachers!
1. Mugs
One mug is nice; 10 mugs each year by students is a bit much!
A teacher can only have so many mugs.
Skip the personalized mugs and Christmas mugs as a Christmas gift for teachers.
2. Candles
Teachers get so many candles from students each year.
Your hairdresser may appreciate a candle for Christmas, but it will be an overload for teachers.
3. Lotions
Most (if not all) teachers don't want lotions as a Christmas gift
4. Personalized bags/mug
Your mom may love a personalized mug for her birthday or a Mother's Day gift. A teacher? Not so much.
Skip the personalized bags and mugs for teachers.
5. Candy
A teacher can only eat so much candy. Skip the candy as a Christmas gift.
How much to spend on teacher gifts?
So how much should you spend on a teacher gift this year?
Most parents said that they spend $10 to $25 on a Christmas gift for teachers.
You may want to spend $50 on a gift for your kid's teacher if you want to be generous…teachers really do go above and beyond every day!
Are you a teacher? What gifts do you love the most?
Are you a teacher? If yes, I'd love to hear from you!
Scroll down to the bottom of this post to leave a comment with your favorite gift to receive from students.
If there's a gift on Amazon that you would love to receive from your students, I'd love to hear from you too!
More Christmas Gift Ideas for Everyone on Your List
Want to get your Christmas shopping done for everyone on your Christmas list?
Check out these Christmas gift ideas for everyone on your list.
DIY FabFitFun Gift Box for Women
Perfect gift idea for friends, mom, sister, and the bride-to-be!
Christmas Gifts for Dog Owners
A fun and silly gift idea for dog owners is to get them and their dog matching pajamas. Perfect for dog owners of all ages.
Christmas Gifts for Hairdressers
Get gift ideas for your favorite hairdresser.
These gifts work for massage therapists and your favorite nail salon girl too!
Christmas Gift Ideas for Teen Boys
Have n clue what to gift buy your teenage nephew for Christmas?
Get easy and affordable Christmas gift ideas for teenage boys.
Affordable Gifts for Adults
These Christmas gift ideas are perfect for adults of any age.
These gifts are meant for a Christmas Eve box, but they also work for Secret Santa gifts and gifts under $30 for any adult on your Christmas list.
Couples Christmas Gift Ideas
Want to get a Christmas gift for the happily married couple?
These Christmas gifts for couples are fun and affordable.
More Articles by Very Easy Makeup
Loungewear Sets with Pants for Women
Matching Christmas Pajamas for the Family
Connect with Very Easy Makeup
I'd love to connect with you!
Follow Very Easy Makeup on Facebook to get notified of new beauty, makeup, and fashion posts!
Please subscribe to the Very Easy Makeup YouTube channel. You'll find how-to tutorials for very easy makeup and bleaching hair blonde at home.
Sign up for the Very Easy Makeup Newsletter.