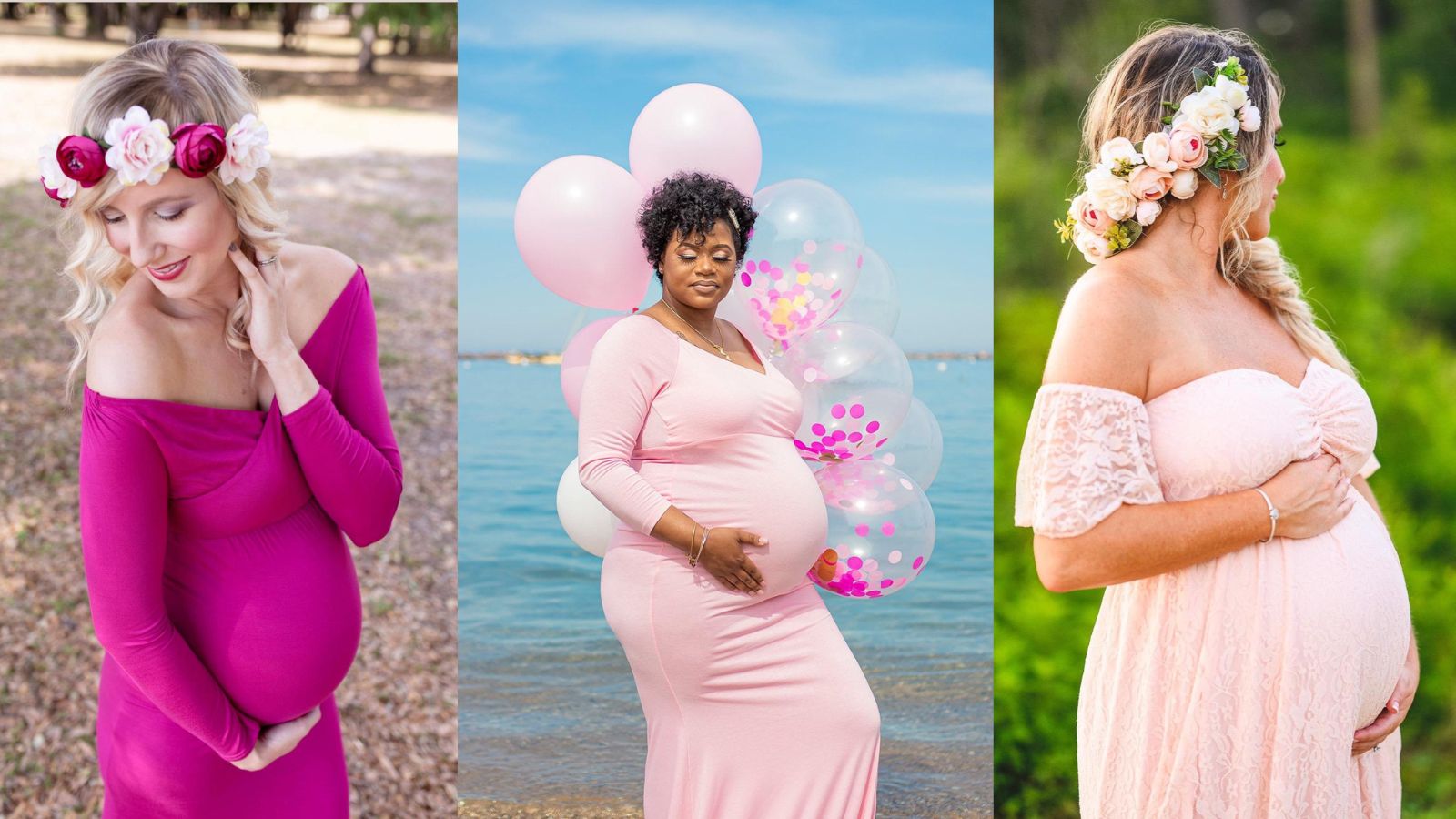 Spring Maternity Photoshoot Ideas
Are you searching for spring maternity photo ideas, maternity spring photoshoot dresses, or fancy maternity dresses for a photoshoot?
If so, you have come to the right place.
This maternity photoshoot guide is all about spring maternity photoshoots. You'll also find recommendations for the best spring maternity photoshoot dresses and gowns.
This post may contain affiliate links. View the disclosure here.
Spring Maternity Photoshoot Ideas and Dresses
Continue scrolling for easy spring maternity photoshoot ideas to copy. You'll also find links to purchase the maternity photoshoot dresses shown in each of the photos.
Happy spring and have a great time at your photoshoot!
1. Wear a Light Pink Maternity Photoshoot Dress and Get Your Photos Taken at a Beach
This spring maternity photoshoot dress has over 4,500 positive reviews on Amazon and is super comfortable too!
2. Wear a Light Purple Maternity Photo Dress and Take Pictures in a Garden
3. Wear a Baby Pink Maternity Photoshoot Gown and Hold Balloons
4. Head to the Beach and Wear a Dress with a Long Train
5. Wear a Pink Dress and a Floral Crown
A floral crown is perfect for spring maternity photos.
6. Wear Yellow and Take Photos Outside Near Greenery
7. Wear a Flattering Maternity Photoshoot Dress in Pink
Pink is probably my favorite color for women to wear in a spring maternity photoshoot.
8. Wear a Light Blue Spring Maternity Dress for Your Photoshoot
9. Wear a Blue Maternity Gown with Lace and Take Photos by Water and Rocks
10. Wear a Light Coral/Pink Maternity Photo Dress and Take Photos with Your Husband
11. Get Your Photos Taken Inside and Wear a Fancy Maternity Photoshoot Gown
12. Take Photos on the Sand at the Beach
13. Wear Any Pastel Maternity Photoshoot Gown for a Spring Maternity Photoshoot
14. Go with a Long Light Purple Spring Maternity Photoshoot Dress
15. Wear a Sexy Yet Sweet Boho Lace Spring Maternity Dress
16. Wear a Light Pink Off Shoulder Spring Maternity Shoot Dress and Take Photos Close Up
17. Lie Down in the Grass and Take Your Spring Maternity Photos
18. Wear a Classy White Gown for Spring Maternity Photos
19. Wear a Light Yellow Spring Maternity Photoshoot Dress
Yellow is a great color to wear for your spring maternity photoshoot.
How Much Do Spring Maternity Photoshoots Costs?
The cost of a spring maternity photoshoot can vary greatly, but the range is typically between $200 and $1,000. Although a simple google search can help, you may want to ask for recommendations in a women's Facebook group or a local community website like Nextdoor.com.
What are the Best Places to Shop for Spring Maternity Photoshoot Dresses?
Although Amazon has lots of maternity photoshoot dresses, there are plenty of other stores to look at as well! Motherhood Maternity and PinkBlush are great places to look. ASOS and Seraphine sell spring maternity photoshoot dresses as well.
What's the Best Color to Wear for a Spring Maternity Photoshoot?
The best color to wear to a spring maternity photoshoot is the color that looks best with your skin tone!
However, popular colors are pastel colors such as light pink, lilac, mint green, baby blue, and cream. For late spring maternity photos, you may also want to wear bright and bold colors like red or yellow.
Connect with Very Easy Makeup
Please subscribe to the Very Easy Makeup YouTube channel. You'll find how-to tutorials for very easy makeup and bleaching hair blonde at home.
Very Easy Makeup Newsletter
Sign up for the Very Easy Makeup Newsletter
Very Easy Makeup on Facebook
Give Very Easy Makeup a Like on Facebook