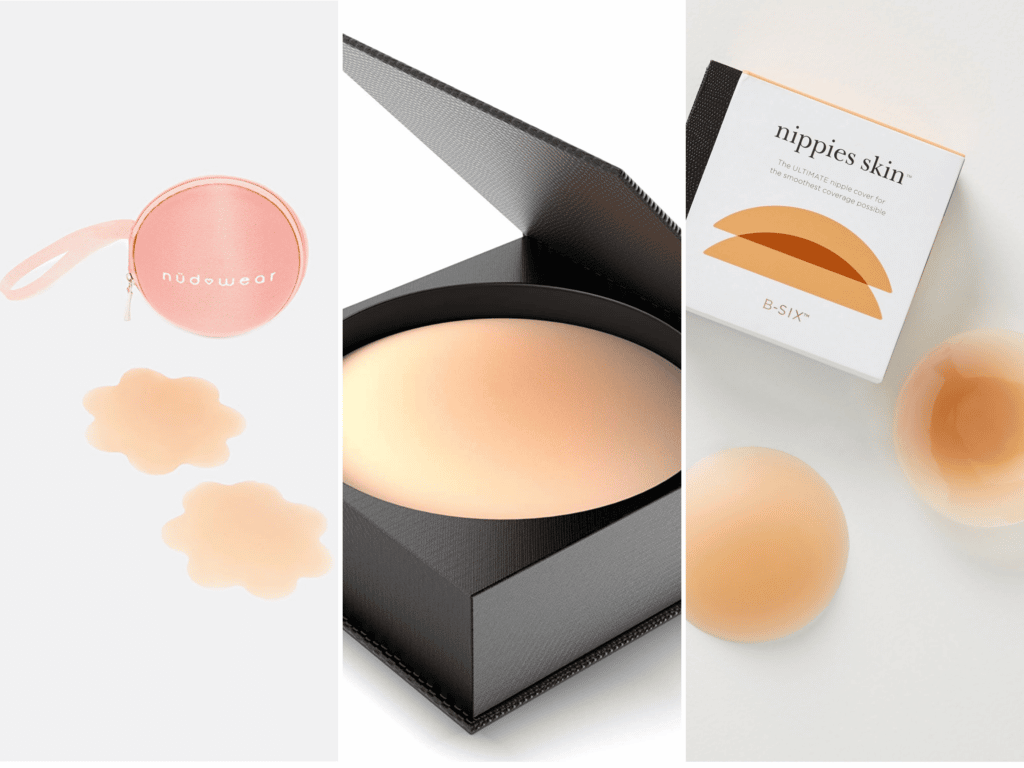 Best Nipple Cover Brands
There are so many nipple cover brands to choose from!
I'm in a woman's Facebook group and a woman recently asked, "What are the best nipple cover brands" and "What is your favorite nipple cover for dresses?"
This post contains affiliate links. View the disclosure here.
The 5 Best Nipple Cover Brands According to Women
Here's the top 5 list – ranked from most frequently mentioned (and loved) to least.
You'll be good to go with any of these nipple cover brands!
1. Nippies by Bristols Six
Women say the nipple covers from this brand are a total game changer! Perfect for under silk dresses and lightweight t-shirts.
2. FJYQOP
One of my friends bought nipple covers from FJQOP and said they worked great! If you want to pay less than $15 then these silicone nipple covers are a great option!
3. Go Nipless
The silicone pasties by the Go Nipless Store have over 1,000 positive reviews on Amazon.
Women say these nipple covers last at least 20 times and are hands down the best nipple covers.
4. QUXIANG
You don't need to go with a brand you've heard of for nipple covers.
The nipple covers by QUZIANG are under $15 online and include two round nipple covers and two flower-shaped nipple covers.
5. Nudwear
Nudwear's no-show nipple covers come in fair and brown.
Runner Up for One of 5 the Best Nipple Cover Brands: Hollywood Fashion Secrets
This nipple cover brand didn't make the top 5 list of the best nipple cover brands, it came in close!
The silicone nipple coverups by Hollywood Fashion Secrets come in four different colors online.
Read the reviews when buying on Amazon. Some of the products are knock-offs! You can buy online from Ulta.
Sexy Silk Dresses to Wear Over the Best Nipple Covers
Now that you have the PERFECT nipple covers, it's time to wear a silky dress over the top!
Here are the best sexy, silk dresses online on Amazon.
1. Xxxiticate Sleeveless Dress
This dress also comes in gold, red, black, and more! Perfect for weddings guests or date night.
2. SheIn V Neck Strapless Dress
This is a VERY popular (and sexy) dress for engagement photos, maternity photos, and formals.
3. Romwe Satin Party Dress
More Fashion Articles to Explore
If you enjoyed this article, check out these similar articles and pages by Very Easy Makeup. (And please share this article with friends on Facebook!)
The Best Summer Dresses with Pockets
Connect with Very Easy Makeup
I'd love to connect with you!
Follow Very Easy Makeup on Facebook to get notified of new beauty, makeup, and fashion posts!
Please subscribe to the Very Easy Makeup YouTube channel. You'll find how-to tutorials for very easy makeup and bleaching hair blonde at home.
Sign up for the Very Easy Makeup Newsletter.