19 Best Amazon Fall Clothes and Fall Amazon Fashion Finds
This post may contain affiliate links, which means I may earn a commission if you decide to make a purchase through our links, at no cost to you. You may view the disclosure here.
Fall Fashion Finds on Amazon
I LOVE summer, but there's something about cool, crisp nights and autumn leaves that I just love.
If you are searching for some new clothes for fall, then check out these Amazon fashion finds for 2023.
Nothing says fall 2023 like cute tops, cozy loungewear, sexy going out clothes, and fun workout clothes.
This post may contain affiliate links. View the disclosure here.
Best Fall Amazon Fashion Finds
This list of the best fall Amazon fashion finds isn't influenced by ANYONE. Really.
These are just super cute pieces of clothing on Amazon that I personally love and think are great Amazon fashion find.
1. Amoretu Tunic Dress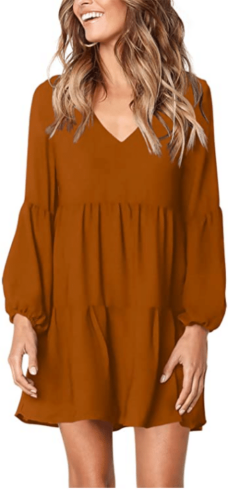 Every woman LOVES the Amoretu tunic dress. Whether you are plus size, apple shape, or thin – this dress will look flattering on you!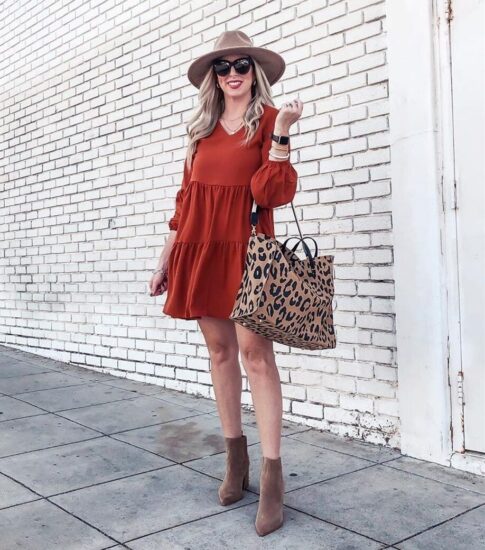 I personally love the long-sleeve, orange version of this dress for fall. But you can also buy it in yellow, black, green, and blue.
2. R. Vivimos Sweater Dress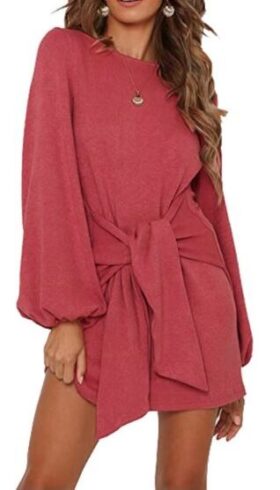 This sweater dress is super cute and super comfy for fall. Wear with thigh-high boots or ankle boots for fall. I personally love this sweater dress in tan/brown or beige for fall.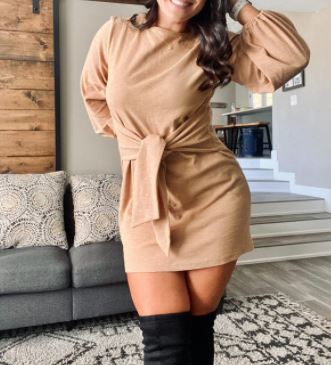 This fall sweater dress comes in so many colors on Amazon too!
Seriously, you NEED this sweater dress.
RELATED: Sweater Dress Outfits
3. ZESICA Sweater Dress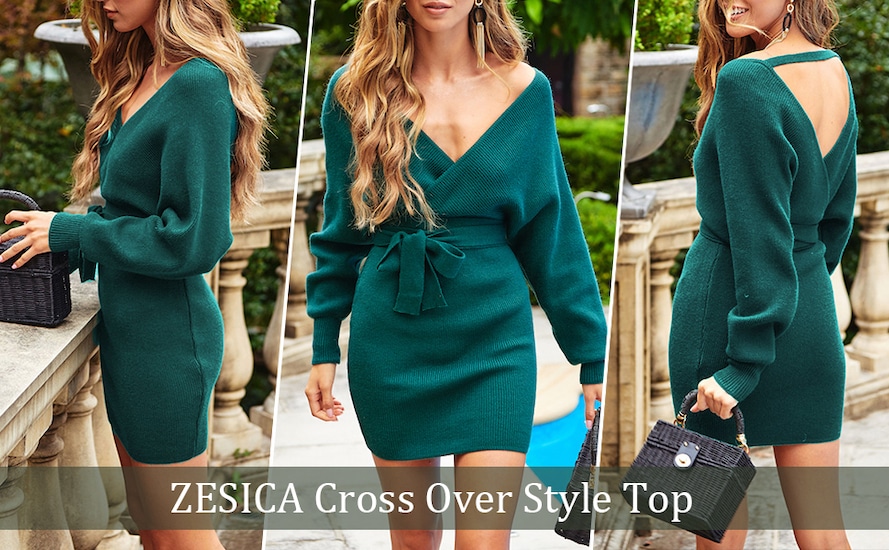 This off-the-shoulder sweater dress is so sexy and stylish! This dress comes in 15+ colors and looks AMAZING with thigh-high boots!
3. Kate Kasin Pleated Skirt
I absolutely LOVE the Kate Kasin pleated skirt. It comes in a midi-length version and a knee-length version.
Wear this skirt with a cute cami top and a jacket for fall outfits. This cute skirt washes well and is SUPER comfy too.
Head on over to the Very Easy Makeup YouTube channel for outfit ideas for this A-line skirt.
4. Soowalaoo High Waist Leopard Skirt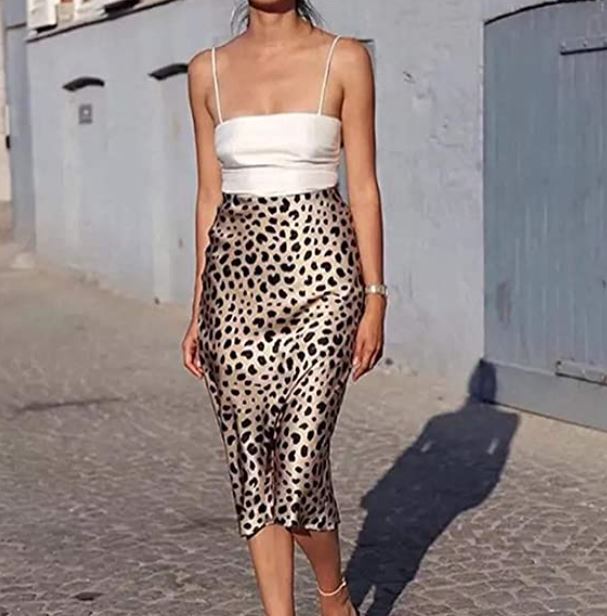 I love pulling out the leopard print for fall. Pair this leopard print skirt with sneakers for a casual fall outfit or dress it up with heels or booties and a cami top.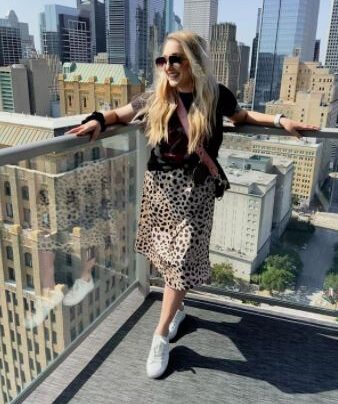 5. Allegra K Faux Suede Jacket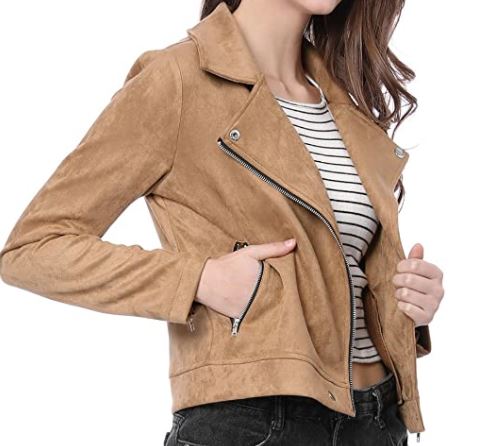 I absolutely LOVE faux suede jackets for fall.
You can wear this fall Amazon fashion find with black skinny jeans and an outfit looks instantly glamorous. Or wear over a dress for cool, fall nights.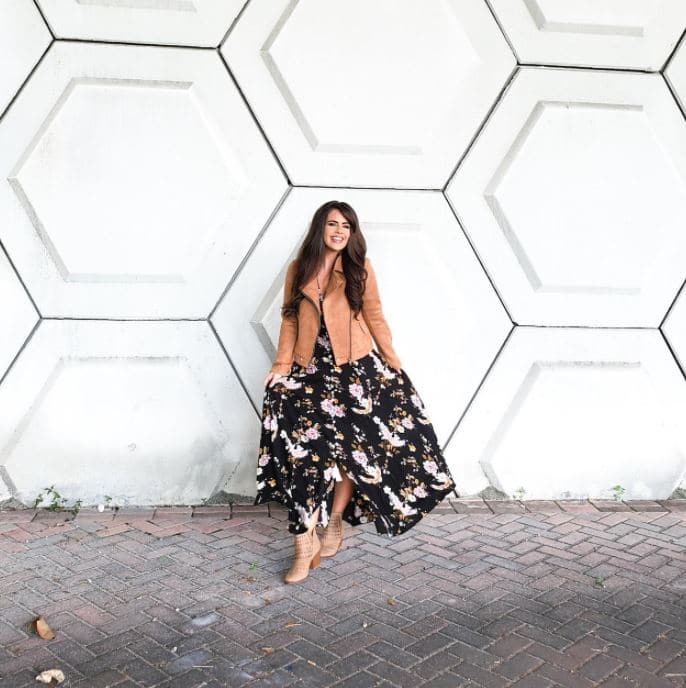 One Amazon reviewer said, "Bomb A$$ jacket! This jacket is a great value! I fell in love with the stretch, softness, and fit immediately." – Heapster28
6. Feiersi Off Shoulder Sweater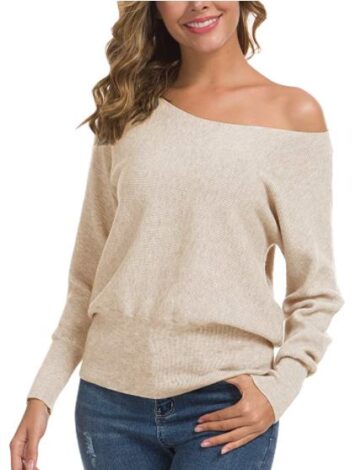 This off-the-shoulder sweater is soft and a must-have for fall AND winter. I personally love beige for fall. 🍂
When you don't know what to wear – go with simple black jeans and a simple sweater.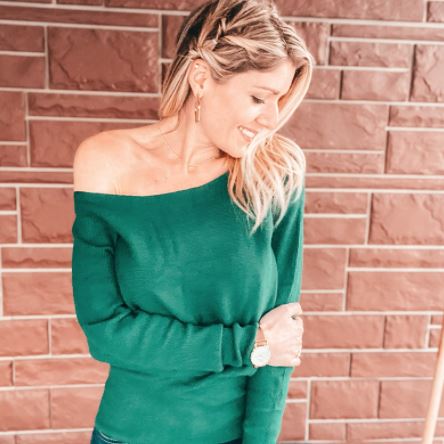 7. Retro Gong Faux Leather Leggings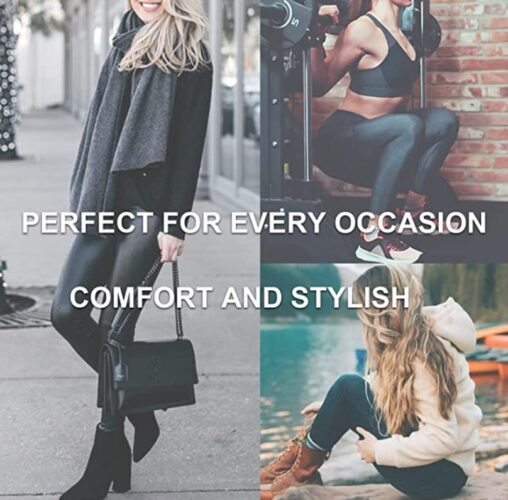 The Spanx leggings are stylish, but if you don't want to spend $90+ then these faux leather leggings are a good alternative!
These leggings are high-waisted (which I love!) and are very comfortable.
8. 90 Degree Leggings with Pockets
I absolutely LOVE the 90 Degree leggings with pockets. I have tried over 15+ brands of leggings and I love the 90 Degree leggings the most…even more than Athleta or Lululemon!
The 90 Degree leggings are just SO flattering, the pockets hold my cell phone and wallet nicely, and they have a super flattering cut.
9. SHEIN Tie Knot Blouse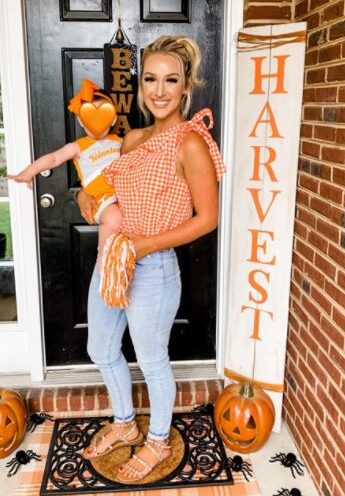 I am in LOVE with this SHEIN orange and white checkered off-the-shoulder blouse. The fabric has no stretch (so be careful when you order online), but this top is just too darn cute to pass up!
This top just reminds me of pumpkin carving in the fall and college football games.
10. BMJL Leopard Blouse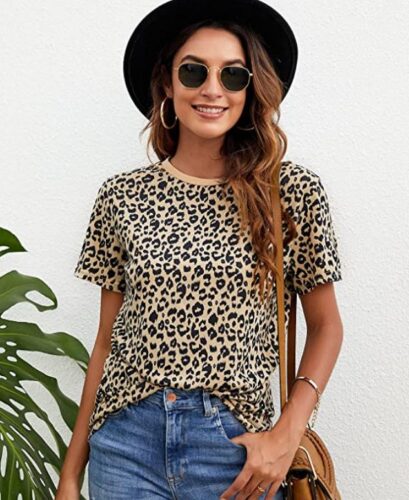 I don't know what it is…but I love leopard print. This cute leopard print shirt is casual with jeans or can be dressed up with black jeans and heels in the fall.
RELATED: Cute Leopard Print Outfit Ideas
11. LONGUAN Long Sleeve Dress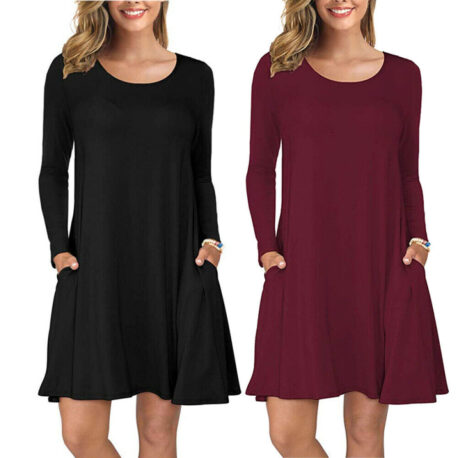 This long sleeve dress with pockets is SO, SO comfy. It actually belongs in the "top 10" list of Amazon fall fashion finds, but it is so cozy and comfy that you will feel like you are wearing pajamas!
Add a scarf and cute boots to make this dress a cute fall outfit.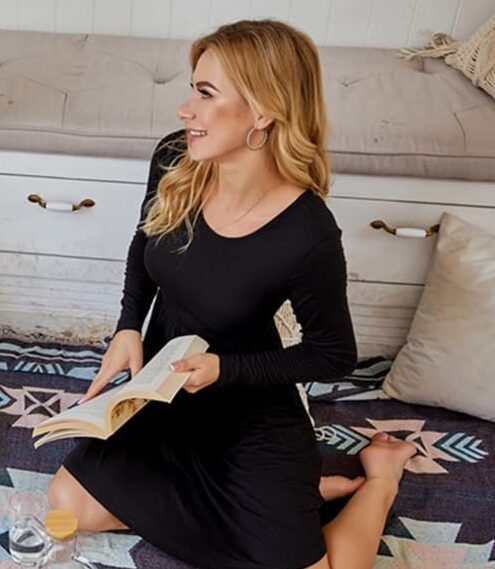 12. Luvamia Tie Dye Loungewear Set
I LOVE sweatpants, but they aren't particularly feminine. But loungewear sets in pretty pastel colors ARE feminine and girly.
This loungewear set is one of my favorite loungewear sets with pants for fall and it is super soft and super cute.
RELATED: Best Tie-Dye Loungewear for Women
13. Parlovable Comfy Slippers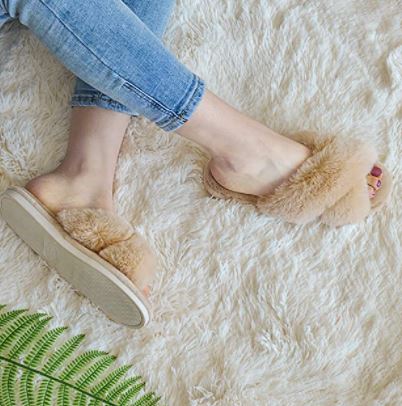 Amazon has TONS of fuzzy slippers to choose from, it was hard to choose the best for my Amazon fall fashion finds!
This pair is under $25 on Amazon and is super cute and soft. I love the memory foam and it comes in cute colors like pink, white, and camel.
14. Lanzom Wide Brim Fedora Hat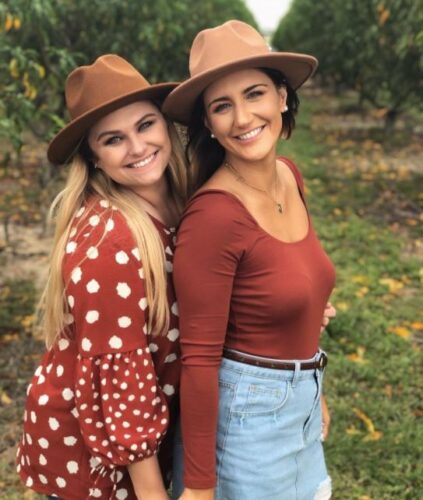 I'm a BIG FAN of wearing hats to protect your face from the sun. I love wide-brimmed straw hats or Fedora hats in the summer, but fall calls for a wool hat.
I personally LOVE this fedora hat and these cute boots for fall!
This wide brim fedora hat by Lanzom is AMAZING and it's under $20 on Amazon. You can wear it with practically anything!
15. N.N.G Over the Knee Boots
Boots are so sexy and cozy at the same time. I absolutely love knee-high boots or thigh-high boots for fall.
You can wear these over the knee boots with skirts, dresses, or jeans for fall. Check out more fall outfit ideas with thigh-high boots.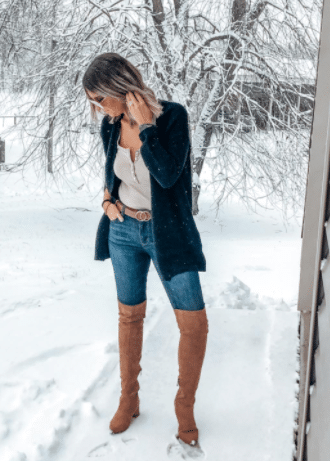 16. Chunky Block Heel Booties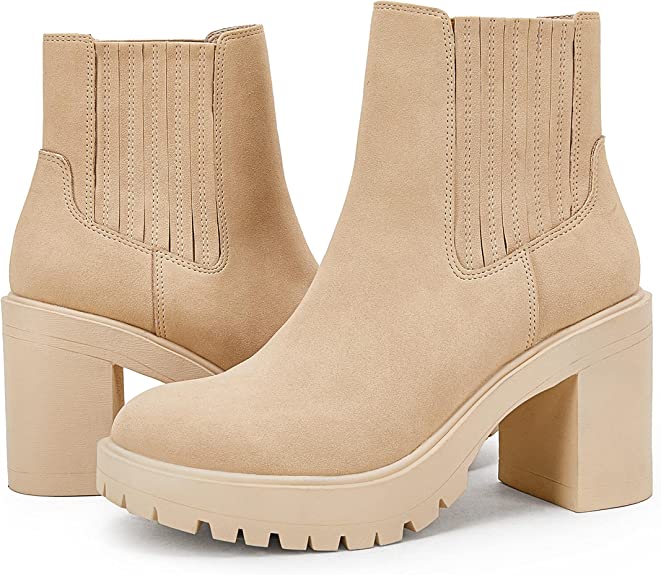 Chunky heel booties are IN for fall and winter. You need a pair of creamy/tan booties or black booties.
These Anne Klein ankle boots are so, so comfy and stylish. Plus, they hold up really well.
17. ICHIGO Ankle Booties
Black boots and white boots are IN for fall. These ankle booties are on sale on Amazon for less than $50 and so, so stylish!
18. Himosyber Plaid Shacket
Plaid shackets are so in right now, and this one is less than $35 on Amazon!
19. KEOMUD Puffer Vest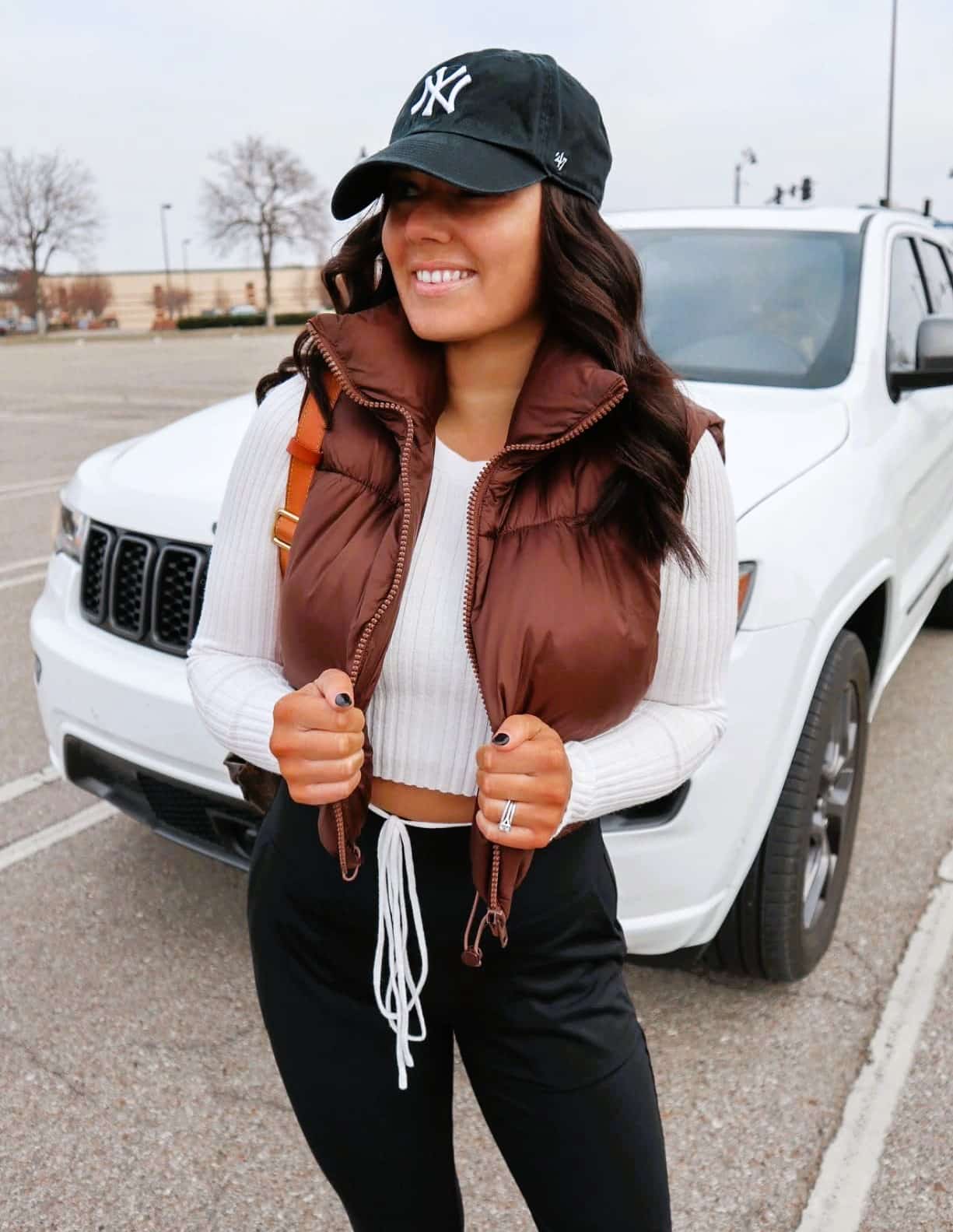 Puffer vests are super popular right now, and this puffer vest is less than $40 on Amazon. Plus, this cute crop vest comes in 15+ colors online.
Conclusion
In conclusion, Amazon has so many cute and affordable fall clothes! From puffer jackets to cute midi dresses to booties, Amazon has lots of super cute clothes that you can wear and mix and match to create super cute fall outfits!
More Amazon Fashion Finds
Bridal Shower Guest Outfits (on Amazon)
Best Striped Midi Dress with Pockets on Amazon