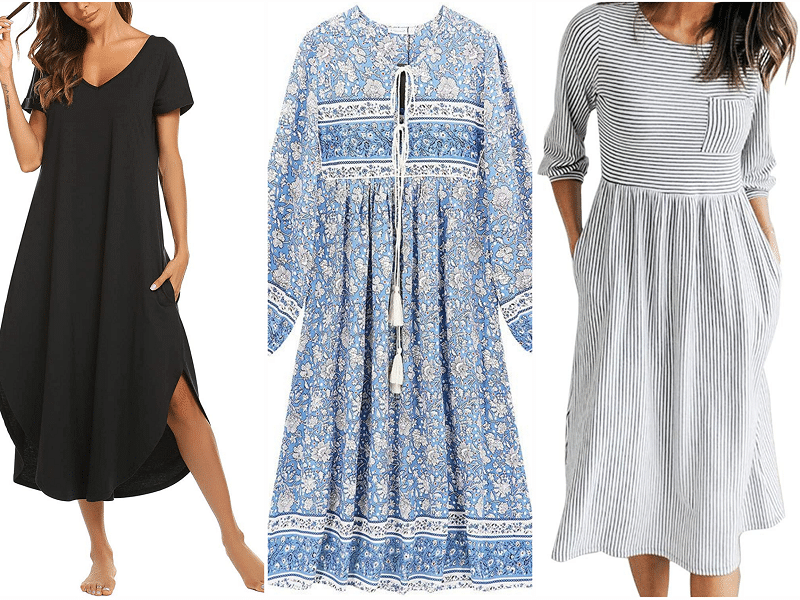 Cute and Comfortable House Dresses
House dresses are IN right now. They are comfortable, loose-fitting, and perfect for wearing around the house. Plus, house dresses hide belly bulge.
Continue reading for the most stylish, comfortable, and best house dresses for elderly ladies.
This post contains affiliate links. View the disclosure here.
15 Best House Dresses for Elderly Ladies
These house dresses are under $50 and look great for lounging around the house (or for going out!).
1. MEROKEETY 3/4 Balloon Sleeve T Shirt Midi Dress with Pockets
2. WNEEDU T-Shirt Black House Dress
This house dress for elderly comes in more styles and colors online.
3. BUENOS NINOS Long Dress House with Pockets
4. GRECERELLE Maxi House Dress
5. R. Vivimos Boho House Dress
The R.Vivimos floral print boho dress has more than 6K positive reviews on Amazon. Women LOVE it!
6. Yozly Nightshirt House Dress for Elderly Ladies
7. DB Moon Empire Waist House Dress
This dress also comes in plus sizes and has pockets!
8.
Invug Crewneck Swing T-Shirt Dress
9.
LA CERA Cotton Knit A-Line Dress
10. Mordenmiss Cotton Linen House Dress
11. YESNO Casual Loose Floral House Dress with Pockets
12.
KORSIS Black House Dress with Long Sleeves
13. YOZLY Cotton House Dress with Buttons
14. Pink House Dress with Pockets
15. Floral Boho House Dress with Pockets
Tips for Shopping for House Dresses
Here are a few things to keep in mind when shopping for travel dresses online.
Fabric: Is the fabric comfortable? Polyester and cotton are safe bets.
Can You Wear it for Multiple Occasions: Is it versatile? A simple black dress can be worn with different scarves and accessories. This makes the dress multi-purpose so you can wear it multiple times while traveling.
Length: What length do you want? Knee length is perfect for summer.
Neckline: What neckline do you want? Many dresses have a low V-Neck. Make sure to read the reviews online.
Color: What color is the most flattering on you? Black is multi-purpose. Light tan is great for summer. Blue can bring out blue eyes. Pink looks great on most skin tones. Orange looks great on women with darker skin tones.
More Comfy and Stylish Dresses as an Alternati
Here are a few more super comfy dresses to consider.
Iconic Luxe Dress (Made in the USA)
OUGES V-Neck Button Down Dress
Simier Fariry Dress
Amazon Essentials Banded Collar Shirt Dress
Amazon Essentials Midi A-Line Dress with Pockets
Daily Ritual Front Tie Dress
FAQs about House Dresses
Have a question about house dresses or what to wear with a house dress? Leave a comment below and I'll help you out.
Is a duster the same thing as a house dress?
Yes, a duster is pretty much the same thing as a house dress.
What is the difference between a house dress and a muumuu?
Both a house dress and a muumuu are similar.
Both dresses are loose fitting and long.
House dresses are slightly more likely to have an A-line shape and muumuus tend to have tropical prints.
Muumuus are associated with loose fitting dresses from Hawaii.
Are house dresses good for elderly ladies?
House dresses are comfortable and loose fitting, making them perfect for elderly.
However, house dresses are best-suited for wearing in warm climiates. They won't keep you warm!
Are house dresses ugly?
House dresses can be ugly, if you don't buy the right one!
Fortunately, Amazon has some cute house dresses.
More Cozy and Comfy Clothes for Women and Elderly
If you enjoyed this article, check out these similar articles and pages by Very Easy Makeup.
Stitch Fix Pink and Grey Weekend Outfit
The 3 Most Comfortable Bras EVER
Loungewear Sets with Pants for Women
Connect with Very Easy Makeup
I'd love to connect with you!
Follow Very Easy Makeup on Facebook to get notified of new beauty, makeup, and fashion posts!
Please subscribe to the Very Easy Makeup YouTube channel. You'll find how-to tutorials for very easy makeup and bleaching hair blonde at home.
Sign up for the Very Easy Makeup Newsletter.