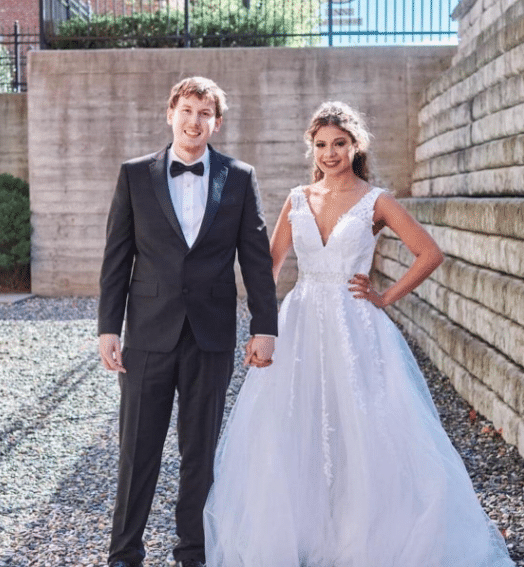 Searching for a wedding dress under the $200 price point? Believe it or not, you don't need to spend more than $500 on a wedding dress to find a good one. There are TONS of great and elegant wedding dresses under $200 online. You just have to know where to look!
Below are my top picks of the BEST wedding dresses online. all on Amazon! These wedding dresses get great reviews and look great in the wedding pictures too!
Wedding Dresses Under $200
If you are searching for a modest wedding dress, then search for beautiful modest wedding dresses with lace long sleeves. It's the perfect balance between classy, sexy, and modest!
The Best Modest Wedding Dresses Online (That Are Also Under $200!)
Here's a top 20 list!
1. Lace Mermaid Long Lace Sleeve Wedding Dress by WaterDress
This dress looks JUST like the expensive Jameson Hayley Paige dress! For under $150, this boho style beach wedding dress is one of my favorites!
Reasons to love this dress:
Delicate lace sleeves
Shows off your figure
Free customization or alternations provided
Best for boho style weddings
2. Lace Beach Boho Mermaid Gown by HedyDress
Reasons to love this dress:
Trendy boho style
Detachable sleeves
Best for boho style weddings
Comes in sizes up to 26 plus
3. Lace Beach Boho Long Mermaid Dress for Under $200 from HedyDress
Reasons to love this dress:
Boutique-like wedding dress
Under $150 online
Great reviews from the seller
4. Abaowedding Women's Wedding Dress
Reasons to love this dress:
Comes in sizes 26 plus
Well-made and gorgeous
Vintage style with lace long sleeves
Customization available
White or ivory
5. White and Ivory V-Neck Lace Vintage Dress by Babyonline
This dress is actually in my list of wedding dresses under $100, but it is so, so beautiful I'd hate to have you miss it. It truly looks like a $500 dress!
Reasons to love this dress:
Under $100 (yes, under $100!) online
Delicate and feminine
Tulle with lace applique
Comes in pearl pink, ivory, and silver too
Intricate lace details and lace applique
Best for outdoor weddings
6. Off Shoulder Wedding Dress on Amazon by LeoGirl
Reasons to love this dress:
Under $150
Shows of your shoulders
Comparable to $1,000+ dresses
7. Ball Gown Wedding Dress with Long Sleeves by Fair Lady
Reasons to love this dress:
Sizes up to 26 plus
Princess style ball gown wedding dress
Available in white or ivory
Best for formal weddings or women who want to feel like a princess!
8. Floral Lace Wedding Dress by Lover Kiss
Reasons to love this dress:
A-line cut
Up to sizes 24 plus
Customization available
Many different styles available
9. Lace Boho Bridal Dress by WaterDress
10. Women's Vintage Wedding Dress with Cap Sleeves by Ruolai in Ivory
11. Off White Cream Vintage Boho Dress with Sleeves for 2021 Brides by Cupocupa
12. V-Neck Long Lace Cream Boho Wedding Dress
13. Vintage Cream and Off-White Lace Dress with Spaghetti Straps by Cupocupa
14. Sexy Lace Mermaid Beach Dress by Clothfun
Reasons to love this dress:
Train without being overdone
Sexy low back and spaghetti straps
Shows off your figure
Perfect for a low-key wedding dress look
15. Sexy Deep V Neck Sequin Wedding Dress
Reasons to love this dress:
It's so fun!
Flattering on all shapes and sizes
Perfect for a non-traditional yet classy look!
16. V Neck Wedding Dress with Appliques by Fair Lady
Reasons to love this dress:
Comes in white or ivory
Two options for the back: low back or lace up
Looks great on larger women (sizes up to 26 plus)
Pinterest Inspiration for Wedding Dresses Online Under 200
Want even more inspiration? Check out these Pinterest pages by Very Easy Makeup.
Fashion Articles by Very Easy Makeup
If you enjoyed this article, check out these similar articles and pages by Very Easy Makeup.
All Things Hair by Very Easy Makeup
5 Simple Makeup Items to Use Daily (and Makeup for Beginners!)
The Best High SPF Tinted Moisturizers
Connect with Very Easy Makeup
I'd love to connect with you!
Follow Very Easy Makeup on Facebook to get notified of new beauty, makeup, and fashion posts!
Please subscribe to the Very Easy Makeup YouTube channel. You'll find how-to tutorials for very easy makeup and bleaching hair blonde at home.
Sign up for the Very Easy Makeup Newsletter.
(This post contains affiliate links. View the disclosure here.)