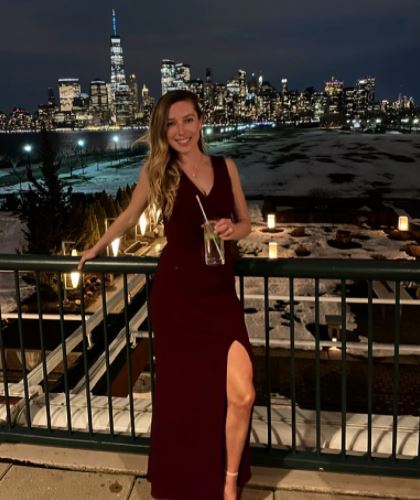 What to Wear to a Black Tie Wedding
One of my best friends had a winter black-tie wedding. It was at the Read House in Chattanooga, TN and the wedding was absolutely beautiful!
I had never been to a black-tie wedding, so wasn't sure what to expect. Fortunately, I had three dresses to choose from, and the perfect heals and jewelry to match.
Not sure what to wear to a winter black-tie wedding?
Want to look stunning at a black tie wedding?
This guide is all about what to wear to a winter black tie wedding.
This post contains affiliate links. View the disclosure here.
What to Wear to a Winter Black Tie Wedding
The tips below will help you look sexy at your winter wedding.
You'll want to wear a great dress, a pretty coat, and the perfect shoes.
You may also want to check out these winter wedding guest dresses and these formal black tie dresses for women.
The Best Style of Dresses to Wear to a Winter Black Tie Wedding
It's essential to know that black tie wedding = long dress.
If you aren't sure what to wear to a winter black tie wedding, stick to dark blue, dark purple, or red dresses. Black is fabulous too, but not as much fun.
Here's what a group of classy, UGA women wore at my friend's black tie wedding. They all looked great!
Need more inspiration for what to wear to a formal winter black tie wedding? See below for more ideas.
I opted for an extra small dress by BCBGMAXAZRIA.
I'd recommend sticking to dresses with stretchy material (they are more forgiving!) and staying away from strapless dresses when deciding what to wear to a black tie winter wedding.
Not sure where to shop? Check out Dillard's, Macy's, and Bloomingdales. If you know your size, check out Poshmark for dresses. A bridesmaid ordered her dress in four sizes too big from Poshmark, and had it tailored to fit. So smart! And much cheaper.
The Best Dresses to Wear to a Winter Black Tie Wedding
Check out these dresses on Amazon if you need a black-tie wedding guest dress!
1. YDMUCH Off Shoulder High Split Dress
2. WOOSEA V Neck Long Dress
3. WOOSEA High Neck Dress
The Best Shoes to Wear to a Winter Black Tie Wedding
Shoes are relatively simple. Wear heals when deciding what to wear to a winter black tie wedding!
You can wear sparkly gold or silver heals, but most women at a winter wedding opt for simple, black heals.
Unlike spring or summer weddings, winter weddings call for long dresses, which means no one can see your shoes anyway.
1. Heels by Aerosoles
I wore a simple pair of black heals by Aerosoles that I've owned since my high school prom (really!).
To ensure you can dance all night, I'd recommend a thicker heal and straps that tie over the ankle.
2. Heels by Lifestride
LifeStride is known for making REALLY comfortable heels, and these are a great price on Amazon!
Accessories to Wear to a Winter Black Tie Wedding
Accessories are a quick, easy way to jazz up a dress. One beautiful statement piece will do the trick!
You definitely need to wear earrings if you have pierced ears, and then add a ring, bracelet, and/or necklace depending on the dress.
Purses to Wear to a Formal Black Tie Formal Wedding
No women will be carrying a large or even medium-sized purse to a wedding, so don't let that be you!
Buy a small clutch that fits your driver's license, credit card, and phone. That's all you need. I brought my coach clutch and used that.
Brands with great, small clutches include Coach, Kate Spade, and Michael Kors. If you want to save money, go to TJ Maxx. They have tons of small purses to choose from.
Need to carry a phone charger, makeup, and more stuff? Pack a larger bag, and check it at the front desk of the venue. Or, do what I did. Hide it! I had a large bag with a change of clothes (for my two-hour drive home), and asked the bartender for a place to store it. He recommended hiding it under a table. Keep your valuables with you, and stash your large bag elsewhere. Not kosher, but it works.
The Best Coat for a Formal Black Tie Winter Wedding
I expected the winter wedding to be warm inside, but it was cold! All of us had our jackets on during the ceremony. The best-dressed women wore faux fur jackets or long, formal dress coats at the black-tie wedding.
I'd recommend bringing both your warm, winter jacket and a faux fur coat.
Wear your super warm, casual coat when walking to the venue, and then check it at the coat-check. Then, keep your faux fur coat on for ceremony and reception if you are cold.
Many faux fur jackets look cheap (in my opinion), so if you don't have one – that's okay! A simple shrug or black sweater with no buttons will work just as well.
Undergarments to Wear to a Black Tie Winter Wedding
I don't expect any of you to forget to wear a seamless bra or underwear, but don't forget the importance of trying on your underwear with your dress and outfit BEFORE the wedding.
Make sure your seamless panties are truly seamless, and make sure the bra is comfortable and works with your dress. If you wear Spanx, try them on under your dress. Many women, even thin women, will see how much better Spanx can make a dress look. You can also find less expensive versions of Spanx to wear under a dress at Macy's or TJ Maxx.
I'd also recommend wearing tights if it is winter-time. If it's really cold, you can wear warm, black tights. No one will see them! Or wear nude tights.
Essentials to Bring to a Winter Black Tie Wedding
Once you have the outfit down, there are a few other items to bring with you.
Don't leave these wedding essentials at home!
Your ID and credit card
Your cell phone (and a charger, if it dies easily)
Cash to tip the bartender
Tights to change into (if it's cold!)
Lipstick to re-apply throughout the night as needed
One Final Tip on What to Wear to a Winter Black Tie Wedding
Lastly, remember to put on your best smile and be happy for the newly-wed couple!