20 Best Knee Length Casual Dresses for Summer on Amazon
This post may contain affiliate links, which means I may earn a commission if you decide to make a purchase through our links, at no cost to you. You may view the disclosure here.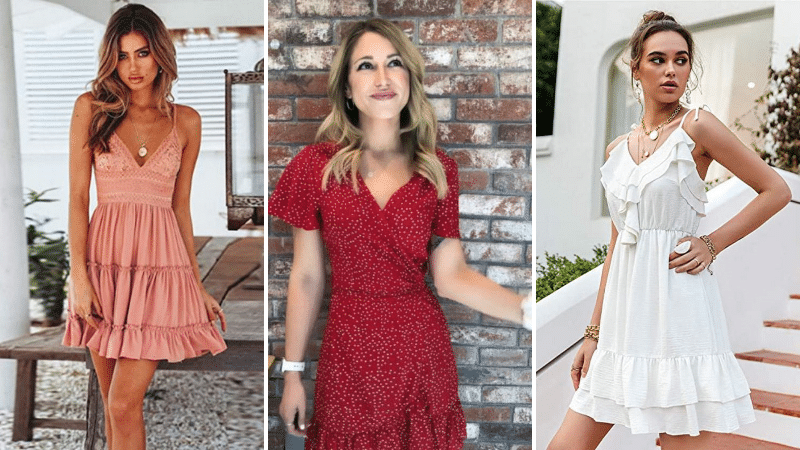 Hello summer!
If you are like me, you LOVE summer outfits. Jeans can be so tight (and uncomfortable!) and as much as I LOVE leggings, I must admit that I love wearing dresses in the summer.
There are lots of cute maxi dresses and midi dresses online (including maxi dresses for summer in plus sizes), but my go-to tends to be knee length casual dresses. There's just something about a knee length dress that I love.
You can pair casual knee length dresses for summer with heels, wedges, or sandals…or a pair of sneakers!
Plus, knee length casual dresses can be dressed up with a white blazer or dressed down with a jean jacket. Knee length dresses are just so multi-purpose!
This guide on the best knee length casual dresses for summer includes the best of the best casual dresses on Amazon. Only dresses with 4/5 star reviews or higher made this list. 😊
These are the cutest knee length casual summer dresses on Amazon. Women LOVE these knee length summer dresses.
This post may contain affiliate links. View the disclosure here.
20 Best Casual Knee Length Dresses for Summer on Amazon
Happy shopping! Here are my favorite cute, casual knee length summer dresses for women this year.
P.S. If a link is broken, please leave a comment below to let me know. I'll update it!
1. MEROKEETY Knee Length Casual Summer Dress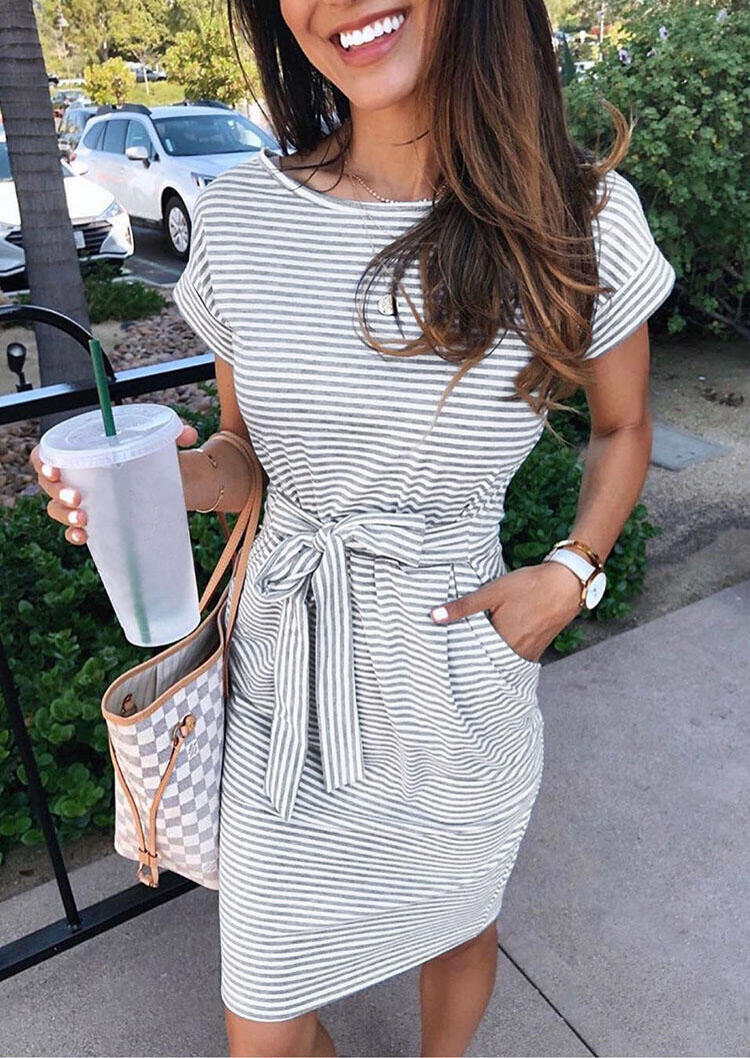 Curvy women and athletic women alike LOVE the Merokeety dress on Amazon. This dress is so flattering and made with comfy material! My friend who is apple shape has this dress in 4 different colors (seriously!)(.
This casual summer dress can also be worn as a business casual work outfit.
2. Romwe Summer Dress
This flirty skater dress is so cute! This A-line dress comes in red, black, light pink, white, and hot pink on Amazon and is perfect for summer.
3. Happy Sailed Summer Dress with Long Sleeves
I'm absolutely obsessed with this dress!! Don't let the photo fool you...lots of curvy women, women with a large bust, and apple-shaped women LOVE this dress. The long sleeves cover any arm fat and this dress is super flattering.
4. ECOWISH Summer Dress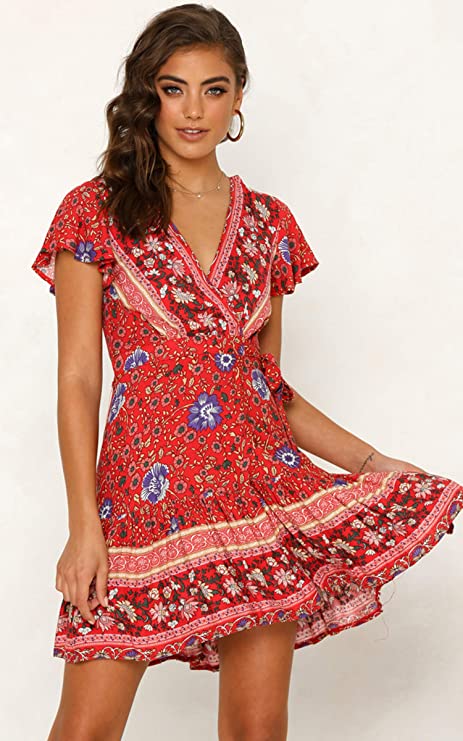 The pattern on this dress makes me want to take a cruise vacation to the Caribbean or a vacation to Mexico.
If you love this boho dress, you may want to check out this Amazon shopping guide with the best boho dresses on Amazon.
5. BerryGo Dress
This cute dress is really flattering for women with a pear shape for apple shape.
6. Ecowish Dress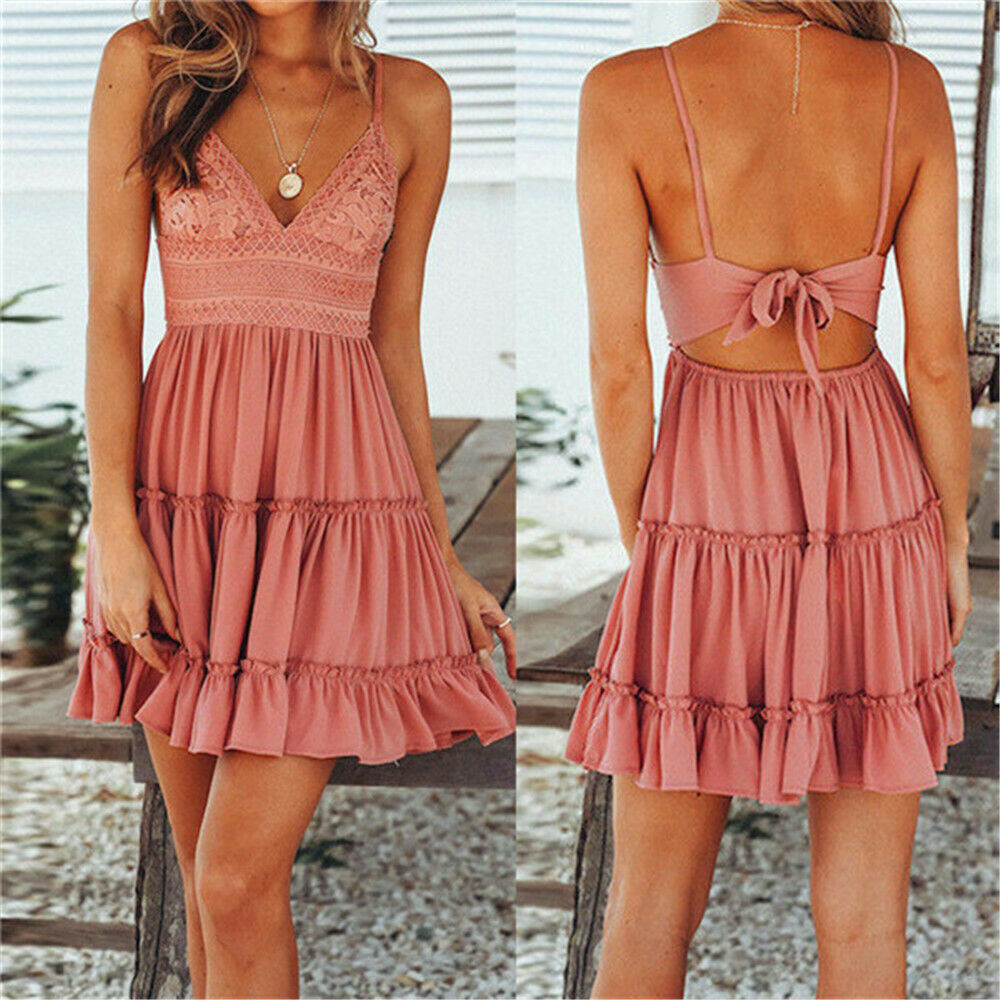 This mini dress for women is so cute!
7. BTFBM Short Sleeve Dress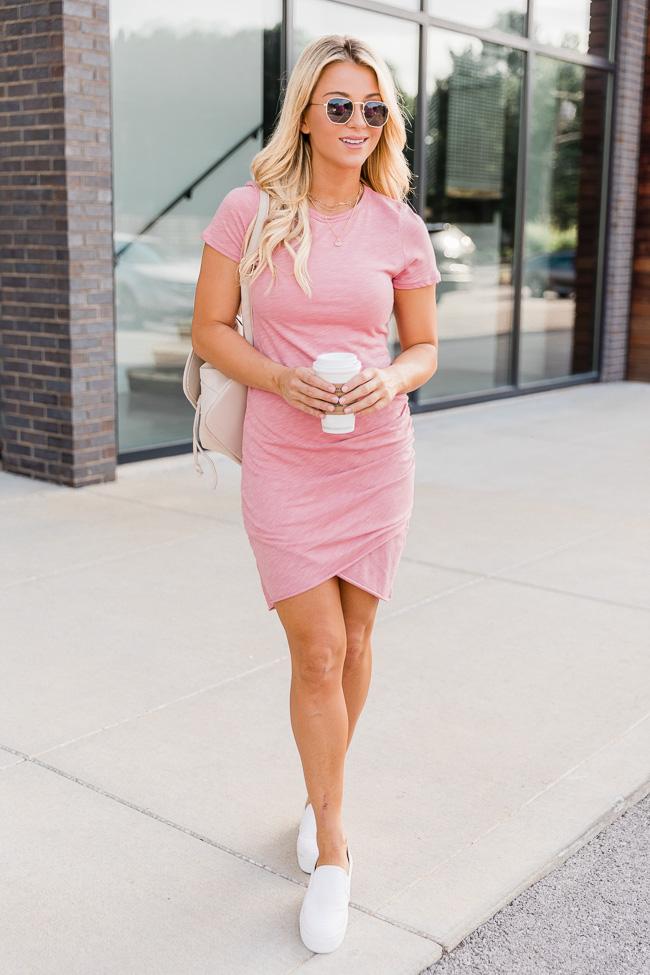 This is one of my all-time favorite dresses on Amazon for summer.
8. BTFBM Sleeveless Dress
This dress is cute and casual and perfect for summer! Or, throw a cute seater or jean jacket over it for spring and fall.
9. BTFBM Casual Summer Dress with Buttons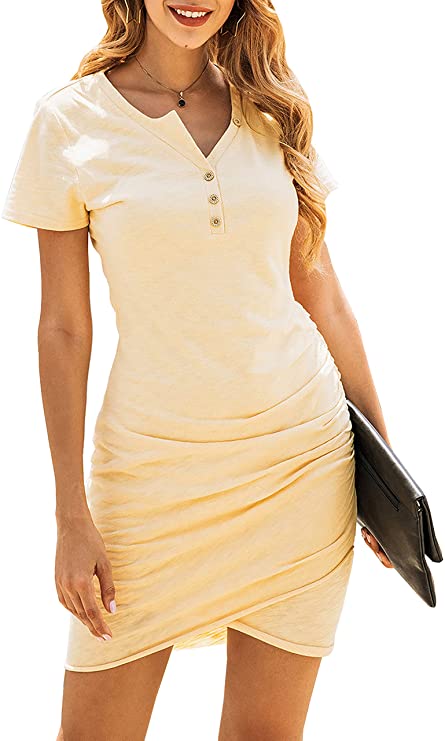 I purchased this dress a few years ago and LOVE it! I wear this dress ALL THE TIME!
10. Ecrocoo Beach Dress with Buttons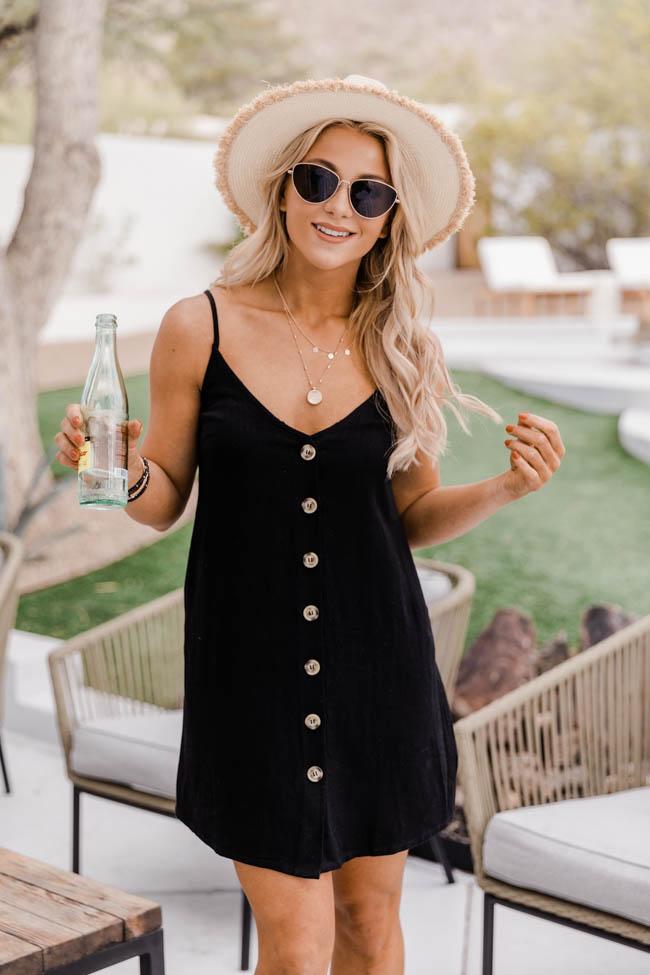 This dress is so darn cute! This Amazon dress with buttons is perfect for wearing to the beach or on hot summer days.
11. ULTRANICE Summer Dress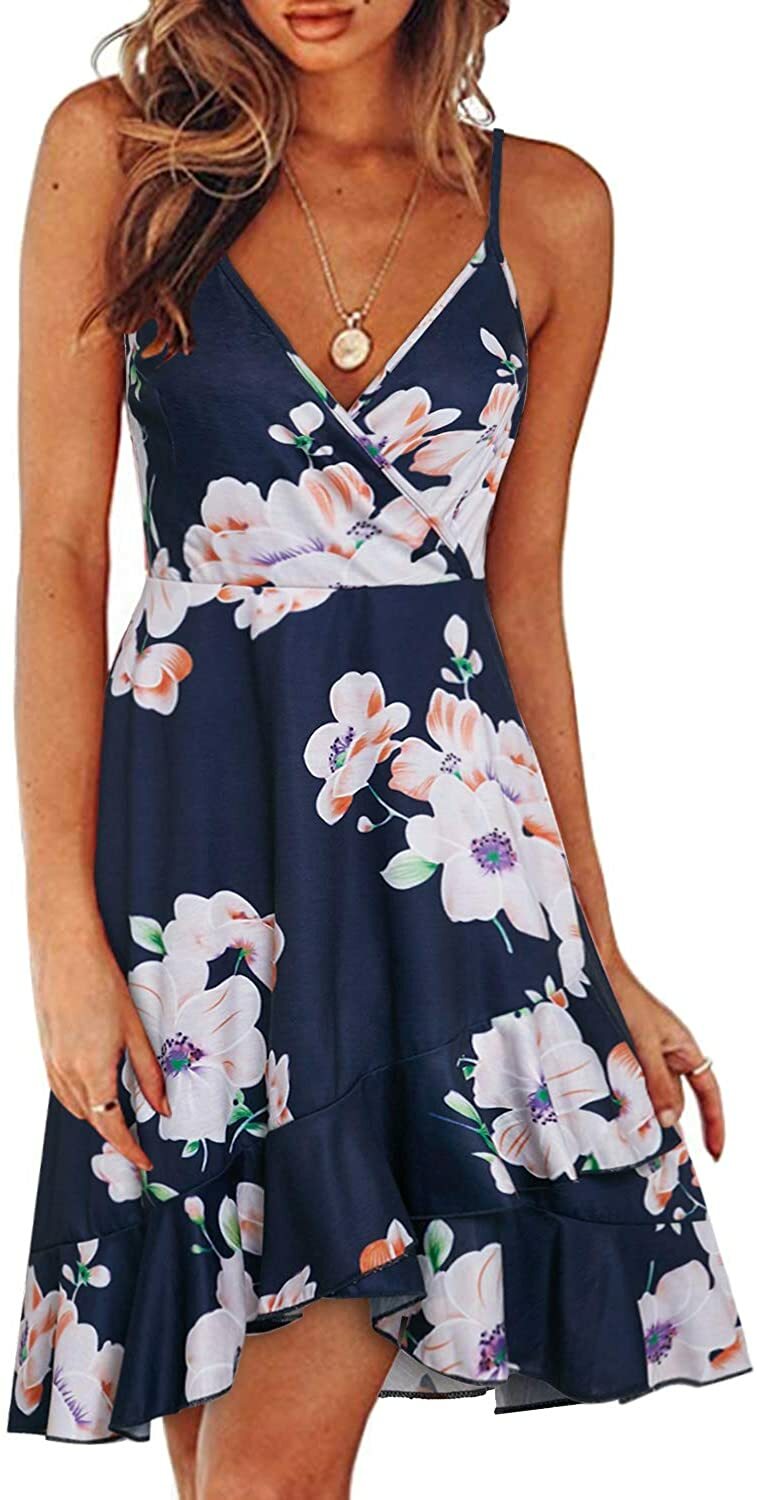 This floral dress is perfect for wearing on a date, out to lunch, or just running your weekend errands.
12. PRETTYGARDEN Floral Short Dress
13. Youica Casual Summer Dress
14. ZESICA Boho Casual Summer Dress
15. PRETTYGARDEN Midi Crewneck Dress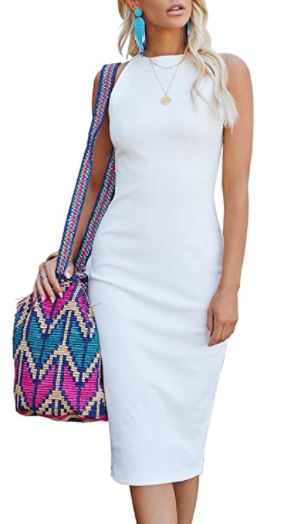 16. PRETTYGARDEN Casual Summer Boho Dress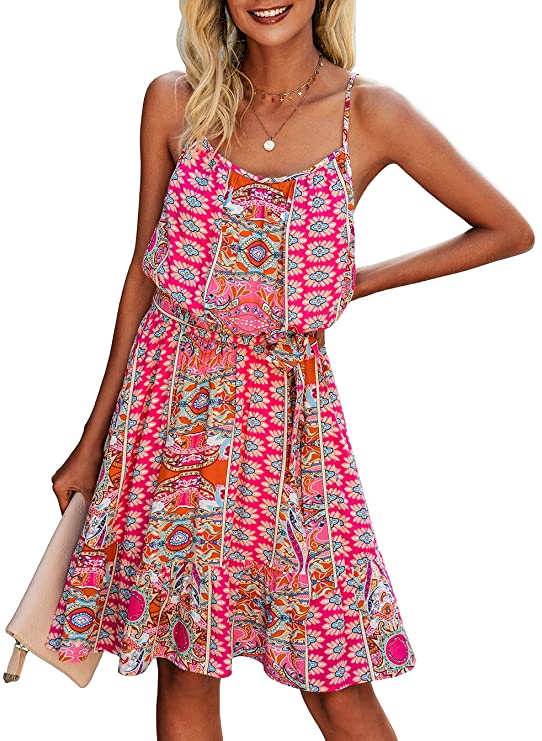 17. COLOWANA Mini Dress with Pockets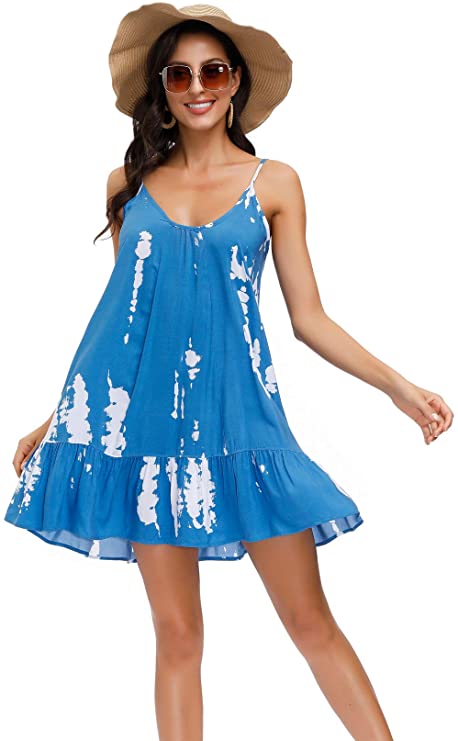 18. Beach Boho Knee Length Casual Summer Dress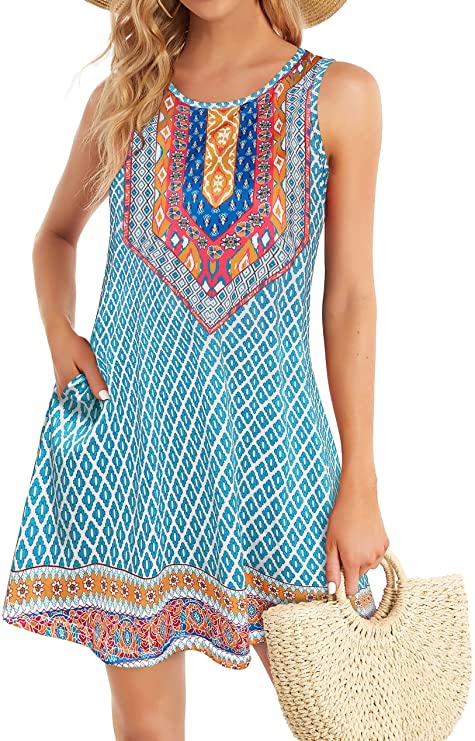 This casual knee length dress is perfect for throwing over a swimsuit for a cute beach outfit.
19. STYLEWORD Dress
20. LaSuiveur Bodycon Dress
Tips for Shopping for Casual Summer Dresses on Amazon
Here are a few things to keep in mind when shopping for dresses online.
Price: How much do you want to pay for a summer dress? The good thing about shopping for women's dresses for summer is that you don't need to spend a lot of money. Summer dresses can be "cheap" and still beautiful!
Length: What length do you want? Many summer dresses may be a bit short if you are taller than 5' 6". If you are taller, look for dresses that hit at the knees or that are a bit longer.
Neckline: What neckline do you want? Many dresses have a low V-Neck. Make sure to read the reviews online. Some dresses are great for women who have larger boobs and some dresses are terrible!
Pattern: What kind of pattern do you want? Floral print is great for summer. You can go bright and wild for summer.
Color: What color is the most flattering on you? Blue can bring out blue eyes. Pink looks great on most skin tones. Orange looks great on women with darker skin tones.
Places to Buy Causal Summer Dresses
Of course, Amazon is my #1 pick for finding cute summer dresses. It's easy. It's cheap. The return process is simple. And you can read lots of reviews online!
Other stores to check out include Target, SHEIN, Forever 21, Zara, TJ Maxx, H&M, and Gap.
I also love Lilly Pulitzer for fun summer dresses. You just have to be willing to pay extra $ (but it's worth it!).
Accessories to Wear with a Casual Knee Length Summer Dress from Amazon
My go-to footwear for summer is sandals. I like the Steve Madden Donddi sandal. The strap makes the shoes stay on. (Perfect for a night out dancing!)
The brown rattan wicker purses are super in right now.
And I love this style of earrings! (Guys like them too!)
More Outfit Ideas for Summer
Explore All Summer Outfit Ideas
Explore All Amazon Fashion Finds