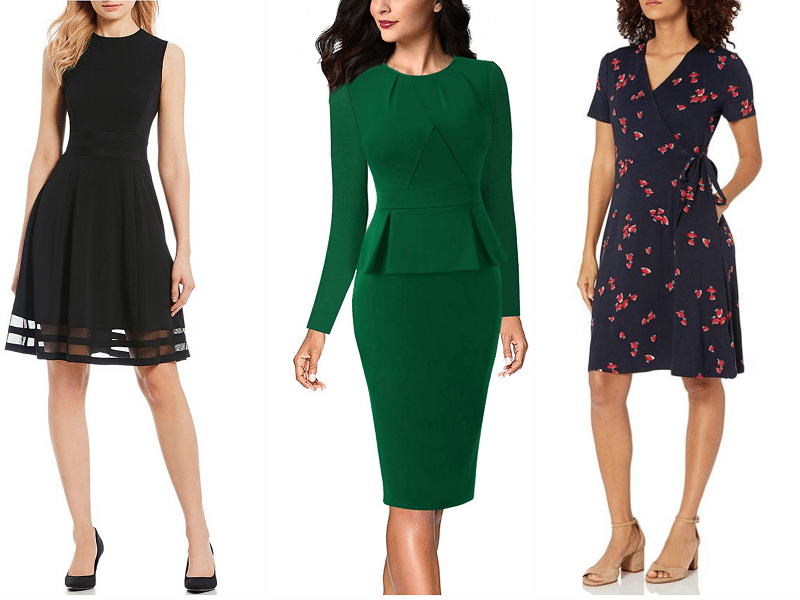 Dress Styles for Pear Shape
If you have a pear shape figure then you are in luck! There are many dress styles for pear shape women.
What is a Pear Shape Figure?
A pear shape figure is characterized by large hips and a defined waist. It is similar to an hourglass figure, except pear shaped women tend to have a smaller bust.
Do's and Don't Dress Styles for Pear Shape
At a high level, dresses that flare out at the hips are particularly flattering.
The 5 Best Dress Styles for Pear Shape Figures
Here are five most flattering dress styles for women with a pear shape figure.
1. A-Line Dresses
An A-Line dress is fitted at the hips and then flares out, resulting in an "A" shape. This style dress looks great on women with a pear-shaped figure.
2. Fit and Flare Dresses
A fit and flare dress has a fitted bodice and a flared out skirt. A fit and flare dress tends to have a slightly fuller skirt than an A-line dress. This style of dress looks greats on pear-shaped women.
3. Peplum Dresses
A peplum dress has an extra "frill" added at the waist for a distinctive look. It looks great on pear shaped and curvy women or thin women.
4. Tea Length Dresses
A tea length dress hits at the calves and flares out at the waist looks great on pear shape figures.
5. Wrap Dresses
A wrap dress accentuates the waist and flares out at the hips for pear-shaped women.
More Fashion Articles to Explore
If you enjoyed this article, check out these similar articles and pages by Very Easy Makeup. (And please share this article with friends on Facebook!)
Stitch Fix Summer Dresses You'll Love
The Best Amazon Fashion Finds of 2021
7 Stylish Dresses for Work (with Pockets!)
Connect with Very Easy Makeup
I'd love to connect with you!
Follow Very Easy Makeup on Facebook to get notified of new beauty, makeup, and fashion posts!
Please subscribe to the Very Easy Makeup YouTube channel. You'll find how-to tutorials for very easy makeup and bleaching hair blonde at home.
Sign up for the Very Easy Makeup Newsletter.
(This post contains affiliate links. View the disclosure here.)