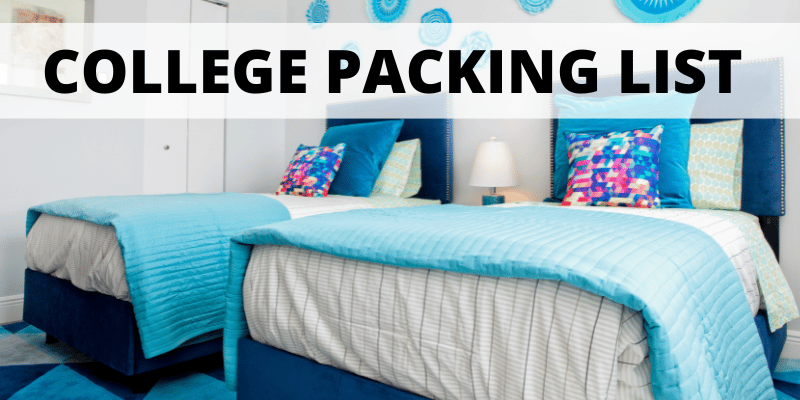 College Packing List
There are TONS of college packing lists and college packing checklists online, but most of them are limited to 50-75 things to pack.
But in reality...there are a LOT more items than that to pack for college!
This 195+ item college packing list includes everything that you absolutely need for college in addition to items that will super useful and handy!
This college packing list guide includes:
College dorm room bedding essentials
College laundry essentials
Cleaning supplies to pack for college
Fun college dorm room decor to buy
Must-have packing items for the bathroom
Kitchen supplies for college dorm rooms
Storage containers for college dorms
Health essentials to pack for college
Items for college dorm room desks
Electronics to pack for college
Must have toiletries for college students
College packing list for girls (makeup, beauty products)
Clothes to pack for college
Useful items to add to your college packing checklist
Optional items to pack for college
Downloadable PDF with the 195 items in this ultimate college packing list
This post may contain affiliate links. View the disclosure here.
Bedding Essentials for College
Sleeping well is SO important! Invest in a good mattress topper and get brand new matching sheets and blankets for college.
The right college dorm room bedding will make your whole dorm room cozy.
1. Sheets
You'll need extra long twin sheets to fit most college beds.
Both Amazon and Target have super cute sheets for college.
2. Pillowcase
Satin pillowcases are SO much softer than a normal pillowcase. Plus, they help to prevent wrinkles. 😉
3. Comforter or Duvet
Amazon has really affordable dorm room comforters. Or, check out Dormify for super cute college bedding!
4. Bed Risers
Adding bed risers is also a great dorm room idea. When you raise your bed, you can then store things under your bed!
5. Pillows
You'll of course need a pillow for sleeping!
6. Throws or Extra Blankets
7. Decorative Pillows
To make your room cozy, add fun and cheerful pillows in a bright color.
RELATED: Dorm Room Decorating Ideas
8. Mattress Topper
Don't forget to buy a mattress topper and a mattress pad. The investment is definitely worth it.
A mattress topper is essential to pack for college!
9. Mattress Pad
10. Eye Mask
Your roommate may not go to bed at the same time as you. For these occasions, you'll want an eye mask.
I've had this exact eye mask for YEARS and still love it. Plus, this eye mask holds up in the washing machine really well!
College Laundry Essentials
Stack up on everything that you'll need for doing laundry. It's no fun walking back to your dorm room from Target carrying heavy laundry detergent!
Add these items to your ultimate college packing list.
11. Clothes Hamper
12. Stain Stick
13. Mini Steamer
14. Laundry Detergent
15. Dryer Sheets
16. Stain Remover
17. Lint Rollers
Cleaning Stuff for College
Dorm rooms are small, but they do get dirty. Keep your room tidy and clean. Plus, having a messy or dirty dorm room can be distracting while studying.
18. Disinfectant Wipes
19. All-Purpose Cleaner
20. Dish Sponges
21. Hand Soap
22. Trash Bags
23. Vacuum
Tiny places get dirty quickly. A vacuum will become handier than you'd expect!
24. Paper Towels
25. Trash Can
A small trash can is perfect for dorm rooms.
Dorm Room Décor
The right college dorm room decorations can make the BIGGEST difference in how your dorm room looks.
26. Small Area Rug
The right dorm room rug can completely transform a room. Plus, it's nice to hop out of your bed and stand on something soft in the morning!
27. Posters
Get some posters to hang above your bed or on the walls of your dorm room.
28. Fairy String Lights
29. Small Lamp
30. Command Hooks
31. Plants
32. Command Strips
33. Small Round Mirror
34. Tapestry
35. Comfy Chair
36. Full Length Mirror
Bathroom Items for College
You'll likely be walking down the hallway to share a bathroom in college.
You'll need all the typical bathroom items in addition to a shower caddy and shower shoes.
37. Shampoo and Conditioner
I am a big fan of the L'Oreal Paris Elvive shampoo and conditioner. It makes your hair so, so soft!
38. Shower Caddy
39. Shower Shoes
40. Bathrobe
41. Towels
42. Washcloths
43. Razer
44. Shaving Cream
45. Body Wash
46. Toothbrush
47. Toothpaste
48. Mouthwash
49. Floss
Kitchen Supplies for Dorm Rooms
Depending on the size of your dorm room, having kitchen supplies will be most useful in college. Some days you may not have time to have breakfast in the cafeteria before class, or you may get hungry at night.
50. Mini Fridge
51. Electric Kettle
52. Coffee Maker
53. Sandwich Bags
54. Can Opener
55. Water Filter Pitcher
56. Microwave
57. Coffee Cup
58. Reusable Water Bottle
69. Set of Plates and Bowls
70. Utensils
71. Portable Coffee Mug
72. Snacks
73. Food Storage Containers
Storage Solutions for College
You'll want to make the most of your small space. Under the bed storage is a college dorm room essential. Anything to organize your closet and add extra storage will be handy.
74. Desk Shelf
75. Hangers
76. Shoe Rack or Hanger
77. Small Dresser
78. Under the Bed Storage
79. Ottoman
80. Storage Cubes
81. Clear Storage Bins
Health Essentials for College
You don't want to get sick! Stay healthy with these items.
82. Airborne
83. Advil
84. Condoms
85. Cough and Cold Medicine
86. Vitamin C
87. First Aid Kit
88. Band-Aids
89. Cough Drops
90. Calcium, Magnesium, Zinc
91. Allergy Medicine
92. Pepto Bismol
93. Thermometer
94. Eye Drops
95. Vitamins
Study Station Supplies
Even if you study in the library, there will be times when you want to study in your dorm room. Don't forget to add these items to your ultimate college packing list.
96. Small Light
97. Power Strip
98. Pens and Pencils
99. Notepads
100. Highlighters
101. Binders and Paper
102. Bulletin Board
103. Pushpins or Tacks
104. Stapler
105. Erasers
106. Scissors
107. Tape Dispenser
108. Post It Notes
109. Charging Station
110. Weekly Planner
111. Backpack
112. Desk Organizer
113. Laptop Case
Electronics for College
Of course you need a laptop and cell phone for college, but these other electronics will be useful too.
114. TV
115. Noise Canceling Headphones
116. Laptop and Spare Charger
117. Keyboard
118. Mouse
119. iPhone
120. Portable Phone Charger
121. Spare phone charger
122. Camera
123. Bluetooth Speaker
Laptop Cover
Don't let your new laptop get chipped or ruined! A good laptop case is essential.
I personally LOVE the Incase Designs Hardshell Case with dots for the Macbook Pro.
Casetify also has super cute laptop covers!
Must-Have Toiletries for College
You'll need these items on a weekly (if not daily!) basis, so don't forget to add all these toiletries to your master college packing checklist.
124. Sunscreen for Face
125. Nail Clippers
126. Deodorant
127. Cotton Pads
128. Anti Blemish Pads
129. Face Wash
130. Tweezers
131. Hair Brush
132. Biore Nose Strips
College Packing List for Girls
Here are a few items you may want to pack for getting ready in the morning and/or getting ready for formals and on-campus parties.
133. Jewelry Hanger
134. Makeup Bag
135. Makeup Remover
136. Tampons
137. Hair Ties
138. Blow Dryer
139. Lipstick
140. Blush
141. Curling iron
142. Hairspray
143. Hair Product
144. Eyeshadow
145. Mascara
146. Under Eye Concealer
147. Foundation
148. Nail Polish and Nail Remover
149. Perfume
Clothes to Pack for College
Of course you'll need clothes!
To make packing easy, I personally threw ALL of my clothes on my bed at home, and then started to sort my clothes into two piles. One was "must have" clothes for college and the other included clothes that I never wear, clothes that are too small/too big, or "worn down" clothes that just didn't look the best anymore.
150. Pajamas
151. Slippers
152. Summer Dresses
153. Formal Dresses for Parties
154. Going out clothes
155. Business casual clothes
156. Heels
157. Sandals
158. Workout Clothes
159. Bras and Underwear
160. Socks
161. Costumes
162. Rain boots and raincoat
163. Winter Coat
164. Shorts
165. Jeans
166. Blouses and T-Shirts
167. Your Favorite Sweatshirt
Handy Items for College
You won't need these items every day, but they sure will come in handy!
168. Screwdriver
169. Lightbulbs
170. Batteries
171. Safety Pins
Useful Items You May Forget
Don't forget to pack these often forgotten, unexpected things to pack for college.
172. Glitter for Parties
173. Earplugs
174. Pepper Spray
175. Personal Alarm
176. Beach Towel
177. Umbrella
178. Water Bottle
179. Fans
180. Suitcase
181. Weekender Travel Bag
182. Sunglasses
Optional Items to Pack for College
These are optional items for college, but they may be super useful. Pick and choose what works for you.
183. Yoga Mat
185. Dry Erase Board
186. Board Games
187. Deck of Cards
188. Makeup Mirror
A mirror will make it easy to apply makeup in your dorm room vs. going to the bathroom.
189. Makeup Organizer
190. Diffuser & Essential Oils
191. Flashlight
192. TV
193. Air Mattress for Guests
194. Alarm Clock with Reading Light
This cute alarm clock is attractive and also doubles as a smart reading light.
195. Air Purifier
FREE Printable College Packing List: Ultimate College Packing List – PDF
Want a PDF with EVERYTHING on this college packing list? Download a PDF spreadsheet below.
Related Articles by Very Easy Makeup
Liked this post with the ultimate college packing list? Check out these related articles too!
College Dorm Room Decor & Ideas