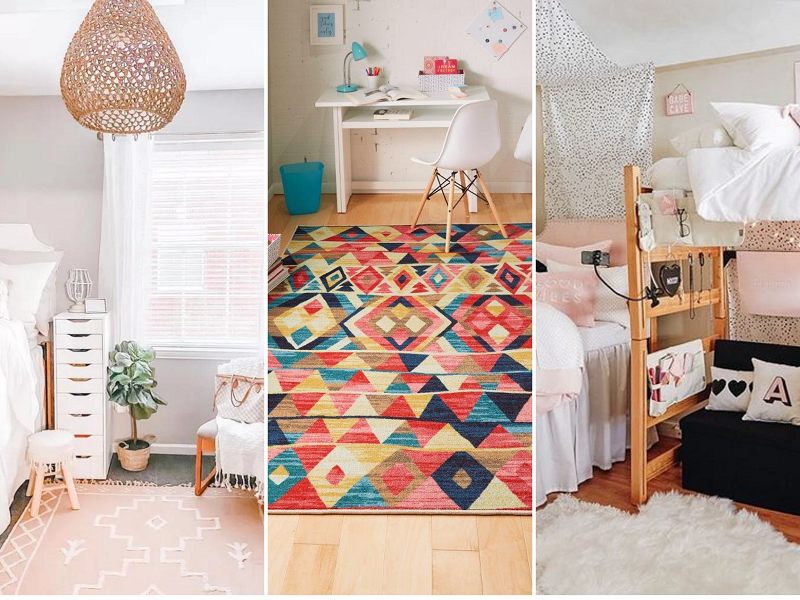 The Best College Dorm Room Rugs
A college dorm room rug can make your dorm look bright, cheery, and fun!
Plus, it's a cheap and quick way to completely transform your dorm room and make it homey.
15 Best College Dorm Room Rugs for College Dorm Room Décor
If you are searching for the best dorm room rugs, then check out these photos of dorm rooms with cute rugs for inspiration.
This post may contain affiliate links. View the disclosure here.
1. Faux Fur Sheepskin Area Rug
A small faux fur rug is perfect for college dorm rooms. It's small, super soft, and girly yet sophisticated.
This faux rabbit fur rug fits nicely in small spaces.
Plus, your feet will thank you every time you hop on and off this soft rug.
2. Boho White Kenzie Shag Area Rug
This boho rug gets 5/5 star reviews! People say this dorm room rug is beautiful, super soft, and exactly as described.
3. Fluffy Pink College Dorm Room Rug
A light pink fluffy rug is girly and fun for college dorms.
This small rug is easy to toss on the floor to bring a college dorm room together. Place it on top of a larger white rug for a fun and cute look.
4. Large White Fluffy Rug
A white fluffy rug is so warm and welcoming! Plus, a white dorm room rug will match anything.
5. Large White or Cream Area Rug
If your dorm room has wood floors (or just dirty carpet!), get a larger rug to cover up the entire space.
Plus, white will brighten a dorm room and make it look bigger.
6. Shabby Chic Dorm Room Rug
Shabby chic is in right now. Think rustic farmhouse, boho, and Mediterranean colors.
P.S. Love the college dorm room decor in the room above? Check out these college dorm room decorations to copy the look.
7. Boho Themed Rug
A light gray rug with a pattern won't show dirt and works well for any boho-themed dorm room.
This is one of my favorite college dorm room rugs.
8. Geometric Moroccan Inspired Rug
This geometric dorm room rug comes in grey, white, yellow, reg, and blue.
9. Solid Color Fluffy Rug
Once you have picked out the main color theme for your college dorm room, go ahead and get a matching rug!
This cushy rug comes in different colors on Amazon and is so bright and cheery!
10. White Fluffy Rug
You can't go wrong with white! A fluffy dorm room rug will make your dorm room cozy. Plus, white matches everything.
11. White Geometric Rug
White rugs with diamond or square shapes are so in right now. It's a popular look. Plus, like a white rug, this style tends to match with any college dorm room.
12. Geometric Light Pink Rug
Boho is so IN right now! You can't go wrong with light pink, coral, and white for your dorm room theme and colors.
Plus, you can easily add a dreamcatcher and fun pillows to complete the college dorm room idea.
13. Bright Geometric College Dorm Room Rug
If you keep your college dorm room simple and minimalist, then you can add a fun and bright geometric rug to your dorm room.
This bright rug is so cheerful and modern for college dorm rooms.
14. Fun and Cheerful Small Rug
A small and cheerful rug right by your feet will be PERFECT for making you smile when you get out of bed each day.
15. LOCHAS Ultra Soft Modern Area Rug
This college dorm room rug is so, so plush!!!
You can get this college dorm room rug in blue, yellow, purple, orange, hot pink, and more colors.
Want to show your school spirit? You can get this rug in the colors of your school!
Related Articles by Very Easy Makeup
Liked this article on the best monokini swimsuits on Amazon? Check out these related articles too!
Fall Outfits with Thigh High Boots
Victoria's Secret Look a Like Pajamas
Connect with Very Easy Makeup
I'd love to connect with you!
Follow Very Easy Makeup on Facebook to get notified of new beauty, makeup, and fashion posts!
Please subscribe to the Very Easy Makeup YouTube channel. You'll find how-to tutorials for very easy makeup and bleaching hair blonde at home.
Sign up for the Very Easy Makeup Newsletter.