37 Best College Dorm Room Ideas (Easy + Affordable!)
This post may contain affiliate links, which means I may earn a commission if you decide to make a purchase through our links, at no cost to you. You may view the disclosure here.
Fun and Easy College Dorm Room Ideas
It's that time of year again…back to school!!
Whether you are a freshman moving into your college dorm for the first time or a Junior who is looking forward to another great year of fun, having a cozy, warm, and cheerful dorm room that makes you happy and comfortable is a MUST.
But what kind of themes are best for college dorm rooms?
This post shows you the best college dorm room ideas to have one of the best dorm rooms on your college campus.
Below are EASY College Dorm Room Ideas to Make Your Room Cozy, Warm, and Cheerful.
This post contains affiliate links. View the disclosure here.
Best College Dorm Room Ideas for a Cozy, Warm, and Cheerful Room
Here are easy-to-copy and fun college dorm room ideas.
1. Go with Light Pink and Grey College Dorm Room Decor
Copy this Dorm Room Idea
Pink is girly and fun and grey is calming yet sophisticated.
2. Decorate with Stickers and Photos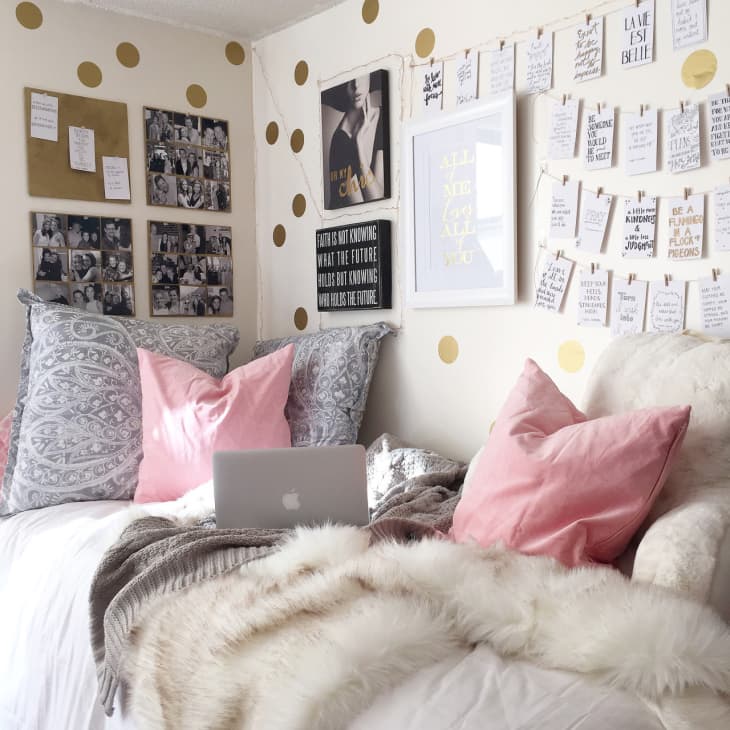 Copy this College Dorm Room Idea
3. Grab a New and Fuzzy Throw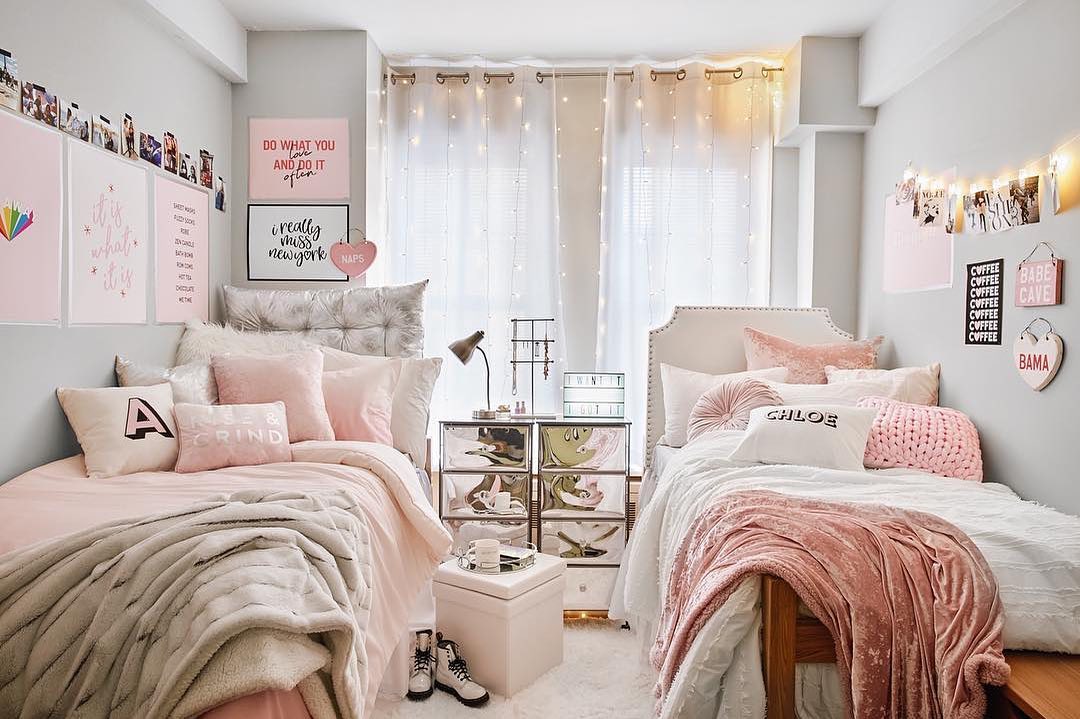 Adding fuzzy and warm throws helps bring the whole look together.
4. Use Ottomans for Storage
Copy this College Dorm Room Idea
5. Go with Orange and Cream for a Boho College Dorm Room
Copy this College Dorm Room Idea
Orange is cheerful and happy. Add touches of cream or light tan to add class and style for a fun boho-styled college dorm room idea.
6. Make Your Room Cozy and Relaxing with Textured Pillows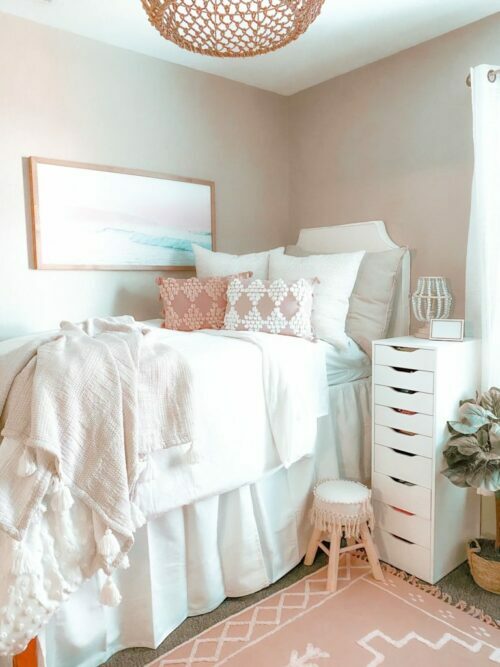 How to Copy this Dorm Room Idea
7. Get a Calming Blue and Grey College Dorm Room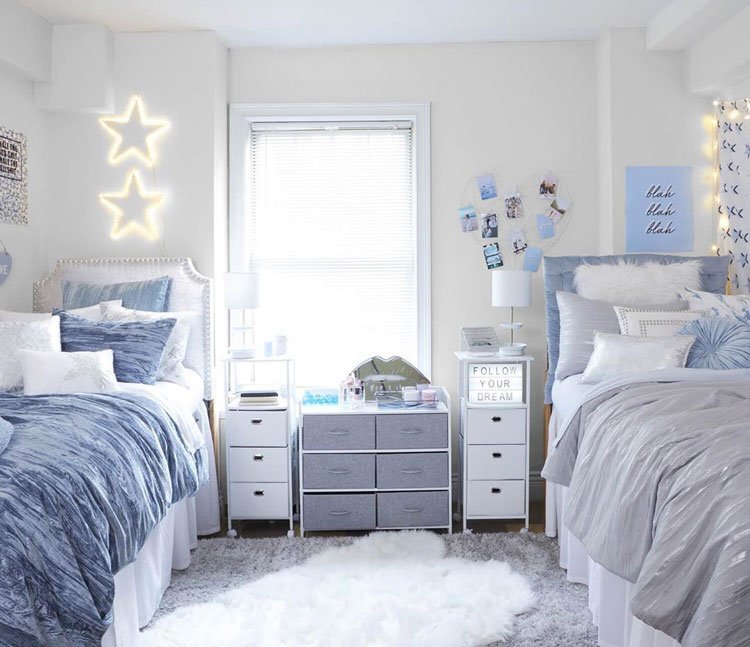 Copy this Dorm Room Idea
Blue brings calm to your mind and helps you sleep. Adding fun throws and warm touches softens the room.
8. Coordinate Comforters and Color Schemes with Your Roomie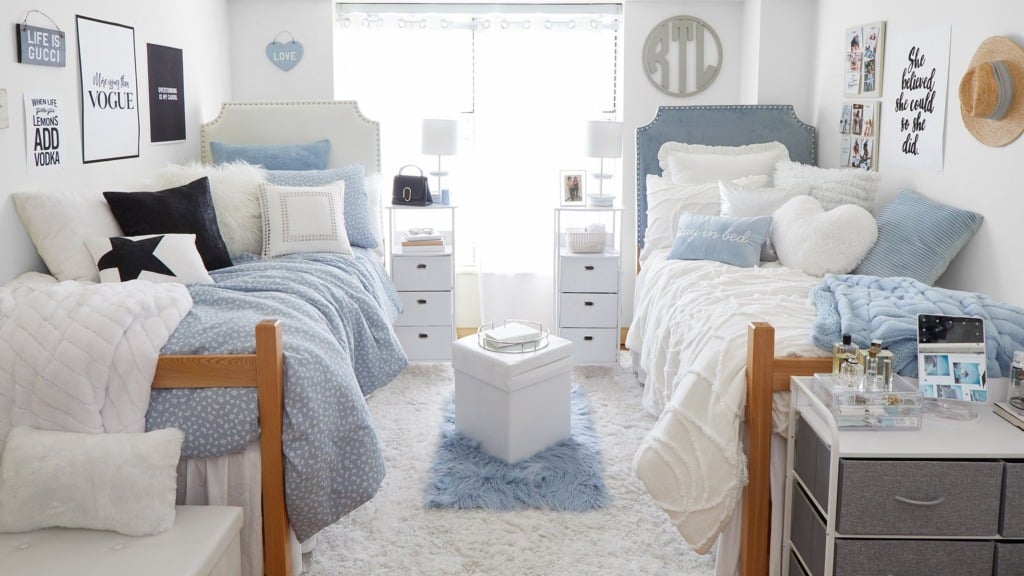 9. Decorate Your Dorm with Bright Colors (Like Yellow and White) and a Fun Rug
Copy this White and Yellow Dorm Room Decor Idea
White and light yellow is so cheerful and warm!
10. Decorate with Vines and Floral Artwork
Get this Dorm Room Look
Yellow is so cheerful and happy.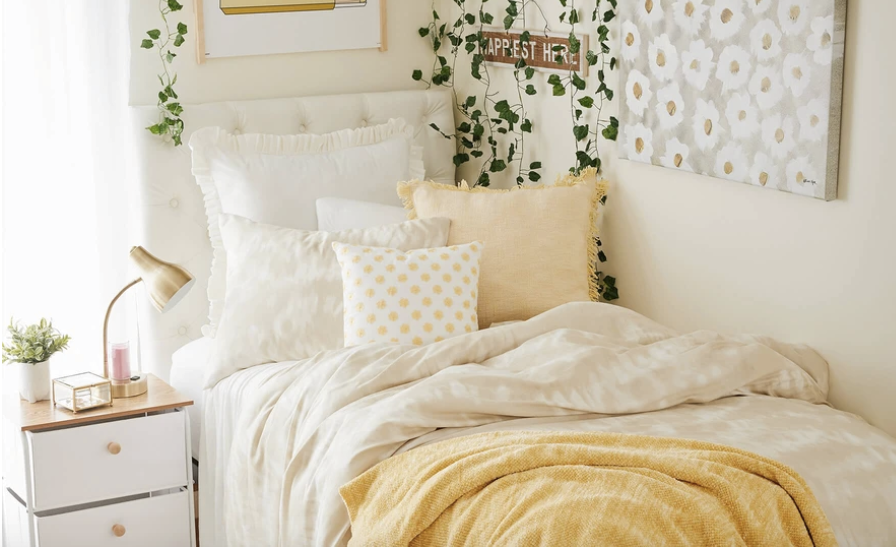 Similar Yellow and White Dorm Room Decor
11. Make Your Dorm Room Chic with an Emerald Green and Hot Pink College Dorm Room
Emerald green is rich and classy. It reminds me of Gossip Girl! Hot pink (think Millennium Pink) is fun and perfect for college girls.
How to Copy this College Dorm Room Idea
12. Go with Light Pink and Black for Your College Dorm Room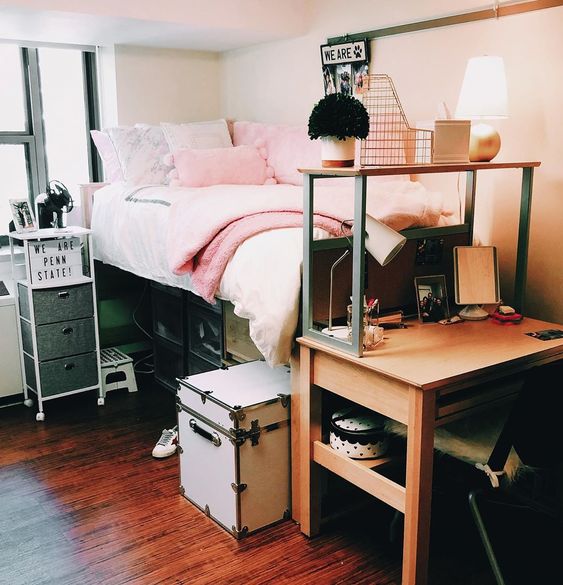 Copy this College Dorm Room Idea
The light pink with black color theme is easy to copy (light pink and black are popular colors for decorations!).
13. Go with a Polka Dot Theme for Your Room!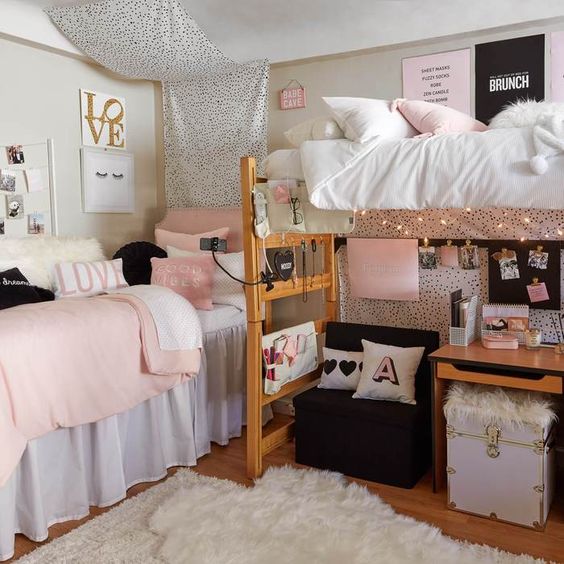 You can add pops of white or polka dots for added fun.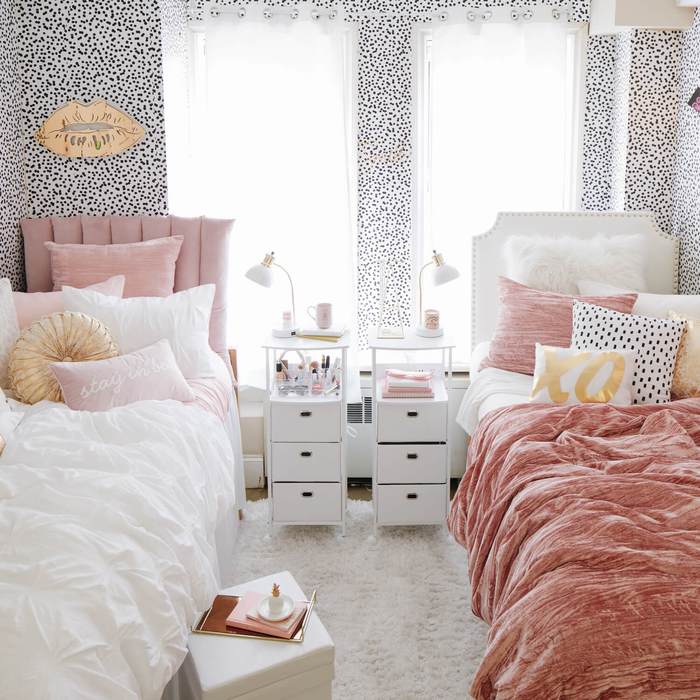 Copy this College Dorm Room Idea
14. Go Somewhere Tropical with a Green and White Tropical Dorm Room
Copy this Dorm Room Decor
15. Display Your Jewelry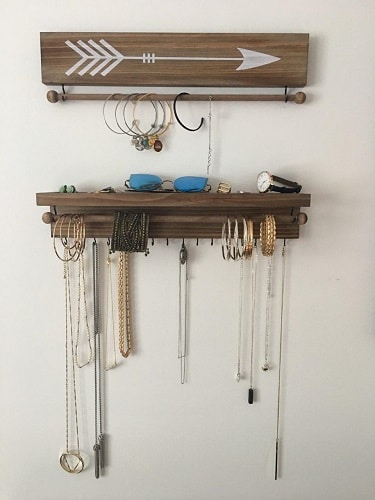 Copy this College Dorm Room Idea
Necklaces can dress up any outfit! Get an organizer for your jewelry. This college dorm room idea is practical and easy!
16. Add Desk Space with a Bookshelf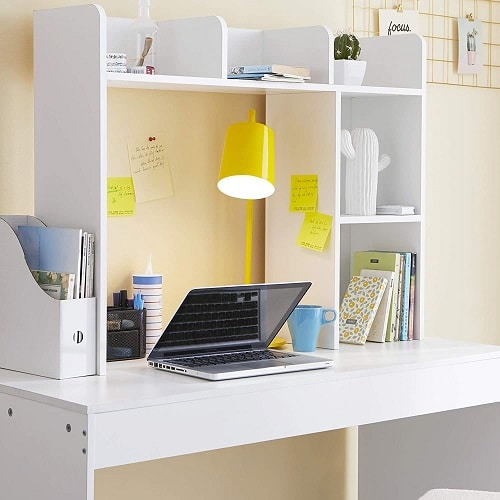 A desk bookshelf adds much-needed space for storing textbooks and cute plants and decorations!
Copy this College Dorm Room Idea
17. Make Your Desk Area FUN
Why have a boring desk? Dress up your work area by adding a cute mousepad and pencil holder.
Copy this College Dorm Room Idea
18. Transform Your Bed with a Headboard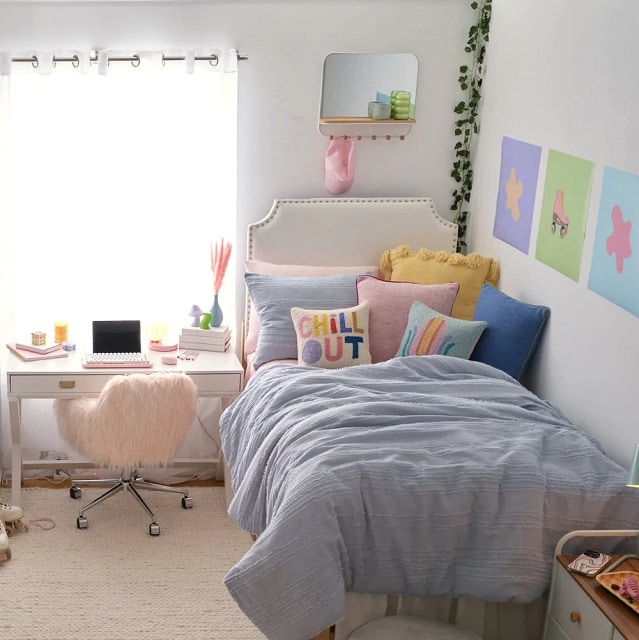 A headboard can instantly change the look of your dorm room!
RELATED: Dorm Room Décor Ideas
19. Get Extra Storage Under Your Bed
Add lifts under your bed to raise it up, and then store extra clothes under your bed.
What to Buy for Extra Storage in Your Dorm Room:
20. Get an Over-the-Chair Pocket Organizer
Dorm rooms are small, so extra storage is always helpful!
An over-the-chair pocket organizer can hold your headphones and a daily planner.
21. Hang Up Curtains
The plastic blinds in most college dorm rooms aren't particularly pretty.
Hang up fun curtains to brighten up any room. Black-out curtains can be useful for sleeping in after a night of partying too!
22. Put Your Desk at the Foot of Your Bed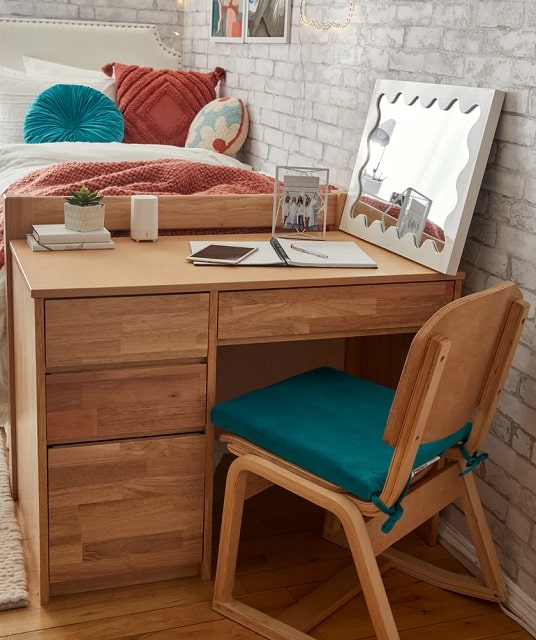 Don't be scared to move around the furniture in your dorm room!
Depending on your dorm room, you may want to have your desk at the foot of your bed.
23. Add a Whiteboard Outside Your Dorm Room Door
You can always text a friend, but leaving a note is more fun!
Get a whiteboard for outside your dorm room door. Or, have one inside to leave friendly notes for your college roomie.
24. Transform Your Desk into a Makeup Vanity
Who says your desk is just for schoolwork?
Get a mirror with lights for a DIY fancy makeup vanity. It will be much nicer than putting on your makeup in the dorm room bathrooms!
Copy this Dorm Room Idea on Amazon:
25. Make Your Room Smell Good
You can't use candles in college, but you can use an aromatherapy diffuser or essential oils.
When you get stressed out, use a lavender scent!
Copy this Dorm Room Idea:
26. Add Decorations Above Your Bed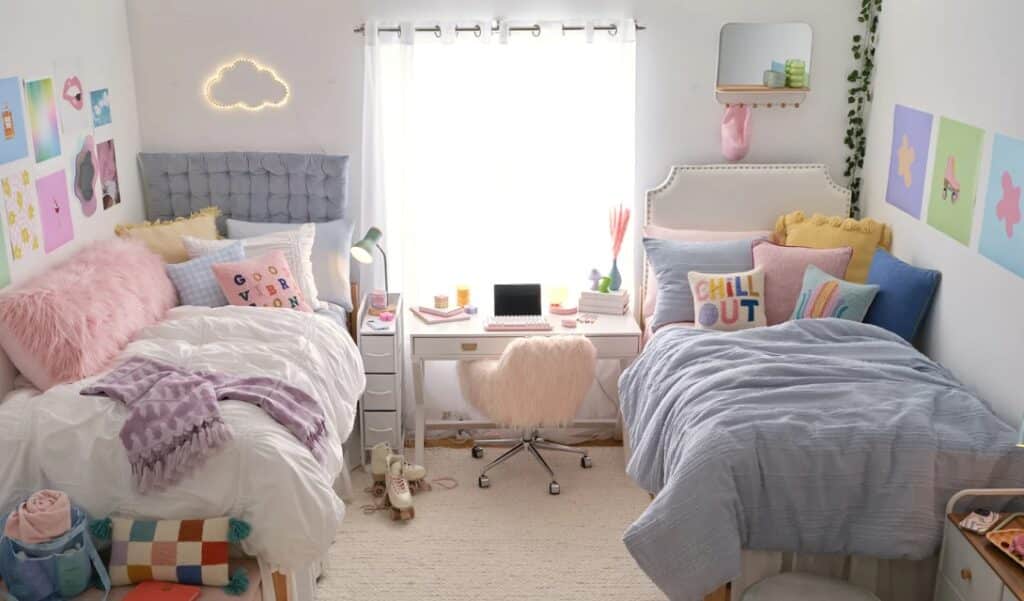 Whether you add a poster, a mirror, a shelf, or a neon light above your bed – just add something!
27. Decorate Your Walls with Wallpaper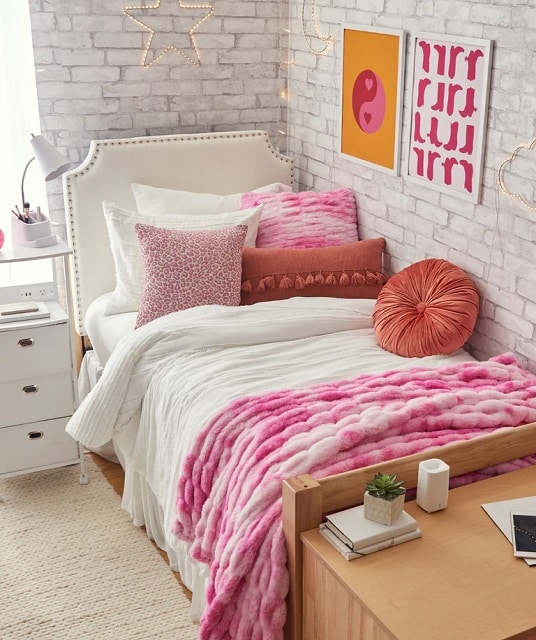 Wallpaper can make your dorm room look completely different. Get a peel-and-stick wallpaper and place it on one wall.
28. Make an Art Collage by Your Bed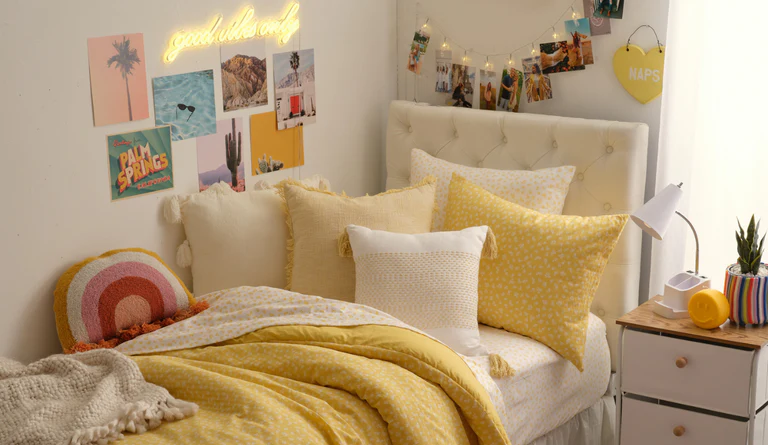 Use the wall next to your bed to show your personality!
Make a mini art collage with fun posters and inspirational artwork.
29. Make Your Bed Comfortable
A mattress topper/pad is a must-have for college. It will make your mattress comfortable.
A good mattress pad isn't cheap, but it is so, so worth it!
RELATED: Unexpected Things to Pack for College
30. Decorate with Plants
Plants instantly transform any room. Plus, plants help with stress reduction AND clean the air.
Etsy has lots of cute plants. Or check out Trader Joe's and Home Depot.
31. Hang a Tapestry Above Your Bed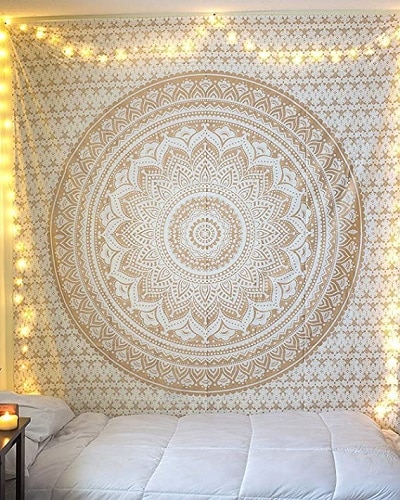 A tapestry is a fast and easy way to transform your dorm room.
Check out PB Teen, Amazon, and Urban Outfitters for colorful college tapestries.
32. Get a Hanging Closet Organizer
Instead of placing your shoes on the floor, get a hanging closet organizer! Closet organizers are also super helpful for storing sweaters or t-shirts as well.
33. Use Wall Decals
Want a quick and easy way to decorate the wall above your bed? Use removable wall decals or tapestries to add color and personality to the room without damaging the walls.
34. Maximize Under Bed Storage
Utilize under-bed storage containers to keep items like clothing, shoes, or bedding neatly tucked away.
35. Over-the-Door Storage
Utilize over-the-door organizers to store items like shoes, bags, or toiletries.
36. Gallery Wall
Create a gallery wall with photos, posters, and art prints to showcase your personality and memories.
37. Plants
Add some greenery with low-maintenance plants or faux plants to bring life and freshness to the room.
ESSENTIALS for Decorating Your College Dorm Room
After you've picked out your comforter, storage cabinets, lights, and pictures – don't forget to pick up these MUST-HAVES for college dorms.
1. Velvet Hangers
College dorm room closets are SMALL. Make sure to get thin hangers so you can really pack in all of your clothes and hang up your blouses and dresses.
Velvet hangers are thin and prevent clothes from sliding off.
Plastic thin hangers are an option too.
Amazon, TJ Maxx, and HomeGoods often have cheap hangers for sale.
2. Command Clips
Make sure to pick up some command clips. This way you can hang up your bathrobe or winter coat on your door without putting nails into your college dorm room walls or doors.
3. Over the Door Mirror
Mirrors can make small spaces look bigger. Plus, you'll want a full length mirror to make sure you look good before you step out the door!
Target and Amazon sell over the door mirrors. IKEA has some great mirrors too!
4. Cozy Slippers
This isn't necessarily a "decorative" item for your college dorm room, but cozy slippers will come in handy when you are walking to and from the bathroom in your dorm.
5. Mattress Pad
The mattresses that come in college dorm rooms are NOT comfortable.
Get an extra mattress pad/topper to add extra cushion and ensure a good's night rest before a day of classes!
Tips for Decorating Your College Dorm Room
Before you go out buying new stuff and arranging your college dorm room, keep these tips in mind!
1. Don't Go Overboard with Pictures or Posters
You can DEFINITELY choose your own comforter, pillows, and light solo.
But if you have pictures that are "too loud" or a bit too much, you may want to wait before hanging them up on your wall. Your side of the room is your side, but your roommate does have to look at your things.
2. Consider Black Out Curtains
Depending on what time your class is, and how late you stayed up studying (or partying!) you may want black out curtains for your room.
Measure the height of your windows first. Having long curtains from floor to ceiling can make a room look bigger.
3. Get Twinkle Lights
Twinkle lights are fun and add warmth to what is sometimes "cold" college dorm rooms.
Christmas lights or battery operated twinkle lights work great!
4. Keep It Simple
Your dorm room will be small.
You'll want to decorate it and make it yours, but too many things hanging on the wall can be distracting to the eye and make a space look cluttered.
Tips for Making Your College Dorm Room Look Bigger
College dorm rooms are relatively small. BUT…you can make the space look bigger by following these tips.
1. Experiment with Desk Location
Sometimes college dorm rooms have desks placed at the end of the bed. This isn't ideal.
If you can, try placing your roommate and your desks side by side, or facing each other. This may make the room look bigger.
2. Hang Up Mirrors
Mirrors make places look bigger.
3. Put Clothes You Don't Need Under the Bed
Get plastic tubs or storage bags and put your extra clothes and shoes UNDER your bed. You don't need your winter coats until wintertime!
If your bed is too low to the ground, get bed risers.
Where to Get More Dorm Room Ideas
Want to see more dorm rooms and get more dorm room ideas? Below are some of my favorite places to get dorm room ideas.
1. Target
Come late July/August, Target will update its website with TONS of easy dorm room ideas! Plus, Target has super affordable essentials and dorm room decorating items.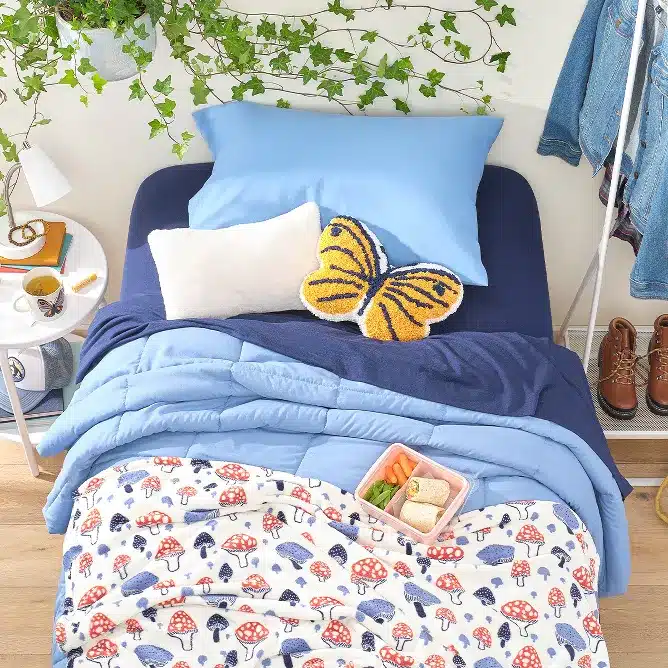 2. Search the Internet
Simply search "dorm room ideas" on Google and you'll find tons of articles and ideas! I like this article by Driven by Décor with dorm room ideas for girls.
3. Dormify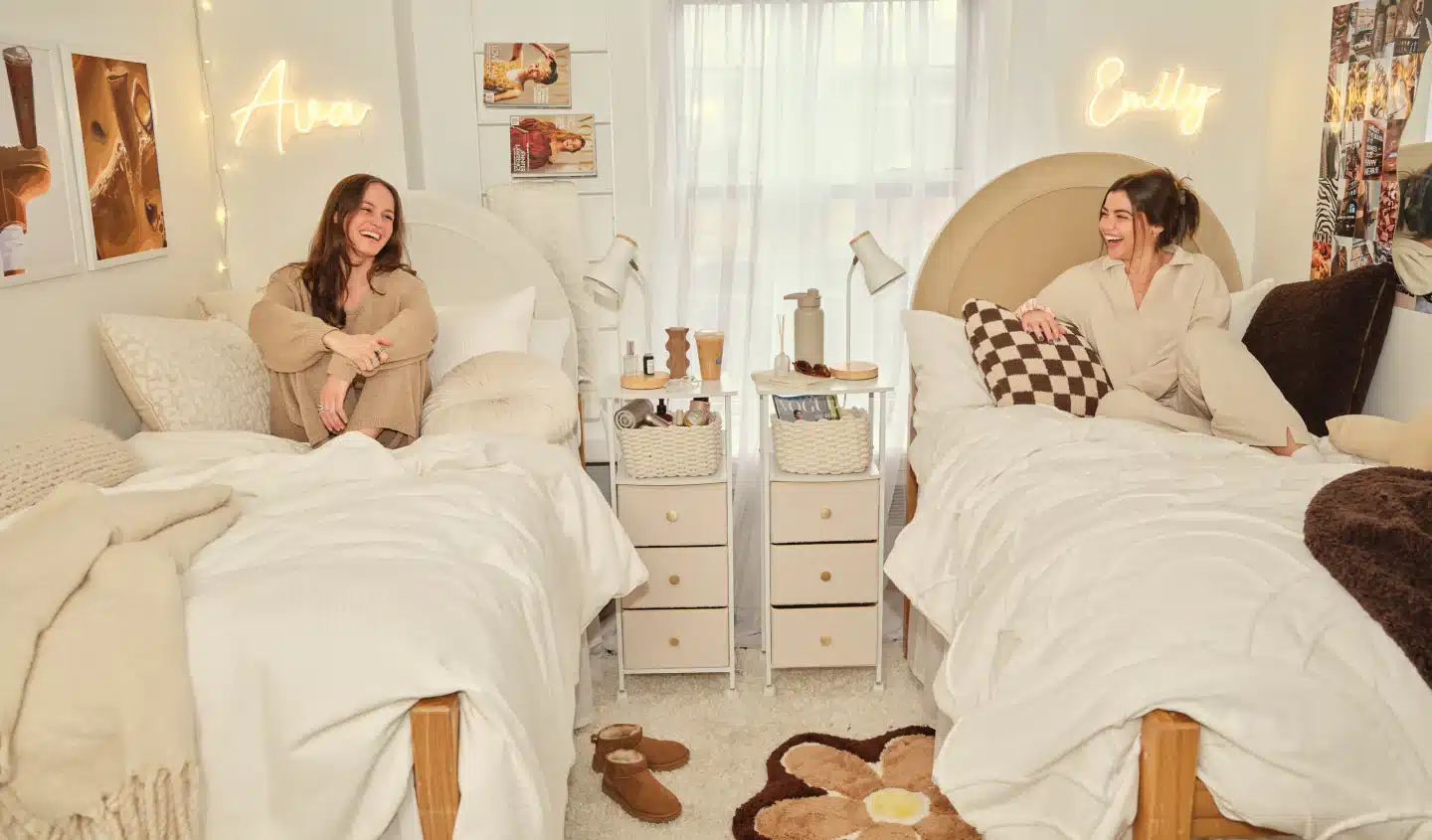 Dormify specializes in dorm room ideas! Dormify has so many dorm room ideas for college and cute products to shop to decorate your dorm room too!
Summary
In summary, there are so many easy and fun dorm room ideas that you can copy! Popular dorm room ideas include picking a color theme, decorating with cozy throw blankets, buying an ottoman for extra storage, and placing a tapestry above your bed.
More College Dorm Room Ideas & College Guides
Liked this article with college dorm room ideas? Check out these related articles too!
Unexpected College Necessities