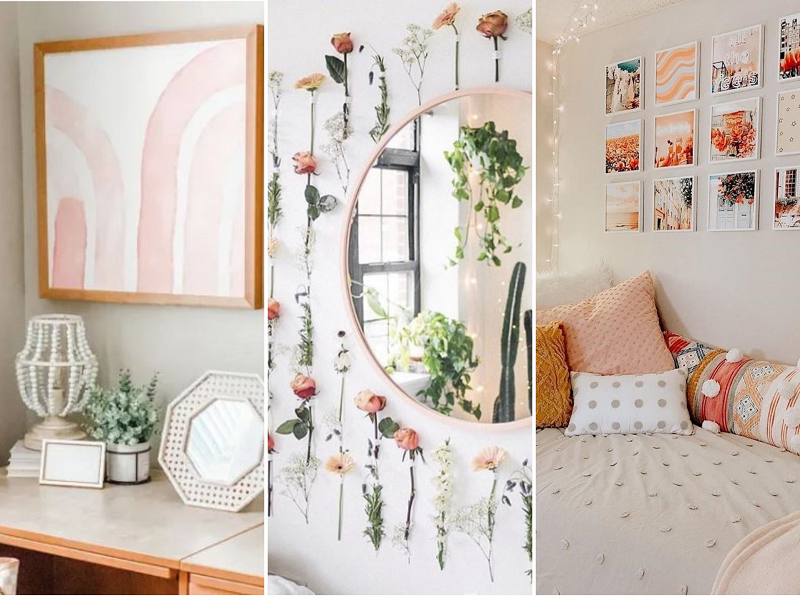 Welcome to college!!! (or welcome back!)
It's time to get excited about going back to college, which means buying college dorm room essentials (don't forget laundry detergent!), picking out the theme for your college dorm room, and getting some fun and cute college dorm room décor.
College dorms are small, but you can do a lot to add warmth and personalize your space with the right college dorm room decor.
This post covers how to decorate your dorm room with the best college dorm room décor on Amazon and other online stores.
This post may contain affiliate links. View the disclosure here.
Best College Room Decor Ideas to Transform Your College Dorm Room
Let's make your college dorm room the best dorm room on campus!
1. Hang Fairy Lights to Add Warmth
Fairy lights are pretty much a college dorm room MUST-HAVE.
Copy this Dorm Room Decor Idea
Fairy lights are easy to hang (use command strips) and look beautiful when hung above your bed, over your desk, or by the window.
You can also go with mod clips above your dorm room bed.
Use white fairy lights in the summer and switch them up with orange for Halloween and red and green for Christmas.
Get these Fairy Lights:
2. Add a Rug for a Pop of Color
College dorm rugs can be expensive, but they completely transform a room (and cover up any stains in the carpet!).
If you don't want to get a big area rug to cover the entire floor, go with a small rug right by your bed.
Copy this dorm room decor idea:
3. Decorate with Boho Inspired College Dorm Room Decor for Sweet Dreams
Boho is a popular dorm room idea.
Get This Boho College Dorm Room Decor
For a boho college dorm room décor, get a dream catcher, coral, pink, or orange pillows, and a boho-inspired comforter.
Get This Boho-Inspired Dorm Room Decor
4. Use Wall Decals and Peel & Stick Wallpaper
Walls decals are an easy way to decorate your dorm room wall and add daily inspiration!
Copy this Dorm Room Decor Idea:
Dormify has some really fun wallpapers too!
5. Add Throws for an Elegant Bed
You can completely transform your bed with a different color throw each season.
Get Similar Cozy Throws:
6. Use Throw Pillows for a Fun Bed
Throw pillows, like blankets, can be switched up each season for fun college room décor.
Copy this college dorm room idea:
7. Hang Flower Garlands for a Feminine Touch
Flower garlands are so pretty and feminine for college room décor!
You can also use greenery too.
8. Add Mirrors to Create the Illusion of Space
Get a hanging mirror for over the door as well as small mirrors to make a room look bigger.
9. Hang Wall Art for Inspiration
Wall art is a MUST for college students and college room décor. Whether you want inspirational quotes, pretty flowers, celebrity pictures, or wall art with the ocean and beach…you can find it on Amazon.
Cute College Dorm Room Decor Wall Art
Tip: IKEA also has great, cheap picture frames!
10. Add a Desk Lamp for Light at Night
Your desk will likely have a light above it, but a desk lamp for added light will help. Get a cute one that you love!
11. Add Family and Friend Photos to a Photo Display Grid
Hang up photos of family and college friends with a fun and easy to hang photo display.
12. Jewelry Hanger
A jewelry hanger is beautiful AND makes it easy to choose what to wear each morning.
13. Place a Desk Organizer on Your Desk for Added Storage and Decorations
Get a bookshelf above your desk and show then add photos and decorative items.
A bookshelf is practical and useful for college students. Plus, a bookshelf can be pretty to look at, making it perfect for college dorm room decor.
Get this Desk Organizer:
14. Get an Alarm Clock with a Reading Light
This cute alarm clock is attractive and also doubles as a smart reading light.
15. Add a Vanity Mirror to Your Desk
A mirror will make it easy to apply makeup in your dorm room vs. going to the bathroom.
16. Add Throw Pillows for Warmth
Throw pillows are an inexpensive and fun way to transform any room.
Plus, you can swap out the pillows for each season!
17. Hang Up Curtains (Perfect for Sleeping In!)
Curtains can completely transform your dorm room. Add blackout curtains for weekends when you want to sleep in.
18. Transform Your Bed with a Headboard
A headboard can completely transform any boring dorm room bed into a bed fit for a queen!
Dormify has lots of super cute headboards for dorm room beds.
19. Add an Aromatherapy Diffuser
Most colleges ban candles, but that doesn't mean you can't have a dorm room that smells nice!
An aromatherapy diffuser is cute and will make your room smell nice. Plus, aromatherapy can help reduce stress.
Best Places to Buy Dorm Room Décor
If you aren't sure where to shop for cute dorm room décor, here are my go-to recommendations!
1. Etsy for Personalized College Dorm Room Décor
If you want personalized college signage and room décor.
Check out the college dorm room décor on Etsy!
2. Dormify for Complete Matching Dorm Room Sets
Dormify has the cutest college dorm room decorations and ideas on how to decorate your dorm room!
3. Amazon for College Drom Room Décor
Amazon sells cute dorm room décor, including dorm room essentials and lots of affordable dorm room rugs.
4. Target for Everything You Need for College
Target sells basically everything you will need for college, including everything on your college packing list.
More College Guides
Liked this article with college dorm room decor ideas? Check out these related articles too!
Must-Have Things to Pack for College