43 College Dorm Room Essentials: What to Bring to College
This post may contain affiliate links, which means I may earn a commission if you decide to make a purchase through our links, at no cost to you. You may view the disclosure here.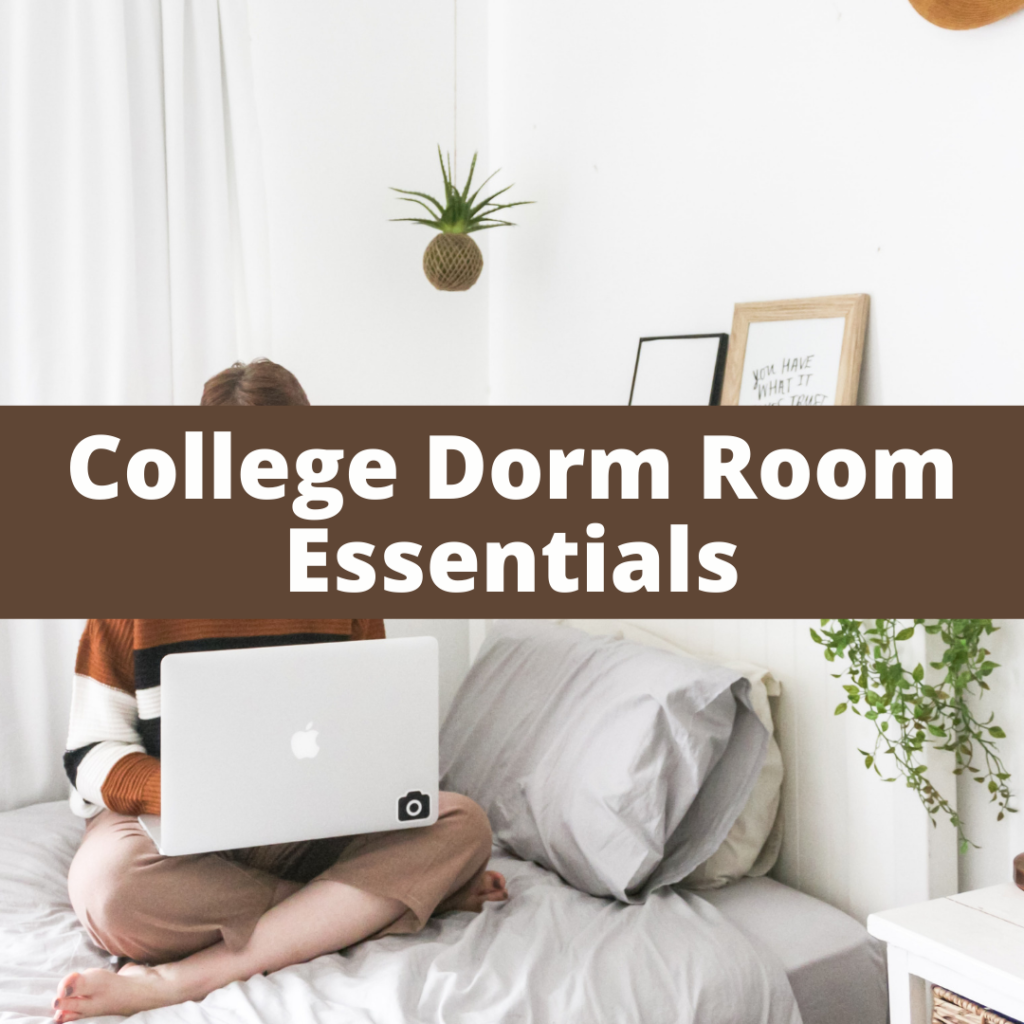 Dorm Room Essentials
HELLO College!!! Whether you are heading off to college for the first time or returning to campus as a sophomore or junior, there are a few "must-have" college dorm room essentials.
Of course, everyone needs a cozy comforter, a soft pillow, and a reading light…but what else is needed?
This college guide is all about dorm room essentials for a smooth and easy move-in. Some of these items are obvious must-haves, while others are things you may not have thought about but will be glad that you have.
This post contains affiliate links. View the disclosure here.
Quick Tip – College Dorm Room Essentials
If you prefer to browse through LOTS of pictures with college dorm room essentials, check out this Amazon guide with college dorm room essentials and this Target page with dorm room ideas. These two guides basically cover EVERYTHING you need for college as well, and are a great supplement to the college dorm room essentials/college packing list below!
College Dorm Room Essentials
Below is a master list of everything you need to pack with you to college for your dorm room. 😊
1. College Dorm Room Comforter
Of course, everyone needs a comforter. Choose a dorm room theme and color, and then get a matching comforter and sheets.
This college dorm room comforter is lightweight, easy to wash, and gets great reviews!
2. Twin Sheets
These sheets are super cute and fun!
Target is also a good place to go shopping for twin sheets for college dorm rooms.
3. Pillows
Don't even bother packing a pillow from home. Buy a new one for college!
Relatively "flat" pillows are easier to sleep on at night. Go with a hypoallergenic one if you can.
4. Mattress Topper
College dorm room mattresses are SO uncomfortable. Get a good, cooling mattress pad/topper to ensure you get quality sleep!
This is something you don't want to go cheap on.
5. Eye Mask
An eye mask to block out your roommate's reading light at night will be a life-saver. Plus, this eye mask is super soft and handles the washing machine well.
6. Mirrors
Mirrors make small spaces look bigger.
Have one full length mirror over your door and another mirror on the wall by your bed to expand the space visually.
7. Bulletin Board
A small bulletin board above your desk is GREAT for hanging up photos and placing "to do" lists.
8. Command Strips
Don't put holes in your dorm room walls. Use command strips instead! Command strips are also great for hanging up picture frames and posters in college dorm rooms.
Command strips are GREAT for hanging up lights and for creating space to hang up your backpack, purses, coats, and sweaters.
9. Hangers
Thin hangers are a MUST to squeeze as many clothes as possible into your small dorm room closet.
10. Under the Bed Storage
Under the bed storage containers are PERFECT for placing clothes you don't need on an everyday basis.
Think winter coats in the summertime, heels for formal events, costumes, and blazers for professional occasions.
11. Bed Risers
Most college dorm beds sit relatively low to the ground. Get bed risers to raise the height of your bed, and to ensure you can fit storage containers under your bed.
12. Desk Lamp
Your desk may have a light above it, but a desk lamp adds extra light and a touch of softness.
Amazon has GREAT lights. IKEA has some really good options too!
13. Reading Light
Your roommate may go to bed earlier than you. To be polite, use a small reading light to stay up and read your favorite book.
This puts out less light than a traditional nightlight. Plus, it's great to pack for traveling too.
14. Clothes Hamper
You'll need a hamper for your dirty clothes.
Plastic hampers are sturdier than cloth hampers and easier to carry to and from the washing and drying machines in college dorms.
15. Lysol Wipes
Lysol wipes make it quick and easy to wipe down dusty services. These will also come handy in the wintertime to prevent you from getting sick!
Don't forget to wipe down doorknobs too.
16. Vacuum
College dorm rooms get dirty quickly. The space is so small!
This small vacuum can be used to vacuum floors and to vacuum the edges of the floor too.
17. Trash Can
Your dorm room may come with a trash can, but why get black when you can get something that is fun and matches your dorm room color theme?
18. Towels and Bathrobe
You may have a towel at home, but it's nice to get a new matching set for college.
Depending on whether your floor is co-ed or not, you may want a bathrobe for walking to and from the bathroom.
19. Shower Caddy
A simple shower caddy for holding your shampoo, conditioner, body wash, razer, and hairbrush will be most helpful! Get a plastic one with holes to let the water out.
20. Sandals
Colleges are usually good about keeping the bathrooms clean, but it's better to be safe than sorry!
Get a simple pair of cheap sandals for wearing in the dorm room showers.
21. Dry Erase Board
Put a fun dry erase board on your dorm room door.
You can write fun notes for your roommate and friends on it, like "Happy Friday!" or "Have fun at the football game this Saturday!"
22. Charging Station
A charging station for your phone and Airpods will be most helpful. And if you don't own a pair of noise canceling AirPods yet…it's DEFINITELY worth the investment.
23. Mini Fridge
Cafeterias usually close around 8pm. If you stay up late (which you likely will!), it will be nice to have a mini fridge for keeping yogurt, turkey, cheese, and other snacks.
24. Fairy Lights
Fairy lights (AKA "twinkle lights" or Christmas tree lights) make a dorm room bright and cheery.
Plus, they are an instant and quick way to decorate a room! Buy the small command strips and hang fairy lights above your bed.
25. Fans
Most dorm rooms have ceiling fans, but it can get warm at night (or while studying). Get a large fan if you get hot at night and a small desk fan to keep you cool.
26. Hot Water Heater
A hot water heater will come in handy for making tea at night (or instant coffee).
27. Microwave
If your dorm allows it, a microwave can be great for heating up oatmeal, soup, or popcorn.
28. Bluetooth Speaker
If you and your roommate share similar tastes in music, it can be nice to play music on a Bluetooth speaker.
It will also come in handy for lazy days when you want to hang out with friends in the courtyard!
29. Comfy Chair
An extra chair for guests will be appreciated!
30. Power Strip
You may only have one outlet in your dorm room. A power strip can come in handy.
Get one with USB plugins too.
31. College Dorm Room Storage Container
32. College Dorm Room Ottomans
A college dorm room ottoman will come in handy for storing small knick-knacks. It also doubles as a chair or a foot rest.
33. Jewelry Hanger
34. Above the Desk Storage
35. Under the Bed Storage and Shoe Racks
36. Advil
For days when you may have had too much to drink the night before…or simply have a headache.
37. Airborne
When you start to get a sore throat, take an Airborne. It works wonders at preventing you from getting sick.
38. Backpack
A big tote bag is great for school, but you'll likely need a backpack so you can carry more stuff with you throughout the day.
39. A Good Water Bottle
Stay hydrated in class. The Hydro Flask water bottles are popular right now, but there are also lots of other great water bottles online.
40. Laundry Detergent
Yeah…you'll have to do your laundry.
And please don't be one of those kids who gets to college and has never done a load of laundry in their life.
41. Small mirrors
42. Artwork for above your bed (or a dream catcher!)
43. Inspirational Artwork
College Essentials on Amazon
Searching for a one-stop shop for all college essentials? Amazon has a curated list of everything you need for college. From Amazon deals to electronics to college bedroom must-haves to kitchen and study supplies, check out this Amazon page with everything you need for college. Seriously…they have everything from paper towels and disinfecting wipes to cute desks and expresso makers! You'll even find a discount to Amazon Prime for students!
Summary – Dorm Room Essentials
Below is a summary of everything you need to bring with you to college.
Dorm Room Essentials for a Good Night's Sleep
Sleep is so important, especially in college! Don't forget any of these college dorm room essentials for move-in day.
Comforter
Twin Sheets (x-long)
Pillows
Mattress Topper
Eye Mask
Handy Dorm Room Essentials That You Might Forget!
These are must-have college dorm room essentials that are easy to forget!
Mirrors
Bulletin Board
Command Strips
Hangers
Under the Bed Storage
Bed Risers
Desk Lamp
Reading Lights
Clothes Hamper
Lysol Wipes
Small Vacuum
Trash Can
Bathroom College Dorm Room Essentials
You will likely be sharing a bathroom with others, so you'll need a good bathrobe and towel, a shower caddy, and good sandals to wear in the shower.
Towels
Bathrobe
Shower Caddy
Shower Sandals
Optional College Dorm Room Essentials
These aren't "must haves" for a college dorm room, but they sure do come in handy for college students!
Dry Erase Board
Charging Station for your cell phone/air pods
Mini Fridge
Fairy Lights
Fans
Hot Water Heater
Microwave
Bluetooth Speaker
Comfy Chair
Power Strip
College Dorm Room Storage Solutions
Need more storage and places to hold stuff?
Target, IKEA, and Amazon have great storage solutions for small college dorm rooms.
Here are a few simple storage containers online.
Storage Containers
Ottoman
More Helpful Items
These items aren't necessarily "college dorm room essentials," but you will want to have them on hand as a college student!
Jewelry hanger
Above the desk storage
Under the bed storage
Advil
Airborne
Backpack
Water bottle
Laundry detergent
Cute Dorm Room Decorations
Want to make your dorm room a little bit more colorful?
Check out these fun and easy decorations for your college dorm room. You may also want to check out these ideas for your dorm room.
Decorative mirrors
Dream catcher
Artwork
Where to Buy College Dorm Room Essentials
Getting ready for college can be a bit overwhelming, and shopping for college essentials can be too! Thankfully, both Target and Amazon it SUPER easy to buy everything you need for college in one place. Both Target and Amazon have specific "shopping pages" on their websites for college dorm room essentials, so you can really just go there and buy everything you need for college.
For Amazon, check out this College Dorm Room Essentials page. Seriously…it's great!
For Target, check out this Dorm Room Ideas page to get everything you need for college.
Summary
In conclusion, getting ready for college and move-in day can be easy! Just make sure to get the items listed in this college dorm room essentials guide and you'll be good to go. College, here we come, with our dorm room game on point! 🙌💕
More College Guides for Students