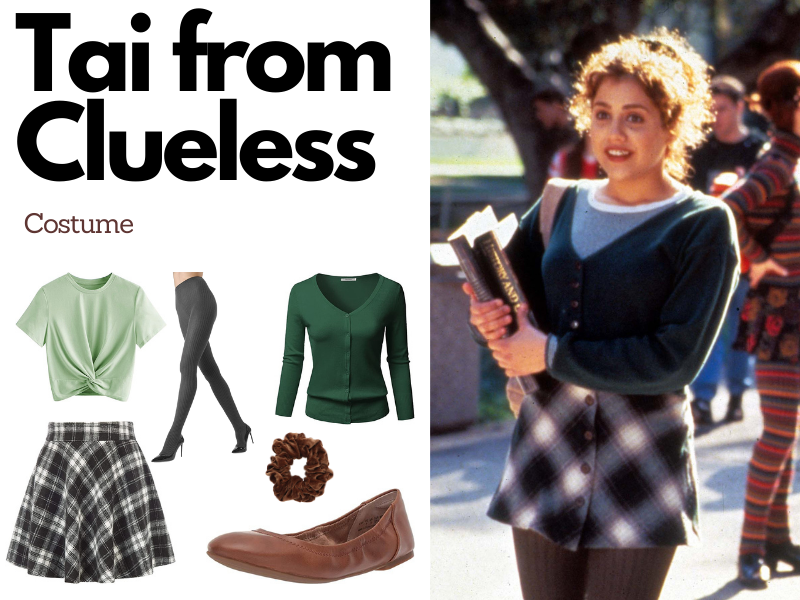 DIY Tai Clueless Costume
You can buy the Clueless Tai costume on Amazon, but the reviews are pretty horrible (2.5/5.0 stars).
If you've read any of my swimsuit reviews, dress reviews, or cute outfit ideas…you know that I HATE anything on Amazon that has fewer than 4 stars.
If you want a cute Tia from Clueless costume for Halloween, you are going to have to create your own.
This post may contain affiliate links. View the disclosure here.
DIY Tai Clueless Costume
Lucky for you – I've done the research for you.
This Tai Clueless costume guide covers:
The best Tai from Clueless sweater to buy
A skirt and tights from your Tie Clueless costume
Tai from Clueless accessories and shoes
There's no need to buy a Tai Clueless costume on eBay.
Tai Clueless Costume: What to Buy on Amazon
Below is exactly what you need to buy on Amazon for a cute Tai Clueless costume.
Tai Clueless Costume Skirt
You'll need a black and white plaid skirt to dress up as Tai Fraiser for Halloween.
Tai from Clueless Costume Sweater
Tai wears a dark green V-neck sweater in Clueless.
Tai Clueless Costume Shirt
Tai from Clueless Costume Tights
Tai wears thick tights in Clueless. Technically Tai wears ribbed sweater tights. Perfect for Halloween on cold nights! 😊
Tai Clueless Costume Shoes
You can wear whatever shoes you want for your Tai costume. 😊
Tai from Clueless Costume Accessories
Wear a brown scrunchie and carry some books to complete your Tai Clueless costume.
And that's a wrap!
If you liked this Halloween idea, please share it with friends. 😊
And Happy Halloween!
Clueless Costumes for Cher and Dionne
If you are dressing up as the girls from Clueless with friends, check out this Dionne DIY costume idea and this Cher DIY costume idea.
Or you can just buy the costumes on Amazon too.
Cher Costume on Amazon
Dionne Costume on Amazon
Connect with Me on Social Media
I'd love to connect with you!
Follow Very Easy Makeup on Facebook to get notified of new beauty, makeup, and fashion posts!
Please subscribe to the Very Easy Makeup YouTube channel. You'll find how-to tutorials for very easy makeup and bleaching hair blonde at home.
Sign up for the Very Easy Makeup Newsletter.