Top 37 Best Sorority Bid Day Themes to Rock Bid Day
This post may contain affiliate links, which means I may earn a commission if you decide to make a purchase through our links, at no cost to you. You may view the disclosure here.
Sorority Bid Day Themes
Are you searching for sorority bid day themes? After sorority recruitment is over, it's time to get the real party started with Bid Day!
But what is a good sorority bid day theme? This college/sorority guide is all about sorority bid day themes.
If you need some inspiration for sorority bid day themes, below are easy-to-copy (and downright AMAZING!) sorority bid day themes.
Some of these bid day themes are SUPER easy and some require a little bit more creativity. To master any of these bid day themes, make sure to decorate with lots of balloons and signs. Glitter, fun sunglasses, and boas are always fun too!
This post may contain affiliate links. View the disclosure here.
Easy and Awesome Sorority Bid Day Themes
After a week of rush/recruitment, it's time to celebrate!
Below are sorority bid day theme ideas that everyone will love!
1. 80s and Neon
An 80s and neon-themed bid day is easy and fun!
2. Party at the Disco
A disco theme is a fun and cheerful bid day idea!
For added fun, have everyone wear wigs, heart sunglasses, and feather boas!
2. The Sweetest Thing/Candyland/How Sweet It Is to Be a (Insert Name of Your Sorority)
Go with a cute candy bid day theme! Have signs that say, "How sweet it is to be a XX sorority."
Why not go with a bittersweet beginnings theme? Decorate with cotton candy and candy decorations.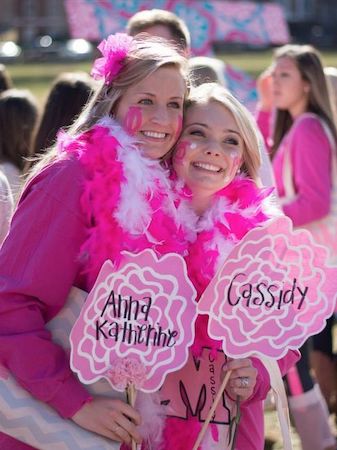 Decorations: Get anything with donuts, ice cream, and candy. You can copy this sorority bid day idea by buying candy-themed decorations.
What to Wear: Glitter, hot pink, candy cane necklaces, and socks with candies on them.
Gifts to Give Out: Candy and candy cane necklaces.
3. Welcome to Paradise
Go with a fun "Welcome to Paradise" theme for bid day. Have everyone wear floral headbands and fun tutu skirts.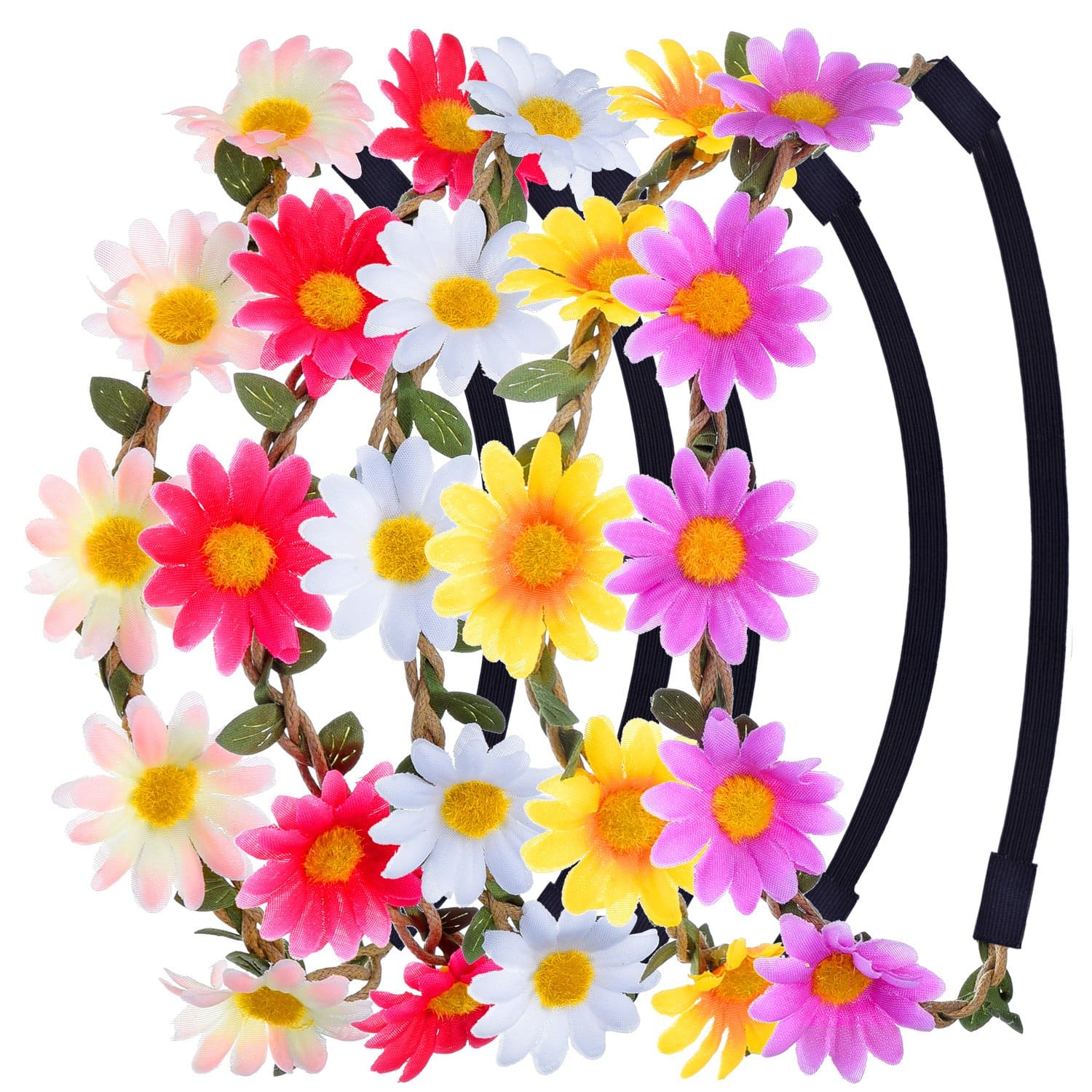 You can also get a big flamingo for photos!
Amazon has so many decorations perfect for a "paradise" bd day theme, including the gigantic flamingo shown above!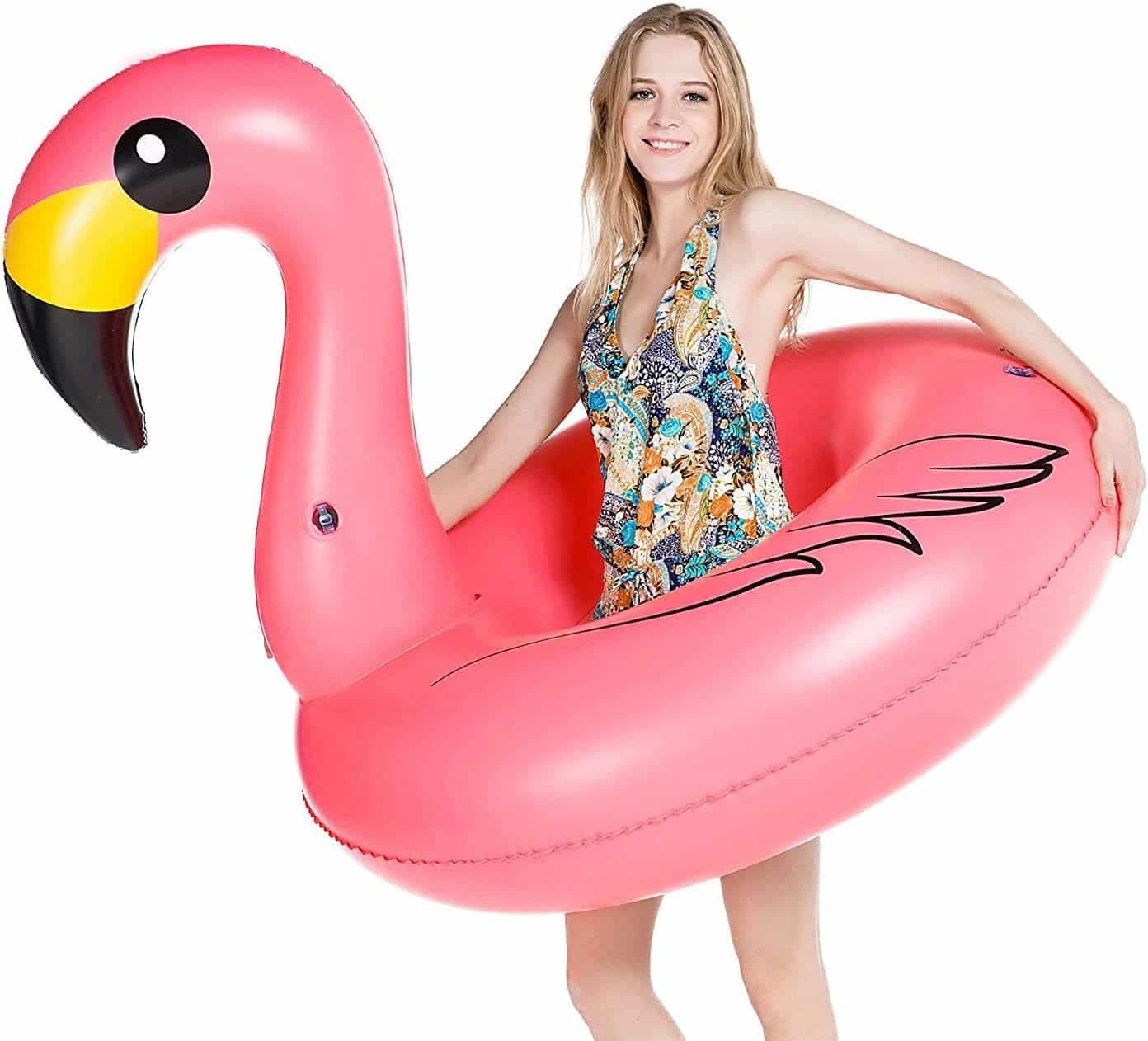 4. Olympic Theme
For an Olympic theme bid day, get fanny packs and matching shorts for everyone.
5. Ice Ice Cold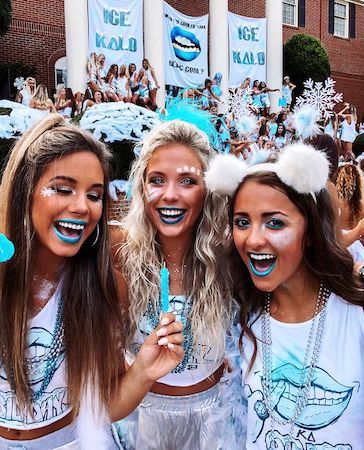 You can have a lot of fun with an Ice Ice sorority bid day theme! Have everyone wear silver or light pink/purple skirts and white t-shirts.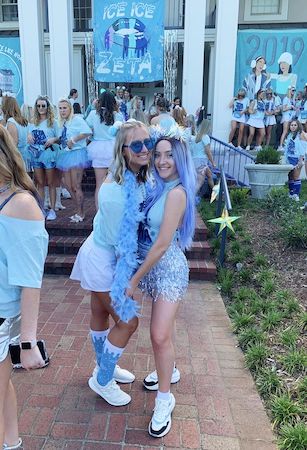 Ice Ice Bid Party Outfits
6. Golden Hour
Go back to the 70s with a Golden Hour bid day theme!
Go with orange and white outfits for a Golden Hour sorority bid day theme. Get plenty of orange and pink balloons too!
7. Beverly Hills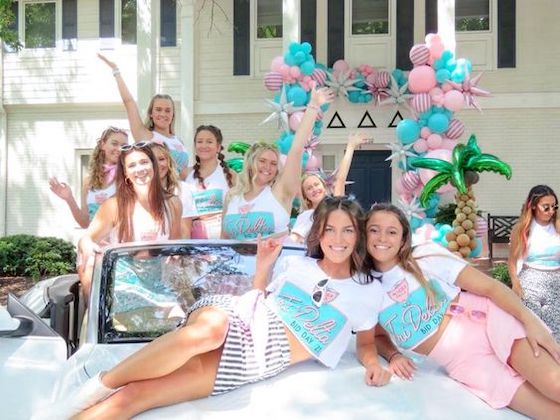 Go tropical with a Beverly Hills sorority bid day theme. Have everyone wear baby pink and teal.
8. Welcome to Ivy League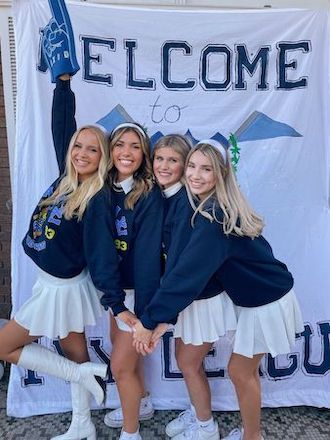 Who says sorority girls aren't smart? (At least at my school – the best sororities had an average GPA of 3.7 and above!) Go with cute tennis skirts and sweaters with headbands for this sorority bid day theme.
Get Bid Day Outfits for an Ivy League Theme
9. 70s Theme/Hippies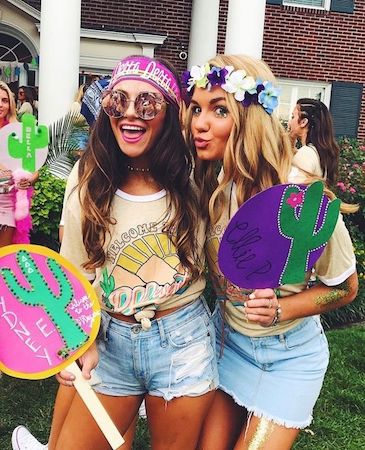 A 70s theme bid day is such a cute idea! Get flowers and fun t-shirts for everyone.
10. The Wild, Wild, West (Western Theme)
Have everyone wear cowgirl hats, cowboy boots, and handkerchiefs for a Wild, Wild West theme.
For this bid day idea, you could also bring in a dance instructor to teach a fun line dancing class!
What You Need for a Wild West Bid Day theme:
Cowboy hats
Cowboy boots
Jean shorts
Handkerchiefs
Western-themed games (like pin the tail on the donkey!)
11. Slumber Party/Dreaming of (Insert Name of Sorority)/Sweet Dreams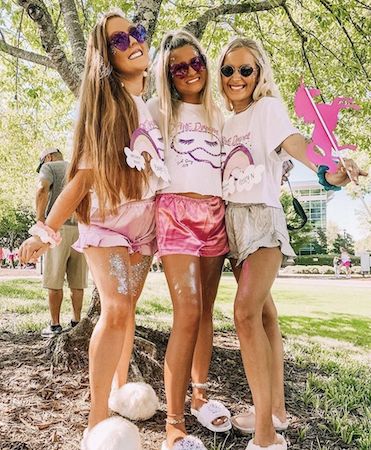 Want an easy bid day theme? Just have everyone wear pajamas in pink and white!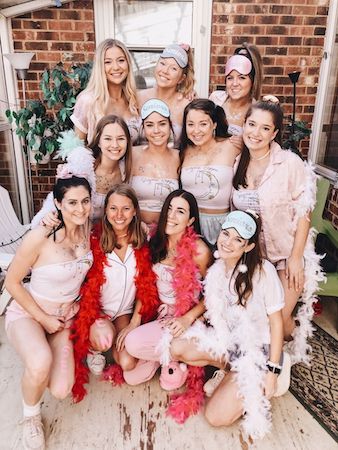 12. Out of this World/Outer Space
Who doesn't love sparkles and sequins? Have everyone wear tutu skirts or shiny booty shorts and fun alien-themed decorations.
13. Flamin' Hot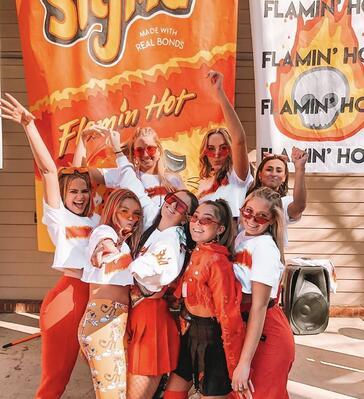 An easy sorority bid day theme idea is to have everyone wear red.
For cute t-shirts, check out these flaming sorority-lettered t-shirts for bid day.
14. Riding into Bid Day/Ride of Your Life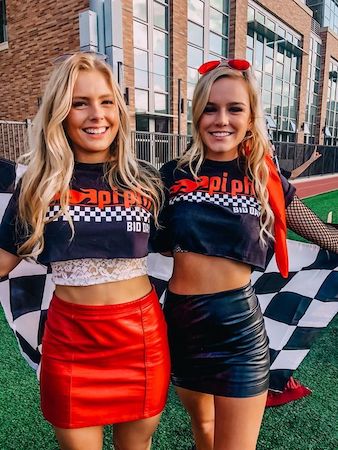 Dress up as Rock N' Roll girls for Bid Day.
You may want to get matching Raceday Vibes t-shirts for everyone to wear on Bid Day.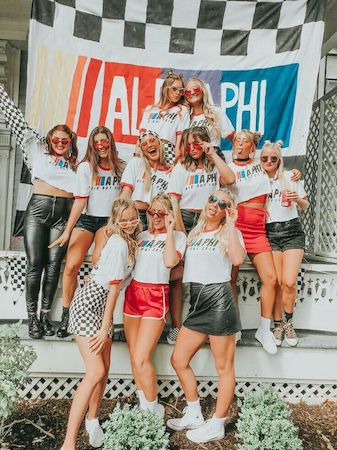 For this bid day idea, have everyone wear biker outfits.
Race Day Bid Day Outfit Ideas
Decorations for Ride of Your Life Bid Day: Think Checkered flags, fire flames, Harley Davidson, Nascar, and anything car themed.
Colors for Ballons: Get red, orange, yellow, and black balloons.
Food: Serve hamburgers, hot dogs, and soda.
15. Wild in the Jungle/Welcome to the Jungle
Wear animal-print t-shirts or dresses and decorate with anything jungle-themed!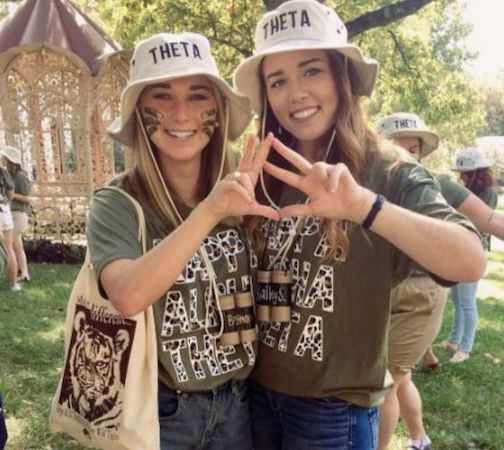 For this sorority bid day theme, get light pink or green t-shirts and have everyone wear leopard print!
16. Space Cowgirl
A Space Cowgirl bid day theme is fun and so, so easy! Get cowgirl hats and custom t-shirts.
Related: Space Cowgirl XX
17. Ice Ice Baby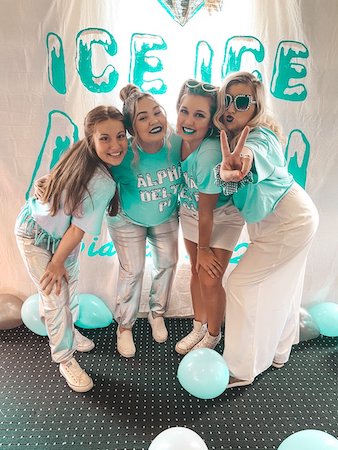 Have everyone wear white, silver, and green for an Ice Ice Baby bid day theme.
18. Butterflies and Sequins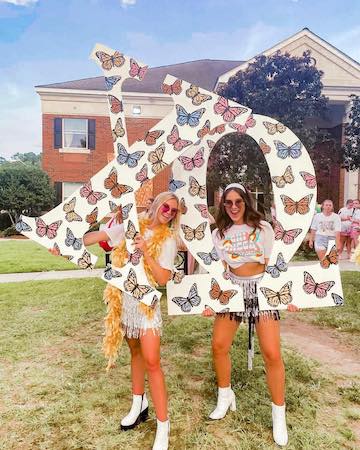 Who doesn't love butterflies, sequined skirts, and white go-go boots?
19. We've Struck Gold
This is such a cute sorority bid day theme!
20. We are the Champions/Welcome to the Big Leagues
Is your sorority sporty? Then go with a sporty bid day theme!
Have everyone wear jean shorts and get custom red and white t-shirts.
21. Over the Rainbow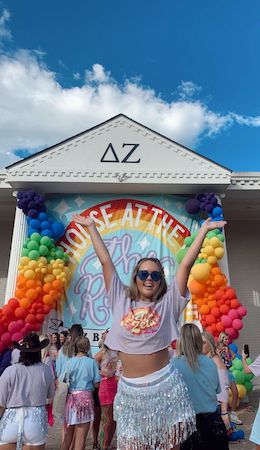 Why not do a rainbow-themed sorority bid day? Just decorate with the colors of the rainbow!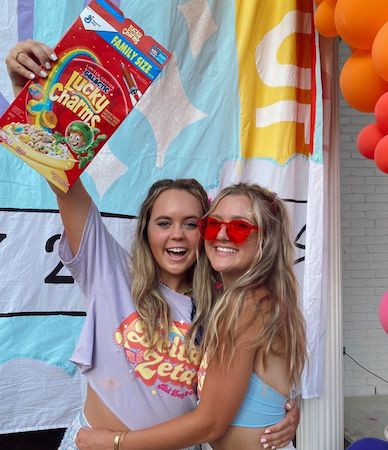 Get these Bid Day Outfits
22. Home Sweet Home
This sorority bid day theme is a twist on the "Candy Land" bid day theme. Get light pink and white decorations and create signs that say "Home Sweet Home."
23. New Bids on the Block
For this bid day theme, go with 80s clothes and decorations! Think cut-off t-shirts, neon leggings, and blow-up boom boxes.
80s Bid Day Decorations
24. Under the Sea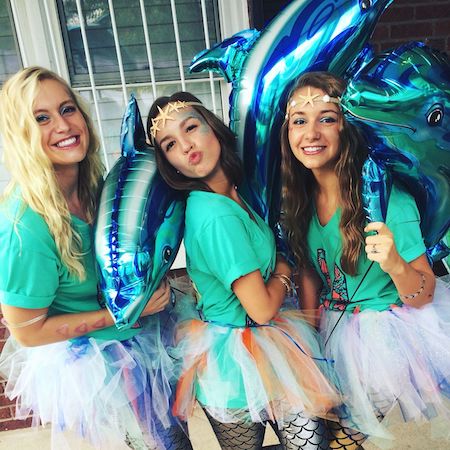 Who doesn't love The Little Mermaid? You have so many creative options for an Under the Sea bid day theme!
25. Heaven on Earth/The Angels Have Landed
Being in a sorority is like heaven on earth. For this sorority bid day theme, get halos and angel wings.
26. Ohana Means Family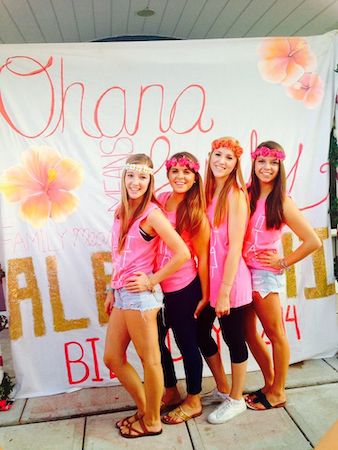 Go with a tropical/paradise/Hawaiian bid day. Get signs that say "Ohana Means Family."
You'll want to check out these cute "Ohana Means Family" sorority t-shirts for this bid-day theme.
27. Pop Art
Wham, Bam! Go with a fun pop-art theme to stand out on bid day.
28. Welcome to the Circus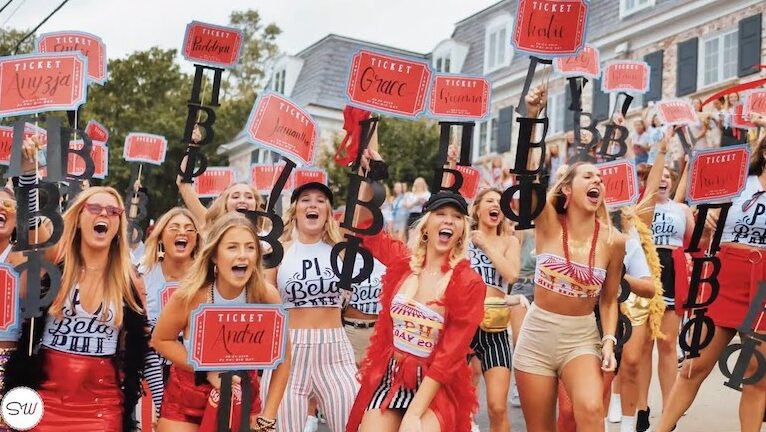 Welcome to the circus!! Get ideas for a circus-themed sorority bid day, thanks to this video from Pi Beta Phi at the University of Kansas.
29. Pirates
For this bid day theme, wear red bananas, Doc Marten boots, and red skirts!
30. Space Jam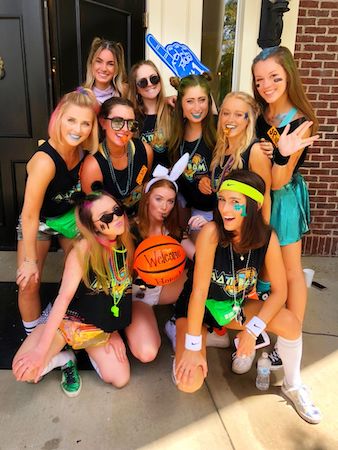 Space Jam is a classic! Bring back the 90s with a fun Space Jam sorority bid day theme.
31. There's Snow Place Like XX/Winter Wonderland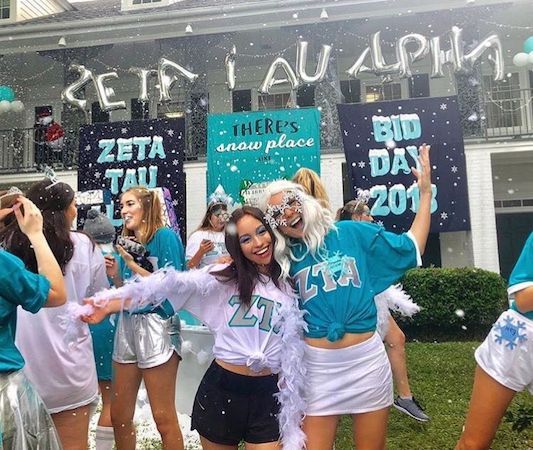 Go with a snow-themed bid day!
For a Winter Wonderland theme for bid day, wear blue and decorate with fake snow!
32. Falling in Love With...
Want an easy sorority bid day theme? Go with hearts for decorations and wear red, pink, and white.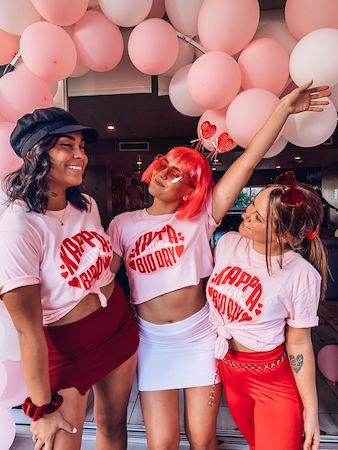 33. Sweet Like Honey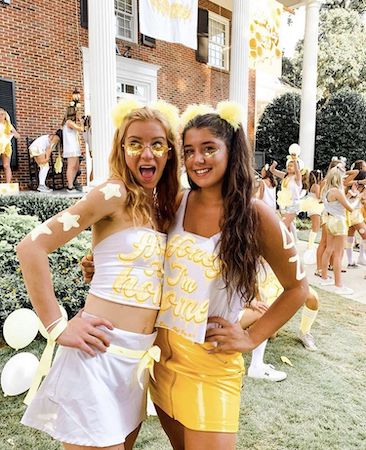 A "Sweet Like Honey" sorority bid day theme is easy and fun! Have everyone wear yellow and get fun headbands for everyone.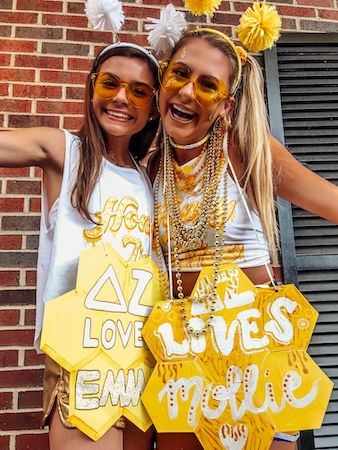 34. Beach Babes
For a Beach Babes bid day theme, decorate the sorority house like a tropical beach party! Pull out the colorful leis, beach balls, and other beach themed decorations.
35. Movie Magic
Make your new sorority sisters feel like they finally made it in Hollywood! For a Movie Magic bid day theme, get a red carpet to welcome in your new sorority sisters. Then, decorate with movie-inspired decorations and posters.
For your sorority bid day outfits, you can have the girls dress up in Hollywood glam dresses and outfits.
36. Carnival Craze
Who doesn't love to play games and have fun?! For this creative bid day theme, get a cotton candy machine, a photo booth with circus-themed props, and maybe rent out a few games to play as well!
37. Glow Party
Having a glow theme is such an EASY sorority bid day idea! For a glow party theme, get glow sticks, blacklights, and neon paint. You can have everyone wear white T-shirts and then write on each other's shirts with glow-in-the-dark markers!
38. Pajama Jam
After a stressful week of sorority rush, why not let everyone relax and have some fun?! For a Pajama Jam bid day, have everyone war cute and comfy pajamas. Then, decorate your sorority house with sleeping bags, cute pillows (you could give each new sister a pillow with a cute pillowcase with your sorority's letters on it), and cute matching slippers for everyone!
39. Masquerade Ball
If you want something unique and mysterious, a Masquerade Ball is the perfect sorority bid day idea! Ask everyone to wear formal dresses and hand out masquerade masks for everyone!
40. Fiesta Frenzy
Who doesn't love tacos and hitting a pinata? For this bid day idea, decorate with Mexican-inspired decorations and play lively music!
41. Music Festival Madness
Transform your bid day into a musical festival experience! Have everyone wear cute music festival outfits, play music, and hand out tasty food!
Tips for Sorority Bid Day
Here are a few tips to make sorority bid day the BEST!
1. Make Every New Sister Feel Welcome
Assign each sorority sister to 1-2 girls to personally welcome, to make sure every new sorority girl feels welcome.
2. Gift a Small Present
A gift doesn't have to be expensive! It could be a pair of $4 sunglasses, a boa, or a fun party hat.
3. Start with an Ice-Breaker
An ice-breaker game is a great and low-key way for everyone to get to know each other.
Just do a google search for "ice breaker games" and you'll find lots of ideas!
My personal favorite game is "Change Places If..." Find instructions here.
4. Have Plenty of Food
Have plenty of food available for everyone to eat, and include a mix of party food (chips, pizza), healthy food (carrots, pita chips, hummus), and vegetarian options.
5. Tell Each Girl How Happy You Are to Have Them!
Some girls may not have picked your sorority as their #1 choice.
Bid Day is the time to make them feel welcome and happy to be in your sorority. Tell them how happy you are to have them as a new sister!
6. Be LOUD to Welcome Your New Sisters
Have a fun cheer and be LOUD when you welcome your new sisters into your sorority house!
7. Don't Keep the Girls Too Long
Rush/recruitment is exhausting…especially for the girls going through rush. Your new pledges are likely super excited to be in your sorority, but also emotionally exhausted!
Don't keep the girls too long on Bid Day. Talking to strangers all day can be really exhausting, especially for introverts.
Sorority Bid Day Gift Ideas
My sorority didn't give us gifts on bid day (nor did I expect a gift!).
However, if your college/sorority traditional gives out gifts, here are a few ideas.
1. Sorority Cosmetic Bag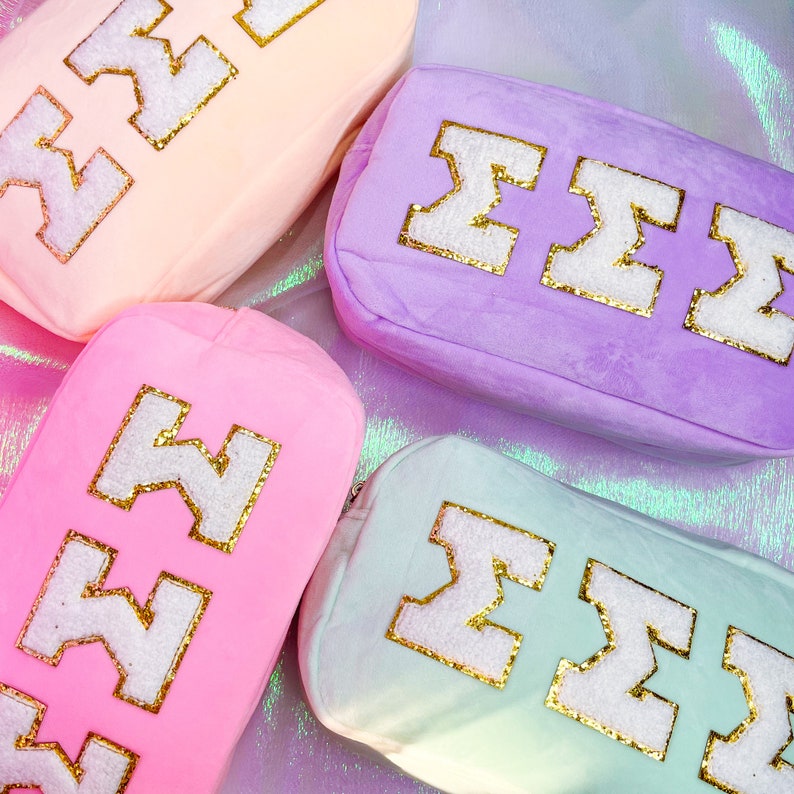 A cute cosmetic bag with your sorority's Greek letters is a great bid day gift idea.
2. Sorority Tote Bag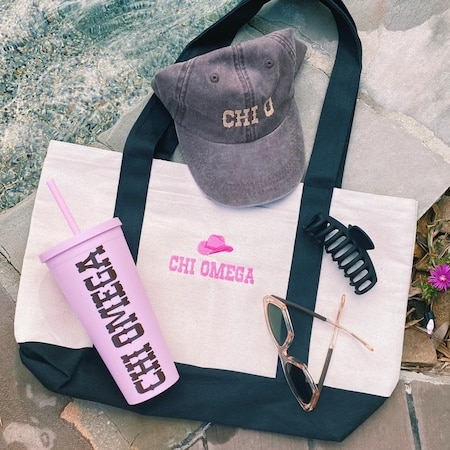 A cute sorority chapter tote bag is perfect for carrying books around campus, or for bringing to a frat party at the beach!
3. Sorority Trucker Hat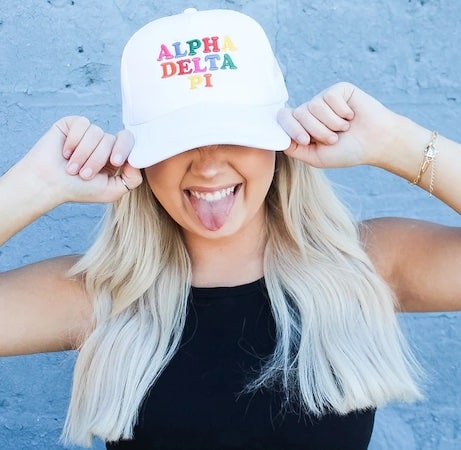 A fun sorority trucker hat is perfect for beach parties. Plus, this bid day gift idea is perfect for wearing to take fun photos!
4. Sorority Hooded Sweatshirt for Bid Day
Of course, your new sorority sisters will probably accumulate lots of official sorority/Greek t-shirts and sweatshirts. But…these sweatshirts are just perfect for bid day!
5. Tassel Key Fobs
A key fob isn't just for car keys! A personalized sorority tassel fob can be added to a backpack or a purse.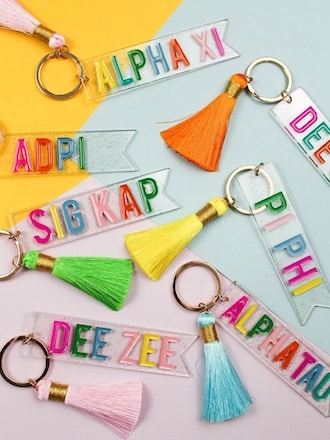 Summary
In summary, there are so many sorority bid day ideas to choose from! Some of my favorite bid day themes include 80s and neon, disco party, and Candyland.
Which sorority bid day idea is your favorite? What did your sorority do last year for their bid day theme? Please leave a comment below. I'd absolutely love to hear from you!!
More College Guides for Sorority Sisters
If you enjoyed this guide with sorority bid day themes, you may want to check out these related articles too!!
Easy and Fun Sorority Theme Party Ideas
Sorority Halloween Costumes for College
Sorority Sister Halloween Costume Ideas