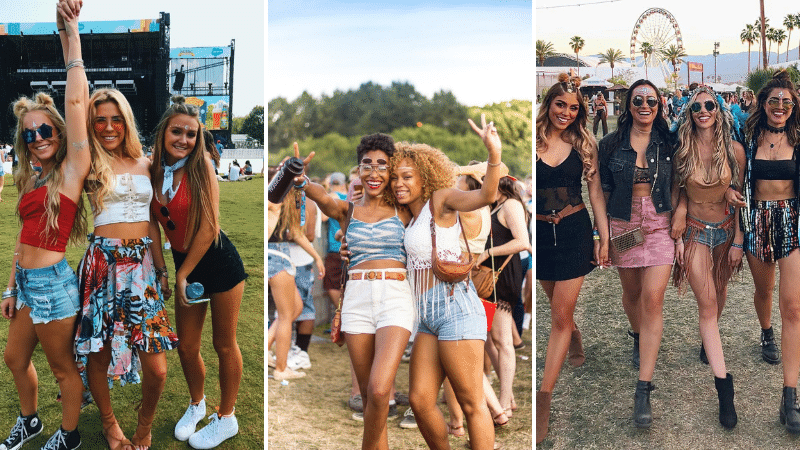 Music Festival Outfits
One of my favorite things about spring and summer is that it's festival season!! Nothing beats hanging out with friends, listening to music, and soaking up some sun outside.
Plus, festivals are an awesome excuse to dress up and wear something fun! 😄
Whether you are girly and like wearing mini dresses or prefer a sportier look with biker shorts and Doc Martens boots, there are a variety of music festival outfit ideas to choose from.
Trendy Music Festival Outfits for 2022
This guide on what to wear to music festivals includes:
Music festival outfits you can buy on Amazon
Plus size music festival outfits
This post may contain affiliate links. View the disclosure here.
Music Festival Outfit Style: What to Wear to a Music Festival
Not sure what to where to a music festival?
The best music festival outfits are casual and hipster, yet cute at the same time. Most music festival outfits include comfy shoes and a large purse or a small backpack for carrying around water and other essentials!
When choosing a festival outfit, think cute boho dresses, hippie inspired outfits, fun glitter, headbands, short shorts, cropped tops, and fun gold jewelry! 🥳
Cute Music Festival Outfits Ideas with Clothes on Amazon and Etsy
You can easily copy all these music festival outfit ideas with similar clothes on Amazon and Etsy. 🥳
1. Boho Outfit for Music Festival with Military Boots
Get this Music Festival Outfit
This festival outfit is by Stitch Fix.
A jean jacket will keep you warm at night and the backpack is perfect for carrying around water, snacks, and whatever else you may need!
Jean Jacket
Crop Top T-Shirt
Corduroy Mini Skirt
Black Combat Boots
Small Green Backpack
2. Music Festival Outfit with Floral Skirt and Jean Jacket
This is the "Stitch Fix Boho Goes West" outfit. You can learn how to get this cute Stitch Fix outfit here.
3. Music Festival Outfit with Jean Shorts
You can't go wrong with short jean shorts for a fun and flirty festival outfit.
Pair with a bralette or crop top and a leather brown belt.
How to Copy this Festival Outfit Idea
All you need is a simple pair of jean shorts and a fun top!
Frayed Jean Shorts
Cute Bralette
Brown Belt
4. Festival Outfit Ideas for Groups of Girls with Jeans and Sparkly Shorts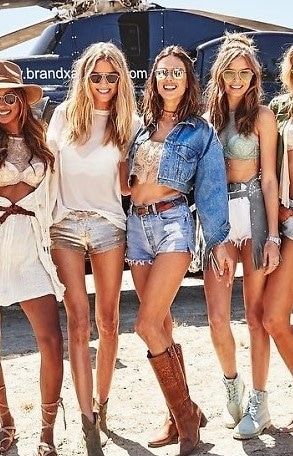 You don't need to match all your friends! You can all wear different outfits!
Copy the Music Festival Outfit on the Left
Get the Cute Festival Outfit on Girl in the Middle
Buy the Sexy Music Festival Outfit on the Right
5. Music Festival Outfits with a Rocker Chic Style
Hats are a MUST to protect your skin from the sun.
Get the Rocker Chic Look
Get matching hats for you and your friends and then wear a fun t-shirt, short shorts, and booties.
Hat for Music Festival Outfits
You can't go wrong with a big, floppy hat or a fun fedora hat.
Cute T-Shirts for Music Festivals
Short Shorts
Western Boots
Sunglasses
6. Fun 90s Inspired Festival Outfits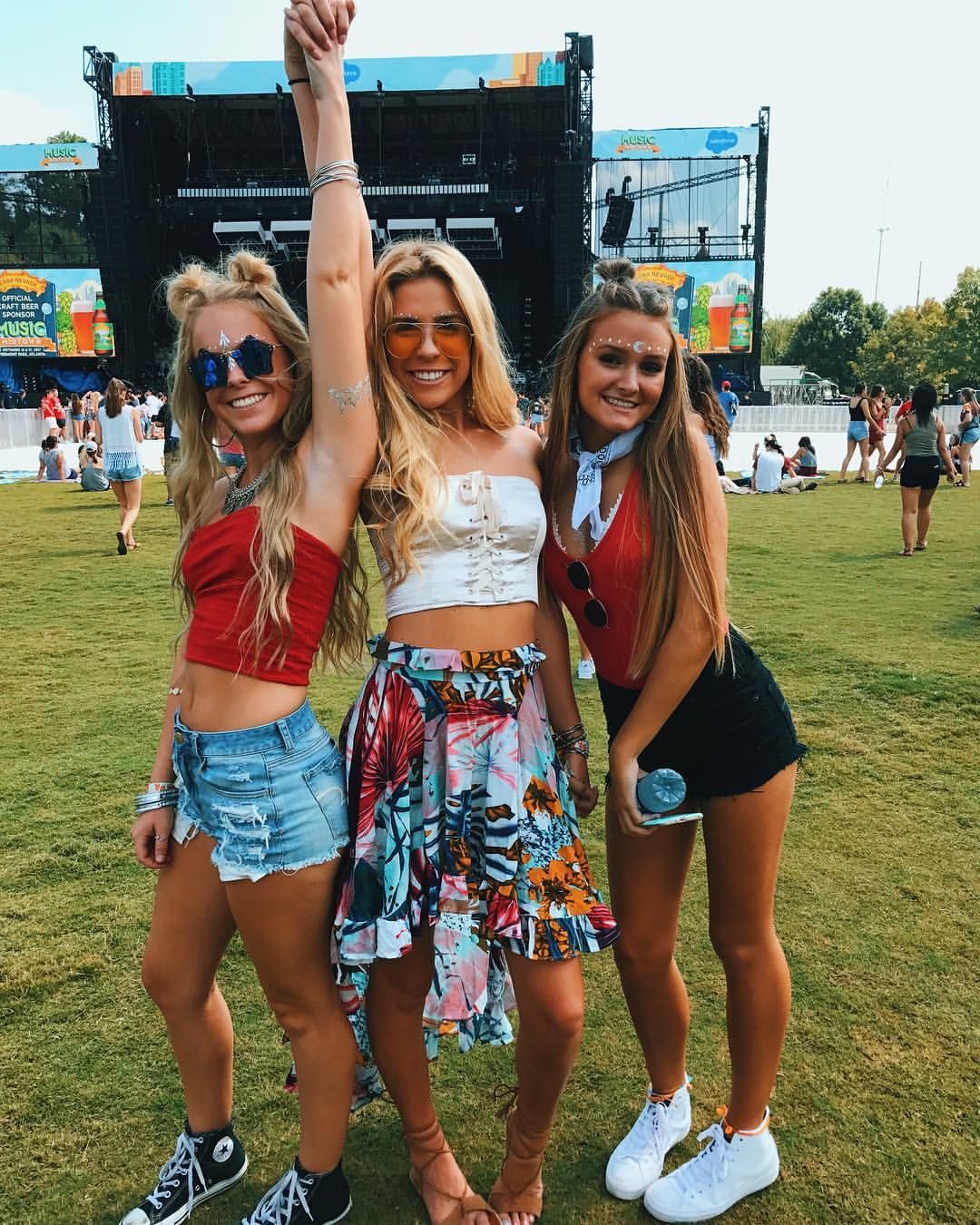 Think tube tops, Converse sneakers, mini buns, and glitter for a 90s inspired music festival outfit!
Get this Look
Here's what you need for this music festival outfit!
Outfit #1 with Tube Top and Jean Shorts
Cute Festival Outfit #2 with Floral Skirt
Red and Black Festival Outfit
7. Boho Style Inspired Festival Outfits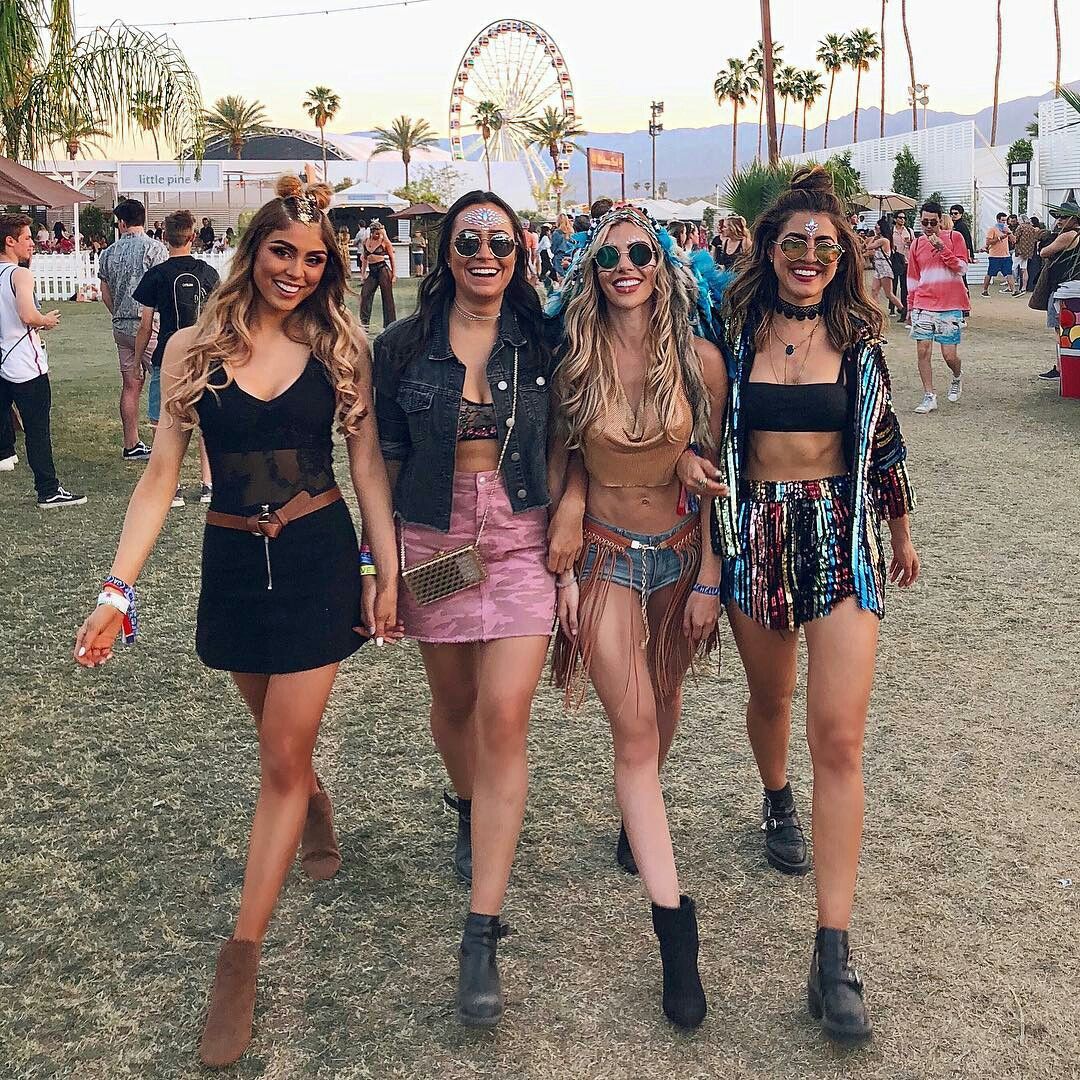 You really can't go wrong with a short skirt or shorts, a black or tan top, and comfy booties.
Shorts and Skirts
Cute Tops
Comfy Booties
Round out your festival outfit with aviator sunglasses, sparkles on your forehead, and your hair down or half up in a cute bun!
8. Off Shoulder Cute Coachella Music Festival Outfit
Get These Cute Festival Clothes on Amazon
9. Cute Music Festival Outfits for Teens
Get These Trendy Music Festival Outfits
10. White and Light Pink Music Festival Outfits
Copy this Music Festival Outfit Idea
11. Music Festival Outfit with Doc Martens
Who doesn't love an outfit with Doc Martens?
Get this Music Festival Outfit for Summer
12. Music Festival Outfit with Fringe Dress
13. Sexy Black Music Festival Jumpsuit for Raves
15. Sparkly Two Piece Festival Outfit
Must Have Accessories for Festival Outfits
You can't go to a music festival without sunglasses. They are a must!
Here's a list of "Must Haves" for your festival outfit.
Must Have Accessories for Music Festivals
1. Fun sparkles for your face and arms
2. Sunglasses
3. Backpack or Fanny Pack
4. Oversized hat or headband
5. Bangles and rings!
Below are awesome accessories to round out your festival outfit.
1. Sparkles and Glitter
2. Boho Backpack
3. Fun Sunglasses
4. Flower Headbands
5. Bangles and Rings
What to Bring to a Music Festival
Item #1 is cash, ID, and credit card! Many vendors will take cash only, and you won't want to spend 15 minutes standing in line at the ATM. Plus, the fees are horrible! Make sure to have plenty of cash on you, plus your ID and credit card.
If allowed, pack water and snacks too. Festivals usually have food for sale, but it's nice to have snacks handy. Pack a high-protein energy bar like the Epic protein bars (Whole30 and keto friendly!) to keep you tied over between meals.
Sunblock. It's a must! If you are wearing a cute cropped top your shoulders and back will get burned.
The Best Bralettes for Music Festival Outfits
Bralettes are PERFECT for music festivals. They are comfortable, cute and sexy, and perfect for hot days. (Just make sure to wear sunblock!)
You can also throw an oversize t-shirt or a jean jacket over a bralette. And they are perfect if you want to cover yourself in glitter!
Here are my favorite bralettes on Amazon. Each is a slightly different style.
Buy the Bralettes Above
More Bralettes

View on Amazon
Tips for Music Festivals
Here are a few tips for music festivals – as they are long days!!
Go with a smaller group of friends. More than 5 people and it can get to be too much!
Pack hand sanitizer. (Sometimes the bathrooms run out of soap!)
Bring plenty of sunblock.
Drink water throughout the day.
Pack an extra jacket for when it gets cold at night.
If you have room in your backpack, throw in an extra pair of socks.
Put your phone on airplane mode when you don't need it. (Batteries run low quickly in crowded places!)
Drink water and have an Advil before you go to bed at night.
Remember to have lunch and dinner – especially if you are drinking throughout the day.
Take lots of pictures!
Have fun!!!
Bohemian Style at Home
Love the whole boho style? (I know I do!)
Check out stores like Ikea, HomeGoods, Amazon, and Facebook Marketplace to decorate your bedroom or living room with a chic bohemian romance look.
Check out this Very Easy Makeup Pinterest board for the furniture items I'm loving now!
More Fashion and Beauty Articles by Very Easy Makeup
You may also love these related articles from Christina Marie of Very Easy Makeup.
Connect with Very Easy Makeup
Follow Very Easy Makeup on Facebook to get notified of new beauty, makeup, and fashion posts!
Please subscribe to the Very Easy Makeup YouTube channel. You'll find how-to tutorials for very easy makeup and bleaching hair blonde at home.
Sign up for the Very Easy Makeup Newsletter.