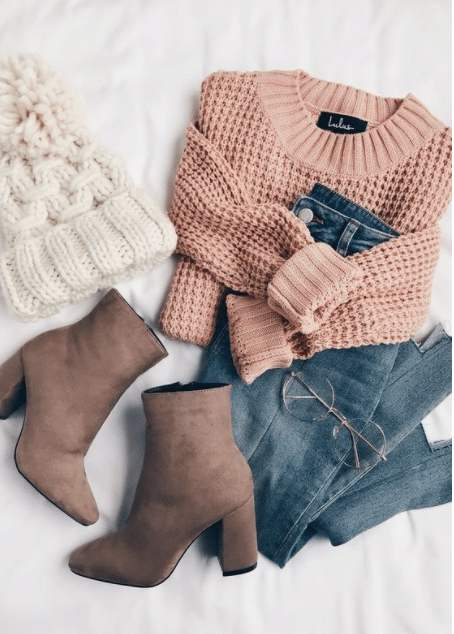 Stitch Fix Winter Outfits
Winter is the perfect time of year to pull out your favorite pair of booties, a cute sweater, and jeans.
Many of the Stitch Fix outfits for winter 2022 feature a warm and cozy sweater.
Sweaters are so soft and comfortable. Plus, who likes being cold?
This post may contain affiliate links. View the disclosure here.
Stitch Fix Winter 2022 Outfits
This post is all about the best Stich Fix winter outfits for 2022. You'll find warm and cozy outfits with sweaters, winter outfits with jeans, and cute winter outfits with booties.
Fortunately, you don't need a Stitch Fix subscription to get these winter looks! Just shop for similar clothes online from stores like Amazon. I'll show you how.
The Best Stich Fix Outfits for Winter 2022
Here are my favorite outfits from Stitch Fix for winter 2022.
1. Winter Outfit: Cozy Pink Sweater and Suede Boots
For this winter outfit, you'll need a waffle knit pink or cream sweater, denim jeans, suede boots, and a white knit hat.
Pink or Light Tan Waffle Knit Sweater
Light Pink Sweater
Brown Suede Booties
White Knit Hat (with Pom Poms!)
2. Fuzzy White Sweater and a Blue Sweater from Stitch Fix
This winter Stitch fix outfit is pretty simple. It's really the white fuzzy sweater jacket that completes the outfit. You just need a fuzzy jacket, a multi-color sweater, classy jeans, and brown suede booties.
White Fuzzy Zip Up Jacket
Multi-Color Blue and Green Sweater
Brown Suede Booties
3. Red and Pink Sweater Outfit for Winter with Black, Black, Black!
This Stitch Fix outfit reminds me of a rocker chick for some reason. This outfit stands out because of the eye-catching sweater. That's all you need.
Then, complete the look with black or grey jeans, snakeskin booties, a classy purse, and a polka dot shirt.
Red (Burgundy) and Pink Sweater
Black Snakeskin Booties
Classy Black Purse
Black and White Polka Dot Shirt
4. Stitch Fix Winter Outfit with a Fuzzy Jacket
This Stitch Fix winter outfit features a super warm and puffy jacket and a fun holiday sweater with white booties. The jacket reminds me of the puffy jacket in the Stitch Fix fall ad.
Get a Similar Outfit on Amazon
5. Stitch Fix Winter Outfit with a Leopard Print Jacket, Gray Jeans, and a White Sweater
The leopard print jacket makes this outfit stand out.
Get a Similar Outfit on Amazon
Love Stitch Fix? Explore More Outfits!
If you don't want to think about how to put together your own outfits, you don't need to! Just look to Stitch Fix for inspiration and then find similar clothes online.
You may enjoy these related articles with Stitch Fix outfits by Very Easy Makeup.
Stitch Fix Pink and Grey Weekend Outfit
Stitch Fix Pink and Grey outfit
Stitch Fix Fall Athleisure Outfit with Yellow Sweater and Blue Jacket
Stitch Fix Coral Sweater and Pink Skirt Outfit
Stitch Fix Coral and Pink Outfit
Related Fashion Articles by Very Easy Makeup
If you enjoyed this article, check out these similar articles and pages by Very Easy Makeup.
The 3 Most Comfortable Bras EVER
Loungewear Sets with Pants for Women
Connect with Very Easy Makeup
I'd love to connect with you!
Follow Very Easy Makeup on Facebook to get notified of new beauty, makeup, and fashion posts!
Please subscribe to the Very Easy Makeup YouTube channel. You'll find how-to tutorials for very easy makeup and bleaching hair blonde at home.
Sign up for the Very Easy Makeup Newsletter.