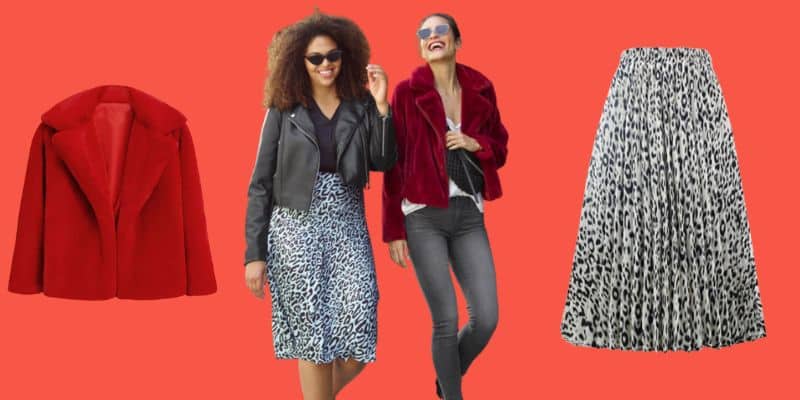 Stitch Fix Fall Ad Outfits
The outfits in the fall Stitch Fix ads are super cute, but Stitch Fix can be expensive.
If you want to copy the look of the Stitch Fix fall ad, you are in luck!
Learn how to create your own cute fall outfits by buying similar clothes from Amazon. You'll look like a Stitch Fix model, but you won't go broke in the process!
This post may contain affiliate links. View the disclosure here.
How to Copy the Stitch Fix Fall Outfits Shown in the Fall Stitch Fix Ad
Find clothes online (that are affordable!) that are like the fall outfits worn by the two models in the Stitch Fix fall ad.
The first model in the fall Stitch Fix ad is wearing a stylish black leather jacket, a classy V-neck blouse, and a fun, flowy, leopard print knee-length skirt.
How to Copy the Stitch Fix Fall Outfit with a Blue Leopard Print Skirt + Leather Jacket
Here's how to copy the Stitch Fix look from the fall ad with similar clothes on Amazon!
1. Buy a Short Black Leather Jacket Similar to the Stitch Fix Model
Or, Buy a Cropped Leather, Short Moto Jacket with Zippers
Stitch Fix Plus Size Leather Jacket for Fall Outfits
You can also find a plus size leather jacket to copy the Stitch Fix outfit idea online.
2. Find a Classy V-Neck Blouse Like the Stitch Fix Outfit
Stitch Fix Plus Size Brands – Calvin Klein
If you are plus size, check out this V-neck blouse on Amazon.
3. Buy a Sexy Leopard Print Skirt Similar to Stitch Fix Model Featured in Fall Ad
These two leopard print skirts look very similar to the Stitch Fix blue leopard print skirt. Plus, they are less than $25 on Amazon!
Leopard Print A-Line Midi Skirt for Fall Fashion Look from Stitch Fix
A-Line Pleated Leopard Print Mid-Long Skirt (Second Option to Copy Stitch Fix Look)
4. Find Affordable, Designer Sunglasses Similar to Stitch Fix Model in Fall Ad
This pair of rectangular sunglasses by Michael Kors is perfect for fall!
5. Complete Stitch Fit Fall Outfit Ideas with Comfortable Shoes Like Black Wedges
Stitch Fix Fall Outfit Ideas from Model in Ad Wearing Red Faux Fur Jacket
The second model in the fall 2020 Stitch Fix ad is dark red faux fur jacket, gray jeans, and a simple white t-shirt.
How to Make Your Own DIY Outfit Similar to Stitch Fix Fall Outfits
Here's how to copy the Stitch Fix look and make your own DIY Stitch Fix outfit for fall from Amazon.
With these clothes from Amazon, you can look just like the model in the Stitch Fix fall ad!
1. Find a Similar Red, Plush Jacket Online to Copy the Model in the Fall Ad
Red Faux Fur Coat Similar to Stitch Fix Fall Fur Jacket
Alternative Red Jacked to Copy Stitch Fix Look for Fall
2. Wear a Simple White T-Shirt
3. Add a Fun Black Cross-Body Purse to Your Fall Outfit
Or Buy a Luxury Stitch Fix Designer Cross-Body Purse by Rebecca Minkoff
4. Wear Dark Grey Skinny Jeans for Your Stitch Fix Look-A-Like Fall Outfit
5. Find Cute, Leopard Print Ballet Flats for Your Stitch Fix Outfit
Or Wear Leopard Print Sexy Heels as an Alternative Option for Fall
6. Complete Your Fall Stitch Fix Look with Stylish Michael Kors Sunglasses
Makeup for Fall Look Recommended by Very Easy Makeup
Check out this makeup from Amazon for an easy, affordable makeup look for fall.
1. Lipstick – Revlon ColorStay Overtime in Unlimited Mulberry – Best Lipstick Color for Fall
2. Blush – NARS Blush in Orgasm – Best Blush for Fall (and Year-Round!)
3. Eyeshadow – Covergirl Purple, Rose, and Gold Eyeshadow Palette for Fall
4. Mascara – essence False Lash Effect Mascara at a Drugstore Price
5. Perfume – Black Opium by Yves Saint Laurent for Sexy Fall Scent
Brand of the Red Faux Fur Jacket in Stitch Fix Fall Ad
Are you curious about the brand of the sexy red faux fur jacket featured in the Stitch Fix fall ad? It's Rebecca Minkoff!
You can check out her clothes, purses, and shoes on Amazon.com.
More Articles by Very Easy Makeup
Did you enjoy this article? Please give it five stars below and share it with a friend!
Connect with Very Easy Makeup
Please subscribe to the Very Easy Makeup YouTube channel. You'll find how-to tutorials for very easy makeup and bleaching hair blonde at home.
Very Easy Makeup Newsletter
Sign up for the Very Easy Makeup Newsletter
Very Easy Makeup on Facebook
Give Very Easy Makeup a Like on Facebook