Stitch Fix Cozy Fall Outfit to Buy – DIY on Amazon!
This post may contain affiliate links, which means I may earn a commission if you decide to make a purchase through our links, at no cost to you. You may view the disclosure here.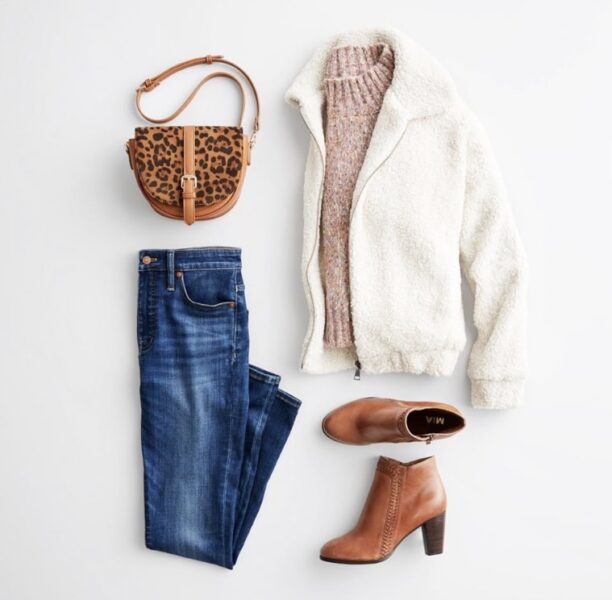 Cute Stitch Fix Fall Outfit
Stitch Fix has cute outfits and cozy, warm outfit ideas for fall.
If you are looking for a great Stitch Fix outfit that you can DIY, you have come to the right place.
This guide covers everything you need for a cute fall outfit.
If you want to mirror the Stitch Fix outfit below, here's where you can find similar clothes online!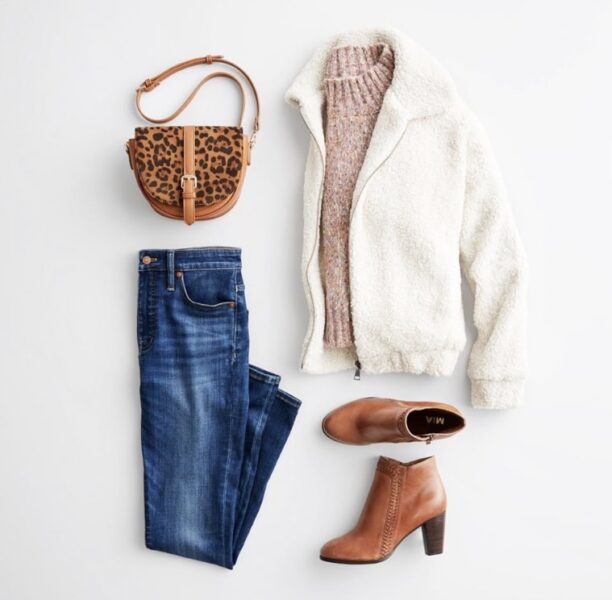 This post may contain affiliate links. View the disclosure here.
Stitch Fix Fall Outfit with Cozy Sweater, Boots, and Leopard Print Purse
Below is what you need to copy this cute Stitch Fix outfit for fall. You can't go wrong with a cozy sweater, boots, and a leopard print purse for fall.
And lucky you...you can get this entire outfit on Amazon!
1. Cozy, White, Zip-Up Fleece Hoodie for Fall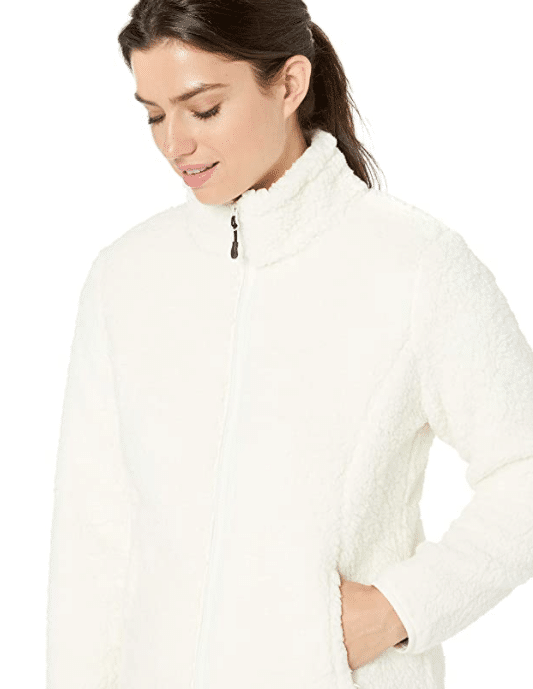 This cozy, polar fleece jacket with a zipper is cute, soft, and perfect for fall and winter.
2. Soft Pink Sweater for Fall Outfit (to Copy Stitch Fix!)
Sweaters are casual, comfortable, and feminine. This high-neck sweater from Amazon gets great reviews and it's less than $45!
3. Leopard Print Purse Similar to Stitch Fix Fall Outfit
For $25 on Amazon, you can get a classy, over-the-shoulder leopard print purse.
4. Dark Jeans from Levi Strauss for Fall and Winter
It can be hard to find a good pair of jeans.
This pair by Levi Strauss & Co. gets great reviews online. If you already have jeans that fit well, stick with what you already own!
5. Light Tan Ankle Booties
This pair of women's fake leather ankle booties by PiePieBuy gets GREAT reviews on Amazon for being both cute and comfortable.
I personally love these booties in pink!
More Fall Outfit Ideas
Fall Outfits for Women (from Amazon)
Connect with Very Easy Makeup for More Outfit Ideas
Did you find this article helpful? Please give it five stars below and share it on Facebook or Twitter.
I'd also love to hear from you! Leave a comment below and please connect with Very Easy Makeup on social media.
Sign up for the Very Easy Makeup Newsletter.
Follow Very Easy Makeup on Pinterest.
Give Very Easy Makeup a Like on Facebook.
Connect with Very Easy Makeup on Instagram.
Please subscribe to the Very Easy Makeup YouTube channel. You'll find how-to tutorials for very easy makeup and bleaching hair blonde at home.
Enjoy the beautiful fall weather outside!
Christina Marie from Very Easy Makeup (just a girl who is passionate about beauty and fashion)