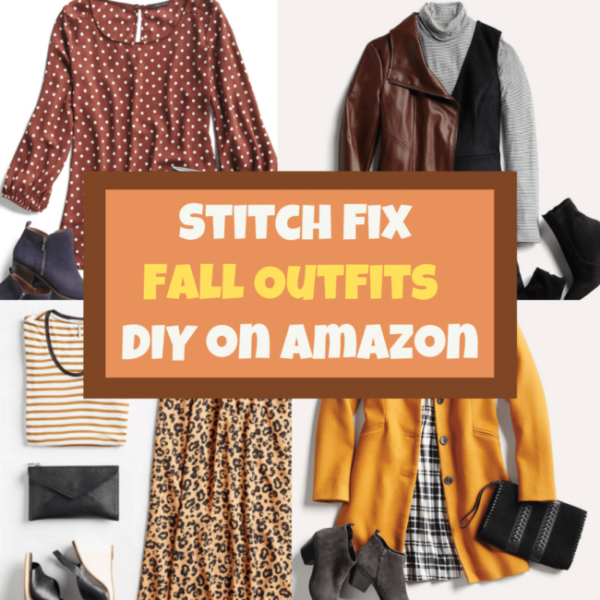 Stitch Fix Fall Outfits
Stitch Fix is awesome at putting together cute, fashionable outfits for each season. Top fall colors in the outfits by Stitch Fix include orange, brown, and dark red.
If you love Stitch Fix but can't afford it, check out these simple DIY outfit ideas from Amazon!
This post may contain affiliate links. View the disclosure here.
Stitch Fix Fall Outfits to Copy – DIY on Amazon for Less
You can copy and mirror the Stitch Fix look without the price tag!
1. Stitch Fix Fall Casual Outfit – Red Blouse and Cute Jeans for Fall
HOW TO BUY STITCH FIX FALL OUTFIT ON AMAZON
Red and White Polka Dotted Blouse
Medium Wash Colored Skinny Jeans
Dark Blue Booties with Zipper
2. Stitch Fix Fall Feminine Outfit – Yellow Trench Coat with Plaid Dress
HOW TO COPY STITCH FIX LOOK WITH SIMILAR CLOTHING FOR FALL ON AMAZON
Bright Yellow Trench Coat for Fall Outfit Ideas
Black and White Plaid V-Neck Dress for Fall Outfit
Dark Gray Booties with Low Heel and Zipper
Black Clutch Purse for Stitch Fix Outfit
3. Stitch Fix Fall Warm Outfits include a Brown Leather Jacket with V-Neck Black Dress + Turtleneck
HOW TO RE-CREATE STITCH FIX FALL OUTFIT IDEA ONLINE
Brown Leather Jacket
Classy V-Neck Black Dress
Black and White Turtleneck for Fall
Cute Designer (and Affordable!) Black Booties on Amazon
4. Stitch Fix Fall Date Night Outfit – Leopard Print Long Skirt with Orange and White Shirt
WHERE TO BUY SIMILAR STITCH FIX CLOTHES FOR FALL OUTFITS
Stitch Fix Look-Alike Leopard Print Long Maxi Skirt
Orange and White Striped Shirt for Stitch Fix Outfit
Long Sleeve Striped Shirt (Black and White to Match Stitch Fix Outfit)
Black Wedges for Summer or Fall
Black Clutch Purse
Stitch Fix Outfits on Pinterest & Stitch Fix Copycats
Want to discover more Stitch Fix outfits and learn how to make Stitch Fix copycats?
Check out this Pinterest fashion page by Very Easy Makeup.
Stitch Fix Outfits on Pinterest
More Fashion Articles and Outfits for Fall from Very Easy Makeup
Did you like this article? Give it five stars and please share with your friends via Facebook.
Check out these related posts by Christina Marie of Very Easy Makeup too!
Connect with Very Easy Makeup
Please subscribe to the Very Easy Makeup YouTube channel. You'll find how-to tutorials for very easy makeup and bleaching hair blonde at home.
Very Easy Makeup Newsletter
Sign up for the Very Easy Makeup Newsletter
Very Easy Makeup on Facebook
Give Very Easy Makeup a Like on Facebook