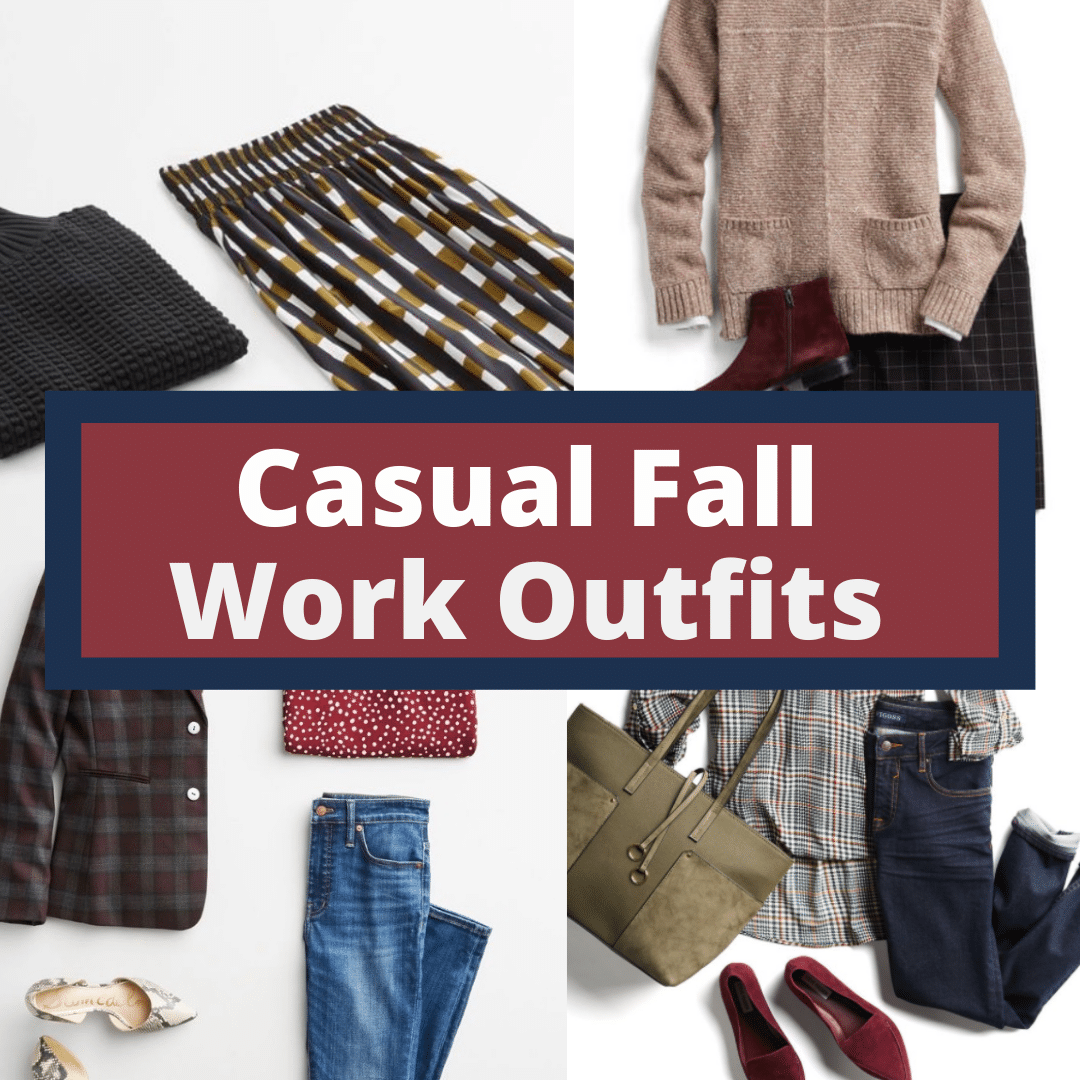 Fall Business Casual Work Outfits from Stitch Fix
Searching for cute, yet casual, business casual work outfits?
Check out these fall outfits by Stitch Fix. Then, learn how you can copy these fall trends with similar clothes on Amazon!
This post is all about the best business casual work outfits for women...inspired by Stitch Fix.
Fall outfits include:
This post may contain affiliate links. View the disclosure here.
Fall 2022 Business Casual Outfits with Booties
Just got a pair of booties and want to show them off! Here are some business casual outfit ideas to wear with booties. Booties look great with dresses and skirts (with tights).
1. Fall Outfit and Fashion Trend: Sweater, Collared Skirt, and Booties
Copy this Look from Amazon
2. Stylish and Fashionable Fall Work Outfit
Copy this Stylish Stitch Fix Outfit Idea with Clothes from Amazon
Business Casual Outfits for Fall with Jeans
Stick to dark blue jeans or black jeans for work.
When wearing jeans to work, make sure they aren't too tight (you aren't going out clubbing!) and pair them with a blazer to dress up your work outfit.
A classy leather purse dresses up the outfit too.
1. Dressy Yet Casual Work Outfit for Fall with a Stylish Blazer and a Fun Blouse
Get this Outfit Online for Less than Stitch Fix
2. Business Casual Work Outfit for Fall with Stylish Shoes and Dark Jeans
Get this Fall Work Outfit Online
3. Classy Business Casual Outfit for Fall with Black Jeans
Buy this Outfit Online
Stitch Fix Dressy Business Outfits for Fall
I personally never wear jeans to work, even though my workplace is business casual! I prefer to wear a dressy blouse and heels every day. Below are three outfits that I love.
Make sure that your heels aren't too high and make sure that the blouse isn't too tight around the chest. (You don't want your bra to show through!)
1. Dressy and Professional Fall Work Outfit with Blouse and Classy Heels
Buy this Fall Professional Work Outfit Online
2. Comfy and Dressy Work Outfit for Fall with Black Slacks
Get this Fall Work Outfit Online
3. Professional Fall Work Outfit with Sweater and Leopard Print Heels
Copy this Fall Work Outfit for Women
Stitch Fix Fall Casual Work Outfits for Work or Going Out
Sometimes (often!) I don't have time to go home after work to change, but I don't want to bring in a whole new set of clothes to change into.
These professional work outfits can be worn out to dinner or out for drinks in the fall.
1. Business Casual Fall Outfit with Cozy Sweater
Buy this Stitch Fix Outfit Online
2. Business Casual Outfit for Fall with Jean Jacket and Leopard Print Skirt
Buy this Work Casual Outfit for Fall Online
Related Fashion Articles by Very Easy Makeup
If you enjoyed this article, check out these similar articles and pages by Very Easy Makeup. (And please share this article with friends on Facebook!)
The 3 Most Comfortable Bras EVER
Loungewear Sets with Pants for Women
Connect with Very Easy Makeup
I'd love to connect with you!
Follow Very Easy Makeup on Facebook to get notified of new beauty, makeup, and fashion posts!
Please subscribe to the Very Easy Makeup YouTube channel. You'll find how-to tutorials for very easy makeup and bleaching hair blonde at home.
Sign up for the Very Easy Makeup Newsletter.