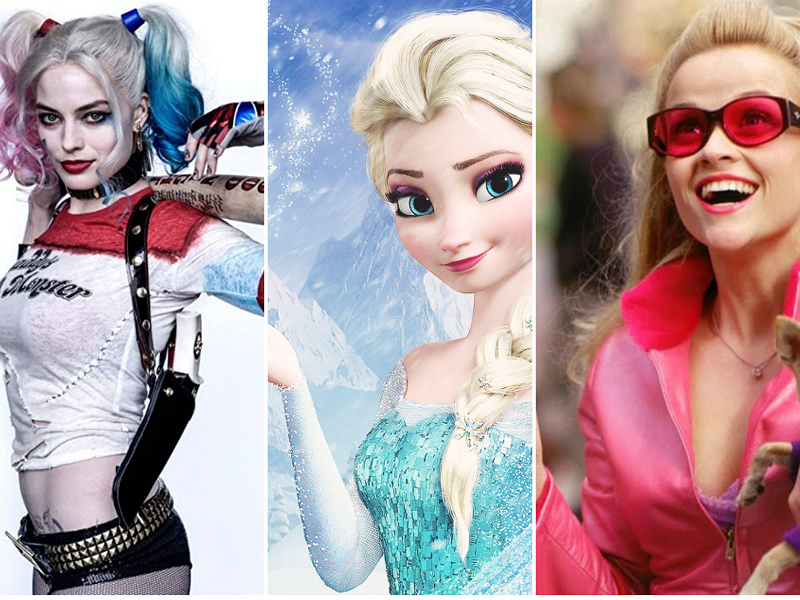 Halloween Costumes for Blondes
I'm a BIG fan of DIY Halloween costumes because they are more fun to put together than the Halloween costumes at the store…and they are more unique too!
Searching for Halloween costumes for blondes?
If you have blonde hair and want to assemble your own fun Halloween costume, check out this list of the best DIY Halloween costumes for blondes.
This post may contain affiliate links. View the disclosure here.
Halloween Costumes for Blondes
Here are 10 ideas to get you started with suggestions on what to buy to make your own DIY Halloween costume for blondes.
10 Halloween Costumes for Blondes 2022
Happy early Halloween!!! Here are DIY ideas for Halloween costumes for blondes.
1. Elle Woods from Legally Blonde
DIY Legally Blonde Costume
2. Harley Quinn from Suicide Squad
Harley Quinn DIY Costume
3. Sandy from Grease
DIY Sandy Blonde Halloween Costume
4. Barbie from Toy Story
DIY Barbie from Toy Story Costume
5. Alice in Wonderland
Alice in Wonderland DIY Costume
6. Cher from Clueless
Cher from Clueless Halloween Costume for Blondes
7. Marilyn Monroe from The Seven Year Itch
DIY Marilyn Monroe Costume
8. Storm from X-Men
Storm DIY Halloween Costume
9. Regina George from Mean Girls
Regina George DIY Costume
10. Elsa from Frozen
Elsa DIY Blonde Halloween Costume
11. Blonde DIY La Catrina Costume for Women
This blonde DIY Halloween costume is so unique!
Get this DIY Halloween Costume for Blondes on Amazon
12. Princess Peach
13. Elvira Hanckock
Learn how to dress up as Elvira Hancock and Tony Montana.
More Articles to Explore by Very Easy Makeup
Did you like this article on the best DIY Halloween costumes for blondes?
Please give it 5 stars below and leave a comment.
You may also like these fashion articles by Very Easy Makeup.
The Best Leopard Print Sneakers
Connect with Very Easy Makeup
I'd love to connect with you!
Follow Very Easy Makeup on Facebook to get notified of new beauty, makeup, and fashion posts!
Please subscribe to the Very Easy Makeup YouTube channel. You'll find how-to tutorials for very easy makeup and bleaching hair blonde at home.
Sign up for the Very Easy Makeup Newsletter.