15 Best DIY Halloween Costumes for Blondes
This post may contain affiliate links, which means I may earn a commission if you decide to make a purchase through our links, at no cost to you. You may view the disclosure here.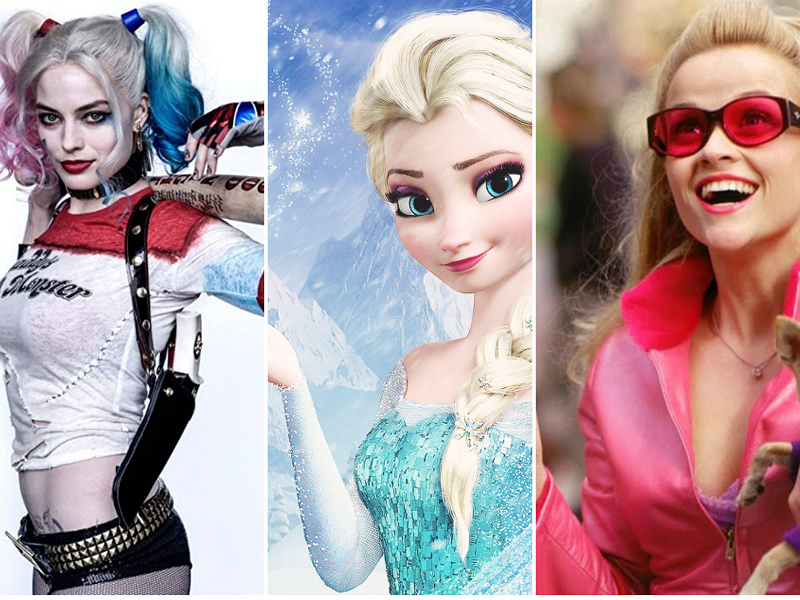 Halloween Costumes for Blondes
I'm a BIG fan of DIY Halloween costumes because they are more fun to put together than the Halloween costumes at the store…and they are more unique too!
Searching for Halloween costumes for blondes?
If you have blonde hair and want to assemble your own fun Halloween costume, check out this list of the best DIY Halloween costumes for blondes.
Here are ideas to get you started with suggestions on what to buy to make your own DIY Halloween costume for blondes.
DIY Halloween Costumes for Blondes
Happy early Halloween!!! Here are DIY Halloween costume ideas for blondes.
1. Elle Woods from Legally Blonde
Creating a DIY Elle Woods from Legally Blonde Halloween costume is fun and iconic. Here's how to do it:
Pink Outfit: Start with a pink, preppy ensemble. A pink, collared blouse paired with a matching pink skirt or dress works perfectly. Ensure it's stylish and fashionable, just like Elle.
Accessories: Layer on the accessories - a faux-fur pink jacket, oversized sunglasses, and a pearl necklace are essential to capture Elle's glamorous look.
Legally Blonde Details: Carry a pink legal pad or a law textbook as a prop, and don't forget to sport a blonde, wavy hairstyle, either with your natural hair or a wig. Top it off with a spritz of pink perfume for the ultimate Elle Woods vibe.
DIY Legally Blonde Costume
2. Harley Quinn from Suicide Squad
Creating a DIY Harley Quinn Halloween costume is edgy and fun. Here's how to put it together:
Harley's Classic Outfit: Start with Harley's classic red and black look. You'll need a red and black color-blocked jacket or corset, paired with red and black shorts or a skirt. You can also create a "Daddy's Lil Monster" T-shirt by writing or printing the phrase on a white tee.
Tights and Boots: Wear fishnet tights or leggings under your shorts or skirt. Pair them with black combat boots or high-top sneakers.
Accessories: Harley is known for her accessories. Don't forget her spiked choker necklace, wristbands, and fingerless gloves. You can also add a black belt with studs or a red "Puddin" choker for extra details.
Harlequin Makeup: Create Harley's iconic makeup look with a white base for your face, black eyeshadow smudged around your eyes, and bright red lipstick. Add heart tattoos or drawings on one of your cheeks.
Hair: Style your hair in two ponytails, one on each side, and dye them half red and half blue. You can use temporary hair dye or colored hairspray for this.
Baseball Bat: Carry a baseball bat with "Good Night" or "Harley's BFF" written on it in red or black letters.
Attitude: Lastly, Harley's character is all about attitude, so be sure to embody her playful, mischievous spirit throughout the night.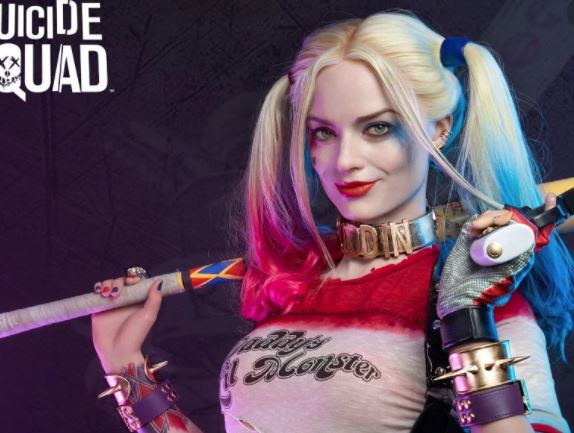 Harley Quinn DIY Costume
3. Sandy from Grease
Creating a DIY Sandy from Grease Halloween costume will have you looking like the iconic character from the classic movie. Here's how to do it:
The Outfit: Sandy's signature look is her black off-the-shoulder top paired with high-waisted, figure-hugging black pants or leggings. Alternatively, you can go for the end-of-movie transformation look, which includes a tight, black off-the-shoulder top, black leather leggings, and a black leather jacket.
Footwear: For the "bad Sandy" look, choose black high-heeled ankle boots. For the "good Sandy" look, opt for red or black ballet flats.
Accessories: Accessorize with a wide black belt for a cinched waist, hoop earrings, and a black headband to keep your hair in place.
Makeup: Go for a classic '50s makeup look with winged eyeliner, red lipstick, and a touch of blush. For "bad Sandy," add a smoky eye effect.
Hair: If you're going for the "good Sandy" look, curl your hair into loose waves. For "bad Sandy," straighten your hair and add volume at the roots.
Final Touches: For the transformation look, carry a cigarette (fake, of course) and a pair of red high heels in your hand for a quick costume change effect.
Attitude: Sandy's character evolves from sweet to sassy, so switch up your attitude accordingly throughout the night.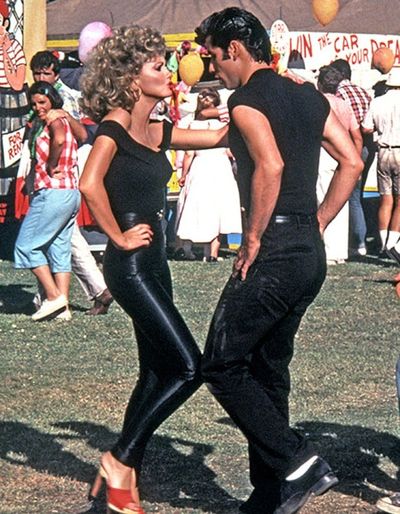 DIY Sandy Blonde Halloween Costume
4. Barbie from Toy Story
Creating a DIY Barbie in a blue leotard costume from Toy Story is a fun and recognizable choice. Here's how to put it together:
Blue Leotard: Start with a vibrant blue leotard as the base of your costume. Look for one with a similar shade to the outfit worn by Barbie in the movie.
Accessories: Barbie in Toy Story has a few signature accessories. Add a pink, wide belt to cinch the waist and a pair of white wristbands.
Blonde Wig: Barbie's character is known for her long, blonde hair. Find a blonde wig with straight hair and style it to resemble Barbie's classic look.
Makeup: Apply natural makeup with a hint of pink for eyeshadow and lipstick. Make your eyelashes pop with mascara to achieve a doll-like effect.
Shoes: Barbie's shoes are typically pink. Choose pink or white ballet flats or sandals to complete the look.
DIY Barbie from Toy Story Costume
5. Alice from Alice in Wonderland
Creating a DIY Alice in Wonderland costume is a whimsical and classic choice. Here's how to put it together:
Blue Dress: Start with a light blue, knee-length dress with a white apron-style pinafore. You can easily find or adapt a dress to match Alice's iconic look.
White Stockings: Wear white knee-high stockings or tights to match the traditional Alice attire.
Black Mary Jane Shoes: Choose a pair of black Mary Jane shoes or similar flats for comfort and authenticity.
Accessories: Add a few essential accessories such as a black ribbon headband, a pocket watch (you can use a prop pocket watch), and a black ribbon tied in a bow around the collar.
Hair and Makeup: Style your hair into a neat, medium-length bob or leave it down, and keep makeup minimal with a natural look.
Toy White Rabbit: Carry a plush toy white rabbit or a small stuffed animal version of the White Rabbit as if you're following him down the rabbit hole.
Playing Cards: To really immerse yourself in Wonderland, consider carrying a few oversized playing cards as props.
Drink Me Bottle and Eat Me Cake: Attach labels to miniature bottles and cakes with "Drink Me" and "Eat Me" written on them for additional thematic props. This is a great Halloween costume with alcohol too!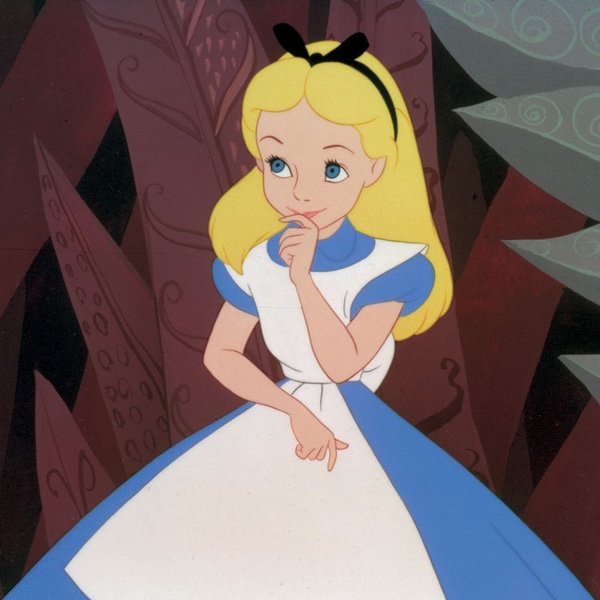 Alice in Wonderland DIY Costume
6. Cher from Clueless
Creating a DIY Cher from Clueless costume is a stylish and iconic choice. Below is what you need for a DIY Cher from Clueless costume. You may also want to check out this guide with the best Cher from Clueless costume ideas! Get your friends involved by dressing up as Tai and Dionne too!
Plaid Outfit: Cher is known for her fashionable plaid outfits. Start with a plaid blazer and a matching plaid mini skirt. Ensure the plaid pattern is colorful and eye-catching.
White Blouse: Wear a white, short-sleeved blouse under the blazer. You can choose a cropped style for a more authentic look.
Knee-High Socks: Pair the outfit with knee-high white socks, ideally with a lace or ruffled trim.
Mary Jane Shoes: Choose white or black Mary Jane shoes with a small heel to complete the ensemble.
Accessories: Add a few stylish accessories such as a chunky watch, a choker necklace, and a matching plaid headband or hair clip.
Hair and Makeup: Style your hair in loose waves or straight with a middle part, and keep makeup fresh and natural, focusing on a subtle pink lip gloss.
Flip Phone Prop: To fully embrace the '90s vibe, carry a vintage-looking flip phone as a prop.
Cher from Clueless Halloween Costume for Blondes
7. Marilyn Monroe from The Seven Year Itch
Creating a DIY Marilyn Monroe from The Seven Year Itch costume is a classic and glamorous choice. Here's how to put it together:
White Halter Dress: Marilyn's iconic look in the movie features a flowy, white halter dress that billows in the wind. Look for a replica of this famous dress or find a similar white halter dress with a pleated skirt.
Blonde Wig: If your hair isn't already blonde and styled like Marilyn's, consider wearing a blonde wig with loose, voluminous curls. Make sure the wig captures her signature hairstyle.
Heels: Pair the dress with white or clear high heels, which Marilyn often wore to elongate her legs.
Red Lipstick: Marilyn's bold red lips were one of her trademarks. Apply a vibrant red lipstick and make sure it's well-defined.
Mole Makeup: If you'd like to add attention to detail, you can apply a small beauty mark or mole on your cheek, similar to Marilyn's.
Accessories: Consider wearing simple diamond or rhinestone stud earrings to complete the look.
Prop: If you want to add a fun touch to your costume, carry a prop like a white subway grate or a portable fan to recreate the famous scene where her dress billows up.
DIY Marilyn Monroe Costume
8. Storm from X-Men
Dressing up as Storm is one of the best Halloween costumes for platinum blondes! Creating a DIY Storm from X-Men costume is a powerful and striking choice. Here's how to put it together:
Black Bodysuit or Jumpsuit: Start with a black bodysuit or jumpsuit as the base of your costume. Look for one with long sleeves and a high neckline for authenticity.
Cape: Storm is known for her flowing white cape. You can make one using white fabric or repurpose a white bedsheet. Attach it to your shoulders using snaps or safety pins.
Black Boots: Wear knee-high, black leather or pleather boots to complete the ensemble. Look for ones with a slight heel for added drama.
White Hair: Storm has striking white hair. If your hair isn't naturally white, you can use white temporary hair spray or a white wig to achieve her look.
Makeup: Storm's makeup is often minimal, but you can add some blue eyeshadow to evoke her mutant abilities. Don't forget to accentuate your eyebrows to match her distinctive look.
Lightning Effects: For an extra touch of authenticity, you can create lightning bolt-shaped accessories to attach to your costume, such as on your cape or gloves, using white or silver fabric.
Contact Lenses: If you really want to immerse yourself in the character, you can consider white or silver contact lenses to match Storm's eye color in the comics.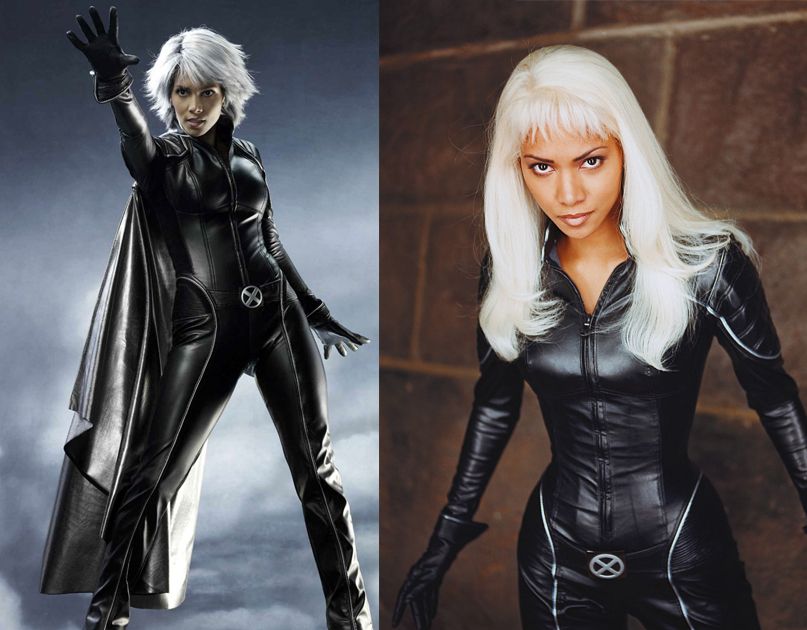 Storm DIY Halloween Costume
9. Regina George from Mean Girls
Creating a DIY Regina George from Mean Girls costume is a sassy and recognizable choice. Here's how to put it together:
Pink Outfit: Regina is known for her fashionable and often pink-themed wardrobe. Choose a trendy pink outfit, such as a pink skirt and matching pink top or a pink mini-dress.
Pink Heels: Pair your outfit with pink high heels or stylish pink boots.
Accessories: Regina loves her accessories. Add some chic jewelry, like hoop earrings or a delicate necklace. Don't forget to wear a pink bracelet or pink wristband.
Blonde Wig: Regina has long, flowing blonde hair. Consider wearing a long blonde wig or styling your own hair accordingly.
Burn Book Prop: To add an iconic touch to your costume, carry a "Burn Book" prop. You can create a notebook with a cover that says "Burn Book" and fill it with humorous or fictional insults and gossip.
Plastic Tiara: Regina's plastic tiara is an essential accessory. Look for a plastic tiara that you can wear throughout the night.
Attitude: Channel Regina's confident, sassy, and sometimes mean-spirited attitude. You can also drop some of her famous one-liners from the movie.
Makeup: Apply makeup that accentuates your features and enhances your natural beauty. Regina typically goes for a polished and put-together lo
Regina George DIY Costume
10. Elsa from Frozen
Creating a DIY Elsa from Frozen costume is a magical and enchanting DIY Halloween costume for blondes. If you want a fancy Elsa costume for Halloween, check out this DIY Princess Elsa costume guide. Here's a summary of how to put create a DIY Princess Elsa costume for blondes:
Ice Blue Gown: Start with a flowing, ice blue gown that resembles Elsa's iconic dress. You can find one in a costume shop or online, or consider sewing your own if you're crafty.
Accessories: Add a few key accessories, such as a silver tiara or crown, silver gloves or gloves with rhinestone accents, and a sparkly necklace.
Blonde Wig: Elsa's character has long, platinum blonde hair. You can either style your own hair to match or wear a blonde wig in a braided style similar to Elsa's.
Makeup: Apply a natural, frosty makeup look with light blue or silver eyeshadow, a subtle pink lip, and some shimmer to evoke Elsa's ice powers.
Cape: Attach a shimmering cape to your gown. You can either purchase one or make one using a sparkly, sheer fabric like organza or tulle.
Snowflake Details: To add some extra Frozen magic, consider adding snowflake decals or accessories to your outfit, such as snowflake earrings or a snowflake-shaped brooch.
Shoes: Choose a pair of clear or silver heels or flats to complete your DIY Princess Elsa costume!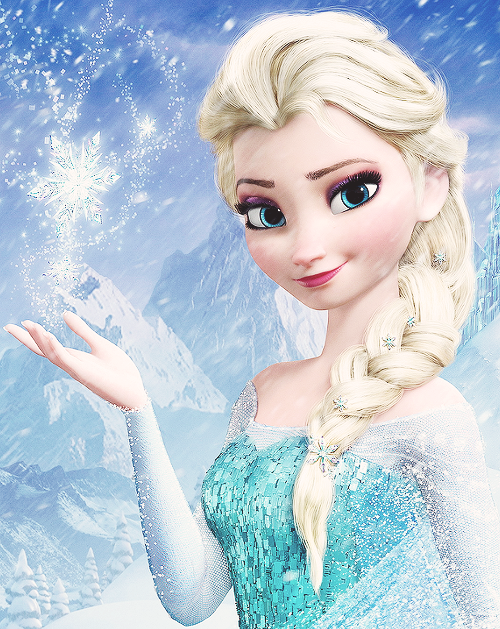 Elsa DIY Blonde Halloween Costume
11. Blonde DIY La Catrina Costume for Women
Creating a La Catrina costume is a beautiful and fun DIY Halloween costume for blondes. La Catrina is an iconic symbol of Dia de los Muertos (Day of the Dead) in Mexican culture. Here's how to put it together:
White Face Paint: Start by applying white face paint to create a skull-like visage. Cover your entire face, including your lips and eyes. Be sure to blend the paint evenly for a smooth, bone-white appearance.
Elaborate Makeup: Using black face paint or eyeliner, draw intricate details to resemble a decorated sugar skull. This includes hollowed-out eye sockets with decorative patterns around them, a decorative nose area, and a smiling mouth. You can find sugar skull makeup tutorials online for inspiration.
Floral Crown: La Catrina is often depicted wearing a crown of vibrant, paper or silk flowers. Create or purchase a floral crown with colorful flowers and greenery to wear on your head.
Elegant Dress: Choose an elegant, long dress in bright, vibrant colors like red, pink, or purple. It should be adorned with lace or embroidery to represent the ornate attire of La Catrina.
Veil or Mantilla: Draping a black veil or mantilla over your head adds an air of mystery and tradition to the costume.
Skeleton Gloves: Wear black gloves with skeleton hand designs to complete the skeletal look.
Accessories: Consider adding traditional Mexican jewelry, like large, dangling earrings, and a necklace. You can also wear a lace shawl or fan for extra flair.
Footwear: Choose black or colorful heels or flats that match your dress and the overall theme.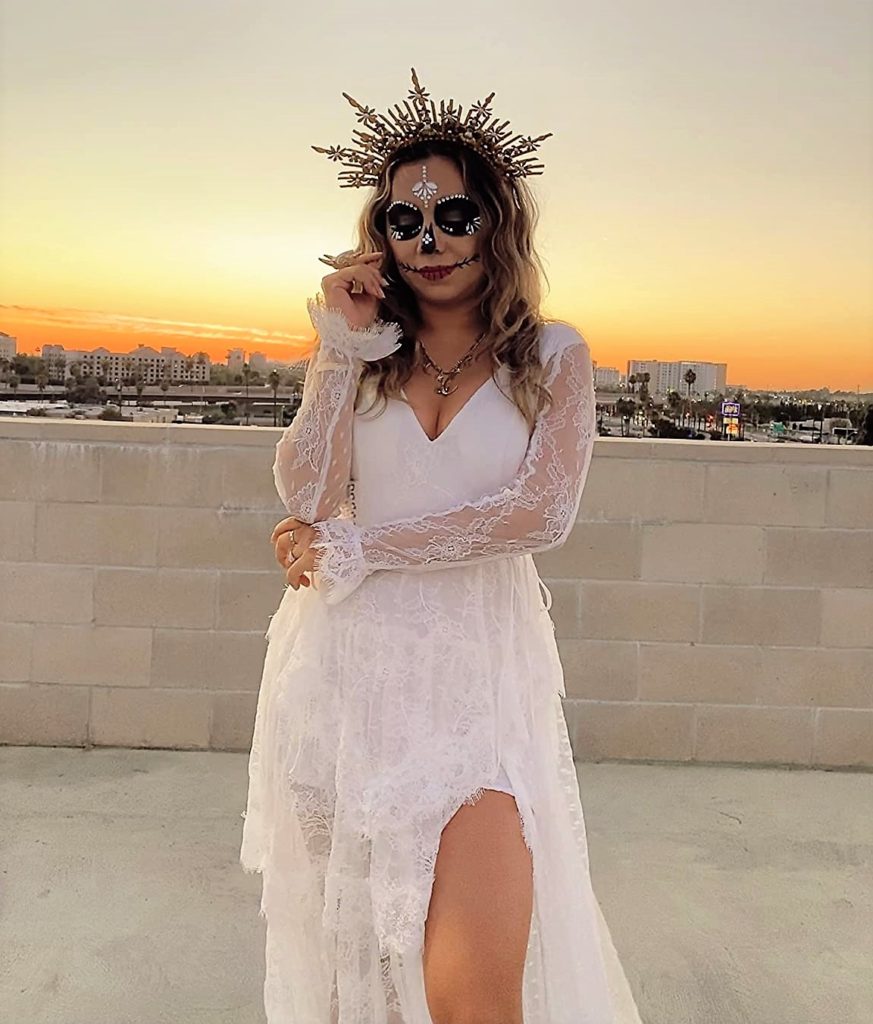 This blonde DIY Halloween costume is so unique!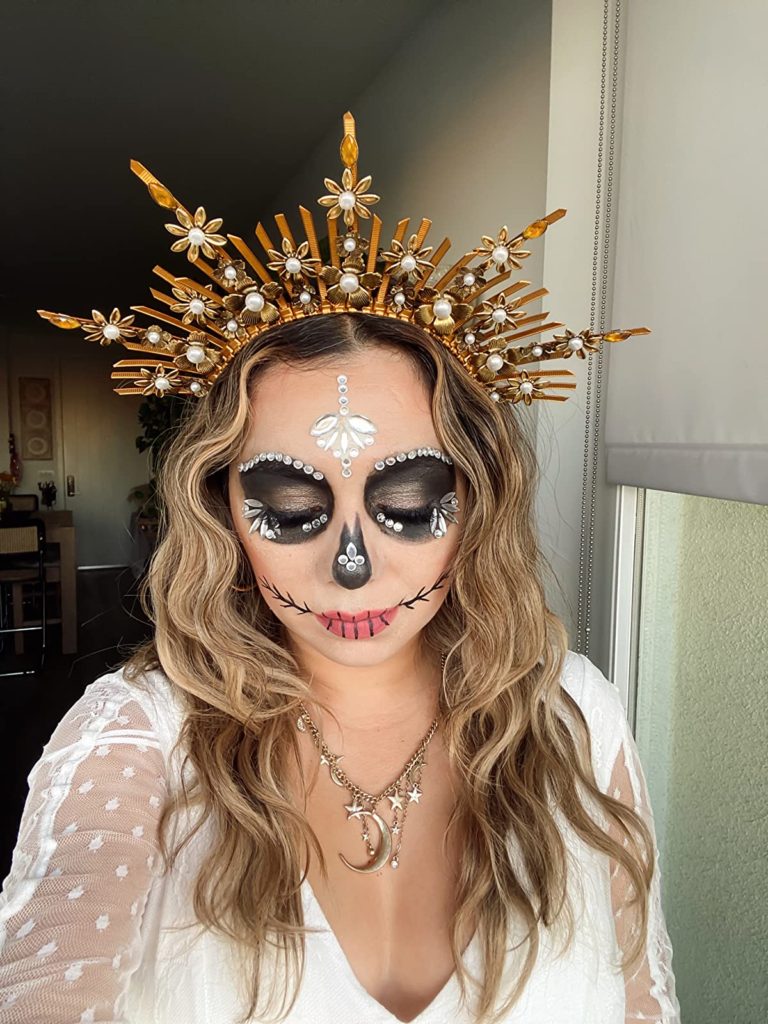 Get this DIY Halloween Costume for Blondes on Amazon
12. Princess Peach
Creating a DIY Princess Peach costume is a charming and cute DIY Halloween costume for blondes. If you want to dress up with your boyfriend/husband, he can dress up as Mario! Check out these DIY Halloween costumes for couples to learn how to do DIY Mario and Princess Peach costumes for Halloween!
Pink Dress: Start with a pink, knee-length or floor-length dress that closely resembles Princess Peach's signature gown. It should have puffy sleeves and a full skirt.
Crown: Craft or purchase a gold crown with red and blue jewels, similar to the one Princess Peach wears. You can often find toy crowns at costume shops.
Blonde Wig: If your hair isn't naturally blonde, consider wearing a long, blonde wig styled in soft curls or waves.
Gloves: Wear a pair of white elbow-length gloves to match Princess Peach's elegant look.
Shoes: Choose pink or red high-heeled shoes or flats to complement the dress. They should match the overall color scheme.
Petticoat (Optional): To add volume to the skirt, consider wearing a petticoat underneath the dress.
Accessories: Complete the look with a sapphire pendant necklace and matching earrings.
Makeup: Apply natural makeup with a focus on rosy cheeks and pink lipstick. Consider adding false eyelashes for a more dramatic effect.
Toadstool or Plush Companion: Carry a plush Toadstool (Toad) or another companion from the Mushroom Kingdom as a cute and recognizable accessory.
Attitude: Channel Princess Peach's sweet and gentle demeanor, and perhaps even practice her signature line, "Thank you, Mario! But our princess is in another castle!" to add authenticity to your character.
And of course, you can always just buy the Princess Peach costume on Amazon. It may be cheaper than making your own DIY Princess Peach costume!
13. Elvira Hancock
Creating a DIY Elvira Hancock costume is a sultry and iconic choice inspired by the character from the movie "Scarface." Here's how to put it together:
Gown: Start with a long, form-fitting black evening gown with a deep V-neckline and a high slit. Elvira Hancock's style is sleek and glamorous, so choose a gown that exudes elegance.
Blonde Wig: Elvira Hancock has platinum blonde hair. If your hair isn't already blonde, wear a long, straight platinum blonde wig that reaches your shoulders.
Accessories: Add statement accessories like long, dangling earrings, a chunky bracelet or cuff, and a cocktail ring for a touch of luxury.
Makeup: Emulate Elvira's smoldering makeup look with dramatic black eyeliner, false eyelashes, and bold red lipstick. Contour your cheekbones to enhance your features.
High Heels: Complete the ensemble with black high-heeled shoes or stilettos. Look for heels with a strappy or elegant design.
Fur Stole (Optional): If you want to add an extra layer of Hollywood glamour, consider wearing a faux fur stole draped over your shoulders.
Attitude: Channel Elvira Hancock's confident and mysterious demeanor. She's known for her allure and enigmatic presence, so carry yourself with charisma.
Cigarette Holder (Optional): To fully capture the character's '80s aesthetic, you can carry a long cigarette holder as a prop.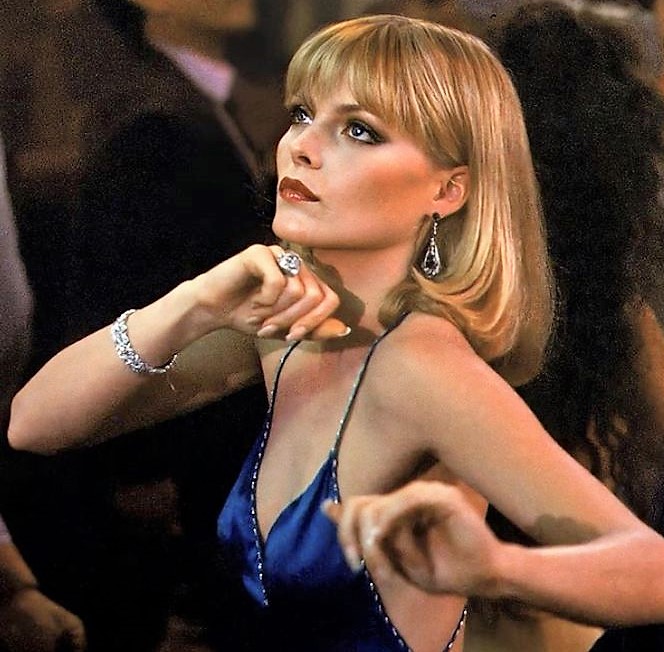 Learn how to dress up as Elvira Hancock and Tony Montana.
14. Rapunzel
Creating a DIY Rapunzel costume for blondes is a whimsical and enchanting choice. Here's how to put it together:
Purple Dress: Start with a long, flowing purple or lavender dress. It should be reminiscent of Rapunzel's iconic gown. Look for one with puffed sleeves and intricate details for authenticity. Alternatively, you can wear a purple tutu and a corset top for a DIY Rapunzel costume! Or, simply wear a pink skirt and a purple tank top!
Blonde Wig or Extensions: Rapunzel is famous for her ultra-long, golden hair. If your hair isn't already long and blonde, invest in a long blonde wig or extensions. You can style it with loose waves or curls to capture her look.
Flower Headband: Crown yourself with a floral headband or tiara, reminiscent of the magical flower that gave Rapunzel her powers.
Painted Pascal (Optional): If you want to add a charming touch, paint a small stuffed chameleon toy like Pascal, Rapunzel's companion, and carry it with you.
Braided Hair: Rapunzel's hair is often braided. Create a loose, messy braid or a few smaller braids in your wig or extensions. Check out this Instagram video for DIY Rapunzel hair!
Gothel's Lantern (Optional): To add a unique prop, carry a small lantern similar to the one Mother Gothel used in the movie.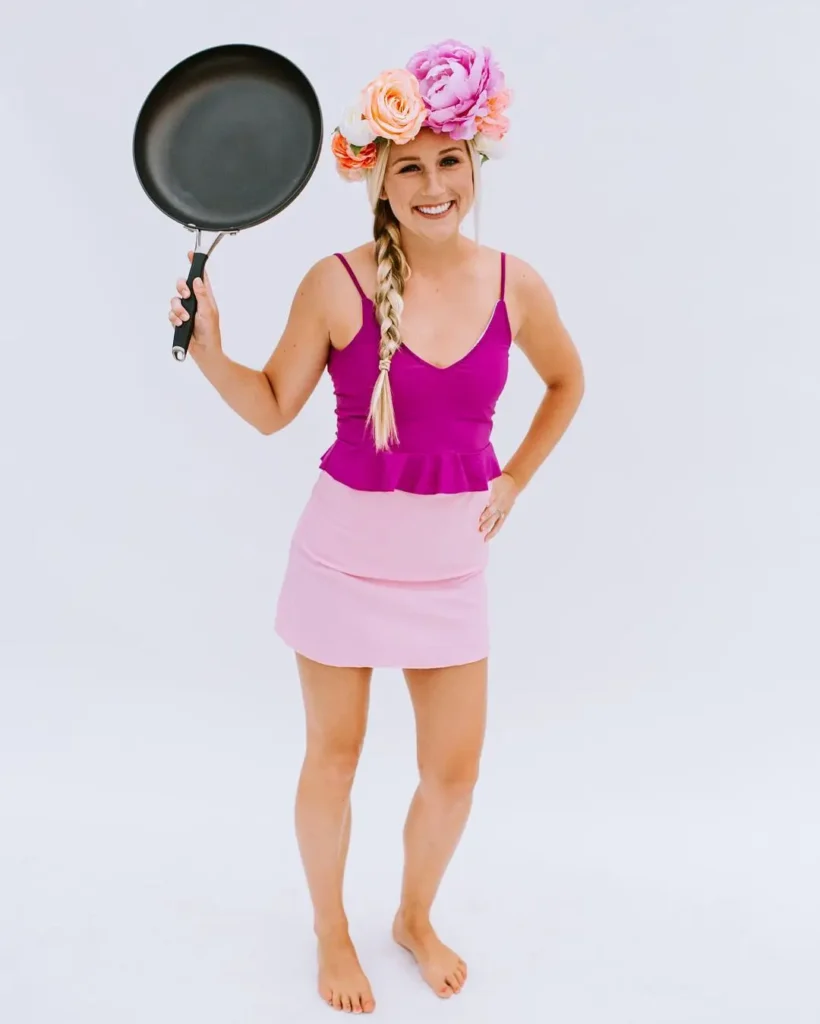 15. Goldilocks
Creating a DIY Goldilocks costume is a classic and adorable choice. Here's how to put it together:
Yellow Dress: Start with a simple yellow dress in a traditional style. It should be knee-length or slightly longer, with short or puffed sleeves.
White Apron: Add a white apron over the dress. You can use a plain white apron or customize it with a blue ribbon for a charming touch.
Blonde Wig or Hair: If you're not a natural blonde, consider wearing a blonde wig or styling your hair in loose curls or waves to match Goldilocks' hair.
Stuffed Teddy Bear: Carry a stuffed teddy bear as your accessory, just like Goldilocks' encounter with the three bears in the story.
Yellow Ribbon or Bow: Tie a yellow ribbon or bow around your head or in your hair for a cute finishing touch.
White Socks and Shoes: Wear white knee-high socks and simple, flat white shoes or Mary Janes.
Or, you can just buy the Goldilocks costume on Amazon too! Amazon sells both a sexy Goldilocks costume and a more traditional Goldilocks costume.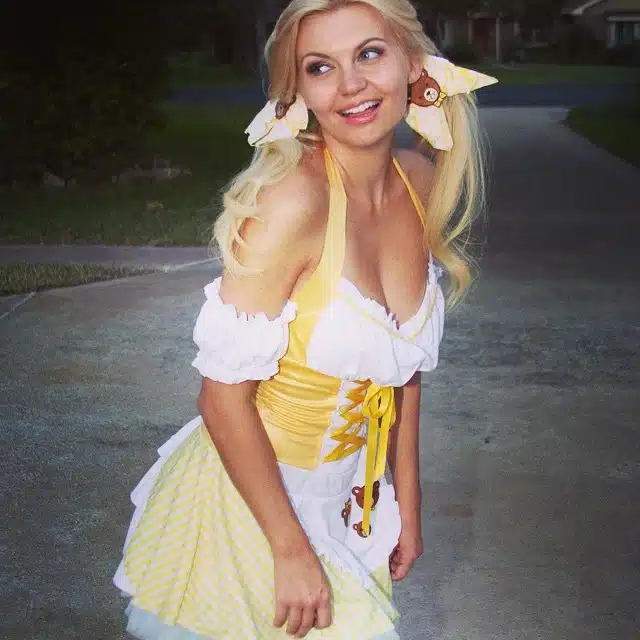 More Halloween Costume Ideas
Did you like this article on the best DIY Halloween costumes for blondes? Check out these Halloween costume guides too!