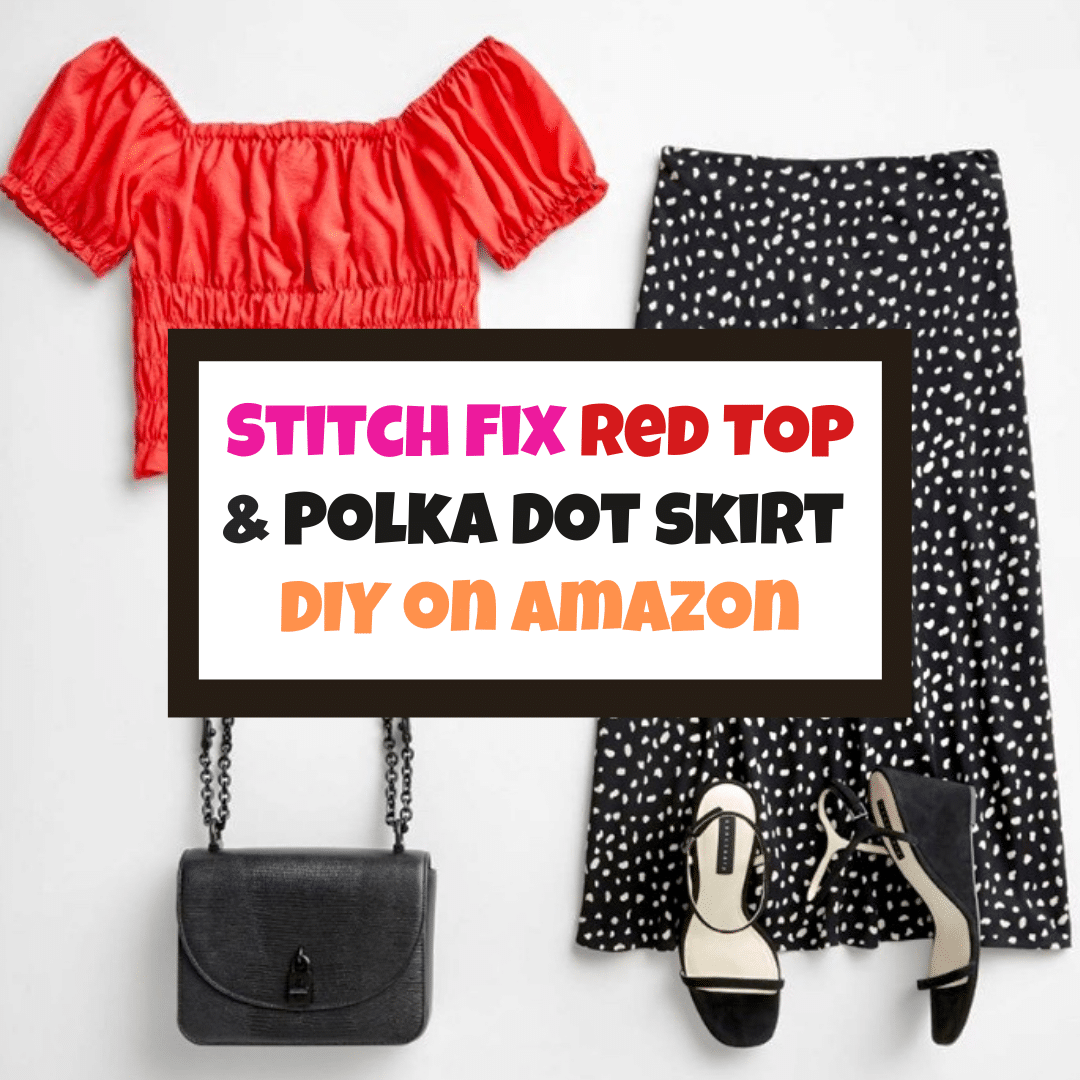 Stitch Fix Fall Outfit with Polka Dot Skirt
Stitch Fix Fall Outfit with Red Top and Polka Dot Skirt
Stitch Fix has cute outfits for late summer and fall 2022.
If you are looking for a great Stitch Fix outfit that you can DIY, here's everything you need to copy the fall Stitch Fix outfit that includes a girly red crop top, a long black and white skirt with polka dots, and black open toe heels.
This post contains affiliate links. View the disclosure here.
Stitch Fix Outfit with Cute Red Top and Feminine Polka Dot Skirt – Where to Buy Online
If you want to mirror the Stitch Fix outfit below, here's where you can find similar clothes online!
Where to Buy Stitch Fix Fall Outfit Ideas Online and on Amazon
You can buy the Stitch Fix fall outfit 100% online from Amazon.
Here's what you'll need for the Stitch Fix outfit idea
1. Cute Red Crop Top with Ruffles for Fall
This crop top from Amazon is red with ruffles on the sleeves.
For cooler fall nights, wear with a jean jacket over the top.
2. Black and White Polka Dot Long Skirt for Fall Outfit (to Copy Stitch Fix!)
Long, high waist skirts are comfortable, feminine, and perfect for fall. This polka dot pleated maxi swing skirt from Amazon gets great reviews and is less than $30!
Pair the skirt with a cream or white sweater for the cooler fall months and pair with cute brown booties!
These are actually one of my favorite booties to wear with skirts.
3. Small Black Purse Similar to Stitch Fix Fall Outfit
For less than $30 on Amazon, you can get a classy, medium sized black purse to match your red and black Stitch Fix outfit
This Zip-Around black purse is well made and has an optional shoulder strap too.
Alternative Black Purse for Stitch Fix Fall Outfit Idea – Shoulder Straps
This purse by Lola Mae gets great reviews for being super cute and affordable. Plus, it looks like a Valentino purse!
Who doesn't love a good looking designer purse?
4. Open Toed Black Heels to Match Fall Stitch Fix Outfit
These open toed, black heels by DREAM PAIRS get great reviews for being cute, comfortable, true to size, and well made.
Explore More Articles from Very Easy Makeup
Did you find this article helpful? Please give it five stars below and share it on Facebook or Twitter.
I'd also love to hear from you! Leave a comment below and connect with Very Easy Makeup on social media.
Check out these articles for more fashion finds too!
Dresses, Purses, and Shoes on Amazon
More Stitch Fix Look-a-Like and DIY Outfits Online
Stay Connected with Very Easy Makeup for More Outfit Ideas
Sign up for the Very Easy Makeup Newsletter
Enjoy the beautiful fall weather outside!
Christina Marie from Very Easy Makeup (just a girl who is passionate about beauty and fashion)