21 Best Things to Do in Gulfport, FL + Where to Stay
This post may contain affiliate links, which means I may earn a commission if you decide to make a purchase through our links, at no cost to you. You may view the disclosure here.
Gulfport, FL: Things to Do and Vacation Guide
Are you heading off to Gulfport Florida for a vacation?
Lucky you! Gulfport, FL is a hidden gem.
If you are looking for the best things to do in Gulfport, FL – you are in the right place.
Whether you are searching for the best things to do in Gulfport, FL with the family, things to do in Gulfport, FL for a weekend getaway, or the best FREE things to do in Gulfport, FL, I have you covered.
This vacation guide is all about the best things to do in Gulfport, FL.
You'll also find tips on where to stay in Gulfport, the best restaurants in Gulfport Florida, and things to know before you go.
And please don't follow the Trip Advisor guides or other travel guides with things to do in Gulfport, FL…I visit Gulfport, FL, and wouldn't recommend following those tips. 😊
P.S. – If you have any questions about Gulfport, Florida, please go down to the very bottom of this article and leave a comment.
I'd be happy to help you out and answer any questions you may have!
All right let's jump into the good stuff. What is there to do in Florida?
What is Gulfport, FL Like?
Before getting started, you may be wondering what Gulfport, FL is like?
First off, you need to know that Gulfport Florida is a little bit of a sleepy town.
In fact, it's home to lots of retirees. But it's also an eclectic, artsy town with great music.
Seriously, there is free music almost every night of the week in Gulfport… and people aren't afraid to dance the night away!
I personally LOVE Gulfport, FL (and I'm in my 30s). It's like a hidden gem...and I hope it stays that way!
21 Best Things to Do in Gulfport, FL with the Family (or Your Mom!)
Please note most of these things only take 30 minutes or so.
Gulfport, FL is small.
But the good thing about Gulfport is that once you've done every single one of these things on this list, you can easily drive 15 minutes to get into downtown Saint Pete.
All right let's dive in!
1. Check Out the Gulfport Market on Tuesdays
Beach Blvd. has a cute little market on Tuesdays from around 9 am until 2 pm.
The Gulfport Fresh Market is weekly, every Tuesday, year round.
2. Eat at O'Maddy's and Enjoy the View
Whenever I eat at O'Maddy's, I want to move to Gulfport, FL.
O'Maddy's has great seating with a view of the water and the pier. I personally LOVE the Halie's Blackened Salmon Salad at O'Maddy's. It's the best salad ever!
3. Enjoy a Book on a Bench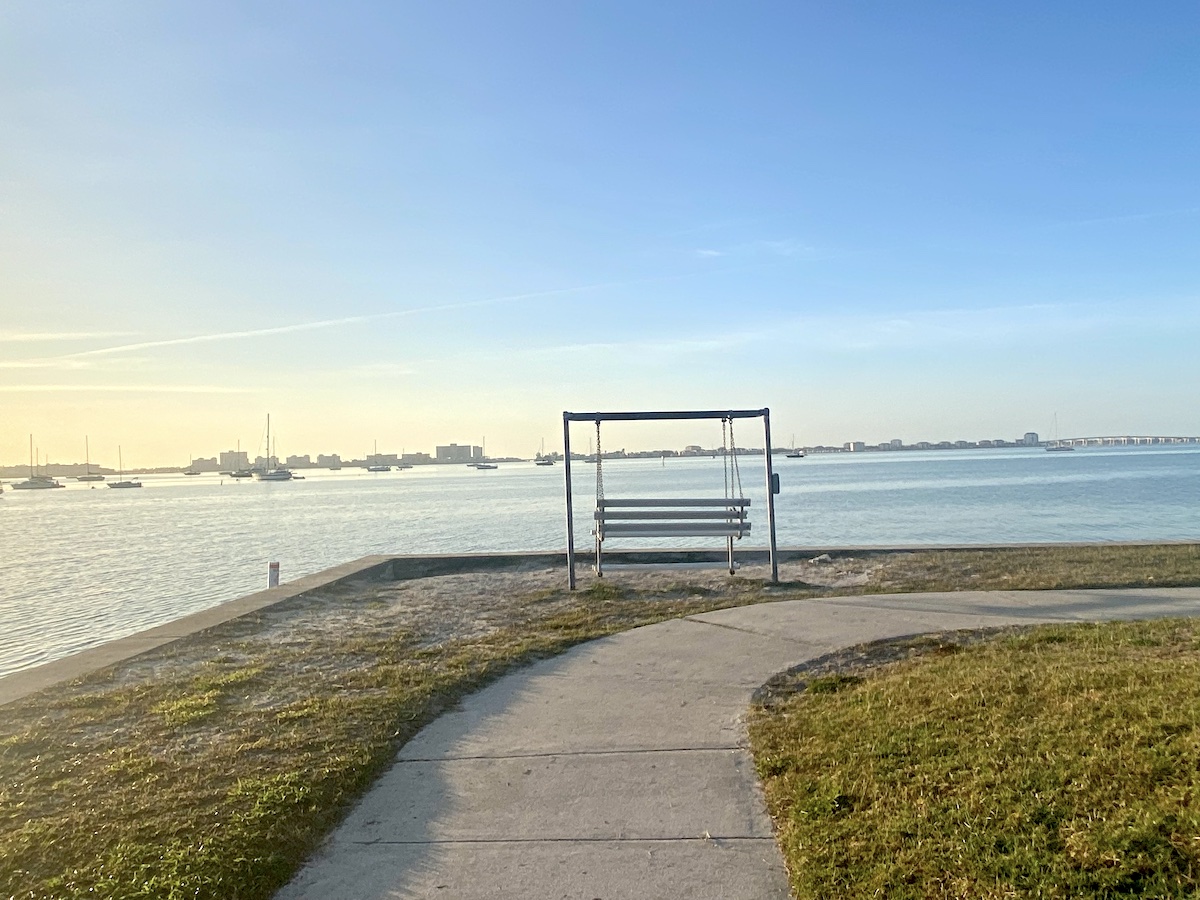 Seriously…Gulfport, FL has swinging benches with a beautiful view of the water.
4. Shop on Beach Blvd.
Gulfport, FL has a small strip of cute shops.
Husbands: Have no fear. There are only about 5-7 small stores, so you won't be shopping for long!
5. Drive to Clam Bayou Nature Park and Play Disk Golf
Have you ever played Disk Golf? Me neither! But the Clam Bayou Nature Park has its own disk golf course…and it is free and great for families!
You'll have to have your own disks to play disk golf…I recommend buying these disks on Amazon.
Note: The map isn't the best at Clam Bayou Nature Park. So don't get too hung up if you start/stop at the wrong place.
6. Take a $10 Dance Lesson at the Casino
The Gulfport Casino has dance lessons almost any night of the week. From swing dance to flamenco to line dancing…the Gulfport casino has it all!
I recommend taking the swing dance lessons on Wednesdays because then you can go swing dancing at Blue Parrot on Mondays!
7. Go Swing Dancing at The Blue Parrot on Mondays
Mondays are a great night to stay in and play board games or cards in Gulfport, FL.
Or, you can go out and dance at The Blue Parrot!
The Blue Parrot is technically in St. Pete Beach, but it is only a 12-minute drive away. The Blue Parrot has a live band every Monday and everyone goes out and swing dances!
8. Walk Around the Neighborhoods
Gulfport, FL is very small and quite walkable. You will love walking around the neighborhoods and checking out the brightly colored, slightly run-down (but cute!) homes.
For a fun game, guess how much the house was last purchased for…and then guess its current estimated value. Many of the homes in Gulfport that were worth $50K in 2015 are now worth over $750K!
9. Take the Kids to the Playground
Gulfport, FL has a great playground for kids right by the Gulfport Recreation Center. Your kids will have the place to themselves!
10. Enjoy the Christmas Lights (in December)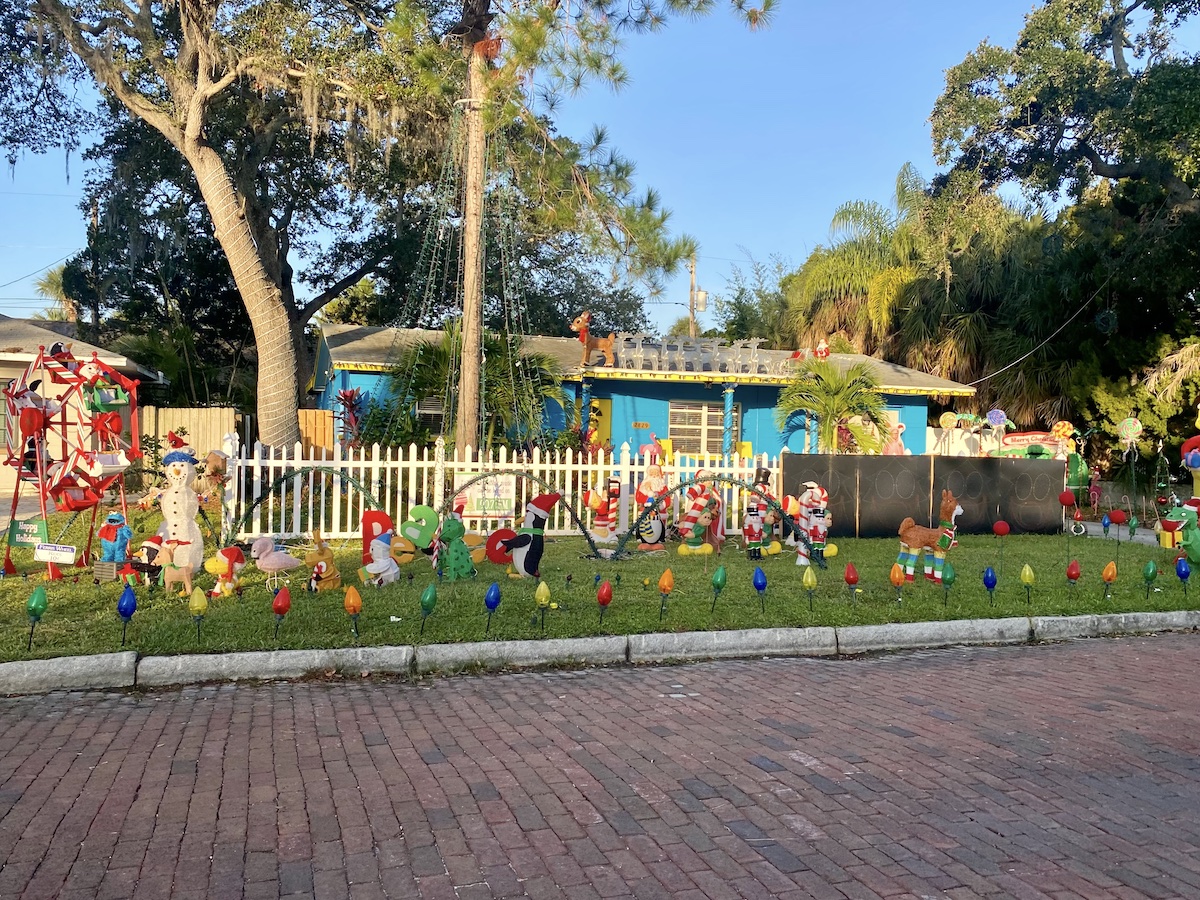 If you are visiting Gulfport, FL in December, go to 2829 57th Street South. The house has AMAZING Christmas lights!
11. Watch the Sunset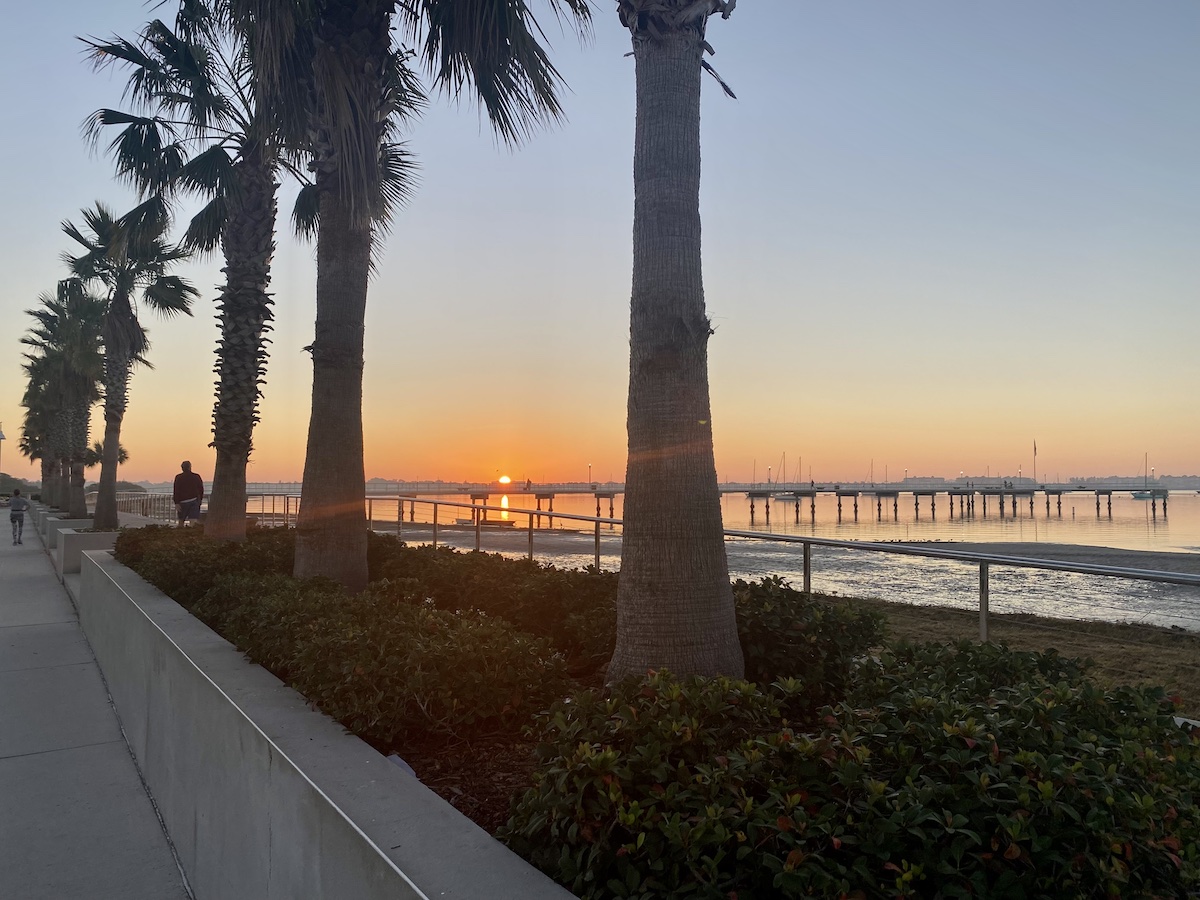 The sunset in Gulfport, FL is beautiful! Grab a bottle of wine, sit on the beach, and watch the sunset.
12. Find Your Next Husband
Joking…but also kind of serious!
Gulfport, FL has a huge 55 and up retirement community called Town Shores of Gulfport with 15+ buildings (18 to be exact!). While I was walking around, I saw lots of single men in their 50s and 60s.
Note: Gulfport, FL also has a relatively high gay and lesbian community, and many of the older men are pretty fit!
13. Take a Morning Stroll Along Shore Blvd.
Shore Blvd. is so stunning in the morning!
Take a morning walk along Shore Blvd. (about 6 blocks) and then walk down the Pier.
14. Get the Beach to Yourself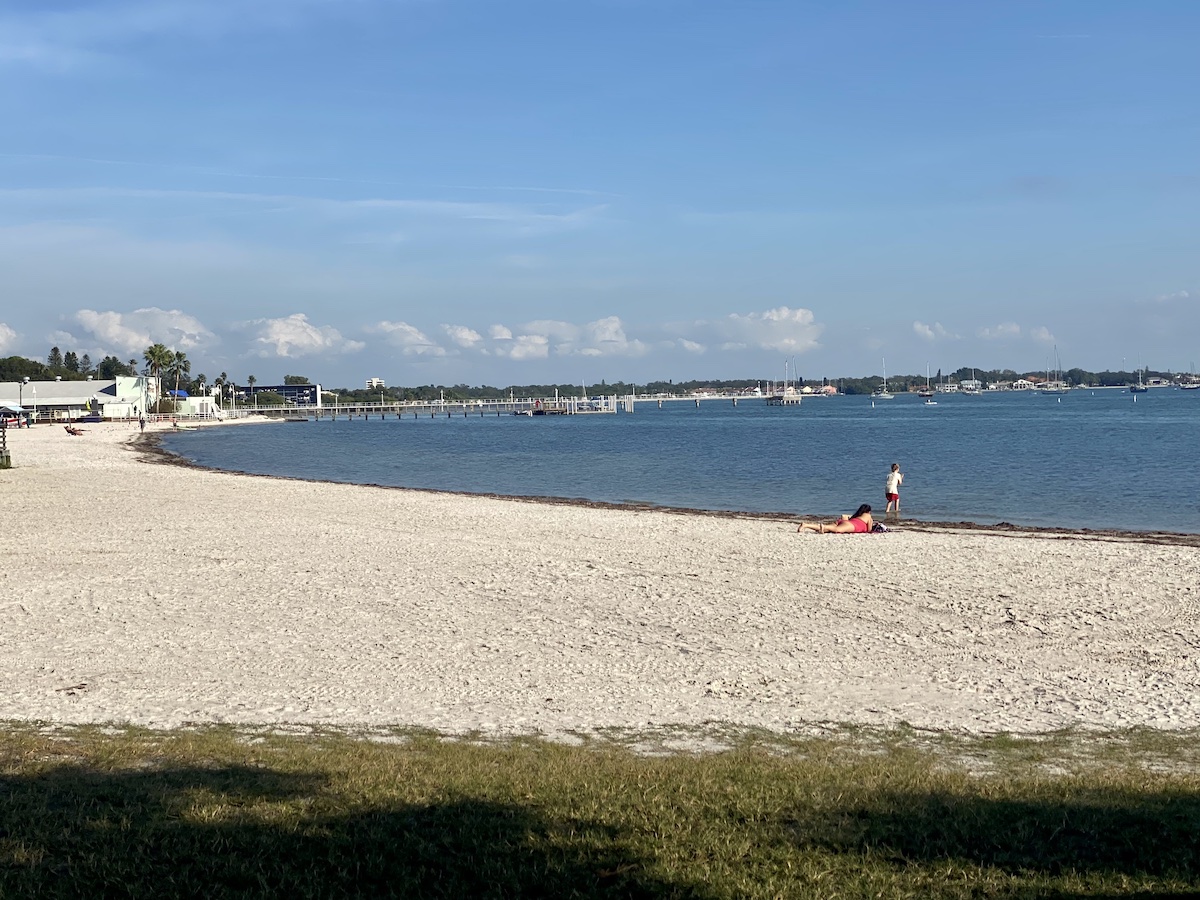 Unlike Clearwater Beach or St. Pete Beach, the beach in Gulfport, FL is empty!
I wouldn't recommend swimming in the water (a local didn't recommend it), but the beach in Gulfport is a great place for kids to build sandcastles or for you to sit on a beach chair and enjoy a good book.
15. Sit at a Bar and Have a Beer
Yes – seriously. Gulfport, FL has low-key, friendly bars with great views.
Go upstairs to the 2nd floor of Caddy's for a great view and a fun drink! Caddy's in Gulfport is also a great place to watch Sunday football.
16. Play Pickleball at the JW Cate Rec Center
If you have a paddle and a pickleball, head on over to the JW Cate Recreation Center. There are usually people playing on weekday mornings.
I'd recommend going on Thursday or Friday around 8:30 am.
17. Go Thrift Store Shopping
If you have a car, there are several thrift stores in Gulfport about 10-15 minutes away. Check out St. Vincent's Thrift Shop, Sunshine Thrift Store, and Out of the Closet.
Out of the Closet is my #1 recommended thrift store near Gulfport, FL.
Out of the Closet is only 7 minutes from Gulfport and the store provides free HIV testing.
The money from Out of the Closet goes to HID prevention and treatment services, so you can feel good about spending your money there!
18. Go Dancing at Night
There is live music almost every night of the week (except Mondays) in Gulfport.
Check out The Tiki Bar and Grill, Neptune Grill, and The North End Tap House for live music.
The North End Tap House is my favorite place! It's a bit hidden – right behind Stella's.
Check out this YouTube video to see the live music one night from The Tiki Bar and Grill.
19. Have Coffee at GulfPerk Coffee Bar
Gulfport, FL doesn't have a Starbucks, but they do have a cute coffee shop.
All the locals stop at GulfPerk Coffee Bar in the morning for coffee.
20. Give Kava a Try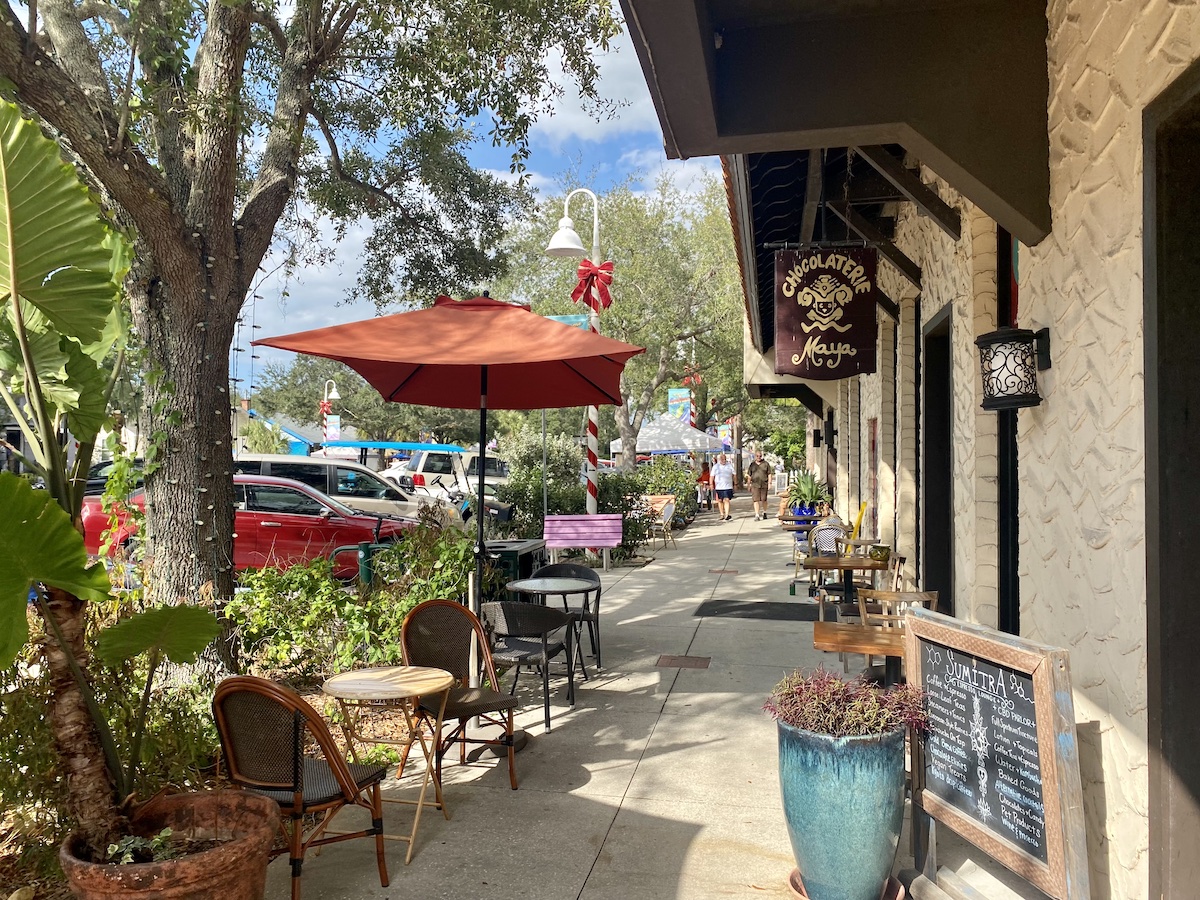 Have you ever tried kava? I personally haven't, but if you want to give Kava a try, check out Low Tide Kava Bar and see if Kava makes you feel less anxious and more relaxed.
21. Have Brunch at Stella's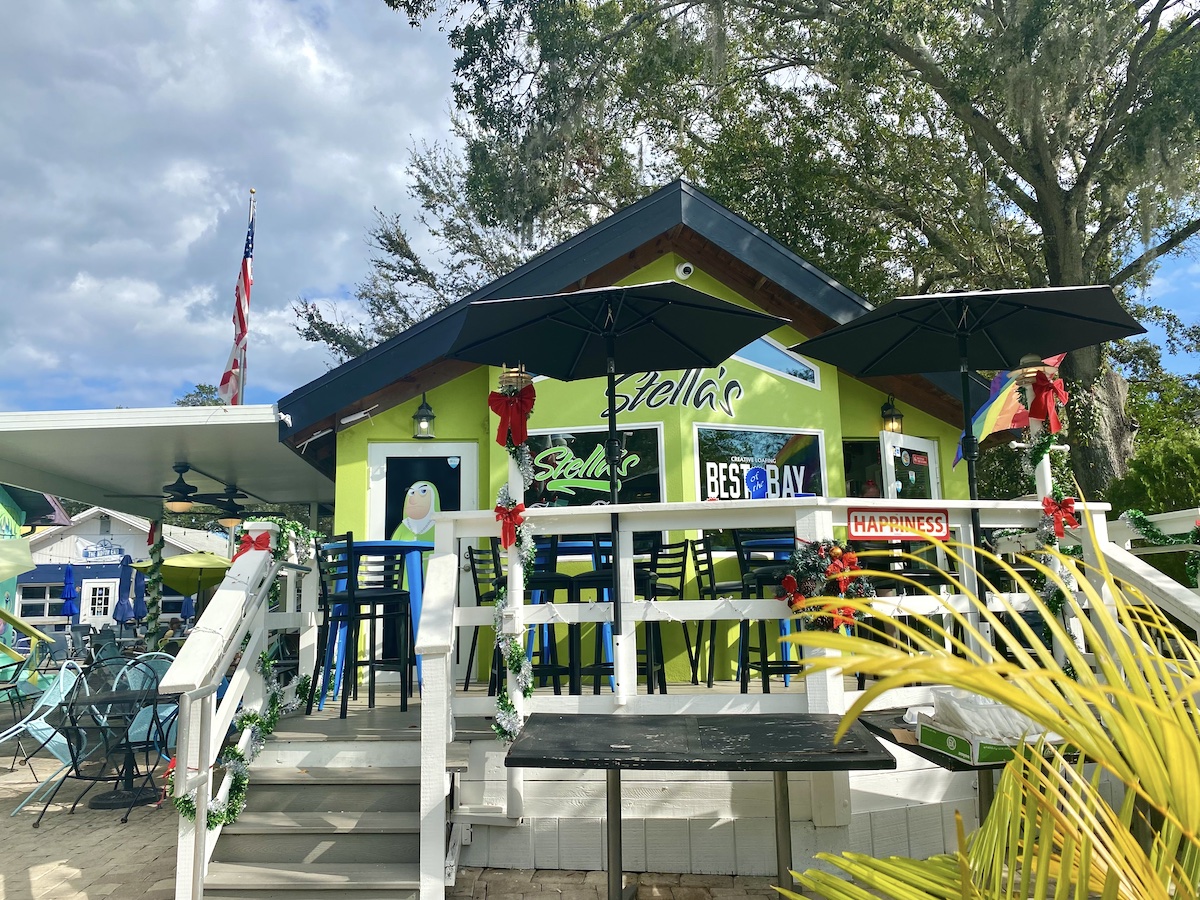 Of course, I couldn't leave Stella's off of the top 20 list of things to do in Gulfport, FL! If you love brunch, you MUST go to Stella's.
I first went to Stella's while visiting a friend in St. Pete. He said that Stella's is the best brunch place in all of St. Pete and Gulfport!
Check out the Nola Omelette, Bana Nut Bread French Toast, and bloody marys at Stella's. You will love Stella's!
Where to Stay in Gulfport, Florida
There aren't any big hotel chains in Gulfport, FL at all.
There is one bed and breakfast: The Sea Breeze Manor Inn.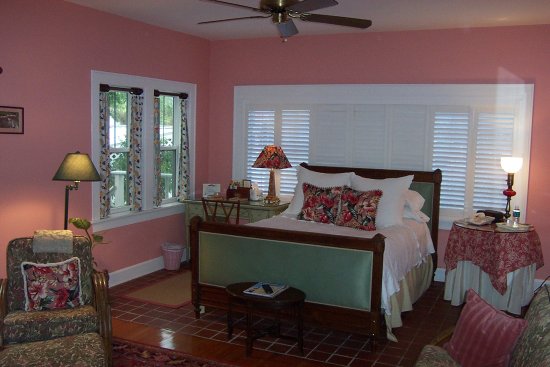 However, there are also some great Airbnbs and VRBOs. That's what my mom and I did.
On our most recent trip to Gulfport, FL, my mom and I booked a VRBO. We stayed at the Wine Cellar.
The wine cellar has an enclosed backyard, an open-air game room, two beds, one bathroom, and a nice kitchen and dining room area. Plus, Jason's Wine Cellar allows dogs, which was great for us.
If you want to stay at Jason's Wine Cellar, here is a link to make a reservation.
There are also a few good Airbnb's in Gulfport, FL.
What to Wear in Gulfport, FL
Gulfport Florida is laid-back.
Seriously, no need to dress up. You can wear shorts and a t-shirt, a hippie skirt with a top, or loungewear (not recommended, but you could).
Seriously…Gulfport is not fancy at all. Most of the town is over the age of 50 and has already worked hard their entire life. Gulfport is a place to kick back relax and be informal.
What to Wear in Gulfport, FL in Spring, Summer, and Fall
If you are traveling in the spring, summer, or fall, expect Gulfport, GL to be hot. You will want to pack flip-flops, shorts, t-shirts, and a broad-brimmed hat or baseball hat.
What to Wear in Gulfport, FL in the Winter (November, December, January, February)
Even if you are traveling to Gulfport, Florida in the winter, it will likely be warm. But it can also get chilly at night.
You'll definitely want to pack shorts and a t-shirt. For cooler days and evenings, you'll want to pack sneakers, pants, a sweatshirt, and maybe a light jacket.
Things to Know Before You Go to Gulfport, FL
If you haven't been to Gulfport, FL before – here are a few things to know.
1. It's not fancy.
Gulfport, FL is low-key and chill. No need to dress up or try to impress anyone.
2. Gulfport gets going after 10 am.
Gulfport, FL is pretty quiet before 10 am.
3. No Starbucks and no grocery store.
You won't find a Starbucks in Gulfport, FL nor a grocery store. But you will find coffee at Gulfperk Coffee Bar and the friendly Neighborhood Fresh Market.
4. The main street is Beach Blvd.
Gulfport, FL has one main street: Beach Blvd. It's just 4 blocks long, starting at Siri's Gourmet Burgers & Pizzas and ending right at the Gulfport Casino Ballroom.
5. It gets HOT in the summer.
Gulfport, FL gets HOT in the summer and there is not much shade. Pack a hat!
6. Mostly people over 50.
Gulfport is mostly people ages 50 and over. I didn't see one kid the entire week I was in Gulfport, FL…and I only saw a few people under the age of 45.
7. Lesbian and gay friendly.
Gulfport is lesbian and gay-friendly. You will likely see lesbian couples eating out and older gay men walking around.
8. Lots of parking.
There is so much parking in Gulfport, FL – including beach parking. And all of it is free!
9. Not touristy.
Gulfport isn't very touristy. There really aren't a lot of things to do in Gulfport, FL. It's mostly for chilling and relaxing.
10. Only 15 minutes from St. Pete.
Gulfport, FL is a hidden gem, but it is only a 12-minute drive to downtown St. Pete (I timed it!).
11. Quiet on Mondays
Gulfport, FL is quiet on Mondays. Plan for a family game night or a night of card games if you are staying in Gulfport, FL on a Monday.
Summary – Things to Do in Gulfport, FL
In summary, Gulfport is not a big touristy place.
It's a laid-back, artsy, eclectic town that is a hidden gem just 15 minutes west of St. Pete, Florida.
Most of the things to do in Gulfport involve soaking up the culture and the town vibes.
You'll want to walk down Broadway Street to check out the shops and then walk along Beach Drive to check out the local bars and restaurants.
At night, you can go to the casino and take a dance lesson. Then, spend the night dancing to live music at one of the many small bars in Gulfport, FL.
Keep in mind that Gulfport is very different than the hustle and bustle of Tampa and St. Pete, Florida. It's truly a place to relax, enjoy the sunrise, enjoy a glass of wine at sunset, and then go out dancing at night with the locals.
You'll have a great time in Gulfport no matter your age. It's very kid-friendly and safe, it was great for me and my mom, and it is a truly relaxing place to go.
If you have any questions at Gulfport, FL, please leave a comment below and ask away!
I'd be more than happy to respond to any questions you may have.
You'll have a great time. I guarantee it!
More Travel Guides
Ultimate Beach Vacation Packing List
Best Restaurants in Gulfport, FL
What to Pack for San Francisco