What to Pack for San Francisco: Essential Items!
This post may contain affiliate links, which means I may earn a commission if you decide to make a purchase through our links, at no cost to you. You may view the disclosure here.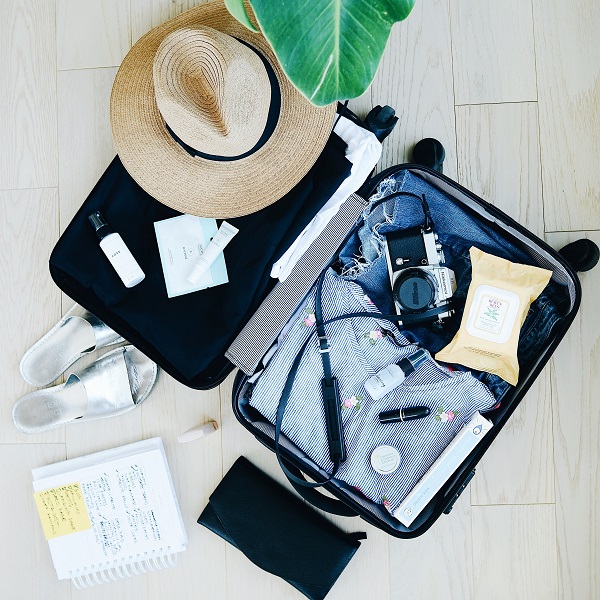 What to Pack for San Francisco
Most of my vacations are to Florida (it's close for me, living in Atlanta), but I recently went back to the Bay Area to visit and explore San Francisco with a friend.
If you hate to check your luggage and prefer to take your suitcase with you on the airplane, it can be difficult to decide what to pack for a one week trip out west!
You definitely DON'T need to pack shorts or cute sundresses for a trip to San Francisco.
Instead, you'll want to pack jeans, jackets, leggings, and warm, casual clothes.
This post by Very Easy Makeup is all about what to pack for a trip to San Francisco.
Note: I excluded the basic things that you'd pack for any trip (like underwear and socks), because those are a given.
Below is exactly what I personally packed for my one-week trip to San Francisco.
All these items fit in my carry-on suitcase and one large carry-on bag.
This post may contain affiliate links. View the disclosure here.
Clothes to Pack for a Trip to San Francisco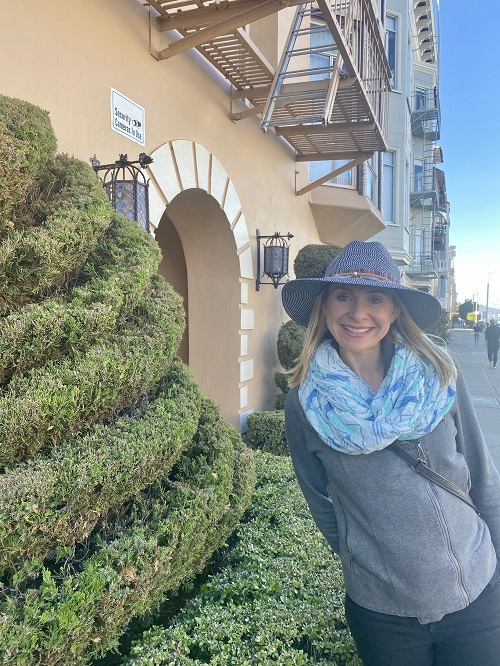 San Francisco is casual and laid pack. No need to dress up and pack your most expensive clothes.
Here is what you'll need to pack for a 3-day trip to San Francisco or a week trip to San Francisco.
The basics are the same!
1. Dark Jeans and Leggings
For exploring the city by day, you'll want to wear dark jeans or leggings.
I personally packed one pair of black jeans (you can wear it with a cute tank top and a jacket at night to dinner), two pairs of leggings, and one pair of fleece leggings (it can get cold in SF!).
No need to pack shorts or sundresses for a trip to San Francisco. It rarely gets above 70 degrees!
I swear by the stretchy jeans from Anne Taylor and the 90 Degree leggings (the ones with pockets and the ones that are fleece lined) on Amazon.
2. Wrinkle Free Blouses or Casual Shirts
A silk or polyester blouse can be dressed up or down, depending on your accessories.
I love to pack blouses for travel because they are lightweight, take up no room in a suitcase, and keep you cool on a hot day.
For San Francisco, I packed one black blouse for the day (or night) and one sexy V-neck blouse (for going out). You can also wear a colorful scarf over a plain black blouse to dress it up (and stay warm!).
P.S. – Have curves? These plus-size blouses on Amazon are stunning!
3. One Suede Jacket
You'll want a suede jacket for nighttime or a leather jacket.
I personally packed a suede jacket, because it takes up less room in my suitcase and is a little bit warmer than my leather jacket.
This suede jacket on Amazon gets AMAZING reviews. It would be fancy for a night out in San Francisco over a tank top. It's also warm and oh so comfortable!
4. Hoodies and Fleece Jackets
You'll want to stay WARM in San Francisco.
I personally packed one stylish sweater jacket and two fleece jackets with a zipper and a hoodie. You'll want to stay warm!
Any of these cozy sweaters on Amazon would be perfect to pack for a trip to San Francisco.
5. Comfy Sneakers
I packed my favorite pair of sneakers for walking throughout the city.
You may end up walking 5-10 miles in one day in San Francisco, so you'll want some comfortable walking or running shoes!
I love the On Cloud sneakers in white (they are so cute!) If you add Dr. Scholl's insoles to them. Otherwise, I love my Nike sneakers in black.
6. Cute Booties
Booties are great for nighttime.
Women won't wear heels a lot in San Francisco, so you can easily get away with booties with skinny jeans at a fancy restaurant for dinner. Plus, they are much warmer!
7. A Fashionable Hat
There's something about a hat that makes you look dressed up and sophisticated, even if you are wearing jeans or leggings.
Go with either a black and white or a brown/tan hat for San Francisco.
And no baseball caps, please. You can be classier than that!
8. A Warm Hat
One small beanie hat takes up practically no room in your suitcase, but it may be very useful in the early mornings or at night when it is cold!
9. One Sexy Shirt (or Two!) for Going Out
Women in San Francisco usually wear dark jeans, booties (see above), a sexy tank top, and a suede or leather jacket for going out.
Pack one or two sexy tank tops or blouses for getting drinks, or for going out clubbing at night in the city.
10. Soft Pajamas for Night
I pack these pajamas with me EVERYWHERE.
They are so, so soft and classy looking, and so cheap too! I promise…you will LOVE these pajamas on Amazon.
Accessories to Pack for a Trip to San Francisco
Here are a few more things to squeeze into your suitcase for a trip to San Francisco.
1. Small Cross-Body Purse
A small purse that holds your cell phone, wallet, and water bottle is a MUST for any trip where you'll be walking and exploring a new city.
2. Sunglasses
San Francisco doesn't get much sun, but pack sunglasses in case you need them.
Plus, the right pair of sunglasses can elevate any outfit!
3. Stud Earrings and a Watch
You don't want to look rich when you are walking around the city, but middle-of-the-road priced earrings and a watch will make you look sophisticated.
I don't pack much jewelry when I travel, but I do always wear stud earrings and a watch.
What to Pack for a Day Trip to San Francisco
Lastly, if you are heading into the city for the day – what should you bring?
My friend lives in Alameda Island, so we hopped on the 8:30am ferry to San Francisco (it's less than $5) and spent the whole day exploring the entire city by foot (we walked over 18 miles!).
I wouldn't recommend bringing a large bag or backpack with you to San Francisco. You'll want to be light on your feet and there is plenty of food and water everywhere you go.
What to Pack in Your Purse for a Day Trip to San Francisco
All I packed for a day trip into the city was a small cross-body purse with Kleenex, under-eye concealer, lipstick, my COVID card (you need to show it in some places in San Francisco), my cell phone and a cell phone charger, lipstick (for pictures!), and cash (pack $20s and $1s for any Farmer's Markets you may stumble upon).
You'll also need a transportation card if you are taking BART (we just walked everyone).
List of What to Pack in Your Purse for a Day Trip to SF
Kleenex
Under eye concealer and lipstick
COVID vaccine card
Cell phone and cell phone charger
Cash
BART card (unless you are okay walking 18 miles a day!)
What to Wear for a Day Trip to San Francisco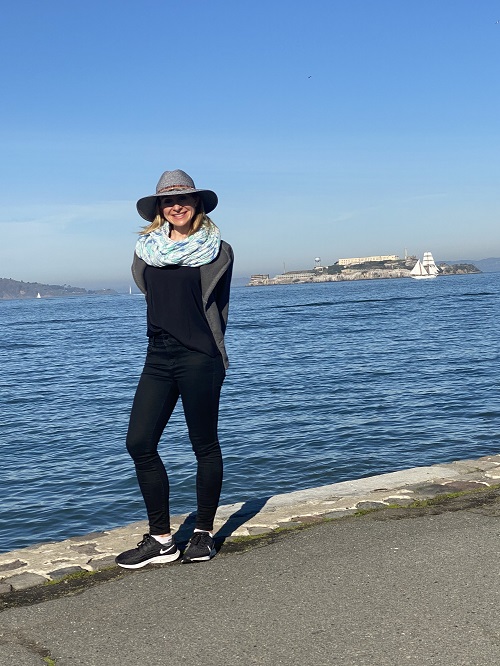 The key to dressing appropriately for San Francisco is to wear layers…lots of them!
It was about 50 degrees in the morning when we left, and it got up to 75 degrees and sunny (a rare occasion for San Francisco!) by 3pm.
I wore black sneakers, black stretchy jeans, a silk shirt, a scarf, a zip-up fleece jacket (I own this PUMA jacket in gray and LOVE it!), and then a light-weight over the top along with a broad-brim hat and sunglasses.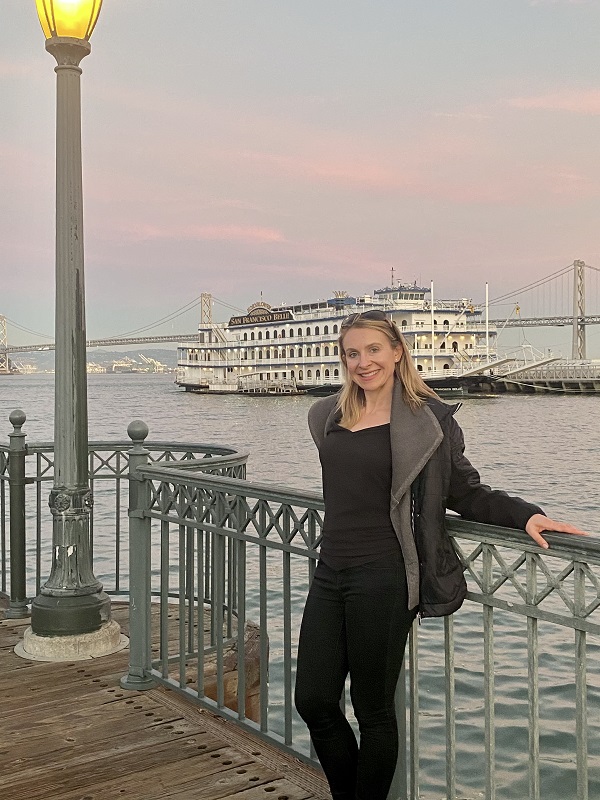 What to Wear in San Francisco
Comfortable sneakers
Stretchy black jeans
Light-weight dressy shirt
Scarf
Fleece jacket
Warmer jacket on top (for layers)
Hat
Sunglasses
What to Pack for San Francisco, by Month and Season
Want to get more specific? Here's what to wear in San Francisco by month.
What to Pack for San Francisco in March, April, May (Spring)
Jeans or leggings
A warm fleece jacket
A casual t-shirt
Comfortable sneakers
What to Pack for San Francisco in June, July August (Summer)
Summer is NOT warm in San Francisco. It can be surprisingly cold!
If you are wondering what to pack for San Francisco in the summer, you'll want to pack shorts and basic t-shirts, but you'll also want to pack jeans and a sweatshirt. It can get cold!
Jeans or leggings
A fleece jacket
Casual sneakers or sandals
What to Pack for San Francisco for Fall (September, October)
September and October are the WARMEST months in San Francisco.
Jeans (or shorts if it is warm)
Casual t-shirt
Light-weight sweater
Broad-brimmed hat
What to Pack for San Francisco during the Winter (November, December, January, February)
Below are ideas on what to pack for San Francisco in November, December, January, and February.
Jeans
Casual shirt or long-sleeve shirt
Fleece jacket
Warm jacket
Scarf
Beanie hat or broad-brimmed hat
Raincoat
Master List of Everything to Pack for a Trip to San Francisco
Curious to know exactly what I packed for a trip to San Francisco?
Below is what I packed (item by item!) in my carry-on suitcase and travel bag. I'm getting vulnerable here…this is literally everything I packed!
What to Pack for a 1-Week Trip to San Francisco
10 pairs of underwear (I'm weird and like fresh underwear)
8 pairs of socks (in case it rains and your feet get wet!)
2 Lightweight jackets (that you can layer)
2 bras
5 sports bras (I like to go walking and/or running in the AM)
1 scarf
1 zip-up sweater
1 lightweight fleece jacket
4 pairs of 90 Degree leggings (I'm obsessed!)
1 pair of 90 Degree fleece leggings (these fleece leggings keep you warm!)
1 scarf
Stud earrings
1 Skagen watch (I've had this Skagen watch for years and love it)
1 beanie hat (I LOVE this beanie hat from Calvin Klein)
1 broad-brimmed hat
Sunglasses
Soft and feminine pajamas (these silky-soft pajamas are literally the best!)
2 tank-tops for working out
1 silk tank top for a night out
1 silk shirt with short sleeves (can be dressed up at night)
1 light-weight sweater
Black jeans
2 semi-dressy shirts
1 suede jacket
Booties (I love the Anne Klein booties)
Sneakers
The best eye mask ever (for sleeping at night and on the plane)
My favorite makeup for travel
Hairbrush
Underarm deodorant
Toothbrush and toothpaste (I love this electric toothbrush because the charge lasts forever!)
Where to Stay in San Francisco
Before my friend and I booked our hotel, I wasn't sure WHERE to stay in San Francisco…even though I lived in Oakland for 4 years of my life. 😊
Even though it's touristy, Fisherman's Wharf is the best place to stay in San Francisco. We also wanted to be walking distance of the Marina District, which has nice walking and jogging trails.
There are good Marriott and Hilton hotels to stay at, you'll be right near the water, and you'll be within walking distance of lots of restaurants (and Starbucks!).
We ended up staying at the San Francisco Marriot Fisherman's Wharf.
Other good hotels we considered in San Francisco (according to Google reviews and TripAdvisor) were Hyatt Centric Fisherman's Wharf, Courtyard by Marriott San Francisco Fisherman's Wharf, and Marriot Vacation Club Pulse San Francisco.
If I were you, I would recommend AGAINST staying in Union Square.
Yes, Union Square in San Francisco is where all the shopping is, but you want to experience the culture in San Francisco, not go to another Forever 21 or The Gap.
Plus, Union Square isn't the safest at night.
The Two Tourist Attractions You MUST Do in San Francisco
It's easy to get caught in the tourist trap in San Francisco, but there are a few MUST dos.
1. Visit Alcatraz
But, visiting Alcatraz is worth it if you have never been.
2. Ride the Cable Car
Grab the Cable Car early (around 10 am) up at Powell/Mason Cable Car Turnaround. It will be empty in the morning and you'll get the best views.
Plus, the Cable Car won't be crowded and there won't be such a long line if you catch it up by Fisherman's Wharf vs. downtown in Union Square.
3. Ghirardelli Square
AND definitely take the time to visit Ghirardelli Square in San Francisco.
The restaurants along the water are world-class and the whole area is so pretty!
The Best Non-Touristy Things to Do in San Francisco According to a Local
So if you have three days in San Francisco, what are some great things to do?
Here are things to do in San Francisco to truly experience the culture, according to a friend of mine who has lived in San Francisco for 10+ years.
1. Get Mexican Food in the Mission District
One of my friends highly recommended Taqueria Cancun for the best burritos. It's a casual restaurant where you order at the counter.
If you want a good sit-down restaurant, check out Tacolicious on Valencia Street.
2. Stroll Chesnut Street in the Marina District
Chesnut Street has cute shops and restaurants.
3. Eat Italian at Tony's in North Beach
Tony's has a long line...but for a good reason!
If the line is too long for you, check out the Original Joe's across the street. It's a great Italian restaurant with a fun vibe at night.
4. Visit Alcatraz (book early and go at night)
Alcatraz is a MUST if you haven't seen it.
5. Go to Sonoma for Wine
If you have a car, head to Sonoma for beautiful wineries.
6. Have S'Mores at the Ritz in Half Moon Bay
If you are down for a day trip, head south to Half Moon Bay to explore.
7. Go to City Lights Bookstore
After exploring City Lights Bookstore, stroll along Columbus Avenue.
8. Tour the SFMOMA
If possible, go on a week-day to avoid crowds.
9. Go to the Farmer's Market on Saturday at the Ferry Terminal
Go early and grab a delicious breakfast and fresh fruit.
10. Have a Drink at the Top of the Mark
Just make sure to dress up. =)
11. Walk Partway Across the Golden Gate Bridge
Walk across the Golden Gate Bridge and enjoy the views!
12. Have Pizza and Salad at Bare Bocce in Sausalito
If you have a car (or a long afternoon to take a ferry ride), head over to Sausalito and explore the town around lunchtime.
13. Find a Fun Dive Bar on Polk Street
And most of all, soak in all the moments and the diversity and the eccentricities of the beloved city of San Francisco.
And remember to have a good time!
What to Pack for the 4-5 Hour Flight to San Francisco
First, you'll want to prepare for the long flight to San Francisco.
You'll want to pack what you need to make for a pleasant flight since it is a long one!
Here's what I packed.
1. Snacks
You won't get fed on the airplane (except for maybe cookies and Goldfish), and you'll likely get hungry.
I packed three apples (it's one of the few fruits that travel really well!) and a to-go container with two packed potatoes, lettuce, and two grilled chicken patties. I get hungry…and this held me over through breakfast and lunch.
It's also nice to pack a protein bar or high-protein snack in your bag.
I personally love EPIC Bars or Kind Bars. Both protein bars are lightweight and fun treat. And even if you don't eat your protein bar on the airplane, you'll probably want it as a snack as you are exploring San Francisco by foot and burning off lots of calories!
2. Laptop and Laptop Case
I bring my laptop with me everywhere. Plus, it's helpful to download a few movies onto your laptop (or cell phone) in case the free movies on the airplane aren't to your liking.
I love being able to throw my laptop into the ZINZ laptop case. It's light-weight and heavy-duty, and the zipper on the outside fits my mouse, my personal calendar/planning book, and pens/pencils.
3. Magazines and a Book
For me, it's totally worth it to pay $5-$15/year for a magazine subscription to my favorite magazine on Amazon. I rarely read magazines when at home. Instead, I save them for travel and long flights.
Pick a book you love too. I personally LOVE the book by Mel Robbins called "The 5 Second Rule: Transform your Life, Work, and Confidence with Everyday Courage" and the book by Marie Forleo called "Everything Is Figureoutable." Both are very inspiring books.
4. Headphones
If you can afford it, it's totally worth it to get the noise-cancelling headphones.
If not, then go ahead and get a pair of $15-20 PHILIPS headphones that plug into the TVs on the airplane. This is what I personally use (until I save up enough for the fancy Boise canceling headphones!).
They are small, lightweight, and super comfortable.
5. Leggings, a Sweater, and Cozy Sneakers
I LOVE leggings, and the 90 Degree leggings with side pockets are a MUST for travel.
I keep my cell phone in my side pocket, which makes it easy for scanning my boarding pass quickly at the gate, or to quickly pull out my phone to respond to a quick text message before my flight leaves.
You'll also want to pack a sweater (it can get cold on airplanes) and cozy sneakers for walking through the airport.
For extra fashion points, wear a cute scarf that you love.
P.S. – Need inspiration for cute outfits to wear while traveling?
Check out these related articles by Very Easy Makeup
What to Pack on the Airplane for a Long Flight to SFO
Here's exactly what I packed for my flight to San Francisco.
3 apples (I get hungry!)
Water bottle (fill it up at the airport)
Tupperware container with two chicken patties, veggies, and 2 baked potatoes
One book and one magazine
Gum
Laptop computer with laptop bag
Headset for watching movies on the airplane
Cell phone and laptop charger (for charging at the airport)
FAQs about What to Pack for San Francisco
Have a question about visiting the Bay Area or San Francisco that's not answered below?
Please leave a comment!
What should you not wear in San Francisco?
Do NOT wear uncomfortable shoes. No matter what, you'll be walking at least 4 miles a day in San Francisco.
Also, don't wear designer clothes or anything fancy. San Francisco is pretty casual. Most women wear jeans, hoodies, and sneakers.
Do you need a rain jacket in San Francisco?
Even though San Francisco is foggy, San Francisco is dry most of the year.
Unless you are traveling to San Francisco in December, January, or February – there's no need to pack a rain jacket.
How do I not look like a tourist in San Francisco?
Avoid wearing or doing any of these things when in San Francisco, which scream "tourist!"
1. Going to Fisherman's Wharf (it's nothing but tourists)
2. Taking pictures by the Golden Gate Bridge
3. Calling BART "the BART" vs. "BART"
4. Wearing football or college t-shirts or sweatshirts
5. Carrying an umbrella
6. Calling San Francisco "San Fran" (it hurts my ears!!)
7. Wearing bright colors (go with nudes or black)
Best Things to Do in San Francisco in the Morning
San Francisco doesn't get up and going until 11 am, which can make things tricky if you are a tourist on east coast time!
No worries though…here are a few of my favorite things to do in San Francisco before the city gets hopping.
Watch the Sea Lions at Pier 39

Walk along the Water by Ghirardelli Square and Grab Coffee at Equator Coffees

Get Stunning Views from Coit Tower

Explore The Palace of Fine Arts

Ride the Cable Car from Fisherman's Wharf down to Union Square

Go to the Botanical Gardens in Golden Gate Park

Check out the Wave Organ by the St. Francis Yacht Club

Walk along the Water by the Ferry Building along The Embarcadero

Snap a Photo at the Lyon Streep Steps by the Presidio

Go to Ocean Beach for a Morning Hike
Summary: What to Pack for a Trip to San Francisco
In summary, San Francisco is in California...but it can also be COLD! San Francisco is also a very walkable city with HUGE hills. So, when packing for San Francisco, make sure to pack warm clothes, comfortable walking shoes, and a hat (to protect your face from the sun!). You'll also want to pack clothes that can easily be layered. Lastly, San Francisco is relatively casual, so no need to pack fancy designer clothes or your expensive jewelry. Jeans and hoodies are appropriate and popular attire.
Hope you have a great trip to San Francisco!
Christina Marie of Very Easy Makeup – A girl who usually writes about affordable clothing for women, very easy makeup tips, and the best wedding dresses and bridesmaid dresses on Amazon, but who sometimes goes off topic and writes about things just for the fun of it 😊
More Travel Guides
How to Reduce Airport Travel Stress
Cute and Chic Travel Outfit Ideas