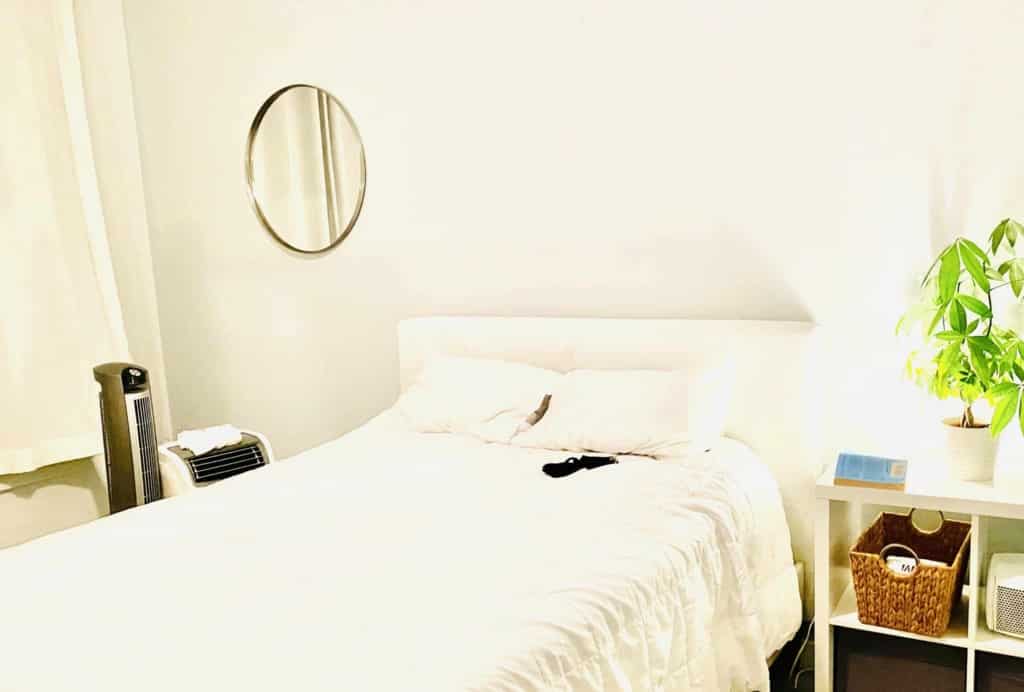 How to Sleep Better at Night
Getting enough sleep every night is key to staying healthy, feeling happy, allowing your brain to recharge, and healing sore muscles.
But if you are like me – you may find yourself dreading the thought of going to bed before midnight.
Want to learn how to sleep better at night?
Last year, I made changes to make my bedroom more welcoming. I also changed my night-time routine so that I could sleep better at night.
Follow these seven easy tips to sleep better at night.
This page may contain affiliate links. View the disclosure statement.
7 Tips to Sleep Better at Night
Here are 7 quick and easy tips to sleep better at night.
1. Buy a New Comforter You Love
I had a soft blue comforter I loved for years, and then I got bored with it.
Last year I found a crisp, white down blanket from HomeGoods that I absolutely love. It's so much nicer to crawl into bed at night when your comforter is soft.
Mine is lightweight (I get hot at night) and easy to wash. Buying new, soft sheets and new pillows helps you sleep better at night too.
2. Keep Electronics Out of the Bedroom
I read in a magazine that the bedroom should be for two things: sleeping and sex.
So keep the electronics out of the bedroom! No TV. No computer. No cell phone. I keep my cell phone charged in the living room area of my condo.
If you live in a standard house or one-one apartment, keep your cell phone charging at night in the closet or in the bathroom. Just not in the bedroom!
3. Buy Black Out Curtains and a Night-Mask
My condo gets TONs of light, so black-out curtains are a must. I found a lovely pair of long, soft curtains from Overstock and love them.
I also have a silk night mask from Amazon for only $10 that is perfect.
I can't sleep at night if there is any light. This sleep mask keeps the light out and is soft too!
4. Keep your Bedroom Cool to Sleep Better at Night
I get so hot at night, which causes me to wake up. Studies show that the ideal temperature to sleep at night is around 67 degrees, so I keep my bedroom COLD. I
f you are concerned about energy bills, find a good air conditioning unit to use in the summertime. I bought a window unit when I lived in Florida, and then I barely used my A/C at all. I JUST kept the bedroom cool.
My condo community doesn't allow window units, so bought a free-standing, portable A/C unit that is perfect, like the one below.
I also have a free-standing fan by Lasko that is amazing.
5. Treat Yourself to Cute, Soft Pajamas
I love wearing my silk night-gowns at night. There's something so peaceful and relaxing about slipping into my Victoria's Secret nightgowns.
No need to save them for "special" nights – I wear mine every night! I own ones in white, pink, black, gray, and more from Victoria's Secret. If nightgowns aren't your thing, TJ Maxx often has super cute pajama bottoms and matching short/shirt pajama sets.
Right now I'm loving these cute PJs from Amazon!
Check out this YouTube video to see why I love these silky-soft pajamas.
6. Use a Dim Reading Light at Night
Too much light close to bedtime will keep you awake. To help me fall asleep even faster when I read at night, I use a super dim reading light. I own a small one like the one above from Ikea, and use that.
The reading lights that you put around your neck are really helpful too!
Side note: I also downloaded the app called "f.lux" onto both my phone and computer.
It automatically dims the lighting on your electronics, to help you wind down at night.
7. No Caffeine after 12pm
I used to be guilty of having a cup of coffee after lunch. I figured that coffee wears off after 8 hours, so it should be fine – right? Well, that's a myth. The half-life of coffee is 8 hours. So that caffeine will still be in your system by 10pm! I didn't think it would affect me – but after I gave up coffee, I slept SO much better at night.
I used to never be able to fall asleep until after midnight. Now, on days that I am truly tired, I can easily fall asleep at 10pm. And this no caffeine rule includes other foods and drinks too.
Most teas, unless they are herbal tea, have caffeine. Hot chocolate, cocoa powder, and chocolate have caffeine. Certain ice creams, puddings, and sodas have caffeine too.
How to Sleep Better at Nights and Get Even More Zzzs
Here's a few other tips to sleep better at night:
Limit intense exercise late at night
Paint your bedroom a soothing color, like blue or dark purple
De-clutter your bedroom
Buy a sound machine for white noise
Replace your mattress, or buy a mattress topper
Take a walk at lunch-time to get enough light during the day