Ultimate Cruise Packing List (Includes Cruise Packing PDF)
This post may contain affiliate links, which means I may earn a commission if you decide to make a purchase through our links, at no cost to you. You may view the disclosure here.
My mom and I cruise a lot…and by a lot I mean at least 2-3 times a year. (I'd go more than that if I could, but I do work full time and only have so much vacation.)
Of courses, a cruise packing list includes things like swimsuits, tropical beach vacation dresses, bras and panties, and cute pink pajamas.
But there are other things you'll want (and need!) to pack for your 7 day cruise.
This guide with tips on what to pack for a cruise includes
Unique things to pack for a cruise
A detailed cruise packing list and a master checklist of things to pack for a cruise
Helpful things to pack for a 7-day cruise that you wouldn't think of
Optional things to pack on a cruise
Tips on what NOT to pack for a cruise
A printable cruise packing list/downloadable PDF with everything to pack for a cruise
This post may contain affiliate links. View the disclosure here.
Essentials to Pack for a 7-Day Cruise & Cruise Packing List
Unlike other vacations, where you can easily run to a Target or a Walmart, you can't easily buy any last-minute essentials when you are on a boat in the middle of the ocean.
Granted, most cruise ships have nice shops with pretty clothes nice (like pretty dresses by Tommy Bahama), good-smelling perfumes, and makeup, but everyday essentials like razors and sunblock are usually overpriced at the cruise shops.
Here are my go-to essentials to pack for cruises that you may not have thought to pack.
1. Reef-Friendly Sunscreen
Some port locations require that you wear reef-friendly sunscreen. I personally like Hurley Reef Friendly sunscreen.
2. A Visor
You need to protect your face, especially if you want to look younger than your age when you get older.
You'll want to pack a hat too, but a visor will be helpful if you are outside and it is windy. I'll tell you, my mom and I played pickleball on our last Holland America vacation and it was quite windy!
3. A Pretty Swimsuit Cover Up
You may be able to get away without a swimsuit cover up on other vacations, but you'll definitely want one for pool days on a cruise.
RELATED:
Best Beach Cover Ups on Amazon
Best Plus Size Beach Cover Ups
4. Earplugs
Earplugs. Really? Yes!
Even if your spouse/significant other doesn't snore, the live bands and entertainment on cruise ships can be quite loud.
Don't forget to add earplugs to your cruise packing list.
5. Sunscreen for Your Face
You might be able to get away without wearing sunscreen on a normal vacation, but you need great sunscreen for your face while on a cruise. Below are the two sunscreens for your face that I swear by. One is more for everyday wear (EltaMD) and the other is for working out and for higher-sun days.
6. Advil/Aleve/Tylenol
You never know when you may need Advil on a cruise ship, and it's usually quite expensive if you buy it onboard the cruise ship.
It's the worst when you have a headache. Cruise ships sell OTC pain medicine on board, but the prices are quite high.
I personally always travel with Advil just to be safe.
7. Pepto Bismol
In case the cruise food doesn't agree with you…
8. A Cocktail Dress
It doesn't have to be a black-tie dress, but you'll definitely want a cocktail dress for Gala Night/formal night on a cruise.
RELATED: Cruise Formal Night Dresses
Depending on which cruise line you sail with, you'll notice that the women (and men!) dress up a lot.
Many people also get their pictures taken on Gala Night, so you'll want a nice dress if you plan on doing that.
9. A Beach Bag
There's nothing like walking off the cruise ship with one of the free beach bags provided by the cruise line to scream, "tourist!!" Instead, pack your own beach bag with a zipper.
10. A Watch
Pack a watch for your cruise. The time on your cell phone may get off/be inaccurate/update automatically without your knowledge and be different from the ship's time (not good!).
To be safe, pack a watch and make sure it matches the ship's time before you explore each port.
11. Water Bottle
In case you get thirsty at night or at port, I find it much easier to pack an empty water bottle and fill it up in the buffet area.
Tip: Make sure not to put your water bottle directly under the water dispenser. Fill up a cup of water and dump it in your water bottle or ask a server to refill your water bottle to be more sanitary.
12. Bug Repellent
There's nothing worse than being itchy, itchy, scratchy, scratchy! If you have any tours in the rain forest or near water you need bug repellent.
I often forget to pack bug repellent when I go on cruises. Add bug repellent to your cruise packing list!
13. Water Shoes
I'll admit it. I don't pack water shoes, but they will come in handy if you plan on snorkeling or getting into the water near rough rocks.
14. Instant Coffee
The coffee on cruise ships can be bad. And by bad…I mean REALLY bad. In case the coffee tastes horrible, pack your own instant coffee packs.
15. Rash guard and maybe a lightweight wetsuit
A rash guard will protect you on the beach and a lightweight wetsuit will keep you warm. The Caribbean Ocean can be cold in January/February.
16. Medications
Don't forget to pack any medications you may need!
Helpful Things to Pack on a Cruise
My mom packs so much for cruises. In fact, she even packs her own mattress pad to ensure a good night's sleep! (LOL).
If you don't mind taking two suitcases with you, or if you are going on a 10-day or two-week cruise, you may want to pack these additional items too.
1. Dramamine
Dramamine (for seasickness, although most cruises have so many balancers nowadays it isn't really needed)
2. Pedialyte
Pedialyte or something similar is GREAT in case you drink too much and need a recovery.
3. Lanyard
A lanyard for your room key is super helpful!
4. Beach Floatie
A floaty for the beach is a must-have if you love the ocean. A float is also AMAZING because often the water is cold, and a small floaty is fun!
5. Wetsuit
I LOVE to have a wetsuit when cruising in January or February. The water gets cold!
6. Magazines
It's nice to have magazines to read by the pool (I love Real Simple and Health)
7. Wine
If your cruise line allows it – you may be able to bring two bottles of wine or champagne on the ship
8. Book
A new book you want to read
9. Playing cards
10. Coffee
Your own instant coffee (sometimes cruise ship coffee is lousy)
11. Vitamins
It never hurts to take your daily vitamins
12. Sleep medication
(In case you have trouble sleeping one night)
13. Tupperware container
(if you are crazy like me, and like to keep healthy snacks in the fridge at night)
14. Your favorite shampoo/conditioner
(if you are particular)
15. Fun jewelry for Gala night
16. Rash guard for your legs
17. Laptop
(the internet will be horrible/non-existent on a ship, but you may need it)
18. Anti-itch cream
(in case you get any mosquito bites on your cruise)
Master List of What to Pack for a Cruise
Heading off on your first 7-day cruise? Here's a master list of everything to pack.
Clothing:
10 pairs of underwear (in case you get sweaty)
7 pairs of socks
1 strapless bra (to wear with tank tops/dresses)
1 comfortable bra (check out these best-selling plus size bras)
3 sports bras (if you like to work out)
1 sun guard shirt (for swimming in the ocean)
2 swimsuits (check out these swimsuits if you are on the curvy side)
1 pair of flip-flops
1 pair of semi-casual sandals
1 pair of sneakers/running shoes
2 pairs of workout shorts
4 basic t-shirts (for walking around town or working out in)
1 formal dress
1 cocktail dress
1 pair of heels
1 pair of jeans
1 pair of leggings with pockets (perfect for travel! I love 90 Degree leggings)
1 sweatshirt (in case it gets cold)
1 button up sweater (to wear over a dress or tank top)
5 semi-dressy but casual tops
Travel Documents:
Photo ID and driver's license
Passport
Proof of vaccination and negative COVID test
Emergency contacts (just to be safe)
Your cruise boarding pass
Your cruise luggage tags
Confirmation pages (receipts) of any excursions booked
Cruise Packing List: Essentials to Pack on a Cruise
Cash (for buying things at the port or paying for taxis) – I'd recommend at least $150
Sunblock (I love good-smelling sunblock)
Beach bag for port days and beach days
Sunglasses
Eyeglasses/contacts (if applicable)
Cell phone charger
Personal Items to Pack on a Cruise:
Under-arm deodorant
Face wash/face scrub (Trader Joe's has a really good $5 face scrub perfect for travel)
Razor
Shaving cream
Hairbrush
Fingernail clippers
Toiletries (e.g., tampons)
Unique Things to Pack on a Cruise (things you'd never think to pack!)
Reef-friendly sunscreen (I love Hurley sunscreen)
Sunblock for your face (Elta MD is my favorite)
Ear plugs
Tylenol/Aleve/Advil
Bug repellent
Swim shoes
Pepto Bismol
Visor
Rash guard
Formal dress/cocktail dress for Gala Night
Swimsuit cover-up
Watch
Water bottle
Instant coffee
Cruise Packing Checklist and Cruise Packing List PDF
Searching for a printable checklist?
Download a cruise checklist PDF here.
What NOT to Pack on a Cruise
Whatever you do, please don't pack these items on your next cruise.
These items are either 1) not needed or 2), not allowed and will be found by security and taken until you disembark from the cruise ship.
Prohibited Items on Cruise Ships
Hair dryers (there are hair dryers in the state rooms on cruise ships)
Candles
Liquor or beer (even if you hide alcohol in mouthwash containers, they may get found and confiscated)
Weapons (of course)
Items to NOT Pack on a Cruise
Beach towels (the cruise line will provide you with fresh beach towels each day)
Shampoo, conditioner, and soap (the cruise line provides this)
Expensive jewelry (you don't want to be a target at port)
Shoe organizer (one cruise packing list included this; there's no need!)
Nightlight (your stateroom has night lights near each bed)
Outlet adapter (most cruise lines have normal outlets now)
My Favorite Cruise Clothes and Accessories to Pack
Below are some of my favorite cruise clothes and accessories to pack!
Comfy Cotton Dress
This cotton dress is comfy, cute, and stretchy! Perfect for a cruise. Plus, the sleeves will prevent your arms from getting burned while cruising.
Cute Hat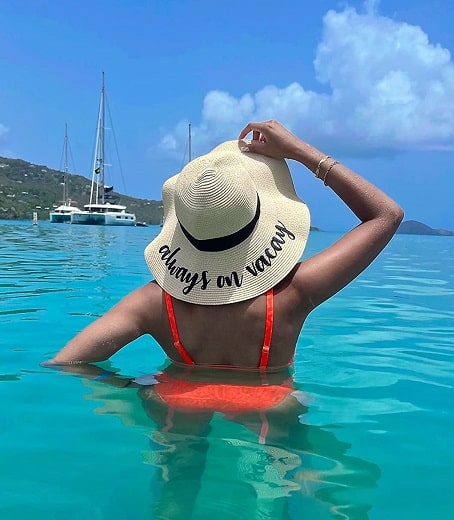 This hat will instantly put you in the vacation mindset for your cruise!
FAQs about Cruises and What to Pack for a Cruise
Have a question about cruising, the Holland America Cruise line, vacations to tropical and warm places, or what to wear on a cruise or tropical beach vacation?
Please leave a comment. I'd love to help you out!
What can you not bring on a cruise?
Firearms & ammunition, CBD oil, candles, incense, hot plates, hookahs, pepper spray, alcoholic beverages, and knives are prohibited on cruises. Refer to your cruise FAQs online for a complete list.
How many outfits do I need for a 7-day cruise?
I'd recommend packing at least 5 daytime outfits (your clothes will get sweaty and dirty each day), 1 formal outfit for Gala Night, and 2 semi-formal/going out outfits for the other Gala Night or a night out dancing on the cruise ship.
Do I need to bring hangers on a cruise?
No, your cruise line will provide hangers in your stateroom. You can ask your stateroom attendant for more hangers if you need more.
Do you get towels on a cruise?
Yes, most cruise lines provide fresh towels in your stateroom for each day, towels at the pool on the ship, and beach towels to bring to the beach.
How much cash should you bring on a cruise?
I'd recommend bringing at least $100 in cash on a cruise.
You'll need to pay the taxi drivers cash at each port (plan for $15/day per person) and you'll likely need cash to buy souvenirs at each port.
Tip: Many store owners offer a 10-20% discount if you pay in cash vs. credit card, so I personally pack $200 in cash for each cruise. Last time I bought a beautiful hat and sunglasses for $50 cash and I'm glad I had that much cash on me.
Do you carry a purse on a cruise?
Yes, I personally carry a cruise on the ship.
That way, I can carry my stateroom key card, photo ID, cash, ear plugs (for dancing at night), sunblock, and sunglasses with my everywhere I go.
Can you bring your own cup on a cruise?
Yes! I highly recommend it. I pack a water bottle and a coffee cup with a lid and straw with my on each cruise.
What to pack for a cruise to the Bahamas?
For a 7 day cruise to the Bahamas, you'll want to pack at least 3-4 daytime outfits, one formal outfit for GALA night, plenty of sunscreen, at least two swimsuits, and a broad hat and beach bag.
You'll also want to pack at least one colorful and tropical dress.
Download this complete cruise packing list with everything you'll need (and other helpful items) for a cruise to Mexico.
You may also want to check out these beach vacation outfits for ideas on what to pack for a cruise to the Bahamas.
What to pack for a cruise to Mexico?
For a 7 day cruise to Mexico, you'll want to pack daytime outfits, a formal dress, sunblock, and cute sandals. You'll also want to pack a cute romper and a rash guard, especially if you will be snorkeling.
Download this complete cruise packing list with everything you'll need (and other helpful items) for a cruise to Mexico.
You may also want to check out these vacation outfits for Mexico to get ideas on what to pack for a cruise to Mexico.
More Cruise Guides to Help You Plan the BEST CRUISE EVER
Want to plan the best cruise vacation possible?
Check out these travel and vacation outfit guides to guarantee your best cruise vacation to date.
Cruise Outfit Ideas
The Best Plus Size Tropical Dresses for Cruises
Cute beach vacation dresses for women
Cruise outfit ideas for your beach vacation
The best swimsuits for plus size pear shape women
The best dresses for apple shaped body
The best plus size maxi dresses on Amazon (perfect for wearing on cruises)
Cruise Planning Guides
Holland America Rotterdam Ship (pictures and deck plan included)
Holland America Cruises: Tips for a 1st time cruiser on Holland America
How to not gain weight on a cruise
Swimsuits for Cruises
Cute swimsuits for curvy women
The most flattering one piece swimsuit for women over 60
Cute one piece swimsuits for women
The best plus size swimsuits for women
Beach Cover Ups for Cruises
The Best Beach Cover Ups, Including the Best Beach Cover Ups for Older Ladies
Affordable and flattering plus size beach cover ups
Super cute beach skirt cover ups and sarong cover ups
Crochet beach cover up dresses for cruises
YouTube Cruise Guides
Cruise Tips & Tricks for Beginners