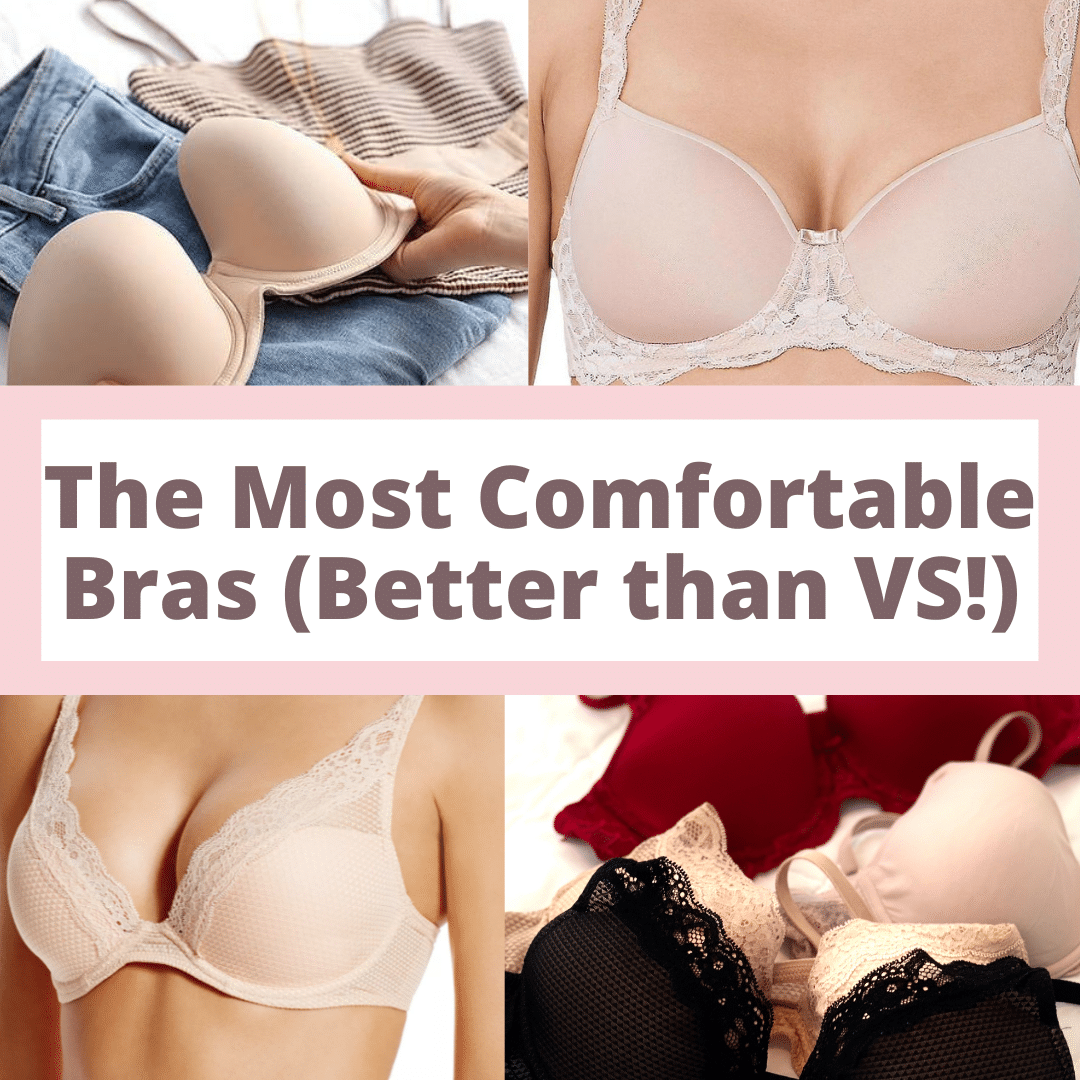 Most Comfortable Bras for Women
The Most Comfortable Bras
Tired of searching for a bra that actually fits at Victoria's Secret?
Are you wondering, "Are there other lingerie stores out there? What are the most comfortable bras? What are the most comfortable bra brands??
If you are searching for an attractive, affordable, and comfortable bra (so comfortable that you can sleep in it!), look no further.
10 Most Comfortable Bras for Women
Topics in this post by Very Easy Makeup
The most comfortable bras with wire
The most comfortable wireless bra
The most comfortable bralette
The most comfortable bra for plus size
The most comfortable bra brands
The Most Comfortable Bras with Wire
The three most comfortable bras with wire are by Chantelle, Triumph, and Natori.
1. Natori Feathers Countour Plunge Bra – The Most Comfortable Bra with Wire for Daily Wear
The bras by Natori make you feel like you are wearing nothing. Natori is the most comfortable bra brand in my opinion. This bra is so comfortable you can sleep in it!
Natori bras are so incredibly comfortable! I could sleep in a bra by Natori. I love the Natoria Women's Feathers Plunge Contour Bra, shown above.
2. Natori Women's Bliss Perfection Contour Underwire Bra
I also own the Bliss Perfection Underwire Contour Bra in light pink, and love it. It's simply, but also feminine and incredibly soft.
Natori is available at Amazon, Nordstrom, Nordstrom Rack, Bloomingdales, and Macy's.
Natori also has super comfortable underwear to match.
3. Brooklyn Plunge Bra by Passionata
I absolutely love the Brooklyn Plunge bra by Passionata. The Passionata bra is low enough for V-neck shirts, has lace for sex appeal, doesn't show under work clothes, and is so, so comfortable.
I own the Passionata Brooklyn bra in black and tan, and wear it almost every day for work. Passionata has slight variations of the plunge bra, depending on where the lace is located. If you want a super sexy bra, check out the other bras by Passionata too.
You can find the Passionata bra line (by CL Brands) at Nordstrom, Bloomingdales, Dillard's, and Von Maur.
Passionata Bras are Perfect For
4. Triumph Amourette Bra – Perfect Sexy Bra with a Super Comfortable Fit for Daily Wear
Triumph sells sexy bras with lace, like the Amourette underwire bra shown above.
Triumph offers bras in sizes C to F, G, H, I, and J, so they aren't top of mind for me (a 34B).
However, I'm loving the Triumph Amourette Charm SP T-Shirt Bra in red. It offers nice coverage and has pretty lace. You can also find it in black on Amazon.
Triumph is based in the UK, so it may be hard to find a store in the United States. Fortunately, Amazon sells Triumph. You can buy the Triump Amourette Charm WP bra in beige (shown above) here on Amazon.
5. The Most Comfortable Wireless Bra
The most comfortable wireless bra is the Warner's Easy Does It bra.
6. The Most Comfortable Bralette
Women love the Smart & Sexy bralette. And it's cheap too!
7. The Most Comfortable Bra for Seniors
The Bali One Smooth U Ultra Light bra is comfortable and a great bra for seniors.
8. The Most Comfortable Bra for Large Bust
If you are searching for one of the best bras for large best and comfortable bra for large bust, check out the HSIA Minimizer Unlined bra. It's sexy and super pretty!
9. The Most Comfortable Bra for Plus Size
The Elomi plunge bra comes in sized us up to 46DD and gets great reviews.
10. The Most Comfortable Bra for Small Chest
The Natori bras are so comfortable! If you are seeking the most comfortable bra for small chest, check out the Natori Feathers Contour Plunge bra.
11. The Most Comfortable Bra with Support
Want a comfortable bra that offers great support? Check out the Playtex 18 Hour Ultimate Lift and Support Wire Free Bra.
3 Most Comfortable Bra Brands
These are my top picks for the most comfortable bra brands.
Natori
Passionata
Danskin
How to Find Your Perfect Bra Fit
I can't believe it took me until my early 30's to realize the CORRECT way to get fitted and test a bra. Here are some tips from the bra specialist.
1. Put the Bra On Correctly
Lean forward when trying on a bra, place your boobs inside the bra, and THEN stand up.
2. Check the Straps
Ensure the straps are long so that the band doesn't ride up in the back.
3. Look at the Side
Look at yourself in the mirror from the side while wearing a thin t-shirt. If the bra is noticeable, it's a no-go.
On a mission this year to feel better under your clothes with the perfect-fitting bra AND sleep better? Check out my article on 7 Easy Tips for Sleeping Better at Night.
Lots of Love!
Christina Marie from Very Easy Makeup (offering beauty product reviews, very easy makeup tips, and fashion for women)
More Articles by Very Easy Makeup
Did you like this article with the most comfortable bra brands?
Please give it 5 stars below, leave a comment, and share it with friends on Facebook!
You may also like these related articles and pages by Very Easy Makeup.
Connect with Very Easy Makeup
I'd love to connect with you!
Follow Very Easy Makeup on Facebook to get notified of new beauty, makeup, and fashion posts!
Please subscribe to the Very Easy Makeup YouTube channel. You'll find how-to tutorials for very easy makeup and bleaching hair blonde at home.
Sign up for the Very Easy Makeup Newsletter.
This post contains affiliate links. View the disclosure here.