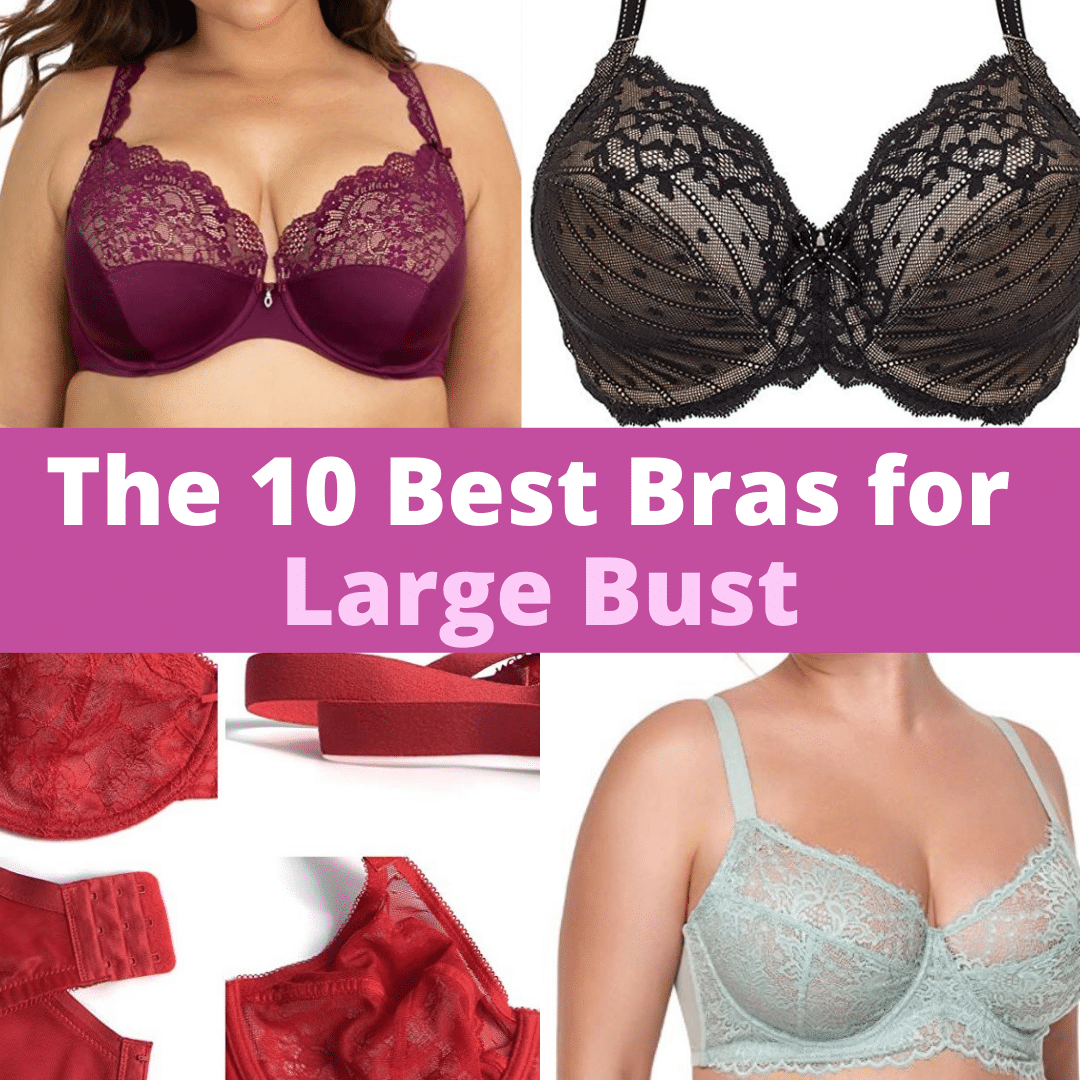 Best Bras for Large Bust
The Best Bras for Large Busts
So many of the best bras for large bust are kind of unattractive.
Where are all the pretty bras at?
It can be hard to find a good, support bras if you have a larger bust. (The same goes for swimsuits for large busts too!)
When searching for the best bras for large busts, you want something supportive (including side support), comfortable, ad available in multiple cup sizes.
The very best bras for large busts also fit true to size, are easy to put on, and has shoulder straps that hold up.
This style guide is all about the best bras for large busts. These bras are so pretty you'll want to show them off!
This post may contain affiliate links. View the disclosure here.
Criteria for the 10 Best Bras for Large Busts
To make the top 10 list, these pretty bras met these criteria
Under $100 online – because paying $500+ for 5 bras is a LOT of money
Eligible for Amazon Prime with free returns – just in case you want to return the bra
4/5 stars on Amazon or higher – ideally 4.5/5.0 stars
Must have pretty lace or come in attractive colors – because plain tan is just so boring!
Be available in at least four large bust sizes – such as 36DDD, 36G, and 36H
The Prettiest and Very Best Bras for Large Busts
Here are the 10 best bras for large busts.
Many of these bras come in sizes up to G, H, and I and all of them are pretty!
1.

Curvy Couture Tulip Lace Push Up Bra

One woman with size 38G said, "My favorite of all time. The bra lifts, separates and actually boosts the girls up...I've been to expensive boutiques for fittings and paid a lot more for lesser quality bras." - Lisa R.
2. HSIA Minimizer Sheer Sexy Bra
This bra also has matching underwear.
This is one of the best bras for large bust. It is comfortable, well made, and so beautiful! Choose from blue, light gray, black, tan, pink, and light green.
3. HSIA Floral Lace Bra
Women absolutely LOVE this bra! This is probably the best bra for large bust. It gets 5 star reviews from almost every woman, from women with size 34DDD up to 44DDDD. Buy this bra in multiple colors. You won't regret it!
4. Fantasie Estrelle Side Support Bra
This side support bra fits great and offers wonderful support. If like like Fantasie bras, check out the Fantasie Elodie and the Panache Jasmine bra too.
5. Chantelle Rive Gauche Full Coverage Bra
This is one of the best bras for large bust. Yes, it's more than $80 on Amazon, but it's worth it!
One woman with size 38H said, "HOW DO THEY MAKE A BRA LIKE THIS? I don't even know. All I know is that this bra is amazing. I have worn it almost every day since it. This is a very well made bra. The construction is top notch, the fit is incredible, the support is unbelievable." - Amazon Reviewer
6. Natori Feathers Plunge Bra
Don't let the picture above fool you. Natori is one of my absolute FAVORITE bra brands of all time. This bra for large bust comes in sizes DDD and G.
7. Cosabella Never Say Never Curvy Racie Bralette
This bralette gets mixed reviews on Amazon. Women with a smaller band size (under 34) and a large bust love this bralette.
8. Wacoal Basic Beauty T-Shirt Bra
This is one of the best bras for large bust. It's relatively simple, but it gets AMAZING reviews. Women say this Wacoal bra is lightweight, comfortable, breathable, and perfect for daily wear.
9. Elomi Matilda Unlined Plunge Bra
Women love this bra. They say it is pretty, supportive, and well-made.
10. Smart & Sexy Lace Unlined Bra
One woman with size 46DDD said, "Gave me confidence. Fits like a glove! It fits PERFECTLY. There's no stabbing pain from the underwire, my shoulders aren't being gouged into from the straps, my WHOLE breasts fits perfectly inside the cups of the bra, there's no overflow out the top even when I'm laying down on my side, it gives my breast the natural look (NOT POINTY!) it's BEAUTIFUL and so SEXY!" - Kate
Want a Sexy Bra? The 3 Best Sexy Bras for Large Bust
These bras feature lace and are so sexy!
1. HSIA Full Coverage Lace Bra
2. Rosme Balconette Bra
3. Smart & Sexy Lace Unlined Bra
More Articles by Very Easy Makeup
Did you like this article with the best bras for large busts?
Please give it 5 stars below, leave a comment, and share it with friends on Facebook!
You may also like these related articles and pages by Very Easy Makeup.
Best Dresses for Curvy Figures
The Best Plus Size Wedding Guest Dresses with Sleeves
Connect with Very Easy Makeup
I'd love to connect with you!
Follow Very Easy Makeup on Facebook to get notified of new beauty, makeup, and fashion posts!
Please subscribe to the Very Easy Makeup YouTube channel. You'll find how-to tutorials for very easy makeup and bleaching hair blonde at home.
Sign up for the Very Easy Makeup Newsletter.