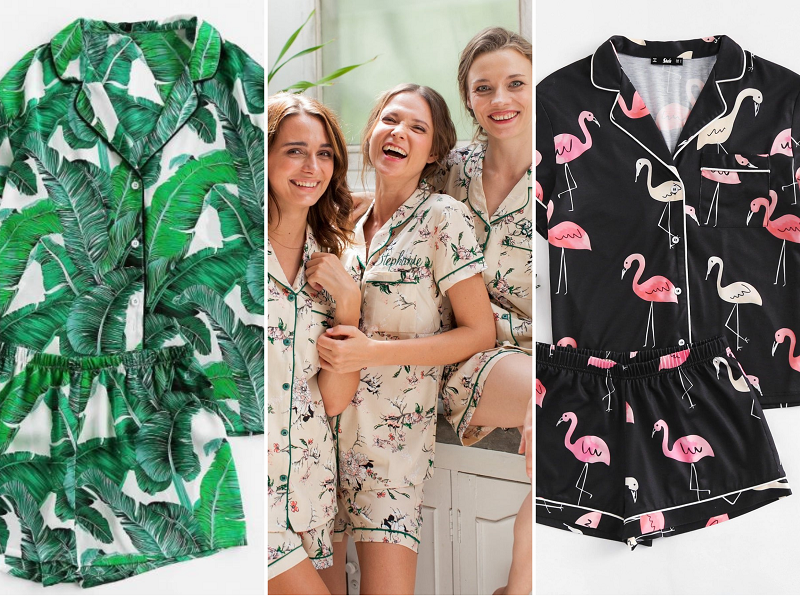 Best Bridesmaid Pajama Sets
Looking for affordable bridesmaid pajama sets? I've got you covered!
Matching pajama sets for bridesmaids is a popular and fun gift idea. But bridesmaid pajamas can be expensive. That's why I've researched and found the best affordable options.
In this wedding guide, I'll show you beautiful and budget-friendly bridesmaid pajamas. From cute sets under $35 to cotton, silk, satin, and floral-printed options, I've got it all covered.
Say goodbye to the stress of finding affordable bridesmaid pajama sets. Let's dive into this delightful world of stylish sleepwear!
This post may contain affiliate links. View the disclosure here.
Bridesmaid Pajama Sets Under $35: Affordable and Cute!
All of these bridal party pajama sets are on Amazon. Talk about easy!
Here are the best cheap bridesmaid matching pajama sets for your bridesmaids. Happy shopping!
These are the best bridesmaid pajama sets on Amazon in my opinion. 😊
1. Cutest Bridesmaid Pajama Sets: Palm Leaf Pajama Set in Pink by Floerns
These light pink and green, tropical pajamas are perfect for a spring or summer wedding – or any wedding in a beachy location!
These light pink pajamas with palm leaves are so darling! Just make sure to order up a size. These cute pajama sets tend to run small.
These pajamas are super cute, but the reviews on Amazon are a bit mixed.
Read the reviews and decide for yourself!
2. Best Tropical Cheap Bridesmaid Pajama Sets: Green Leaf Pajama Set by Floerns
These pajamas are so much fun! They make for great pictures.
These green leaf bridesmaid pajama sets by Floerns are PERFECT if your wedding is happening at the beach or somewhere tropical.
These tropical bridesmaid pajamas are so much fun!
RELATED:
The Best Tropical Bridesmaid Robes
3. Best Cheap Bridesmaid Pajama Sets with Pants: SWOMOG Silk Satin Pajamas with Long Sleeves
These silky blue pajamas are great for winter and fall weddings. The material is beautiful, soft, and classy.
Women love how soft and silky these pajamas are! Very comparable to Victoria's Secret pajamas.
5. Best Cheap Cotton Bridesmaid Pajama Sets: I Do Crew Pajamas by Just Love
These "I Do Crew" pajamas are so much fun! These matching PJs are perfect for a bachelorette party weekend.
These pajama sets are perfect for bachelorette photoshoots. These cheap bridesmaid pajamas run a bit small, so order a size up.
These bridesmaid pajamas are also available in plus size (up to 3X).
6. Best Plus Size Cheap Bridesmaid Pajama Sets:
TIKTIK Pajamas Set Short Sleeve Sleepwear
These navy blue pajamas are so classy AND so, so comfortable! These pajamas have a roomier fit and women love the jersey cotton. You could like in these pajamas for days!
These pajamas also come in more colors on Amazon.
7. Monogram Bridal Party Pajama Shorts
8. Bridal Party Sleep Shirt Pajamas
9. Light Pink and White Bridesmaid Pajama Shirts
10. Personalized Bridesmaid Pajama Sets in Silk/Satin
11. Best Classy Bridesmaid Pajama Sets on Amazon: Khaki Floral Pajamas by Floerns
These khaki/cream and floral print pajamas are so cute for bridesmaids.
12. Best Fun Bridesmaid Pajama Sets on Amazon: Flamingo Pajamas by Floerns
Who doesn't love pink flamingos? These cotton bridesmaid pajamas are so fun.
RELATED:
The Cutest Pajama Sets for Women
13. Best Cotton Bridesmaid Pajamas on Amazon: Floerns Notch Collar Pajamas
You can't go wrong with light blue or light pink cute pajama sets for your bridal party.
RELATED:
The Most Comfortable Pajamas for Women
14. Best Black ridesmaid Pajamas in Cotton: Floerns Notch Collar Pajamas
Black is so simple and sophisticated. Plus, your bridesmaids will be able to wear these cute pajamas AFTER the bachelorette party/wedding.
15. Best Silk Bridesmaid Pajama Sets on Amazon: Serendelicacy Pajamas
16. Best Floral Bridesmaid Pajama Sets on Amazon: LYCY Pajamas Set
17. Best Burgundy Bridesmaid Pajama Sets on Amazon: Ekouaer Satin Pajamas
Best Bridesmaid Silk Satin Pajamas
If you are specifically searching for the best silk bridesmaid pajamas, then check out these bridesmaid silk/satin pajamas on Amazon.
These bridesmaid pajamas get excellent reviews are so, so cute and soft!
Bridesmaid Matching Silk Floral Pajama Shirts
View Bridesmaid Pajama Shirts on Amazon
Light Pink Silk Satin Bridesmaid Pajamas
View Bridesmaid Pajamas on Amazon
SweatyRocks Satin Pajama Set
View Bridesmaid Pajamas on Amazon
SWOMOG Silk Satin Bridesmaid Pajamas
View Bridesmaid Pajamas on Amazon
SWOMOG Black, White, and Pink Bridesmaid Pajamas
View Bridesmaid Pajamas on Amazon
Luxury Bridesmaid Pajamas
Want to treat your bridesmaids to REALLY soft pajamas? Then check out these bridesmaid pajamas with long sleeves and shorts.
Super Cute Matching Rompers on Amazon for Getting Ready
If you are open to getting matching rompers for your bridal party instead, check out these super cute matching rompers!
More Cute Pajama Ideas on Amazon for Your Bridal Party
If you can afford it, get your bridal party cute slippers and face masks too!
Bridal Party "I Do Crew" Slippers
These matching "I Do Crew" slippers for the bride and bridesmaids are so cute!
Bridal Party Cozy Cream Slippers
These super soft, cozy slippers by the Parlovable Store are a fan favorite.
Alaska Bear Silk Sleep Mask
I own this sleep mask and LOVE it! I've had it for 5 years now and it is still soft…and I've washed it multiple times too!
Tips for Choosing Bridesmaid Pajama Sets
Keep these things in mind when ordering cheap bridesmaid pajama sets online.
1. Shipping costs
How much is shipping? With Amazon Prime shipping is free, but other sites may charge you!
2. Sizes available
Do the pajama sets come in size XL for larger women?
3. Material
Do you want silk/satin or cotton?
4. Shorts or pants
Do you want shorts or pants for your pajama sets? Go with shorts for spring or summer and pants for winter.
5. Color
What color pajamas do you want? It can be fun if the color goes along with your wedding colors.
6. Price
How much do the pajama sets cost? If you are buying for 10+ people, an extra $5 per pajama set can add up!
Where to Find Bridesmaid Pajamas Sets for Under $35
Amazon is my #1 recommendation for shopping for bridesmaid pajama sets. However, there are more places to shop for affordable bridesmaid pajama sets.
Where to Buy Cheap Bridesmaid Pajama Sets
1. Etsy
Etsy is great for finding affordable bridesmaid pajama sets with personalization.
2. Amazon
As mentioned above, Amazon is my go-to for affordable bridesmaid pajama sets.
3. SHEIN
Shein is so cheap! Shein is great for finding cheap bridesmaid pajama sets under $20.
4. Target
Target always has super cute pajamas for women.
RELATED: Cutest Pajamas for Women
5. Birdy Grey
Birdy Grey can be expensive, but they have affordable bridesmaid pajamas if there is a sale going on.
More Wedding Articles to Explore
The Best Bridesmaid Robes for Getting Ready
The Best Bridesmaid Beach Towels