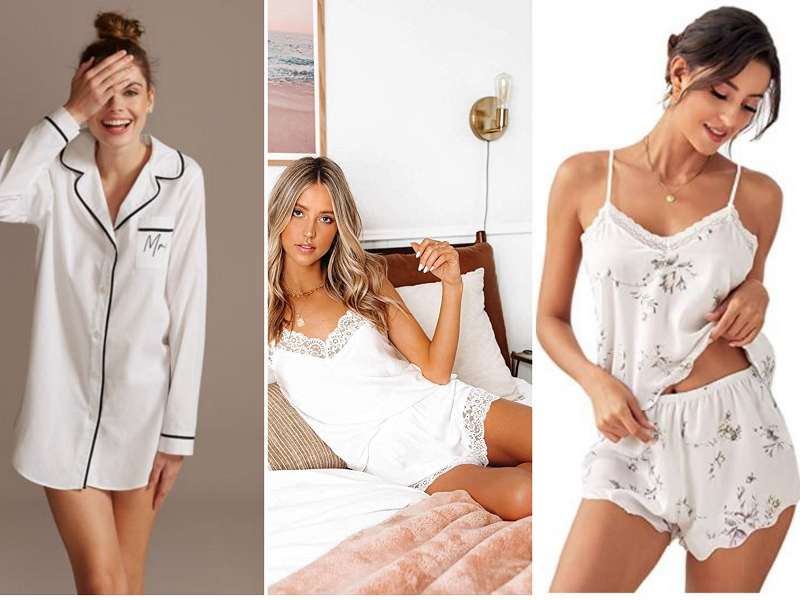 Calling all brides-to-be!
Searching for a fun, sexy, and affordable bridal pajama set?
From bridal cotton pajama sets to sexy bride pajama sets, we've scoured the internet to bring you the best white bridal pajamas.
Below are the best-rated pajamas for the bride on Amazon and from other retailers…according to hundreds of reviews.
This post contains affiliate links. View the disclosure here.
15 Best Bride Pajama Sets for the Bride to Be
Let's jump right in! Check out these super cute bride pajama sets!
1. ModParty Bridal Sleepshirt
This sleepshirt is so cute and comfy! The material is soft and this bridal pajama sleepshirt is super flattering.
2. CHYRII Sexy Silk Satin Lace Pajamas
This silk satin pajama set for the bride-to-be is so cute! Order a size up in this bridal pajama set for a comfy fit.
3.
Always Romantic Ivory Floral Embroidered Two-Piece Sleep Set
This is such a sexy lace bridal pajama set! Women say these white lace PJs are sweet and sexy! These bridal pajamas are perfect for a honeymoon and super cute too!
4. Satin White Pajama Set for the Bride to Be
This satin white pajama set for the bride-to-be is less than $40 on Lulus and comes in sizes XS to XL. Women say this white cami top and shorts set is perfect for getting-ready outfits. Multiple women have worn these pajamas the morning of their wedding while getting ready and LOVED this white PJ set!
5. White & Pink "Bride" Tank Top and Pajama Shorts for the Bride
I love pink and white! This bridal pajama set is a great gift for the bachelorette/bride-to-be.
6. Cute Ruffled Pajama Set
These cute white pajamas are perfect for the bride-to-be.
You can't go wrong with these soft pajamas in white or light pink.
7. Verdusa Lace Trim Cami and Shorts Set
This lace cami and shorts bridal pajama set is so feminine! Order a size up for the best fit.
8. Ekouaer Sexy Satin Cami Shorts Set
This is one of the best-selling pajama sets on Amazon.
These pajama sets are super soft and super cute. Plus, this bride pajama set has adjustable straps.
9. White Notch Collar Pajama Set by Floerns
This white, cotton pajama set is perfect for the bride-to-be. These pajamas work well for getting ready outfits and for pajama sets for bridesmaids too.
10. SOLY Hux Floral Lace Satin Cami Set
This lace and satin cami pajama set is perfect for brides. It is sexy and has a matching bridal robe. Plus, these bridal pajamas on Amazon are less than $35.
These pajamas are like Victoria's Secret pajamas, but for a lot less money on Amazon.
11. Tie Dye Bride Pajama Set
This cute tie-dye pajama set for the bride is super soft and comfy.
12. White & Blue "Bride" Tank Top and Seersucker Pajama Shorts
These cute pajamas for the bride-to-be are so adorable.
Sexy White Babydoll Gowns for the Bride
These two bridal teddies/nightgowns are perfect for the bride-to-be.
Sexy Babydoll Teddy for the Bride to Be
This sexy teddy is perfect for the bride to wear on her wedding night.
This nightgown for brides comes in plus sizes too.
Sexy Lace Chemise Mini Teddy
This white teddy for the bride has more than 15,000 reviews on Amazon! This bridal pajama nightgown comes in plus sizes as well, up to size 4X.
Sexy Lace Bodysuit for the Bride to Be
Accessories to Wear with Your New Bridal Pajamas
After you treat yourself to a new set of cute (or sexy!) bridal pajamas, don't forget to buy fun slippers and a sleeping mask.
"I Do Crew" Slippers for the Bride
Super Soft Cushy Slippers for the Bride
These super soft, cozy slippers by the Parlovable Store are a fan favorite.
Alaska Bear Silk Sleep Mask
I own this sleep mask and LOVE it! I've had it for 5 years now and it is still soft… I've washed it multiple times too!
More Wedding Ready Guides
Bridal Pajama Sets - Pinterest