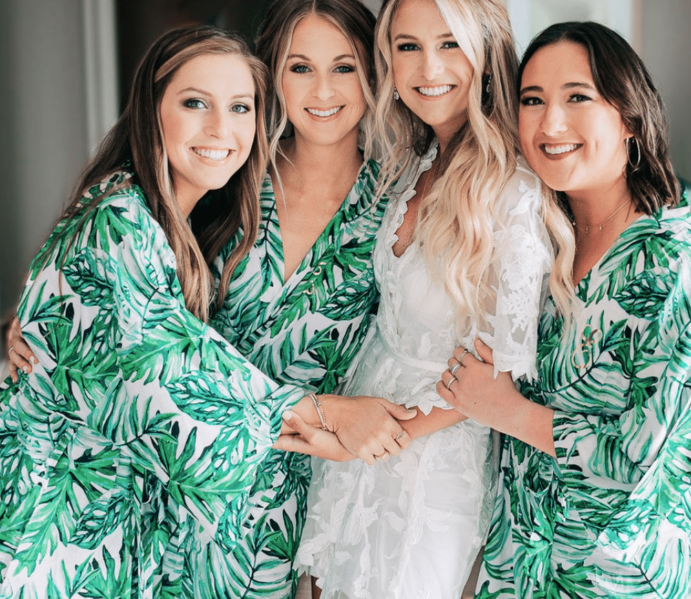 The Best Bridesmaid Robes on Amazon
There's no need to spend a fortune on your bridesmaid robes.
Many wedding websites ask for $35+ per bridesmaid robe. Don't fall for it! Amazon has a lot of REALLY good cheap bridesmaid robes for your bridesmaids and for Getting Ready.
This guide is all about the BEST bridesmaid robes on Amazon. Best of all, these cheap bridesmaid robes in bulk are all under $50!
Find the best-personalized robes for bridesmaids and the bridal party, cheap bridesmaids robes in sets of 6 and 8, bridesmaids robes in silk and satin, and cheap bridesmaids robes in tropical and floral print.
This guide with the best cheap bridesmaid robes includes:
The best cheap bridesmaid robes on Amazon
Affordable floral bridesmaid robes
Cheap silk bridesmaids robes
Satin bridesmaid robes in many colors
Customizable bridesmaid robes in bulk
Bridesmaid slippers
This post may contain affiliate links. View the disclosure here.
Best Floral Bridesmaid Robes
Floral print bridesmaid robes are so much fun! They are elegant, pretty, and perfect for your bridal party to wear while getting ready.
Here are my favorite floral bridesmaid robes.
These bridesmaid robes come in ivory, blush, navy, and burgundy.
These floral bridesmaid robes come in four different colors on Amazon.
I love the lace on the hem and cuffs of these cute bridesmaid robes! They are satin too...which is nice!
Best Tropical Bridesmaid Robes
Below are the best tropical bridesmaid robes. Perfect for beach and destination weddings!
Green Tropical Bridesmaid Robes
Pink and Green Tropical Bridesmaid Robes
Best Bridesmaid Robes: In Every Color!
Below are the best bridesmaid robes in every color imaginable!
Champagne Bridesmaid Robes
Champagne colored bridesmaid robes are so feminine! Buy champagne robes for your bridesmaids and wear white or pink as the bride to be.
V-Neck Champagne Bridesmaid Robes with Lace Trim
Blush Pink Bridesmaid Robes on Amazon
Below are two great options for light pink/blush pink bridesmaid robes on Amazon.
AW Bridal Light Pink Satin Bridesmaid Robes with Lace Trim
These light pink bridesmaid robes are so, so pretty!
Blush Pink Bridesmaid Robes that Say "Bridesmaid"
Cream Bridesmaid Robes
These bridesmaid robes come with lettering on the back that says Bridesmaid, Mother of the Bride, and Mother of the Groom.
Red Wine Bridesmaid Robes on Amazon
Red is so sexy and fun!
Features:
Sizes x-small to XX-large
95% polyester and 5% spandex
Perfect for a rustic wedding
Lace trim on sleeves and hem
Deep Red Bridesmaid Robes
Features:
Sizes x-small to XX-large
95% polyester and 5% spandex
Very sexy and classy
Lace sleeves on hem and trim
Burgundy Bridesmaid Robes Online
Features:
96% polyster
Sexy lace trim
Sizes small to x-large
Has pockets
Red Satin Kimono Robes for Bridesmaids
Super Cute Dusty Blue Bridesmaid Robes
Fun and Bright Blue Bridesmaid Robes
Features:
Sizes x-small to XX-large
95% polyester and 5% spandex
Sexy lace trim design
Light Green Bridesmaid Robes for Spring Weddings
Lavender Bridesmaid Robes for Getting Ready
Black and White Bridesmaid Robes for Bridesmaids Online
The Best Bridesmaid Robes in Bulk in Complementary Colors
Want to get pretty blush, champagne, and blush pink robes in complementary colors? Check out the photo below and then buy the robes on Amazon!
Affordable Customizable Bridesmaid Robes Online
You can personalize/customize your bridesmaid robes too. These robes come in 9 different colors online and you can choose what is printed on them.
The Best Bridesmaid Slippers for Getting Ready
Getting cute slippers makes the outfit complete!
Bridesmaid Slippers in Pink, Grey, White, or Tan
"I Do Crew" Bridesmaid Slippers
Tips for Buying Cheap Bridesmaid Robes Online
Want to buy bridesmaid robes in bulk and save money? Here are a few tips when shopping online.
1. Silk vs. Satin
Most of the descriptions online call the robes "silk" when in fact they are made of polyester. Polyester is still soft, but don't get fooled. An actual silk robe would cost more than $50.
2. Online Reviews
Read the reviews online. Some of the robes are cheaply made.
3. Customization vs. None
I honestly don't think it's worth the extra money to customize your bridesmaid robes. Your bridesmaids will appreciate being able to wear the robes again!
How Much Do Cheap Bridesmaid Robes Cost?
Expect to pay about $20 on average. Don't get fooled by online sellers who list the price as under $10.
By the time they tag on the color options and shipping, you'll up paying $20 or so. I'd recommend shopping on Amazon.
Buying Bridesmaid Robes On Amazon vs. Etsy vs. a Wedding/Bridal Store Online
Does that bridesmaid robe look familiar? It probably is! Many of the bridesmaid robes on Etsy and from wedding sites online are actually ALL the same robe. Yes, you heard me right!
Many vendors buy the same robe from a distributor or factory in China and resell it online.
So you could end up paying $35+ for a robe on Etsy or a wedding site that costs only $20 on Amazon.
For example, this customized satin kimono robe on Amazon is the EXACT same customized satin kimono robe on Etsy.
Or check out this tropical robe on Amazon. It's only $20 on Amazon, but it is $23 + $5 shipping on Etsy. Suspicious!
Wedding Ideas on Pinterest
Check out these Pinterest pages by Very Easy Makeup for more wedding and bridal party ideas!
Bridesmaid Outfits for Getting Ready
The Best Lace Bridal Robe for the Bride
Want a sexy lace bridal robe for you? Check out this lace and satin robe online.
RELATED: The Best Bridal Pajama Sets
Alternatives to Getting Ready Robes
Of course, you don't have to buy your bridesmaids robes for your getting ready outfits!
In addition to getting ready robes, you may want to have your bridesmaids wear cute matching bridesmaid pajamas. Other options include custom hoodies with black yoga pants, flannel pajamas, cute rompers, or jogging sets.
More Wedding Articles to Explore
Best Tropical Bridesmaid Robes
Explore all Bridesmaid Robes Guides