10 Glamorous Art Deco Bridesmaid Dresses for Gatsby Themed Weddings
This post may contain affiliate links, which means I may earn a commission if you decide to make a purchase through our links, at no cost to you. You may view the disclosure here.
Art Deco Bridesmaid Dresses
Have a 1920s, vintage-themed, or art deco-themed wedding? Then your bridesmaids need some amazing and glamorous art deco bridesmaid dresses!
Many of the art deco bridesmaid dresses are $1,000+ online, but there's no need to spend that much money!
Amazon has a LOT of beautiful and stunning art deco bridesmaid dresses. Many of these dresses come in plus sizes too.
I've searched online on Amazon to find the BEST art deco bridesmaid dresses.
Continue reading for:
The best art deco bridesmaid dresses
Art deco dresses with sequins
Cheap art deco bridesmaid dresses under $100
The Best Art Deco Bridesmaid Dresses Online
You will LOVE all of these art deco bridesmaid dresses. Plus, these dresses are all affordable too!
Silver Sequin Art Deco Bridesmaid Dress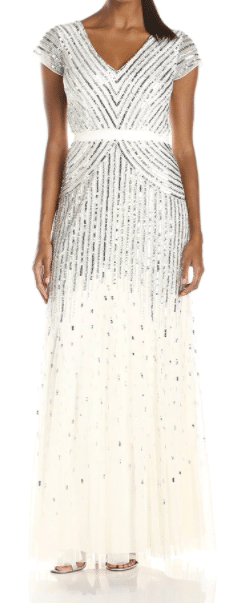 I love dresses by Adrianna Papell! Her dresses are so stylish!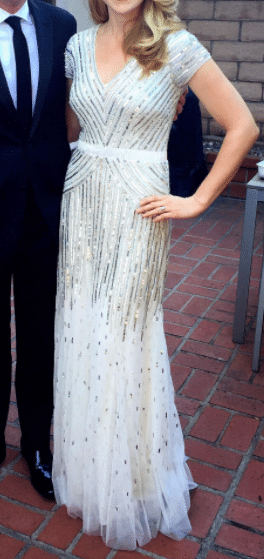 This particular dress is so popular. I've seen it everywhere! Wear this dress as a bridesmaid or for a Gatsby themed party.
After the wedding, your bridesmaids can wear this gown for MANY occasions. Think cruise vacations, weddings, second weddings, parties, and even Halloween!
Pink Sequin Art Deco Bridesmaid Dress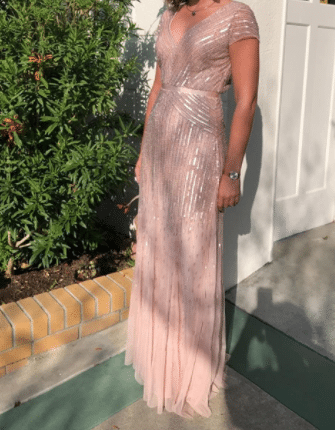 Cream Art Deco Bridesmaid Dress
Light Pink Art Deco Bridesmaid Dresses
Short-Sleeve Beaded Mesh Art Deco Dress by Adrianna Papell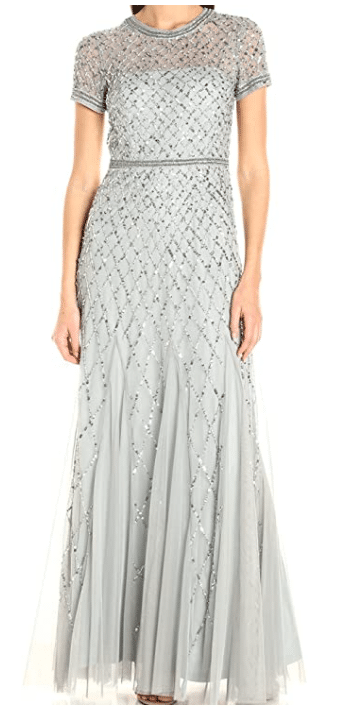 Deep V Neck Sequin Tulle Art Deco Dress
Sequin Mermaid Art Deco Lace-Up Gown
Art Deco Dress with Long Lace Sleeves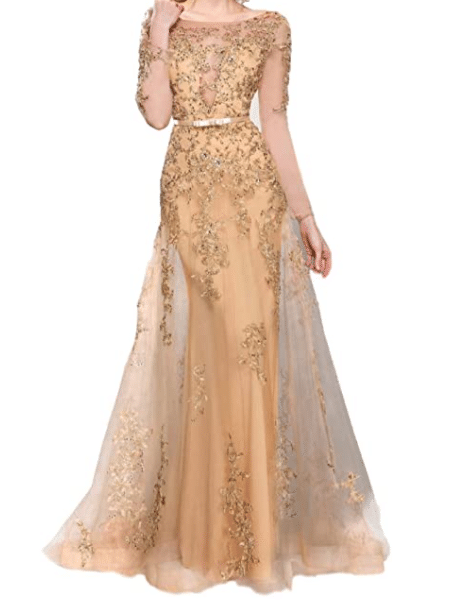 This dress comes in sizes 4 to 20 plus. Other colors include gold and red, navy, and silver.
This art deco dress works well for prom, engagement parties, a second wedding, and vow renewals. This dress also works well as a wedding guest dress. Talk about multi-purpose!
Mermaid Art Deco Dress with Sleeves and Embroidery by Ever-Pretty
Art Deco Pink Sequin Bridesmaid Dresses
This is also one of my favorite all-time sequin bridesmaid dresses!
Silver Sequin A-Lin V-Neck Formal Art Deco Gown Under $50!
This sequin formal gown by Ever-Pretty comes in white, blue, burgundy, and gold.
Art Deco Bridesmaid Dresses Pictures for Inspiration
Want more ideas for your bridesmaids? Check out these art deco wedding pictures for inspiration.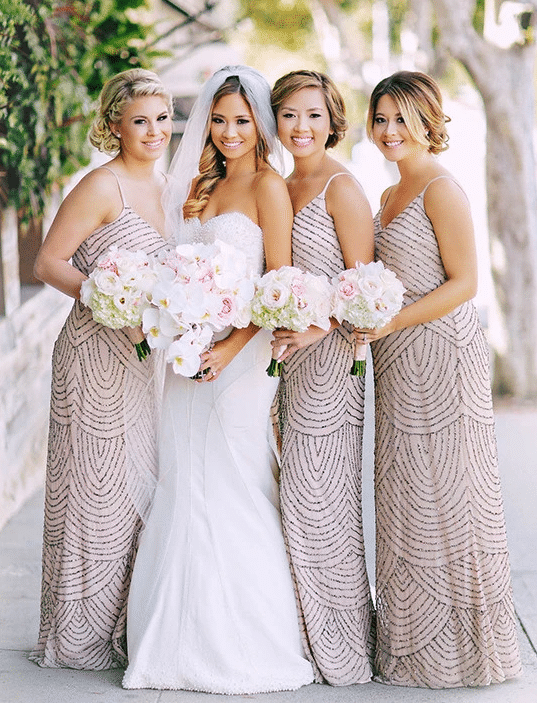 Each of these bridesmaid dresses are by Adrianna Papell. You can buy this exact same dress online!
Love the short sleeve taupe/pink bridesmaid dresses shown above? Adrianna Papell has a VERY similar dress online. Check it out!
If you want a halter art deco beaded dress, check out this dress by Adrianna Papell. It's VERY similar to the dresses above.
Love the art deco bridesmaid dresses shown above? You can buy the EXACT same dresses online from Amazon, or very similar ones.
You can buy the EXACT same art deco bridesmaid dress shown on the far right online!
More Art Deco Dresses for Gatsby Themed Parties (For Fun!)
These parties are perfect for a 1920s Gatsby themed party!
1920s V Neck Beaded Sequin Gatsby Evening Dress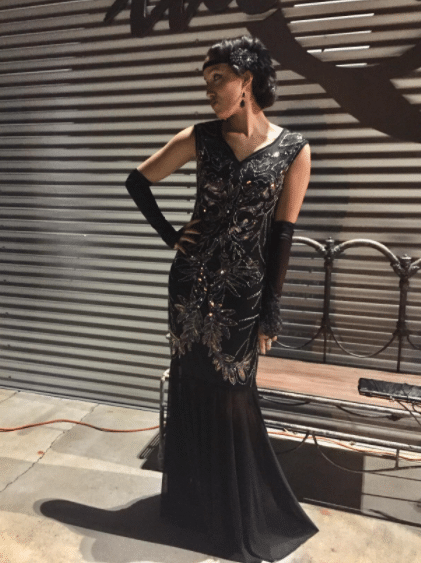 White Gatsby Dress with Art Deco Style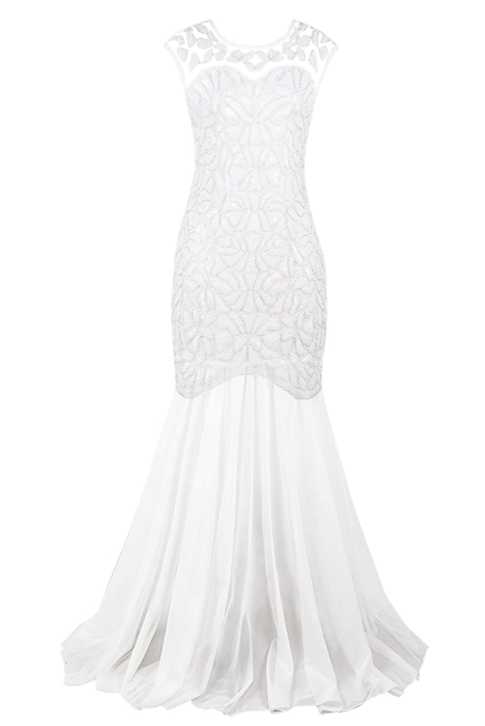 1920s Beaded A-Line Gatsby Evening Dress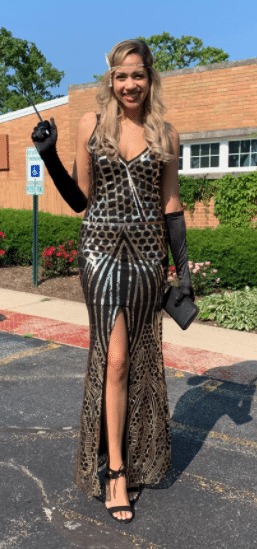 1920s Sequin Vintage Flapper Gown and Art Deco Dress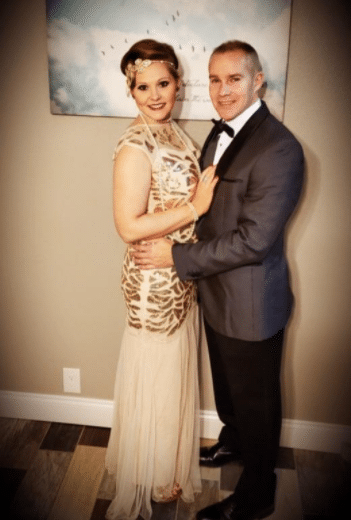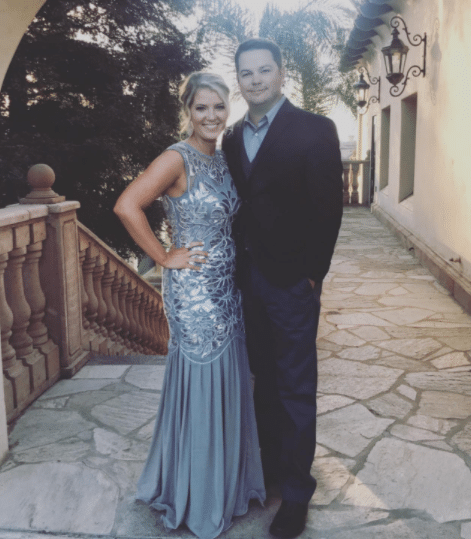 1920s Long Slit V Neck Mermaid Art Deck Dress (Under $50!)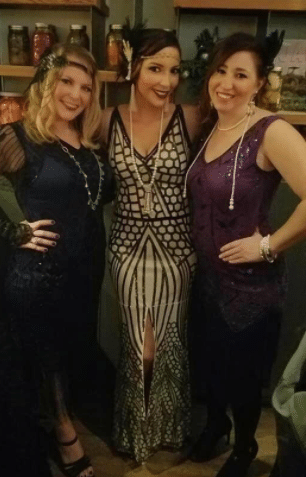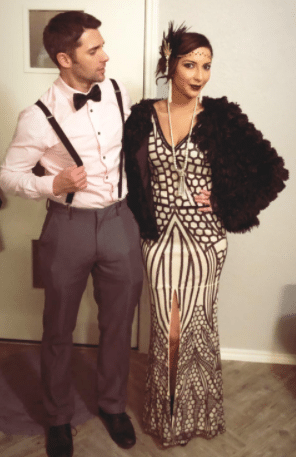 1920s Gatsby Cocktail Art Deco Flapper Dress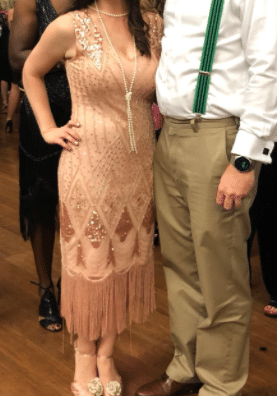 Dresses on Pinterest
Want even more inspiration? Check out these Pinterest pages by Very Easy Makeup.
Wedding Dresses Under $100 and Under $200
Bohemian and Beach Wedding Dresses
Related Fashion Articles by Very Easy Makeup
If you enjoyed this article, check out these similar articles and pages by Very Easy Makeup.
All Things Hair by Very Easy Makeup
5 Simple Makeup Items to Use Daily (and Makeup for Beginners!)
The Best High SPF Tinted Moisturizers
Connect with Very Easy Makeup
I'd love to connect with you!
Follow Very Easy Makeup on Facebook to get notified of new beauty, makeup, and fashion posts!
Please subscribe to the Very Easy Makeup YouTube channel. You'll find how-to tutorials for very easy makeup and bleaching hair blonde at home.
Sign up for the Very Easy Makeup Newsletter.