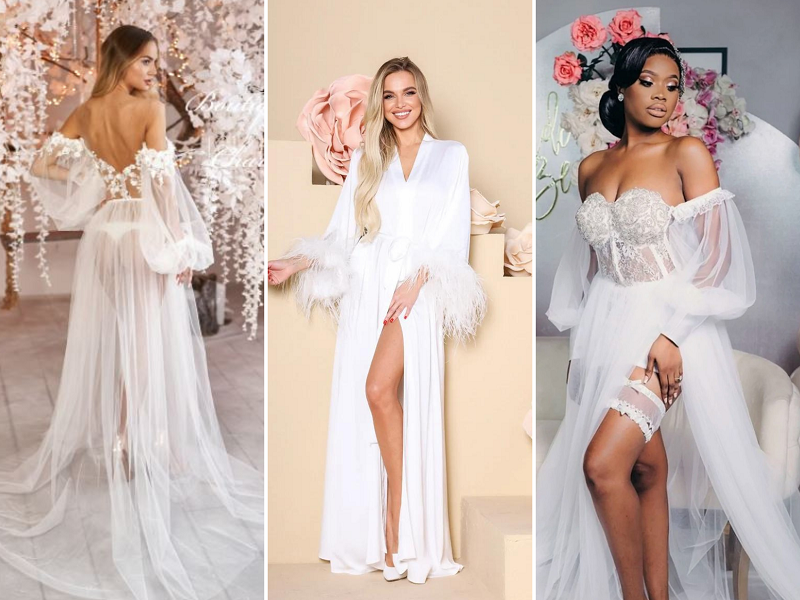 Best Bridal Robes
Searching for a cute (or sexy!) bridal robe to wear on your wedding day, or maybe on your wedding night? 😊
After your bachelorette party, bridal shower, and wedding…the party isn't over!
Whether you are heading off on your honeymoon or staying in town, having white pajamas for your wedding night is a must.
And while you are at it, why not get a gorgeous white bridal robe?
The best bridal robes include a mix of long bridal robes, lace bridal robes, and long luxury bridal robes with elegant details.
This wedding guide is all about the best bridal robes to wear on your wedding night.
This post may contain affiliate links. View the disclosure here.
Best Bridal Robes to Make Him Swoon
This guide with the best bridal robes includes:
Long luxury bridal robes and long bridal robes with a train
Lace luxury bridal robes
Sheer luxury bridal robes
Silk luxury bridal robes
Best affordable bridal robes under $45 on Amazon
P.S. If you don't want to spend a lot of money on a bridal robe but you want to wear something that looks like it was $100+ from Nordstrom, you are in luck!
Amazon has a LOT of amazing bridal robes…you just have to know where to look! Continue scrolling to the end to find the best bridal robes for the bride-to-be on Amazon.
Best Lace Luxury Bridal Robes
These lace luxury bridal robes are oh-so-pretty!
Georgina Long Lace Robe (Sizes: XS to Large)
The Adelina Lace Bridal Robe with Scallop Lace Trim
White Lace Bridal Robe by BlushBlossomSugar
Helena Long Robe by Homebodii (Sizes: Small to Large)
Lace Trim Bridal Robe by LeRoseGifts
Lace Bridal Robe by BYCATALFO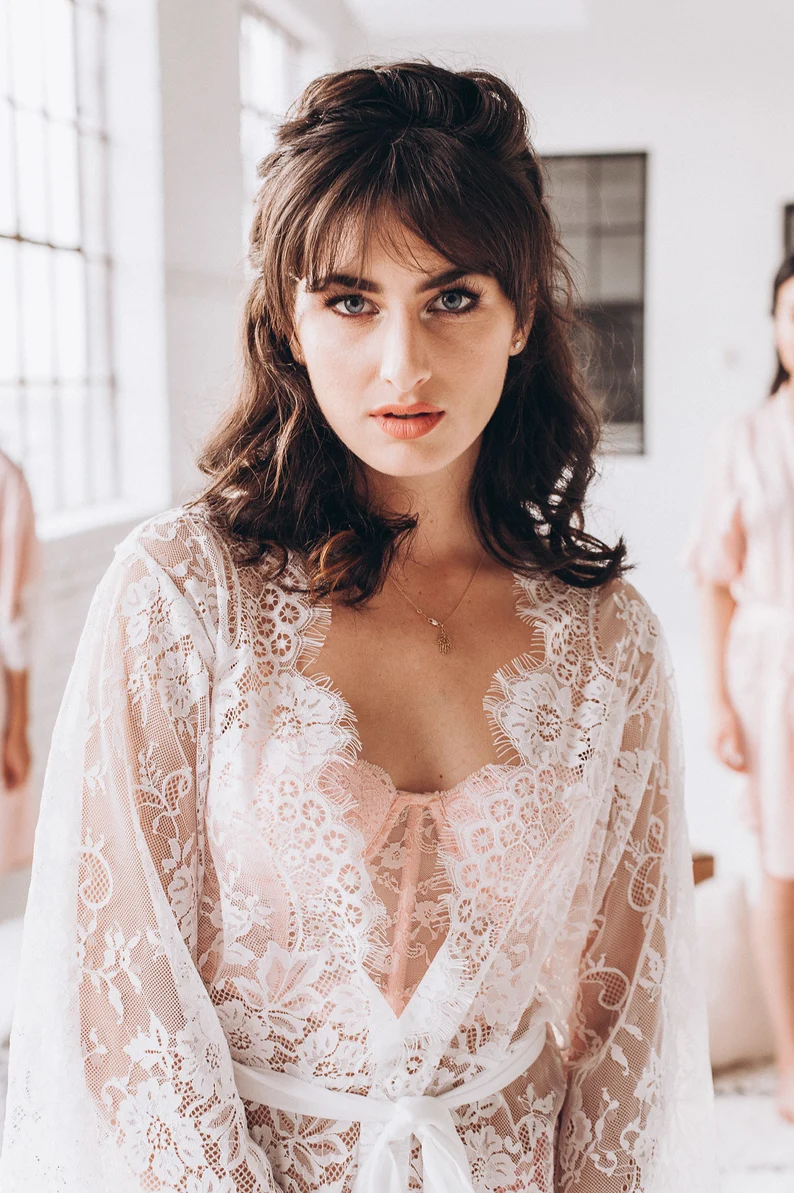 Best Long Luxury Bridal Robes
A long bridal robe is classy and sexy!
Long White Bridal Robe by FeerieLingerie
Long Wedding Robe with a Train by SofiWeddingDress
Avril Linen Frill Robe by Homeboddi (Sizes: L/XL)
Satin Bridal Robe by SarafinaDreams
Lace Bridal Robe by LirettaWedding
Luxury Bridal Robes with Train
A luxury bridal robe with a train is so unique and glamorous!
Luxury Bridal Robe with Tulle by BoutiqueDeCharme
Full-Length Lace Bridal Robe with Train by Endless Temptations
White Bridal Robe with Tulle by KaftanAndBrides
Bridal Robe with Butterflies and Tulle by SofiWeddingDress
Long Luxury Bridal Robes with Tulle
Knee Length Luxury Bridal Robes
Best Affordable Bridal Robes on Amazon
Amazon is GREAT for finding affordable bridal robes.
Plus, Amazon often sells the exact same (yes, the exact same!) bridal robes that you will find on boutique wedding sites for a lot less.
If you want to spend less than $50 on a bridal robe, check out these highly-rated bridal robes on Amazon. Seriously…these bridal robes look like they cost $75+ but they are less than $50!
These are the best-rated bridal robes on Amazon.
1. RSLOVE Lace Kimono Robe (Sizes: Small to XX-Large)
You can't go wrong with a sexy white, lace bridal robe.
2. RSLOVE Eyelash Nightgown Dress (Sizes: Small to 3X-Large)
3. Floerns Light Pink Ruffle Kimono Robe
4. Hotouch Satin Robe (Sizes: X-Small to XX-Large)
5. SIORO Simple Satin White Robe (Sizes: Small to XX-Large)
This white bridesmaid robe is perfect for the bride and bridesmaids. Plus, this white robe is less than $35 on Amazon!
RELATED: Best Bridesmaid Robes
6. Heather & Willow Bride Robe
View Bridal Robe and Bridesmaid Robes on Amazon
The great thing about this white bridal robe is you can get matching light pink or dark blue robes for your bridesmaids.
View Bridal Robe and Bridesmaid Robes on Amazon
Tip: Buy this bridal robe on Amazon. You can find the exact same robe by other sellers on Etsy for almost double the price!
7. Bride and Bridesmaid Nightgown by DF-deals
View Bridal Robe and Bridesmaid Robes on Amazon
The awesome thing about this bridal robe is you can get the matching mother of the bride and bridesmaid robes too!
8. Bride Rhinestone Robes
This bridal robe has "Bride" written on the back in rhinestones. So pretty!
You can also get the matching bridesmaid, maid of honor, matron of honor, and mother of the bride robes to match as well!
9. Feather Bridal Robe (Sizes: Small to 3X-Large)
Want a bridal robe with feathers? Then you MUST check out this feather bridal robe on Amazon!
10. Sexy See Through Bridal Robe with Feathers
Want a sexy see-through bridal robe with feathers? Then this is the one to get!
Women also love this robe for maternity photoshoots and birthday photoshoots.
Cute Bridal Slippers to Wear with a Bridal Nightgown
These bridal slippers get amazing reviews from brides!
I Do Slippers
View Bridal Slippers on Amazon
If you want to really get into the wedding spirit, then get these fun "I Do" slippers. You can also get fun bridesmaid slippers that say, "I Do Crew" on Amazon. It's perfect for bachelorette parties.
Super Soft Cushy Slippers
View Bridal Slippers on Amazon
You'll feel like a princess in these slippers. Women say these slippers are super soft and comfortable. Plus, they are so cute!
What to Wear Under Your Bridal Robe
Not sure what to wear under your brand-new bridal robe?
Here are a few ideas.
1. A Sexy Pajama Set
You can't go wrong with a sexy two piece bridal pajama set.
2. Nothing
Seriously…it's your honeymoon/wedding night!
3. Beautiful Bridal Pajamas
You will love these bridal pajamas. Below is one of my favorites!
4. A Sexy Lace Thong
Because you know men love a woman in a sexy thong. 😉
5. A Lace Bodysuit
A sexy lace bodysuit under your luxury bridal robe will be a fun surprise.
6. Sexy Sheer Teddy
You can't go wrong with a sexy white teddy under your bridal robe. If you are getting married in December, you may love these sexy red Christmas pajamas and teddies.
7. A Silk Nightgown
Silk nightgowns are so luxurious! Wear one under your bridal robe on your wedding night and throughout the year.
View Nightgown at Victoria's Secret
8. Cute Bra and Panties
A girl always needs a good comfortable bra and a cute matching bra and panties set.
View Bra and Panties on Amazon
Sexy Bridal Teddy and Bodysuit to Wear Under Your Bridal Robe
Of course, a bride-to-be can't forget to buy herself some sexy underwear for her wedding night, a cute teddy/nightgown, and some fun slippers!
If you can afford it, go ahead and buy yourself two or three sexy teddies/nightgowns. That way you'll have something to wear on your honeymoon too. 😊
Sexy Babydoll Teddy by Avidlove (Sizes: X-Small to 4X-Large)
This sexy babydoll also comes in hot pink, black, green, and red.
Tip: This babydoll in red is PERFECT for sexy Christmas pajamas.
AVIDLOVE Bodysuit
Connect with Very Easy Makeup
I'd love to connect with you!
Follow Very Easy Makeup on Facebook to get notified of new beauty, makeup, and fashion posts!
Please subscribe to the Very Easy Makeup YouTube channel. You'll find how-to tutorials for very easy makeup and bleaching hair blonde at home.
Sign up for the Very Easy Makeup Newsletter.
Lots of love!
Christina Marie from Very Easy Makeup (offering beauty product reviews, very easy makeup tips, and self-care tips for women)