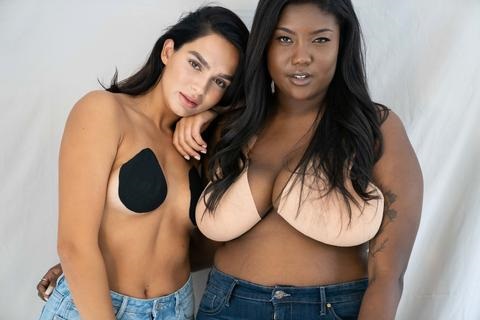 Best Boob Tape
Some dresses and outfits (think backless, strapless shirts and dresses) call for a GOOD sticky/bra boob tape.
But what's the best boob tape for backless dresses and strapless shirts?
This post may contain affiliate links. View the disclosure here.
Best Boob Tape
Ladies – have no fear. Christina Marie from Very Easy Makeup is here.
I'm a member of a woman's group and this question came up: What's the best boob tape for backless dresses?
Here are the answers from REAL women on the best boob tape for sexy backless dresses.
3 Best Boob Tapes for Backless Dresses
Want to know the three best boob tapes for backless dresses?
Here are the top three brands/boob tapes to choose from, according to my friends.
1. Nippies by Bristols 6
Okay, so Nippies aren't technically a boob tape – but Nippies came up as the recommended thing to wear under backless dresses.
If you don't want to wear boob tape, go with Nippies.
One woman said, "I'm a 36DD. Nippies are the best petals ever. They're taped (thicker in the middle, thinner at the edges) so they're undetectable 99% of the time.
2. Good Lines
Good Lines is an up-and-coming brand that got good reviews too. They are worth checking out!
3. Boob Tape by OKELA
The best boob tape for strapless dresses is by OKELA...and it's on Amazon! My friends said this boob tape is their go-to because it's affordable and because it works.
My friend who is a size 38D even feels secure with this boob tape.
One woman said, "Beats expectations and any actual bra I've ever owned! Now the tape, that stuff is MAGIC, it's stretchy so you don't lose natural movements and it's also perfect for keeping your curves and not squaring you off." – Kaitlin B.
Boob tape doesn't need to be fancy. It just needs to work, and this does the trick.
Women with DD cups and G cups (yes, you read that right!) give this boob tape 5/5 stars on Amazon.
This boob tape also includes two petal nipple covers. That's an added bonus!
Added bonus? The OKELA boob tape for backless dresses is less than $20 on Amazon.
An Alternative to the Best Boob Tape – A Strapless Bra
An alternative to boob tape is to find an AWESOME strapless, backless bra.
One of my friends loves the sticky bras by Unmooie on Amazon.
Promising Review:
" The best! Super sticky! I am a D size and after breastfeeding two kids I need a lot more support. These held extremely well. My girls looked perky and secure. I wore 3 times during hot weather and not once did they loose their adhesiveness." - D C
More Articles by Very Easy Makeup
Did you like this article on the best boob tape for strapless dresses? Check out these related articles
One Piece Swimsuits for Juniors
Best Casual Sneakers for Women
Connect with Very Easy Makeup
I'd love to connect with you!
Follow Very Easy Makeup on Facebook to get notified of new beauty, makeup, and fashion posts!
Please subscribe to the Very Easy Makeup YouTube channel. You'll find how-to tutorials for very easy makeup and bleaching hair blonde at home.
Sign up for the Very Easy Makeup Newsletter.