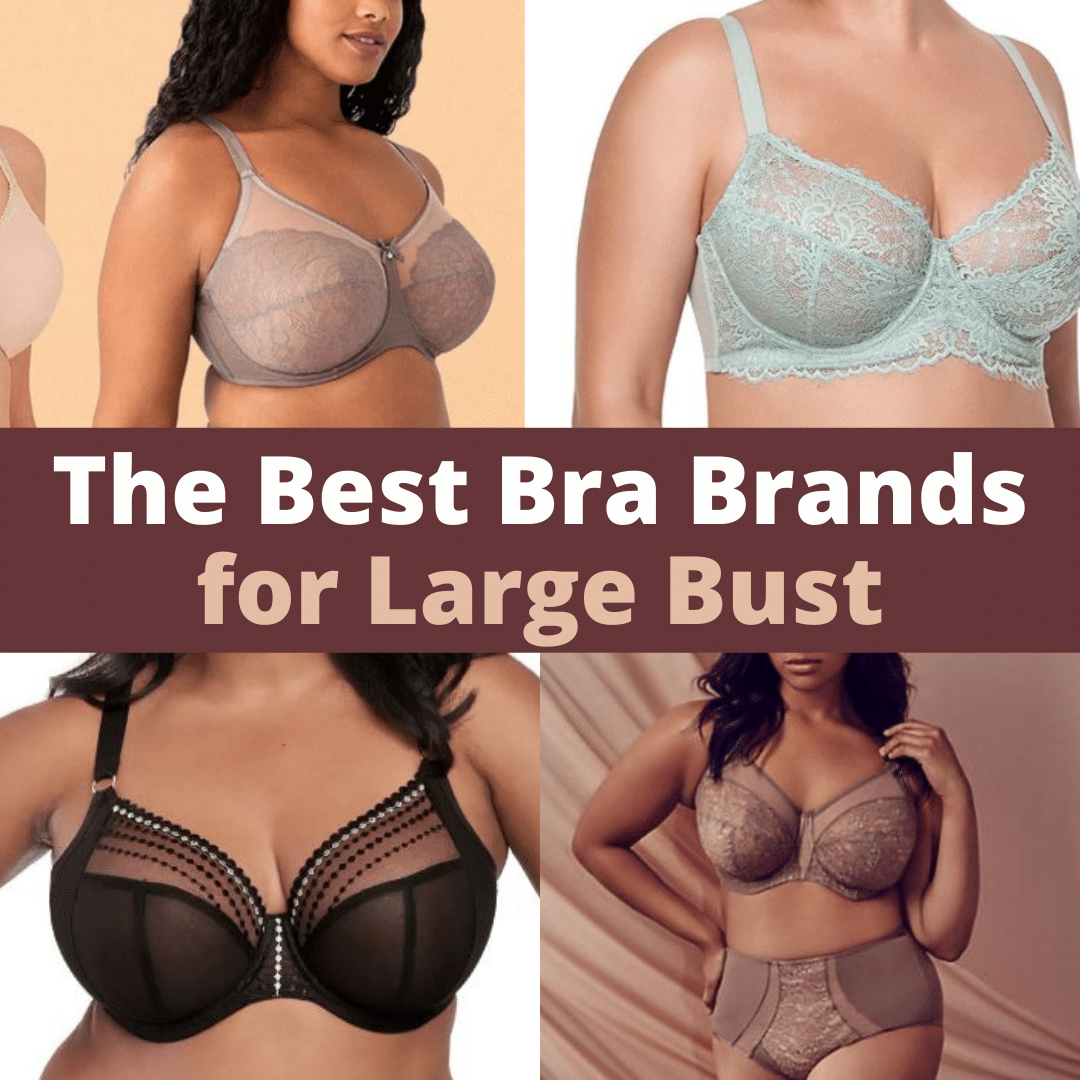 Best Bras for Large Bust
There are SO many bra brands out there, but only a select few are made for women with a larger bust in mind.
The Best Bra Brands for Large Bust
If you want to get a new bra, check out these bra brands. These are the 10 very best bra brands for large bust. These bra brands are also great for plus size and women with DDD cup.
This post may contain affiliate links. View the disclosure here.
Criteria for the Best Bra Brands for Large Bust
Want to know how I came up with this top 10 list?
Bras had to meet the following criteria.
Offer multiple bras in size DDD and up
Have at least 1-2 signature bras with 4.5/5.0 star review reviews by women
Sell bras for under $50 online
10 Best Bra Brands for Large Bust
Here's the top 10 list of the best bras for large bust, as well as 1-2 bras to check out from each brand.
1. Wacoal
Wacoal is one of the best bra brands for large bust. One of the most popular Wacoal bras is the Wacoal Awareness Full Figure Underwire bra. Wacoal bras are relatively simple and Wacoal sells minimizer bras.
Wacoal bras come in sizes up to 44DDD, 44G, and 44H.
Wacoal also has a good strapless bra (with straps available!) for large bust women.
2. Curvy Couture
One of the most popular bras is the Curvy Couture Tulip Lace Push Up Bra.
One woman with size 38G said, "My favorite of all time. The bra lifts, separates and actually boosts the girls up...I've been to expensive boutiques for fittings and paid a lot more for lesser quality bras." - Lisa R.
3. Natori
Natori is not only one of the best bra brands for large bust, it is also one of the best bra brands of all time! (In my opinion)
One of the top selling bras by Natori is the Bliss Perfection Contour Bra (shown above).
The Natori Feathers Plunge Bra is also a fan favorite.
This bra for large bust comes in sizes DDD and G.
4. Fantasie
Fantasie has so many bras to choose from! That's what makes it one of the best brands for large bust.
The Fantasie Estrelle Side Support Bra is very popular.
5. GODDESS
The GODDESS Bridget Full Coverage underwire bra is popular. It comes in sizes DDD, H, and I and goes up to L.
Lots of the GODDESS bras are shiny with a unique style that reminds me of the 60s. GODDESS bras go up to sizes K and L.
6. Glamorise
7. Panache
Panache is one of the best bra brands for large bust if you choose the right style or bra and the right size (you may need to read the reviews and go down a size).
The Panache Envy Balconnet Bra gets GREAT reviews.
Panache also makes REALLY good sports bras for women with a large bust.
8. Chantelle
The Chantelle Rive Gauche Full Coverage Bra gets GREAT reviews. Yes, it's more than $80 on Amazon, but it's worth it!
Women also love the Chantelle Parisian Allure Side Support Bra.
9. HSIA
I LOVE HSIA as a bra brand for large busts. Their bras feature lace and are so, so pretty AND sexy!
I love the HSIA Minimizer Sheer Sexy Bra.
This bra also has matching underwear.
This is one of the best bras for large bust. It is comfortable, well made, and so beautiful! Choose from blue, light gray, black, tan, pink, and light green.
HSIA also has a pretty floral lace bra.
Women absolutely LOVE this bra! This is probably the best bra for large bust. It gets 5 star reviews from almost every woman, from women with size 34DDD up to 44DDDD. Buy this bra in multiple colors. You won't regret it!
10. Elomi
The Elomi Matilda Unlined Plunge Bra (shown above) is popular.
Women love this bra. They say it is pretty, supportive, and well made.
Love Floral? The Best Bra Brand for Large Bust with Cute, Feminine Bras
Searching for one of the best bras for large bust that's cute? Maybe something for spring or summer?
Check out these bras for women with a large bust.
Fantasie is a GREAT bra brand to check out if you have a larger bust and want cute pretty bras.
1. Fantasie Tamara Side Support Bra
2. Fantasie Caroline Side Support Bra
3. Fantasie Josie Side Support Bra
The Best Sexy Bra for Large Bust
I love the Smart & Sexy bra the most for women with a large bust. It's so pretty too!
More Articles by Very Easy Makeup
Did you like this article?
Please give it 5 stars below, leave a comment, and share it with friends on Facebook!
You may also like these related articles and pages by Very Easy Makeup.
Best Dresses for Curvy Figures
The Best Plus Size Wedding Guest Dresses with Sleeves
Connect with Very Easy Makeup
I'd love to connect with you!
Follow Very Easy Makeup on Facebook to get notified of new beauty, makeup, and fashion posts!
Please subscribe to the Very Easy Makeup YouTube channel. You'll find how-to tutorials for very easy makeup and bleaching hair blonde at home.
Sign up for the Very Easy Makeup Newsletter.