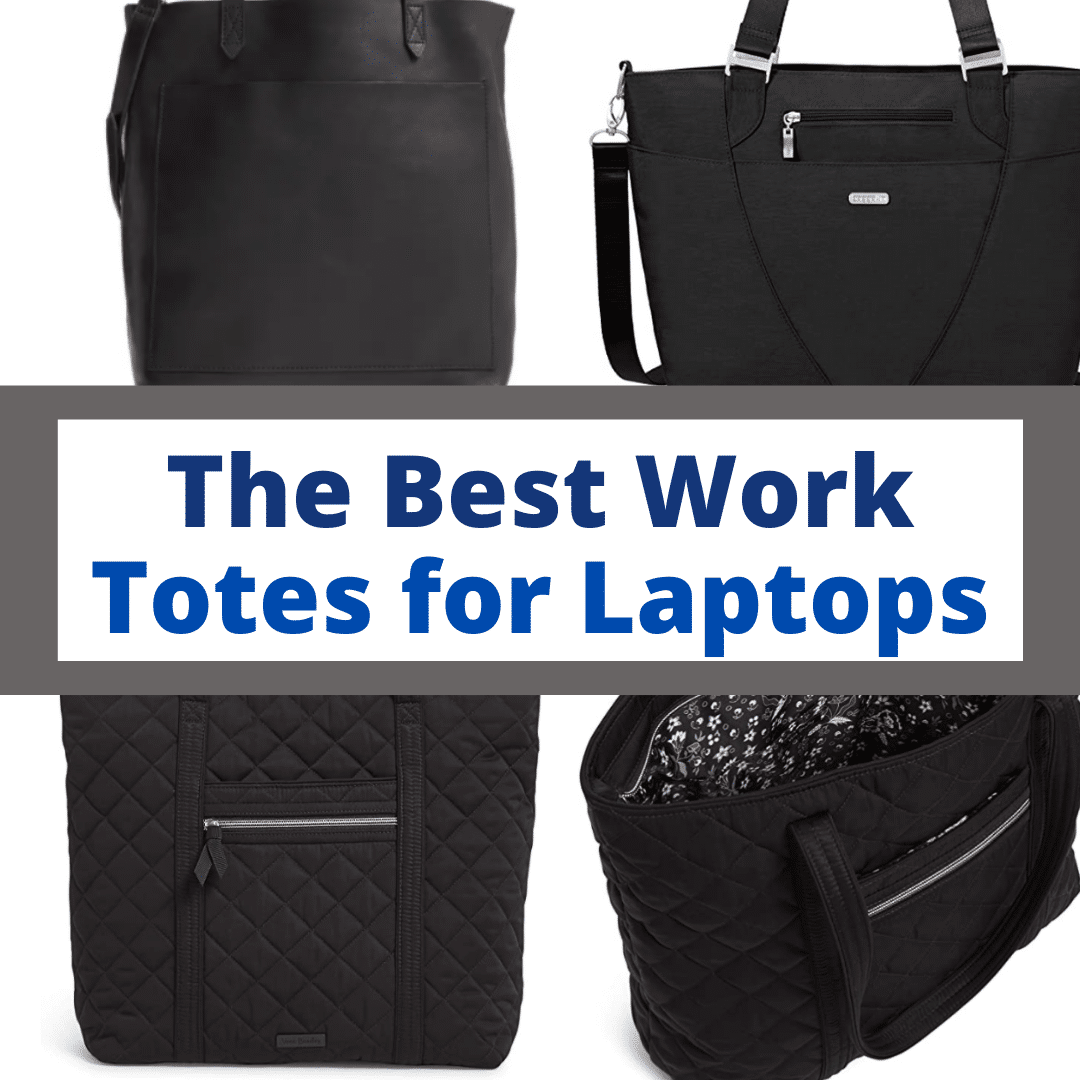 Best Work Totes for Laptops
My work provides a company backpack for laptops, but it's not very attractive or feminine.
If you want a large tote that is actually attractive AND that holds your laptop, check out these cute work totes.
These are the best totes for carrying your laptop. Best of all, all of them have pockets and are great for travel too! Between lunch, healthy snacks, my water bottle, my makeup bag, and my daily calendar...I need a big tote!
This article may contain affiliate links. View the disclosure here.
The Best Work Totes for Laptops
Work backpacks are "in" right now, but I find them to be more cumbersome than being able to easily throw everything into a large tote.
The Best Work Totes for Laptops with Pockets!
If you want a solid work purse for travel and/or for carrying your laptop, check out these three work totes and purses.
1. Madewell Medium Transport Tote
The Madwell Medium Leather Transport Tote comes in black and brown. It is a classy-looking leather bag with over-the-shoulder straps.
It holds up well and makes for a perfect travel bag.
2. Very Bradley Performance Twill Vera Tote Bag – Attractive Work Purse for Travel and Weekend Trips
The Very Bradley Performance tote bag has pockets on the outside (so convenient!) and is quite sturdy.
It will easily hold your laptop and the Very Bradley purse has a water-repellent coating on the outside.
The only downside is that the work purse does not have interior pockets.
3. Baggallini Avenue Women's Work Bag for Laptops and Travel with Lots of Pockets
This work and travel purse/bag by Baggallini has zippered pockets on both the inside and on the outside for convenience while traveling.
If you are constantly traveling and on-the-go, this sophisticated and functional work purse will get the job done.
Best Work Purse for Fall
This white and navy blue purse is so cute for work outfits! Especially in the fall.
Get this Purse and Cute Outfit!
The Best Purses for Weekends, Date Night, and Brunch
Want to explore the best purses for weekends, date nights, and girls' brunch?
Are you on the hunt for an attractive, affordable designer purse that is NOT coach?
Check out the most affordable designer purses under $500.
Why own a Coach bag when you can be stylish with a unique (and more affordable!) purse?
Please Connect with Very Easy Makeup!
Did you find this article helpful? Please give it five stars below and share it on Facebook or Twitter.
I'd also love to hear from you!
Leave a comment below and please connect with Very Easy Makeup on social media.
Follow Very Easy Makeup on Facebook to get notified of new beauty, makeup, and fashion posts!
Please subscribe to the Very Easy Makeup YouTube channel. You'll find how-to tutorials for very easy makeup and bleaching hair blonde at home.
Sign up for the Very Easy Makeup Newsletter.
Enjoy your new fashionable work purse!
Christina Marie from Very Easy Makeup (just a girl who is passionate about beauty and fashion)