Seventh Sense CBD Bath Bomb Review – Do CBD Bath Bombs Work?
This post may contain affiliate links, which means I may earn a commission if you decide to make a purchase through our links, at no cost to you. You may view the disclosure here.
Seventh Sense CBD Bath Bombs Review
I've been stressed recently and wanted to try a CBD bath bomb to relax.
My normal go-to solutions for stress relief – pure barre, volleyball, deep breaths, yoga, and dancing, weren't cutting it.
A stressful event happened with a boy (I hate it when boys affect you!), and I needed to chill.
I decided to try a CBD bath bomb after my slightly hippie coworker praised the magic of CBD bath bombs.
So when I saw the Seventh Sense pop-up shop in the Atlanta Lenox Mall during my lunch-time walk, I paused to stop. Could I relieve stress with CBD bath bombs by Seventh Sense? It sounded good.
I purchased one of their $9.95 50MG CBD bath bombs in Cedar Jasmine and decided to give CBD bath bombs a try.
Seventh Sense CBD Bath Bombs Review Summary: Overall, I'll say that I liked the Seventh Sense CBD Bath Bombs. However, they didn't work any wonders for me. Go ahead and try a CBD Bath Bomb, but taking an Epsom salt bath and lighting candles may be just as relaxing.
This post contains affiliate links. View the disclosure here.
All the Feels CBD Bath Bomb by Seventh Sense Botanical Therapy Review: What I Liked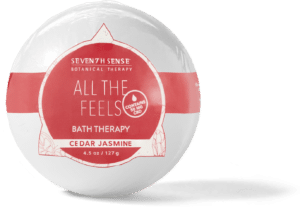 Seventh Sense CBD Bath Bomb Review: What I Liked
Here's what I liked about the Seventh Sense Botanical Therapy CBD bath bomb
Great size. Definitely large enough for a full bathtub.
A good amount of CBD. 50 mg of CBD in the bath bombs, which is the standard amount.
Soothing oils. I usually don't like oils. Usually, oil feels greasy. But the light oil from the CBD bath bomb made my legs super smooth. (Perfect for winter!) I was even inspired to shave my legs in the tub, using the oil as a substitute for shaving cream.
Sleep inducing. I can never nap. Never. After a hot bath with the CBD bath bomb by SEVEN7H SENSE, I happily slept for a solid hour.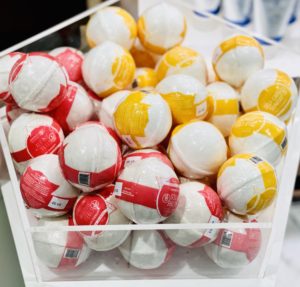 What I didn't like about the CBD bath bomb
Sadly, the CBD bath bombs didn't do much for me. They just weren't magical like I was hoping!
No change to stress or worries. I was hoping I'd feel mentally relaxed after taking a bath with this CBD stuff. I felt no change at all. My worries and concerns still existed.
Not a great smell. The man suggested Cedar Jasmine or Citrus Blossom for the ladies. I chose Cedar Jasmine and didn't care for it at all. It reminded me of incense.
Expensive price. For more than $10 a piece, I'd rather buy colorful, coconut smelling bath bombs, like the Love Beauty Coconut Water bath bomb.
No relief to sore muscles. I was hoping this would relieve my sore muscles like Epson salts, but my back was still hurting me after using the CBD bath bomb.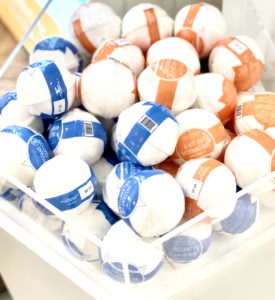 What's Next in CBD Bath Bombs?
I don't want to give up on bath bombs yet. I'd like to give the CBD bath bombs by Kush Queen a try.
Other top-ranked CBD bath bomb brands include cbdMD, Pure Hemp, and Warfighter Hemp bath bombs.
Your local Whole Foods may sell CBD bath bombs.
Or if you live in Atlanta, check out Little Five Points for a local store selling CBD bath bombs.
Alternatives to CBD Bath Bombs: More Ways to Reduce Stress
I'd also like to explore non-CBD bath bombs.
If you want more ways to reduce stress and anxiety, here are a few ideas.
1. Try non-BMS bath bombs
The shimmery, colorful Twilight bath bomb by Lush caught my eye.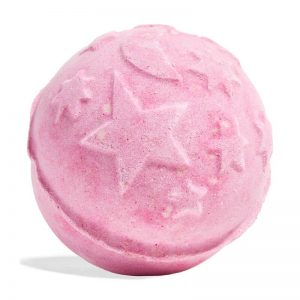 2. Try aromatherapy
Check out my article "How to Reduce Stress with Aromatherapy," which has helped me relax at home.
3. Listen to music you love
I find that listening to my favorite Pandora station does the trick.
Alternatives to CBD Bath Bombs for Pain
My mom was quite disappointed when she had pretty bad joint pain (due to cancer pills) and I ran to one of the best-rated CBD stores in St. Pete, FL to buy a $60 bottle of CBD cream. And…it didn't work (sadly).
But, my mom has found that these things help with the pain. I'm no doctor, but these things are worth a shot!
1. Advil
Of course, a simple over-the-counter pain medication like Advil may help.
I never travel without Advil, in case I get a headache or something like that.
Advil is always in my suitcase for trips.
2. Hot Epson Salt Bath
If you have muscle pain, try taking a hot Epson salt bath.
Tip: You can buy really CHEAP Epson salts on Amazon and at Dollar Tree.
3. Tiger Balm
Rub Tiger Balm on your sore muscles.
4. Salonpas
My mom swears by Salonpas for pain. I also use Salonpas when I have back pain during my period.
5. Bengay
If you have muscle soreness from working out too much, Bengay is really good.
Lots of love!
Christina Marie from Very Easy Makeup (find me on Instagram and Facebook, or YouTube!)