10 Best Purple Shampoos for Brassy Hair
This post may contain affiliate links, which means I may earn a commission if you decide to make a purchase through our links, at no cost to you. You may view the disclosure here.
Best Purple Shampoos for Brassiness
If you have orange brassy hair or yellow brassy hair, you need a good purple shampoo.
The list of "the best" purple shampoos can be a bit overwhelming!
If you are only going to choose one purple shampoo to fix brassy hair, I'd highly recommend the Oligo Blacklight shampoo. It's the best!
Oligo is the best purple shampoo for brassy blonde hair, brassy yellow hair, and brassy orange hair.
You can see a complete review of Oligo here.
This guide with the 10 top best purple shampoos includes:
The best purple shampoo under $10
The best premium purple shampoo
Purple shampoos for highlighted hair
This post contains affiliate links. View the disclosure here.
10 Best Shampoos for Brassy Hair
Alright, let's get into it! Below are the 10 best shampoos for brassy hair.
Perfect for fixing brassy yellow hair and brassy orange hair.
1. Oligo Blacklight Purple Shampoo
2. Fanola No Yellow Shampoo
This shampoo is highly rated on Amazon. I tried Fanola No Yellow Shampoo and it's my second favorite purple shampoo for blondes.
Takeaway: The Fanola No Yellow Shampoo is likely a solid choice for removing yellow tones from blonde hair.
3. Oribe Bright Blonde Shampoo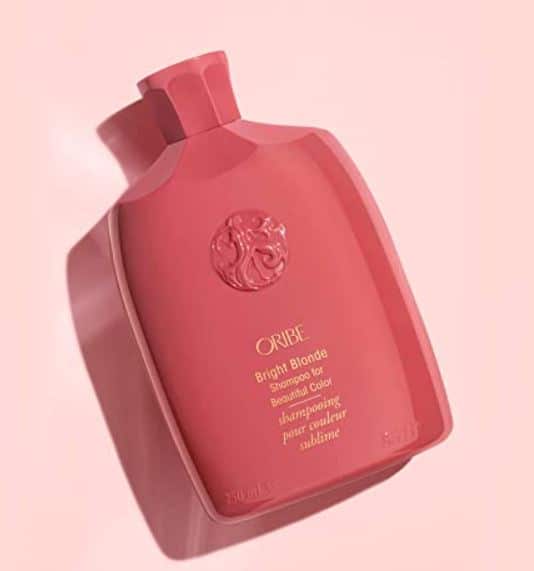 This sulfate-free shampoo is highly rated. I received a free sample from my hair stylist and liked it. It removes brassiness and the Oribe bright blonde shampoo smells really good. Unfortunately, it's also $45+ a bottle.
Buyer beware: Be careful about buying the Oribe blonde shampoo on Amazon. It may be a dupe. Buy it from Nordstrom to be safe.
Takeaway: If you like luxury beauty products and can afford it, Oribe is a good choice. I still like the Blacklight violet shampoo more.
4. Amika Bust Your Brass Cool Blonde Shampoo
I haven't used this purple shampoo, but it is relatively well-rated on Sephora and Amazon. Women like that the Amika purple shampoo doesn't dry hair out and that it removes unwanted brassiness. Others commented that the Amika purple shampoo can leave hair feeling oily and weighed down.
Takeaway: Amika is definitely better than Shimmer Lights and other purple shampoos not reviewed here (e.g., Schwarzkopf Blonde Me and Alchemic Silver Shampoo & Conditioner). But it's not better than the Blacklight shampoo by Oligo. Go with the Oligo Blacklight shampoo, as both products are about the same price.
5. Joico Balance Purple Shampoo
I used the Joico purple shampoo before I discovered the Blacklight violet shampoo. It works, but I had to the Joico purple shampoo 3-4 times a week to see results. I also had to leave it on my hair for about 10 minutes for it to remove the yellow hues in my blonde hair.
Most women love Joico purple shampoo (it's highly rated!), but I think that's because they haven't heard of the Oligo purple shampoo. Joico simply does a better job at marketing and distribution.
Takeaway: Use Oligo instead of Joico. They are both about the same price, and you only need to use Oligo once per week for 5 minutes to see results versus 3-4 times a week for 10+ minutes.
6. Bold Unique Purple Shampoo
I haven't tried the purple shampoo by Bold Uniq yet, but it gets solid reviews on Amazon. Women with super blonde hair or gray hair love the purple shampoo by Bold Uniq.
From the pictures online, I actually don't like how the B Unique purple shampoo looks after use. It made women's hair look purple and gray versus shining, luminous blonde.
Takeaway: Don't use the Bold Uniq purple shampoo if you want luminous, shining, blonde hair. If you want your hair to look dull silver or ash and have strong hints of purple showing through, go ahead and use it.
7. John Frieda Violet Crush Blonde Purple Shampoo
I used this as a daily shampoo when my hair was super blonde with Wella T18. For a daily shampoo at a drugstore price, this is a good pick.
Takeaway: Use John Frieda purple shampoo if you have platinum or silver hair and want a drugstore-priced purple shampoo for daily use.
8. R+Co Sunset Boulevard Blonde Shampoo
Along with the Oribe purple shampoo, my hair stylist gave me the R+Co purple shampoo as a top pick. It smells AMAZING and comes in a pretty bottle. (It reminds me of Southern California!). It's not super pigmented, so it's a great option for daily use.
Takeaway: If you want a purple shampoo for daily use and can afford to splurge a bit, go with R+Co.
9. ArtNaturals Purple Shampoo
I bought the ArtNaturals purple shampoo on Amazon due to its raving reviews. It's meant as a daily purple shampoo, but I honestly didn't see too much difference in my hair. Plus, I had to use a lot of the conditioner to make my hair soft, and it just didn't seem as great as other conditioners that I've used.
Takeaway: Not worth it. Ignore the reviews on Amazon.
10. Clairol Professional Shimmer Lights Purple Shampoo
I'd stay away from this shampoo. It dried out my hair and removed all of the pretty blonde highlights that I had.
Takeaway: Don't use Shimmer Lights purple shampoo.
What's Your Favorite Purple Shampoo?
Have a favorite purple shampoo not mentioned above? I'd love to hear from you!
Please leave a comment below!