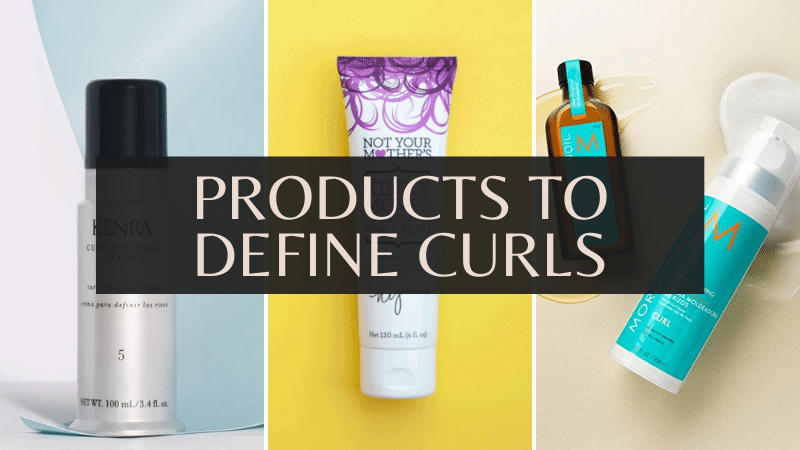 Hair Products to Define Curls
Do you have curly hair, that seems unmanageable?
If yes, you are not alone.
Curly hair is so, so pretty! But curly hair can also be unruly at times. Thankfully, the right hair products can help manage and define your beautiful curls.
This post may contain affiliate links. View the disclosure here.
Best Hair Products to Define Curls
This hair guide is all about the best hair products to define curls.
If you have naturally curly hair and want to protect against frizz and define your curls, check out these hair products.
5 Best Hair Products to Define Curls in 2023
Here's a top 5 list of the best products to define curls.
You may also want to check out these top-rated products to control frizzy hair.
1. Not Your Mother's Curl Cream
This cream provides a softer texture than a gel or a mousse.
Women with curly hair say that this cream holds curls all day and is the BEST ever for its scent, texture, and price.
2. John Frieda Frizz Ease Dream Curls Daily Styling Spray
This John Frieda spray for curls doesn't leave any residue on your hair or leave your hair feeling crunchy.
Reasons women with curly hair LOVE this hair product:
Creates waves without frizz
No crunchy texture/feel
Great for fine and thin hair
3. Moroccanoil Curl Defining Cream
This curl-defining cream gives curls a great shine and smells great!
Reasons Women Love This Curl-Defining Cream:
Makes curly hair look great!
Great for styling wavy hair
Smells great
4. KENRA Curl Defining Cream
This cream doesn't leave hair feeling greasy or heavy. It prevents frizz and doesn't leave hair crunchy or "wet looking."
Reasons Women LOVE this Hair Product for Curly Hair
Great hair product for defining curls
Makes hair look GREAT with no frizz
Creates soft, defined curls
5. Oribe Curl Control to Define Curls
This hair product works well for curly hair and wavy hair. It smells great too!
Reasons to Buy this Hair Product for Curly Hair:
Creates soft, touchable, bouncy curls
Works well with thin and curly hair
Creates wavy hair that is beautiful!
The Curly Girl Method to Define Curls
Check out the Curly Girl Method if you have curly hair too. Lots of girls swear by it!
No-Heat Method for Free-Free Curls
Another thing to research is "hair plopping."
Here's a great YouTube video!
Hair Dressers in Atlanta, GA that Specialize in Curly Hair
Live in Atlanta, GA? Check out these hair salons. They specialize in curly hair!
How to Keep Curly Hair Manageable Between Washes
Want ideas for how to keep curly hair manageable?
Here are a few tips for managing curly hair.
1. Use a Deep Conditioner
Use a Deep Conditioner like L'Oreal Nature's Therapy every month.
2. Use a Leave-in Treatment
Apply Shea Moisture leave-in treatment or use their shampoo and conditioner.
3. Use an Iron as Needed
Use a 1-inch curling iron (or smaller) to hit a few spots that look frizzy or messy.
4. Use the Right Hair Products
Use Aveda Rinseless Refresh on frizzy hair.
More Beauty, Hair, and Makeup from Very Easy Makeup
Did you like this article? Give it 5 stars below and share it with friends on Facebook!
Here are more articles by Very Easy Makeup that you may love.
I'd Love to Hear From You!
Please leave a comment below, and let me know if you have any questions about coloring your hair at home!
Christina Marie from Very Easy Makeup (offering at-home hair coloring tips, very easy makeup tutorials, and beauty product reviews)
All Things Beauty, Fashion, and Fun from Very Easy Makeup
Very Easy Makeup on Facebook
Follow Very Easy Makeup on Facebook to get notified of new beauty, makeup, and fashion posts!
Please subscribe to the Very Easy Makeup YouTube channel. You'll find how-to tutorials for very easy makeup and bleaching hair blonde at home.
Very Easy Makeup Newsletter
Sign up for the Very Easy Makeup Newsletter.