Purple Eyebrows and Hair: Unleash Your Vibrant Side!
This post may contain affiliate links, which means I may earn a commission if you decide to make a purchase through our links, at no cost to you. You may view the disclosure here.
Are you tired of scrolling through endless photo feeds only to come up empty-handed when searching for the perfect purple eyebrows and hair inspiration? Look no further!
This hair and beauty guide is all about purple eyebrows and hair. So let's dive right in! Below you'll find tips for choosing the perfect shade of purple and get ideas for purple eyebrows and purple hair.
Are Purple Eyebrows and Hair for You?
Before you take the plunge into the world of purple brows and hair, let's explore why this daring choice might be the perfect fit for you:
Express Yourself
Purple is a color that exudes creativity and individuality. If you're looking to break away from the norm and showcase your unique personality, purple eyebrows and hair can be your canvas. Plus, purple hair looks amazing on darker skinned women and lighter skinned women alike!!
Make a Statement
Tired of blending into the crowd? Purple brows and hair are a surefire way to make a memorable impression. Whether you're attending a party or simply strolling down the street, heads will turn!
Temporary Thrills
Not ready for a long-term commitment? Temporary hair dyes and eyebrow products allow you to experiment with the purple look without a lifelong dedication. It's all about having fun! Check out this 1-Day temporary purple hair spray on Amazon and this purple eyebrow cream and brush to get purple hair and purple eyebrows for 1-day!
Purple Eyebrows and Hair (Photo Library)
Buckle up! Below are some of my favorite incredible purple eyebrows and hair ideas to ignite your imagination!
1. Purple Curly Hair and Light Purple Eyebrows
If you have green eyes, then purple vibrant purple hair with purple eyebrows will really stand out! Make sure to wear a complementary lipstick to really make your whole look pop.
2. Dark Pink/Purple Hair and Eyebrows
A lighter/more pink shade or purple hair with matching purple eyebrows is always fun! For this look, you'll want to use Farmasi liquid lipstick and dark pink hair color!
3. Purple Eyebrows with Half Blonde and Half Purple Hair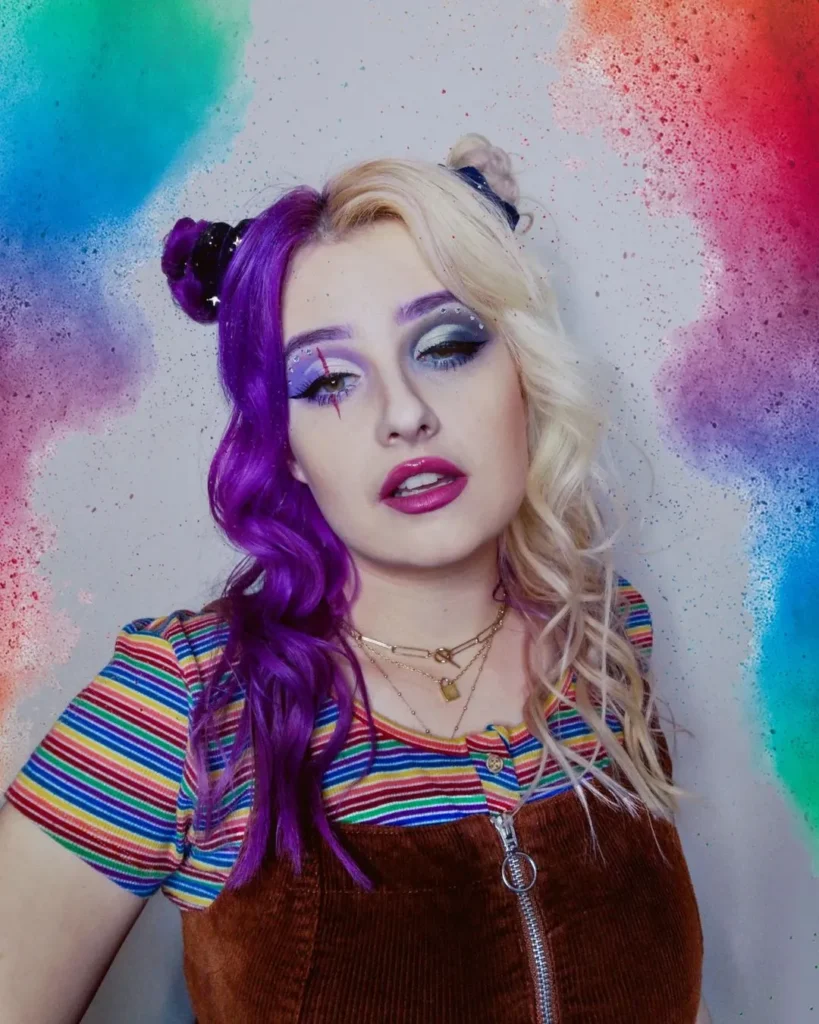 Purple eyebrows with blonde and purple hair is such a fun look! The space buns are super cute too! This hair and makeup combo are bringing serious Harley Quinn vibes or fun space alien Halloween costume vibes!
4. Lavender Purple Hair with Dark Purple Eyebrows
This combo of light purple/lavender purple hair and dark purple eyebrows will really make your features stand out! P.S. Love this Beetle-juice inspired jacket? You can get a similar Beetlejuice jacket on Amazon, or check out these DIY Beetlejuice costume ideas!
5. Vibrant Purple with Purple Eyebrows
Want a retro vibe, or maybe even a Victorian vibe? Vibrant purple hair + short bangs + purple eyebrows + bold lipstick will do the trick! 💙💜This hairstyle is like a twist of Marie Antoinette!
6. Purple and Green Hair with Purple Eyebrows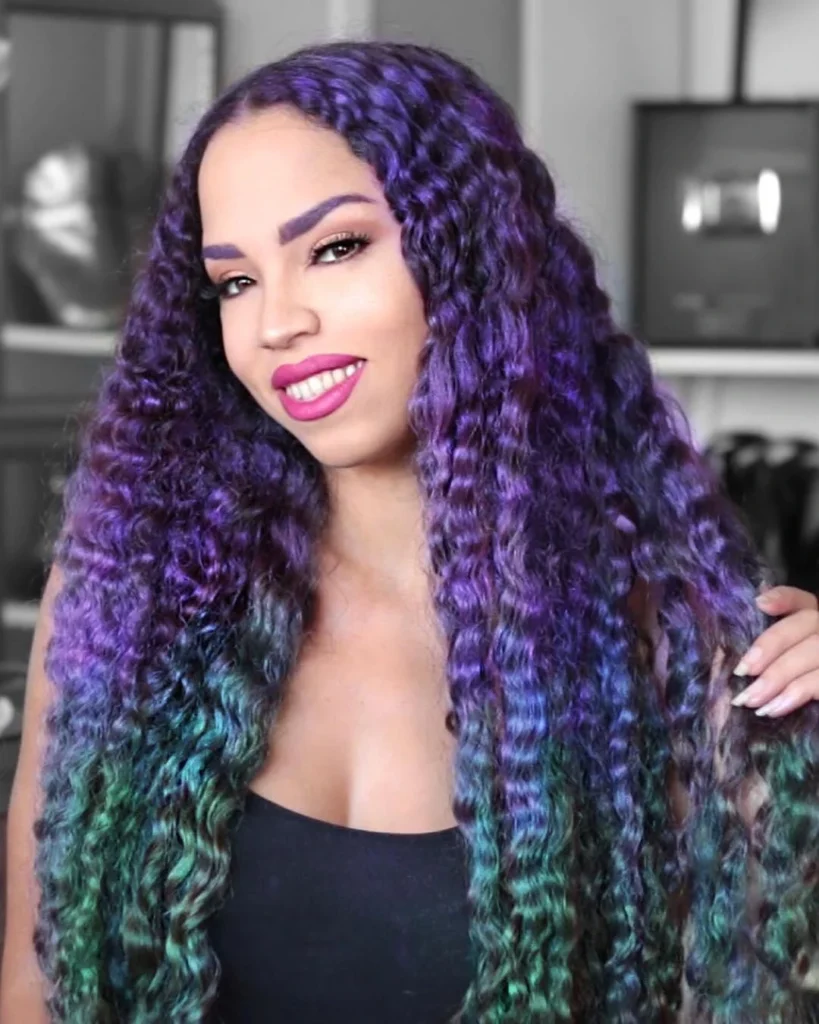 Love purple and green? Then mixing green and purple hair with purple eyebrows might just be the look for you! 💜💚💜
7. Vibrant Purple Hair with Purple Eyebrows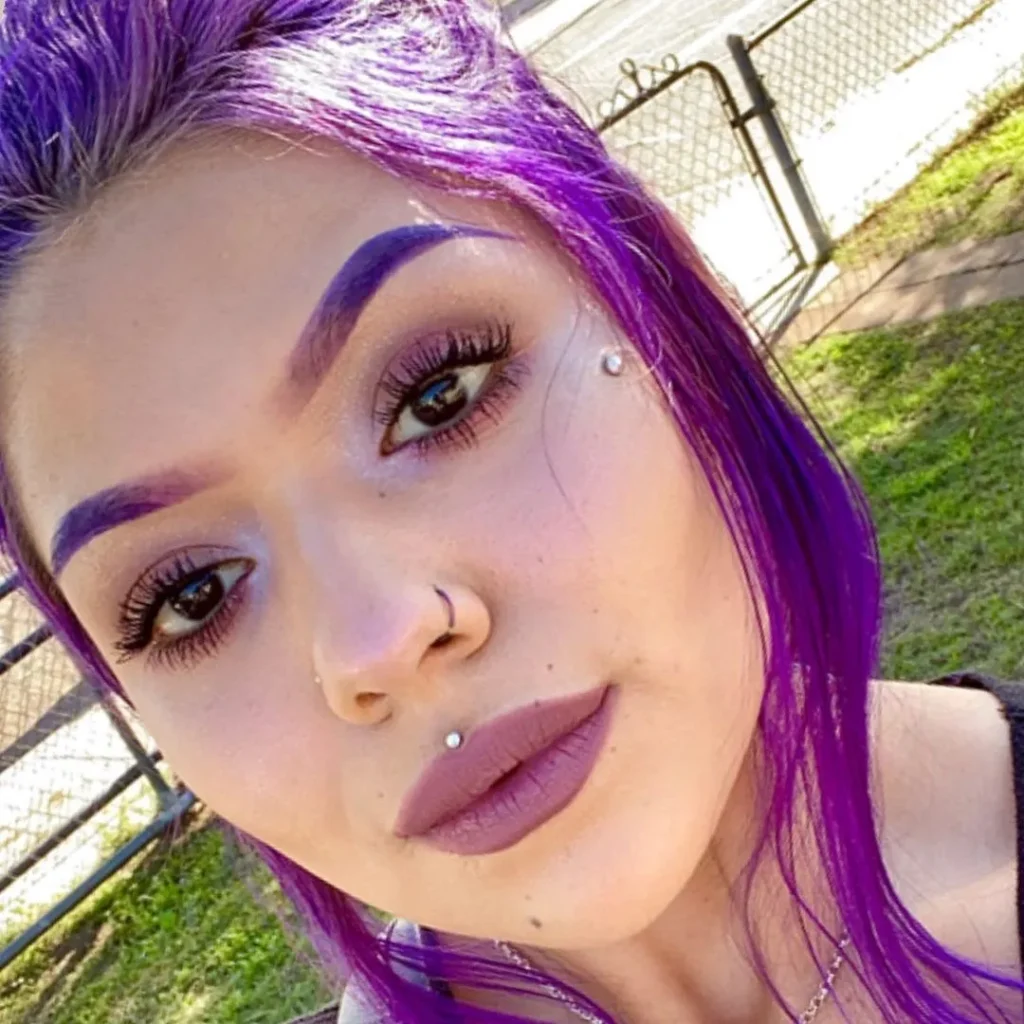 Want vivid purple hair with matching eyebrows? Then this is the duo for you! You can copy these purple eyebrows with the Anastacia Beverly Hills lip palette...apply it to your eyebrows! 💜
8. Icy Blonde and Purple Hair with Purple Eyebrows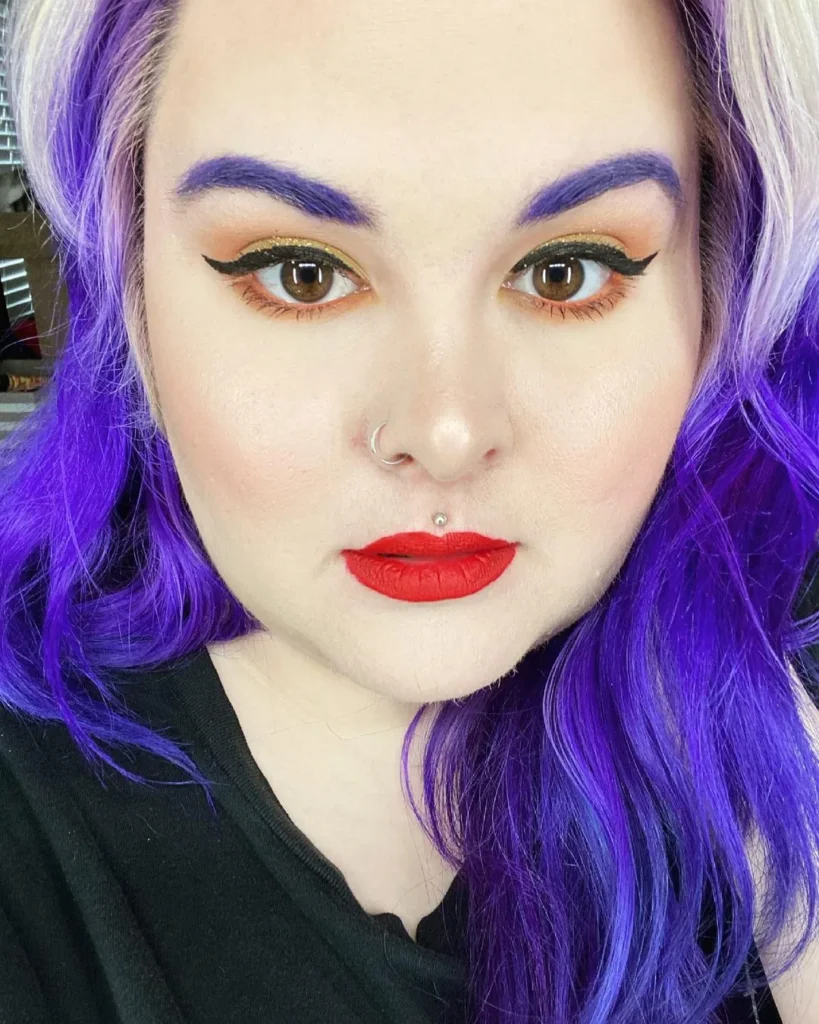 Mixing icy blonde hair with purple hair and purple eyebrows can be so striking, especially if you have pale skin! For this icy blonde hair, you'll want to use Wella T18 (check out my Wella T18 guide) or Wella T10.
9. Short Purple and Black Hair with Purple Eyebrows
For fairy princess vibes, go with sparkly eyeshadow and a butterfly hairclip to complete this purple hair and eyebrow look!
You can get this EXACT purple hair color using Artic Fox Hair Color in Transylvania and Purple AF.
10. Purple Balayage with Purple Eyebrows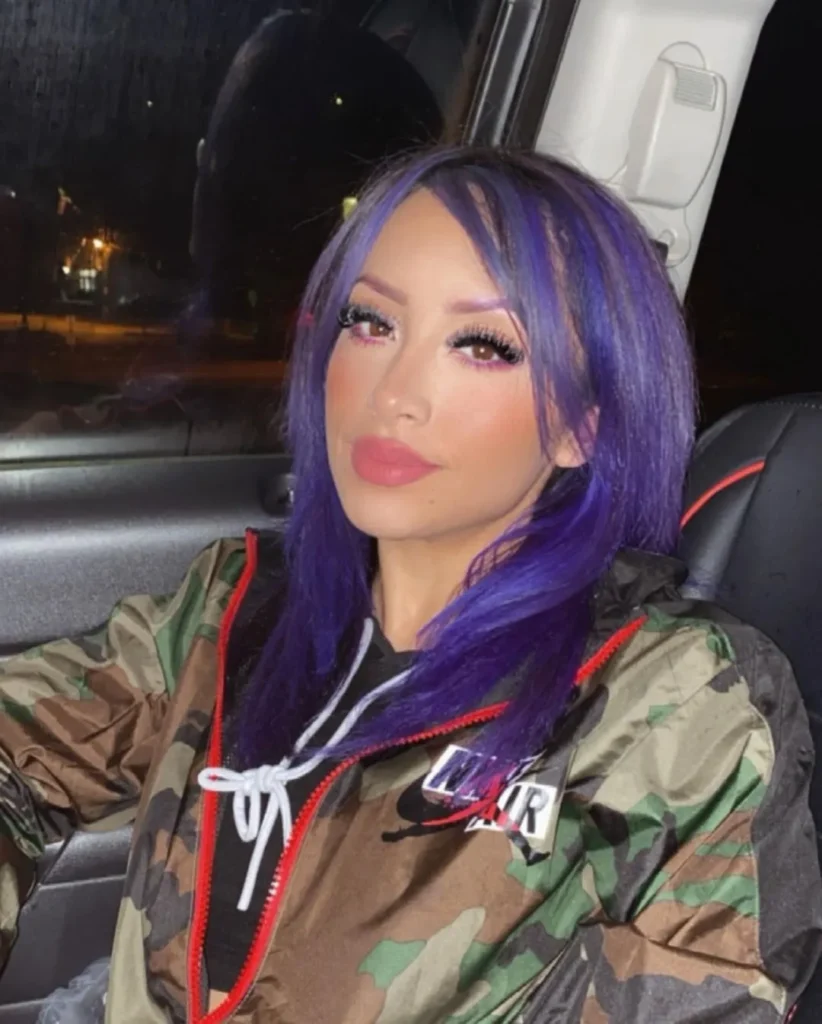 This mix of purple hair with purple eyebrows is hot and sexy!
How to Get Purple Eyebrows
Achieving show-stopping purple eyebrows is surprisingly easy! You just need to get a purple eyebrow tint. I recommend the MAEPEOR waterproof eyebrow cream and brush on Amazon for easy at-home purple eyebrows.
Another option is the Kat Von D Super Pomade Vegan Eyeliner, Shadow, and Brow Pigment in Roxy Purple - Bright Grape.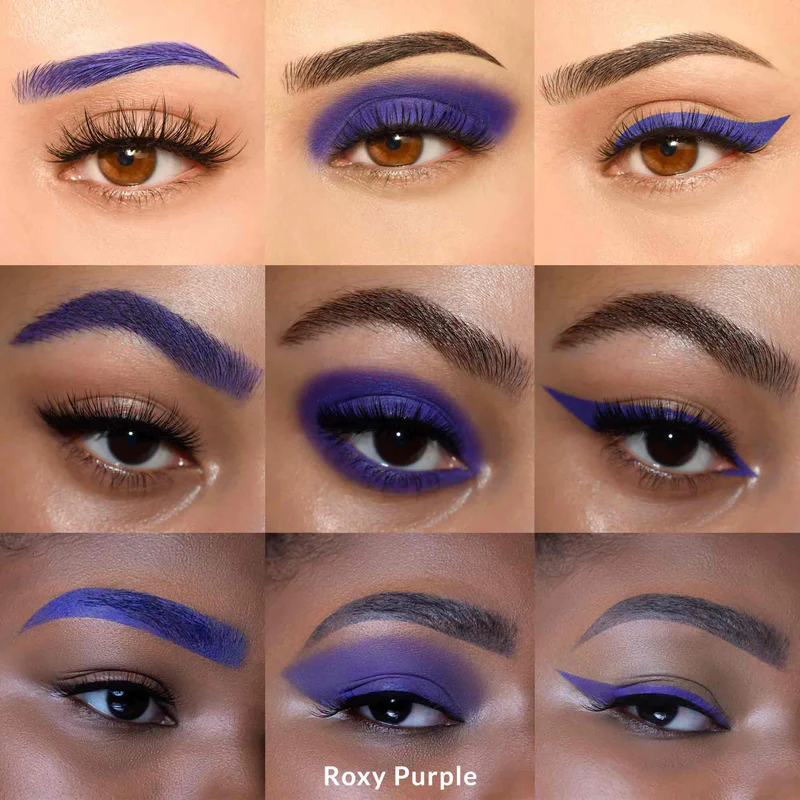 Below are step-by-step instructions for getting purple eyebrows at home:
Pick the Right Brow Cream
First off, you need to get a purple eyebrow pencil or cream! I recommend the MAEOPEOR purple eyebrow pomade on Amazon. A few other sellers have the exact same combo too.
For more vibrant purple eyebrows, you may want to use a purple eyebrow gel. For this, I recommend this purple eyebrow gel on Amazon.
1. Choose Your Shade
From deep plum to electric lavender, there's a shade of purple for every taste. Pick a hue that complements your skin tone and personality.
Note: You may be limited to just "purple" as the eyebrow shade. That's fine!
2. Prep Your Brows
Before applying color, ensure your eyebrows are clean and free from any makeup or oils. This will help the purple pigment adhere evenly.
3. Stencil or Freehand
Decide whether you want a precise, stenciled look or a more artistic freehand design. Both options offer a unique charm.
4. Blend and Set
Once you've applied the color, blend it gently for a natural appearance. Use a clear brow gel to set the color in place.
Best Colors of Purple Hair for Purple Eyebrows
When it comes to pairing your purple eyebrows with the perfect shade of purple hair, the sky's the limit. Here are some top color choices:
1. Royal Purple
A deep, rich purple hair color perfectly complements bold purple eyebrows, creating a harmonious and regal vibe.
For royal purple hair, check out Artic Fox in Purple and Punky Purple Semi Permanent Hair Color.
2. Pastel Perfection
Pairing soft pastel purple hair with darker purple brows adds a touch of contrast and creates a dreamy, ethereal look.
For pastel hair, check out L'Oreal Semi-Permanent Hair Color in Purple and Unicorn Hair Tint in Lavender Grey.
3. Vibrant Violet
Going all-in with a vibrant violet hair color and matching brows screams confidence and demands attention in the best way possible.
For vibrant violet hair, check out Arctic Fox in Violet Dream and Garnier Hair Color in V2 Dark Intense Violet (Spiced Plum).
More Hair Ideas
Still craving more purple inspiration? Look no further than platforms like Instagram and Pinterest. These social media havens are teeming with dazzling photos, creative tutorials, and the latest trends in the world of purple hair and eyebrows.
You may also want to check out these hair and hair color idea guides:
Bangs vs. No Bangs: The Pros and Cons of Bangs
Explore All Hair Guides by Very Easy Makeup
Conclusion: Unleash Your Inner Purple Power!
In a world where conformity often takes center stage, embracing purple eyebrows and hair is a fearless way to stand out. Whether you opt for a subtle lilac tint or a full-throttle amethyst explosion, your journey into the realm of purple beauty promises to be one filled with self-expression, creativity, and undeniable charm. So, why wait? Let your purple passion shine through your brows and locks, and watch as the world becomes your colorful runway!