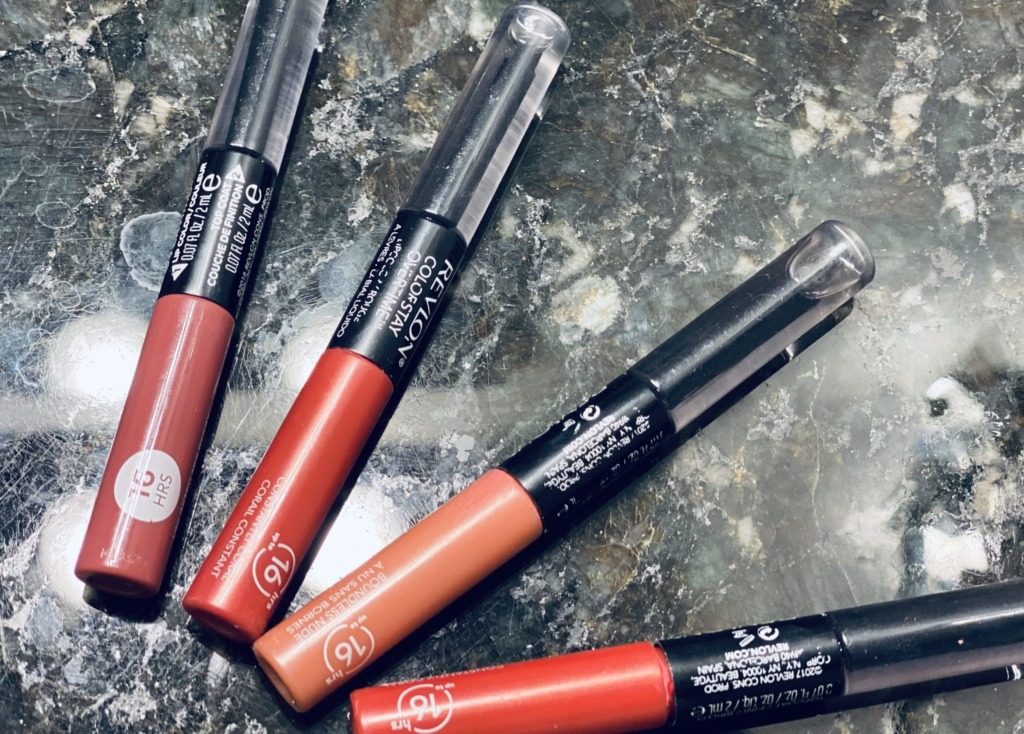 Revlon ColorStay Overtime Review
I've spent years searching for the best lipstick and the best drugstore lip gloss that stays on all day.
Most lipsticks wear off after two hours, require precise application, or are too matte.
Revlon ColorStay Overtime Review
After nearly giving up on lipsticks and accepting the life of chapstick, I noticed that my neighbor had the best lips – always. I asked her what she uses, and thank god I did.
She swears by Revlon ColorStay Overtime, and now I do too.
This post may contain affiliate links. View the disclosure here.
Revlon ColorStay Overtime Lip Gloss Review
Revlon ColorStay Overtime Review – Why I Love It
Here's why I love the Revlon ColorStay overtime lip gloss and why the Revlon ColorStay lip gloss gets 5/5 stars in my review.
1. It's glossy
It's glossy, but not overly shiny, making it perfect for work or a night out.
2. It stays on
It STAYS on. For real. I have to use a makeup removing wipe at night to take it off.
3. It's cheap
It costs less than $15, and sometimes less than $10.
4. It comes in many colors
It comes in 10+ colors, so you can find your perfect shade of color.
5. It's easy to buy online
You can find it on Amazon, Target, or Walmart online!
Revlon ColorStay Overtime Review – The Negatives
Here's what I don't love about the Revlon ColorStay Overtime lip gloss.
1. It gets cakey
It will become cakey if you put it on AFTER chapstick, so don't mix!
2. The gloss messes it up
It is half color and half clear gloss. This is a good thing, but the clear gloss is unnecessary and it messes it up if you apply it on top of the color.
3. It's hard to remove
You have to use makeup removed to get it off at night. This thing stays on!
The Best Colors of Revlon ColorStay Overtime Lip Gloss
These are my FAVORITE colors! Here's my Revlon ColorStay Overtime review of the best colors.
1. Constantly Coral
This is the BEST color in my opinion. It's the perfect red. It works for work AND for going out at night.
2. Keep Blushing
This color is a nice, soft pink.
3. Unlimited Mulberry
This is a slightly purple hue; perfect for date night. I reserve this for night-time only.
4. Endless Spice
This is one of my favorite colors in the Revlon ColorStay Overtime. It's slightly shimmery, soft looking, and a mix between red, purple, and coral. This is my go-to.
5. Boundless Nude
The names describes this one perfectly. Boundless nude is, well – nude. I wear this for sports, or whenever I'm running out the door and want a neutral look. It adds a pop of color, without being overly obvious you are wearing lipstick.
6. Perennial Peach
This color is so natural looking and happy. It's my go-to lipstick color for summer or for days on the tennis courts.
Revlon ColorStay Overtime Review – My Least Favorite Colors
These colors are decent, but they aren't my favorite.
1. Always Sienna
It's too dark!
2. No Coffee Break
Also too dark!
Revlon ColorStay Overtime Swatches
Here are a few pics to help you pic the best color for you.
View Keep Blushing (One of My Favorites)
Premium Lipstick Brands to Try
I'm personally very picky about my lipsticks. I hate the matte lipsticks that look fake. The two other brands that I love are by YSL and Chanel.
I owned the #5 glossy stain YSL lipstick and wore it daily. It was recommended to me by a Nordstrom makeup artist.
The Chanel Rouge Coco Ultra Hydrating Lip Colour is also a good red lipstick choice.
The Best Blush for Blondes and Fair Skin
If you are a blonde or fair skinned women, check out my article on the best blush for blondes.
Hint – it's by NARS!
More Articles to Explore by Very Easy Makeup
If you enjoyed this article, check out these similar articles and pages by Very Easy Makeup.
The Best Plus Size Summer Dresses
The Best Summer Dresses with Pockets
The Best Swimsuits to Hide Tummy
Connect with Very Easy Makeup
I'd love to connect with you!
Follow Very Easy Makeup on Facebook to get notified of new beauty, makeup, and fashion posts!
Please subscribe to the Very Easy Makeup YouTube channel. You'll find how-to tutorials for very easy makeup and bleaching hair blonde at home.
Sign up for the Very Easy Makeup Newsletter.