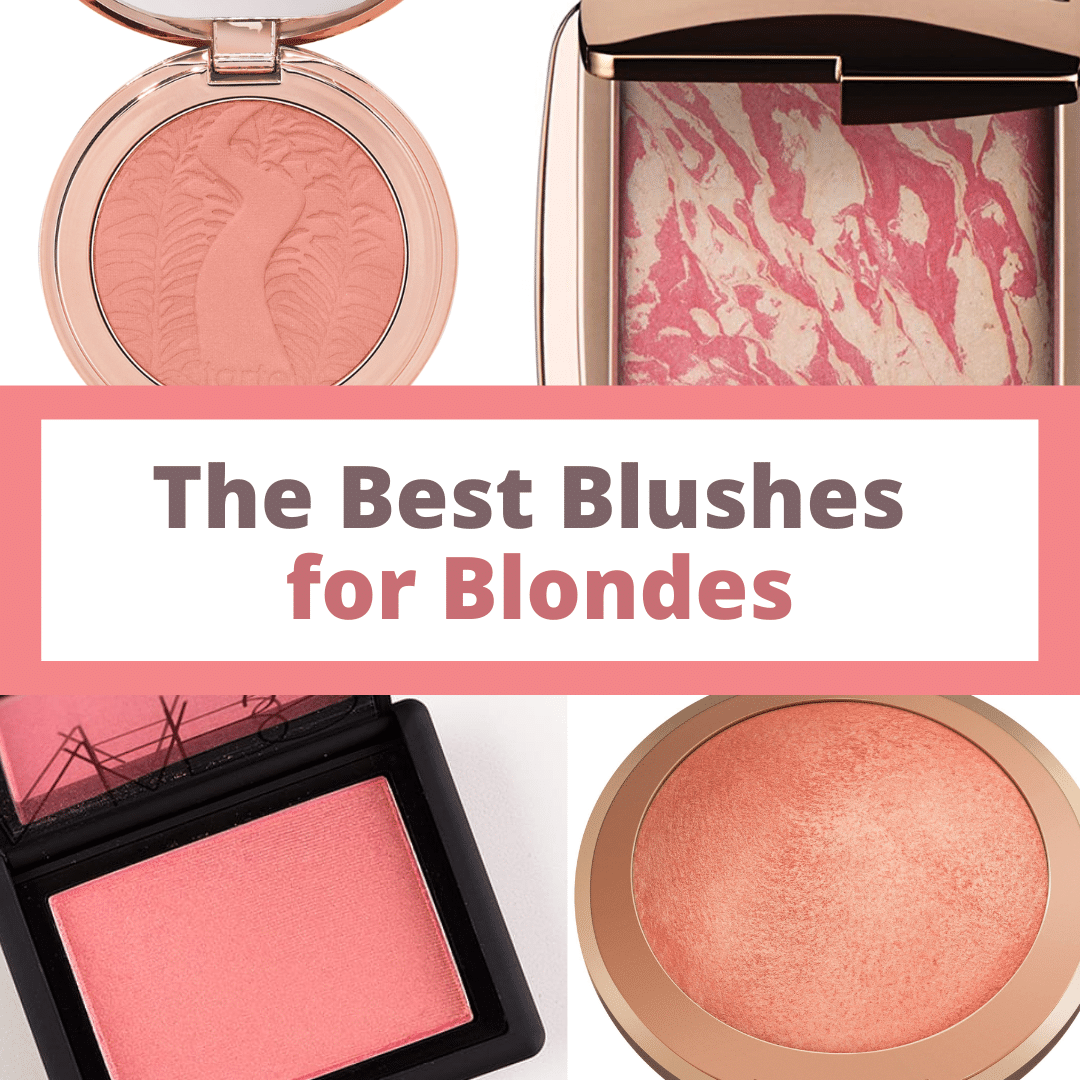 Best Blushes for Blondes
The Best Blushes for Blondes
Rosy and warm cheeks are key to looking lively and young. Here are the top blushes for women with fair skin.
Topics in this post by Very Easy Makeup
The very BEST blush for blondes
The best drugstore blush for blondes
The most popular pink blushes for blondes
This post contains affiliate links. View the disclosure here.
4 Best Blushes for Blondes in 2022
These are the best blushes that flatter blondes and women with fair skin tones.
1. NARS: The Best Blush for Fair Skinned Blondes
NARS Blush receives raving reviews, and it's well deserved. NARS blush in Orgasm is natural-looking, just rosy enough, and slightly sparkly.
I wear the NARS blush every day. Literally. It's amazing.
The NARS blush is the #1 blush for blondes in my opinion.
Best Colors of NARS Blush for Women with Fair to Medium Skin Tones
Orgasm is best for women with fair to medium colored skin. It is a peachy pink color with shimmer. Orgasm is my favorite color and very natural looking.
Super Orgasm is a bit too sparkly for me, but a good second choice.
Deep Throat (horrible name!) is great if you want a more pinky look.
Get a complete review of the NARS Blush in Orgasm below.
2. Hourglass Ambient Lighting Blush Mini: Best blush for blondes seeking a luminescence look
The Ambient Lighting Blush by Hourglass adds a flush of color and makes skin look glowy.
Use Radiant Finish if you want something subtle or Mood Exposure if you are pale seeking a rosy glow.
3. Tarte Amazonian Clay 12-Hour: Best blush for women with golden skin seeking a blush that lasts
This highly pigmented blush/bronzer by Tarte stays on and blends well.
Top color choices include Blissful for a natural, peach look, Sensual for a bronzer, and Dollface for a pink, rosy look.
Warm Peach is a really good color too!
4. Milani Baked Powder Blush: Best drugstore blush for blondes on a budget
For less than $10, it's hard to go wrong with the peachy/coral blush Milani Baked Powder Blush in Luminoso. It is very similar to Nars with a pink/coral shade.
Ready to complete your look?
See my favorite drugstore lipstick choices by Revlon.
View the BEST lipstick on Amazon
Related Fashion Articles by Very Easy Makeup
If you enjoyed this article, check out these similar articles and pages by Very Easy Makeup.
The 3 Most Comfortable Bras EVER
Loungewear Sets with Pants for Women
Cute Kids Pajamas for Christmas
Connect with Very Easy Makeup
I'd love to connect with you!
Follow Very Easy Makeup on Facebook to get notified of new beauty, makeup, and fashion posts!
Please subscribe to the Very Easy Makeup YouTube channel. You'll find how-to tutorials for very easy makeup and bleaching hair blonde at home.
Sign up for the Very Easy Makeup Newsletter.