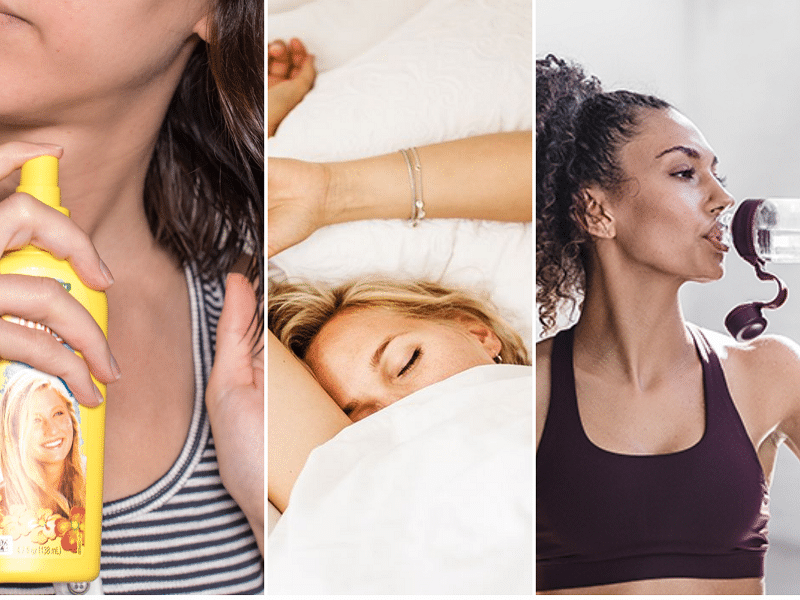 How to Look Younger In Your 30s
The 30s are the prime time for many women. You either get hotter in your 30s, or things start to go downhill!
Fortunately, you can be sexy and hot in your 30s…and even more attractive than a 20-year-old if you know what to do.
Here's how to look younger in your 30s. It's time to embrace life!
This beauty guide is all about how to look younger in your 30s.
Some of these tips to look younger are quick and easy things you can do at home, and some of these tips may require a little bit of an investment. 😊
This post may contain affiliate links. View the disclosure here.
How to Look Younger In Your 30s – 10 Things Every Woman In Her 30's Should Start Doing
Continue reading to learn how to look younger in your 30s.
1. Have a Good Skincare Routine
If you don't have a skincare routine, it's time to get one! Wash your face at night with a gentle cleanser and use an anti-wrinkle cream at night for your face and your eyes.
I personally love the Estee Lauder Nightwear Plus Night Detox Creme and the RoC Retinol Correxion Eye Cream.
View Estee Lauder Night Creme on Amazon
2. Keep Your Hair Long and Healthy
Long, flowy hair tends to be associated with youth. Shoulder-length hair looks good on most women in their 30s. If your hair is too short, it will scream soccer mom.
Having a biotin supplement helps keep hair and nails strong too. I love Nature's Bounty Hair, Skin, & Nails with Biotin and Collagen gummies.
View Nature's Bounty Gummies for Healthy Hair
3. Start Sleeping on Your Back
Sleeping on the side of your face can cause wrinkles! Buy a flat pillow and start sleeping on your back. A silk pillowcase helps prevent wrinkles too.
View Silk Pillowcase on Amazon
4. Lighten Your Hair
Lighter hair is usually associated with youth.
If you think about it, many people have lighter hair as a kid that turns darker over time.
5. Get Botox
If you see women at work in their 50s and 60s and they look good – chances are that they get Botox…regularly. It's a hidden secret. Everyone gets it, but no one talks about it.
I personally get Xeomin, since it's a little bit less expensive.
6. Get Serious About Protecting Your Skin
You know that your face shows aging, but a woman's hands and neck give it away too.
Make sure to wear sunscreen on your face daily AND apply sunblock to your neck and hands.
I personally love the Panama Jack sunscreen for my hands and neck and EltaMD for my face.
7. Drink Plenty of H2O
Stay hydrated to add a youthful glow to your skin. Plus, drinking water helps keep your skin clear!
I personally use a PUR Pitcher at home to make my water taste better.
8. Wear the Right Makeup
Stick with CC creams or liquid foundations, neutral eyeshadow colors, light-colored lip gloss, and natural-looking blush. Here are my go-to picks!
Best Liquid Foundation: Estee Lauder Daywear Sheer Tint
Best Neutral Eyeshadow Kit: Too Faced Sparkling Pineapple Eyeshadow Palette
Best Lip Gloss: Revlon ColorStay in Perennial Peach
Best Natural Looking Blush: NARS in Orgasm
9. Watch Your Alcohol Consumption
Drinking ages you…unfortunately. Try to limit your alcohol consumption.
10. Take Care of Yourself
Eat healthily. Find a workout routine you love. Get plenty of sleep. And spend time with friends to stay happy. Now is the time to set good routines.
How to Look Younger In Your 30s: YouTube Video
Want more tips on how to look younger? If you are a woman in her 30s, you need to check out this YouTube video with 30 tips to look younger in your 30s.
More Beauty Guides
How to Look Younger Than Your Age