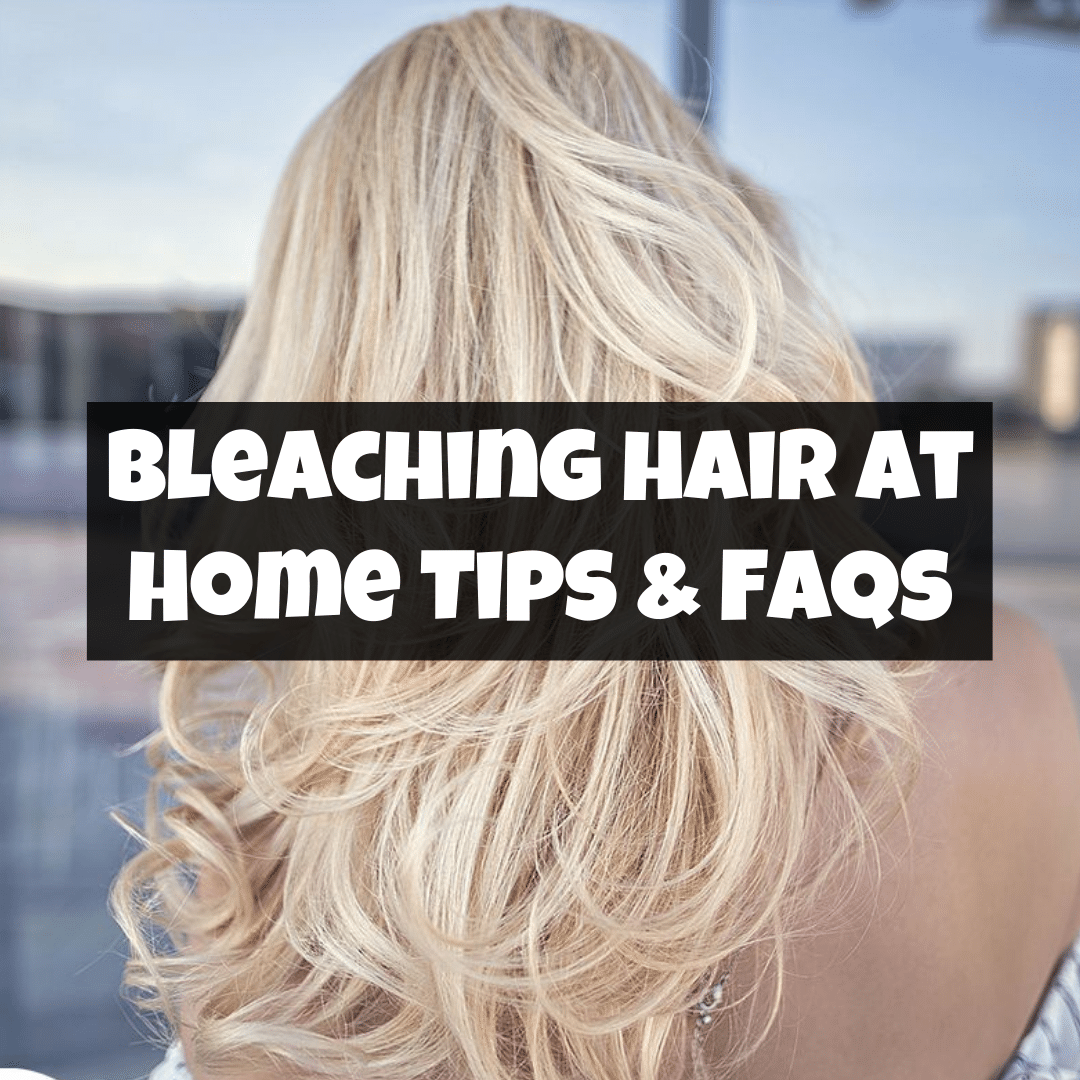 Welcome to my ultimate guide on DIY bleaching hair at home!
Are you ready to embark on a hair transformation journey? Well, you're in the right place!
In this article, I'm going to dive into the world of bleaching hair blonde and share some fantastic tips and tricks, and frequently asked questions.
Whether you're a beginner or a seasoned DIY enthusiast, this guide has got you covered.
This post may contain affiliate links. View the disclosure here.
Bleaching Hair at Home Tips
Before you bleach your hair blonde at home, here are some basic tips you'll want to follow.
Prepare Your Hair and Scalp
Before bleaching, make sure your hair is free from any oils or products by washing it thoroughly. This helps the bleach to adhere evenly and achieve better results.
Additionally, please don't wash your hair for at LEAST 24 hours before bleaching it (ideally 2 days). This helps to minimize potential irritation.
Get Everything You Need
Before you get started, make sure you have what you need.
You will need bleach powder, developer, gloves, and clips.
Additionally, you'll want to have a t-shirt you can get dirty and toner (for after bleaching your hair).
Bleach the Roots First
Your roots will be the darkest and need the most time to process. Start applying the bleach to the roots of your hair first.
Avoid Overlapping Bleach
When touching up your roots or performing subsequent bleaching sessions, avoid overlapping the bleach onto previously bleached hair. Overlapping bleach can lead to breakage and excessive damage. Focus on applying the bleach to new growth or areas that need lightening.
Bleaching Hair at Home FAQS
Below are frequently asked questions about bleaching your hair at home.
Do you have a question that's not addressed below? Write a comment and I'll get back to you!
What bleach should I use to dye my hair blonde?
I recommend PrismLites by SalonCare.
Should I use purple or blue powdered bleach?
You should use violet (or purple) powdered leach to remove gold/yellow hues. You should use blue powdered bleach to remove orange hues.
How long should I keep bleach on my hair?
You should keep bleach on your hair for about 30 minutes. If you are going from dark hair to light hair, you may need to leave the bleach on your hair for longer.
Always read the instructions on the packaging.
Can I bleach my hair while pregnant?
Yes. You can bleach and color your hair while pregnant.
However, it is recommended that you wait to dye your hair after the first 3 months of pregnancy.
Can I bleach my hair after using Color Oops?
It is recommended that you wait at least five days to bleach your hair again after using Color Oops.
I'd recommend waiting at least 10 days and using a deep conditioning treatment before bleaching your hair again. You don't want to damage your hair!
What volume developer should I mix with bleach?
I'd recommend using 20 volume developer. It will "lift" (or lighten) your hair by 1-2 levels. If you want to go from very dark hair to very blonde hair you should use 30 volume developer.
How do I rinse bleach out of my hair?
You should rinse bleach out of your hair with warm water and a sulfate-free shampoo. I'd recommend the L'Oreal sulfate-free shampoo.
Do I have to bleach my hair before using toner?
No. You don't have to bleach your hair before using toner.
However, it is recommended that you bleach your hair before using toner if you want your hair to be noticeably lighter. Additionally, some Wella toners won't look good unless you lighten your hair first to the recommended color.
How often should I bleach my hair?
You should bleach your hair when your roots start to show! I recommend every month.
Post Bleach Hair Tips
After you've bleached your hair, follow these tips!
Deep Condition Regularly
To keep your bleached hair healthy and moisturized, make deep conditioning treatments a regular part of your hair care routine. Deep conditioning helps restore hydration, repair damage, and keep your hair looking soft and lustrous.
Use Purple Shampoo 2-3 Weeks After Bleaching
After you bleach (and tone!) your hair, don't forget to use a great purple shampoo! Purple shampoo helps neutralize yellow and orange tones, keeping your blonde hair looking fresh and vibrant.
Protect Your Hair from Heat Styling
Minimize heat styling to prevent further damage to your bleached hair. When using heat tools, always apply a heat protectant spray to shield your hair from the high temperatures. Opt for air-drying or heatless styling methods whenever possible.
Bleaching Hair at Home: YouTube Video
Want to learn how to bleach your hair blonde at home? Check out this YouTube video!
Conclusion
In conclusion, this comprehensive guide has equipped you with the knowledge and confidence to embark on your own hair bleaching adventure at home.
By following the tips and tricks shared throughout the article, you can achieve beautiful results while keeping your hair healthy and vibrant.
Remember to prepare your hair and choose the right bleaching kit, monitor the process, and provide post-bleaching care with deep conditioning treatments.
Combat brassiness with purple shampoo and protect your hair from excessive heat styling.
Now, it's time to unleash your creativity and rock that stunning blonde look with your newly acquired DIY hair bleaching skills. Embrace the journey and enjoy the fabulous results!
More Hair Guides